Artificial Intelligence (AI) is a major transformational force sweeping the world and bringing in radical changes across workplaces and industries.
Use of virtual assistants (VAs) powered by Artificial Intelligence (AI) and Natural Language Processing (NLP) to automate cognitive tasks of humans, aid in real-time speech recognition and intent analysis is steadily demonstrating its impact in the modern industrial scenario. It is predicted that 1.8 billion people will use smart assistants by 2021 worldwide.
Virtual assistants for workplaces
Before the VA uprising, it was thought that human skills, especially those relating to cognitive tasks, cannot be reproduced through technology. But innovation in the VA market is proving it be a new workplace reality. Homesteads are accustomed to the AI-energized, voice-controlled assistants like Alexa, Google Assistant, Siri, and Cortana.
The admiration for such pervasive virtual assistants is pushing the enterprise world to adopt such novel technologies for workplaces, as well as, reconfigure and enhance the productivity of employees.
Per Gartner, 25% of the digital workers will use virtual employee assistants daily, by 2021. The following pie entails the digital personal assistants used by users. Amongst them, Siri, a virtual assistance of Apple, is the most used personal assistant. (Ref. Go Gulf)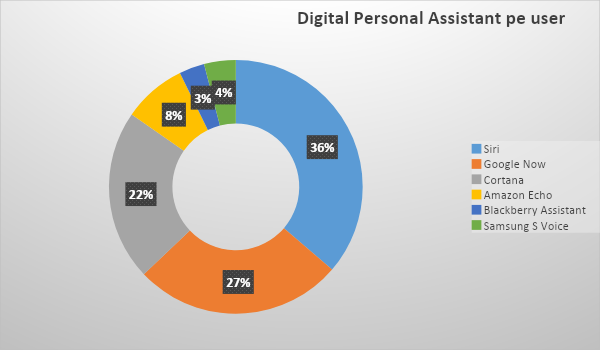 The following depicts the top conditions in which people use the digital virtual assistants. (Ref. Go Gulf)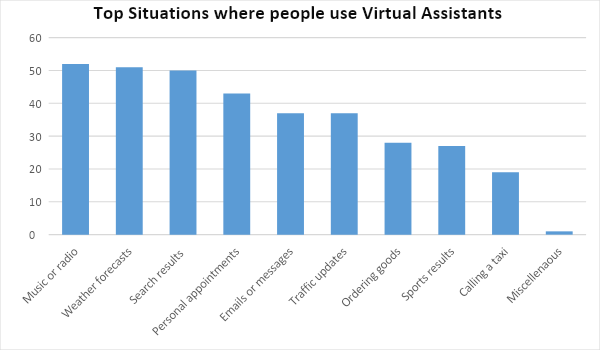 At present, the relationship between humans and the VA is merely a transactional one. This means that the VAs execute simple voice commands like, "OK Google, tell me weather forecast of today." With the integration of ML and AI, VA will become far more powerful and will be able to enact the cognitive abilities of a human. In effect, VAs will become a pandemic form of intelligence across the workplace platforms, aiding to accomplish the daily tasks more effectively.
It is normal for people to consider such grounds of innovation as a threat to job security and the demand for rational human skills in the employability market. However, VAs will enhance the workplace atmosphere and improve the productivity of employees; they will not replace the reasoning power and analytical capability of humans. The combination of humans and VAs will eliminate factors like exhaustion of mental processing power and time constraints.
Subsequently, workplaces in near future will witness a collaborative and hard-working environment developed cordially by humans and VA, where the former will take focus on the important tasks, and the latter will take over the routine and redundant completions.
Imagining future workforce with Virtual Assistants
So, what can we expect from VAs in the coming years?
1. The Launch of Smarter Virtual Assistants:
The contemporary virtual assistants are based on natural language processing, understanding the human dialect, retrieving data, and basic computation. As the NLP process continues to advance, virtual assistants will become fully-fledged with new data, which will improve comprehension, allowing wider usage of such AI chatbots for more complex applications.
2. The Amalgamation of VAs with IoT
The near future will observe VAs making their way into smart devices like car speakers, smart home devices, and wearable. Such integrations will provide users with impeccable support. Furthermore, these collaborations between VAs and IoT will accelerate the market growth in such segments.
3. Analytical VAs for Predicting the Best Scenario
In the coming time, VA will adapt problem-solving skills as well. VA will habituate a mutual relationship of trust with humans, calculate their workload, suggest them to take a break, highlight tasks that need undivided attention, and tasks that can be delegated. VAs will offer a real-time analysis for employees based on their previous behaviour and patterns. Furthermore, VA will take care of the high volumes of complete data sets and execute them with the aid of their advanced processing power. VAs will have some important insights into the personal capabilities of an employee and assign them to tasks based on their performance and experience. VAs will also take over some monotonous and repetitive tasks, empowering humans to take over the high-level thinking, creative and decision-making tasks.
4. A Personal Assistant for Every Employee
It is always better to have an executive assistant by your side so that you can find the resources easily, document events, and take care of the necessary actions, especially the mundane ones. VAs are just like those assistants that aid employees in better efficiency, performance, and decision-making. As this technology becomes more sophisticated and the workplace becomes more complex, humans will want to have VAs by their side. When AI automates routine tasks, human workers will be free to take over more unique ones, in turn, improving the efficiency of the organization as a whole.
How will Organizations Adapt to Virtual Assistants
Without any second thought, the AI-powered VAs will take over the business processes and improve productivity by taking over the recurring tasks and jobs. For enterprises, their sustainable growth in the market will depend on their adaption to the VA and other machine learning technologies, in all its complexities.
As for the human workforce, VAs will not replace them but amplify their potential by assigning them with tasks requiring higher cognitive thinking. The near future invites these intelligent machines to partner with humans and develop a fully integrated digital workspace.
Chatbots are all set
to disrupt the workplace

Develop interactive virtual assistants on the Kore platform for FREE.