Conversational Artificial Intelligence (AI) empowers enterprises to employ chatbots, messaging applications or virtual assistants to build highly engaging and valuable relationships with customers. This cutting-edge technology is spreading rapidly across every industry and more excitingly, providing enterprises with a huge potential to accelerate their growth and innovation.
From whatever little it has seen of AI assistants so far, the enterprise world has built great expectations. They are visualizing a future full of bots, so smart and powerful, that they help humans with almost any kind of support required very substantially. No wonder conversational AI has become the much awaited technology in today's enterprise world, and attracting the attention of business leaders across the globe.
But how much of it is hype, and how much is really closer to reality? Here we are cutting through the noise surrounding Conversational AI to articulate the top trends to watch out for in 2020, with of course the prediction that it is still one of the most awaited technologies of the era, and the top technology of the decade.
1. Evolution of Chatbots to Conversational AI bots
2020 will see the most definitive transformation of chatbots into Conversational AI bots. The rudimentary rule-based chatbot no longer delights customers. An AI conversant bot, unlike a chatbot, is a cognitive bot that can decipher complex scenarios and understand human sentiments. Its NLP capabilities empower it for a personalized conversation with customers, which involves understanding human sentiments and acting accordingly. As enterprises focus more on delighting the customer and achieving excellent Net Promoter Scores,chatbots shall soon be replaced by conversational AI bots in the coming years.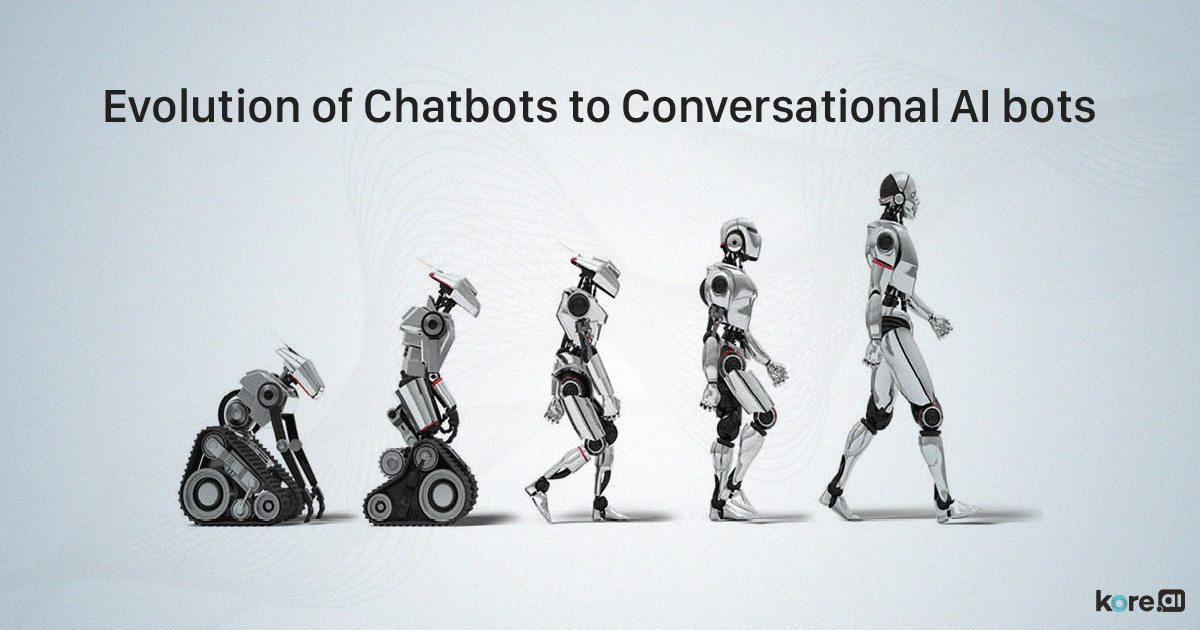 2. Low code/No-code Platforms
With the use cases booming from hundreds to thousands, and conversation types increasing from thousands to millions, organizations are seeking platform-based models for meeting their evolving conversational AI needs at ease.
Coding for every little change in the requirements can be a tedious exercise resulting in very long time to market. LowCode/NoCode platforms are the perfect choice to address these issues. Having all possible features for a variety of use-case in one place, these platforms can customize their bots with just a few clicks. Low Code and No-Code platforms are designed to increase the agility and effectiveness of organizations and will continue to grow traction in 2020.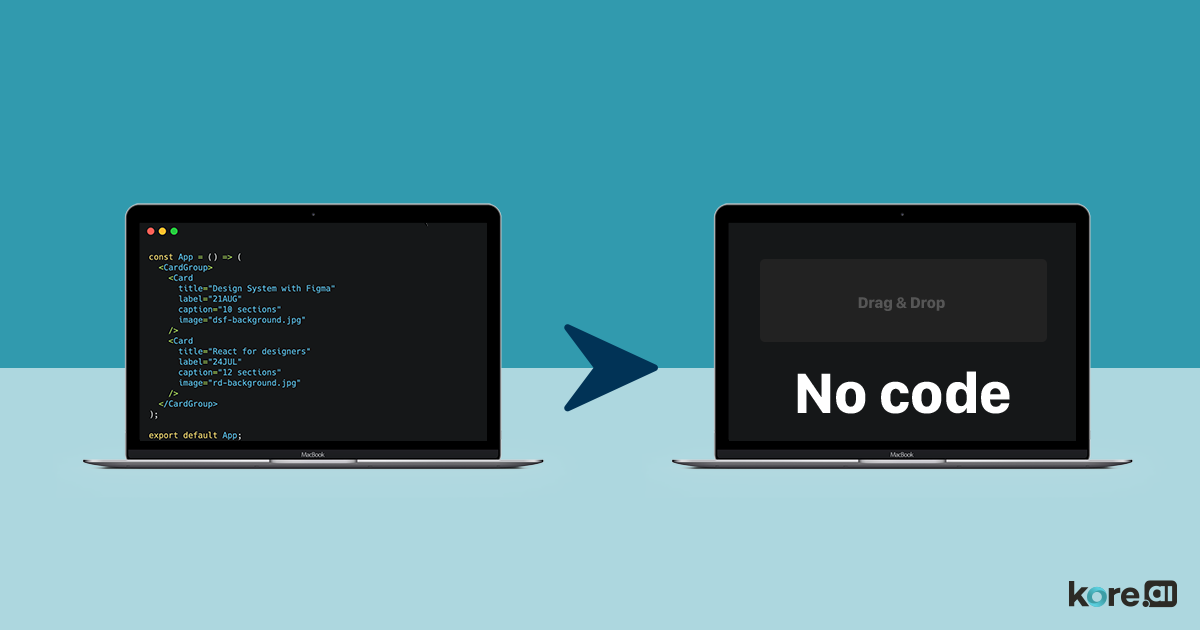 3. Digital Assistants for Enterprises
Employees of future believe in smart work rather than just hard work. There are many mundane activities that limit employees' ability to perform their core work, and thus hinder their productivity. They require something on the lines of a private assistant like Alexa for handling work-related activities.
Facilitating easy mail searches, managing meetings without hassle, assigning tasks, accessing knowledge repositories and different applications with zero-touch: these are some of the areas where a typical white-collar employee spends more than 25% of the effort. These non-value-adding activities can be performed smartly by an intelligent virtual assistant. Kora, Leena,Capacity.ai, Adenin are some of the virtual assistants that are paving the way for the future of work and will see wide adoption within enterprises.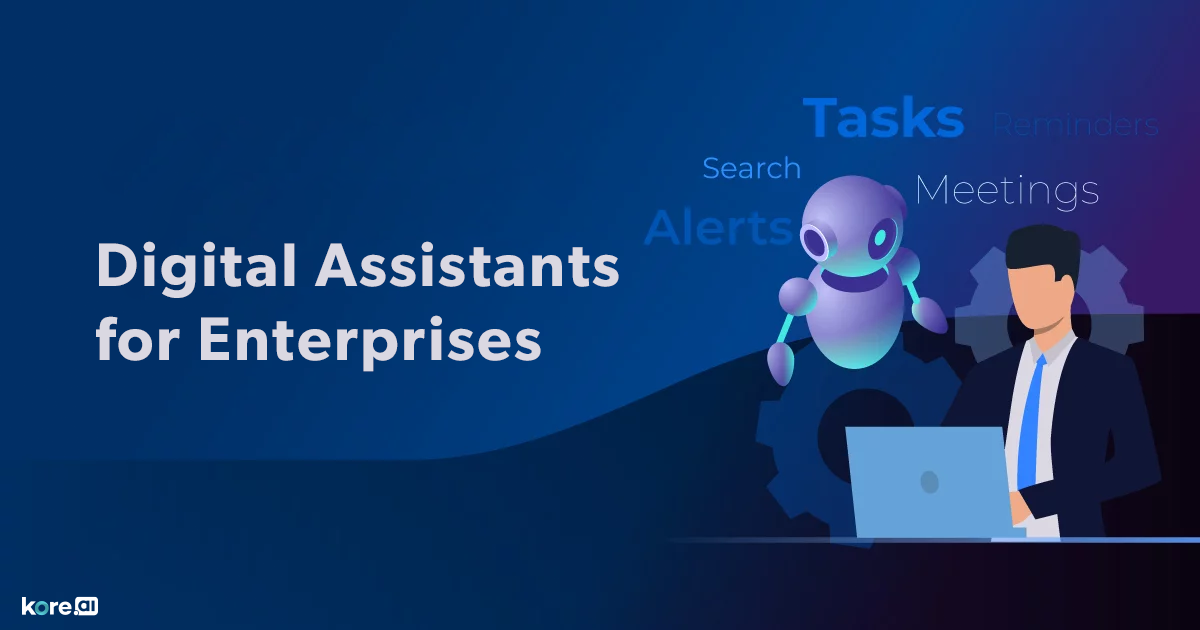 4. Personalization
Conversation AI bots of 2020 will deliver highly personalized and contextual conversations that give them a human touch. For example, they can understand and remember conversation context, past dialogs, and user preferences etc., and 'wow' the users with their suaveness. They can also carry the context across multiple conversations to understand the past and future requirements. With their humanesque conversations they can understand your sentiments and moods, and respond accordingly. These bots can be widely leveraged to cross-sell and up-sell products/services to users.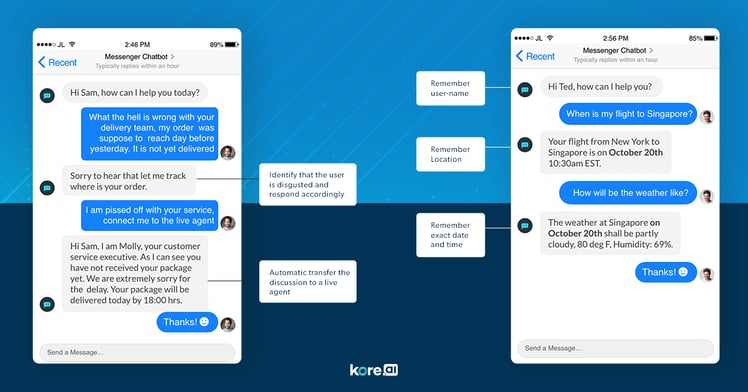 5. Augmented Reality in Conversational AI
AR in chatbots is a unique technology that can take the engagement level and usage to the next heights. AR is a relatively new technology for mobile/web apps and the users are not accustomed to the usage of AR. A chatbot within an app can facilitate the usage of this technology. Depending upon the behavior of the user and his stage in the buying cycle, they can be prompted by the use of AR by the bots.
For example, if you want to feel how a coffee table would look in your living room, how an apparel would fit you, you can use the AR technology. Enterprises such as IKEA, Zara, Loreal , Amazon and many more are testing the potential of AR, but despite its amazing technology, the adaptability is less. The cognitive capabilities of a Conversational AI bot can be used as an online concierge to assist the users in their buying journey
Source: gfycat.com/familiarflimsyheifer
6. Solution Bots
Enterprises contemplating implementation of bots typically look for speedy returns to their investment.. Out-of-the-box, plug-and-play bots that are intelligent and trained enough to be deployed fast will be increasingly preferred. . Chatbot players are offering incubated pre-packaged bots with inbuilt data which are precisely tested and trained for a specific industry vocabulary and domain terms. The POC gestation time can be optimized by directly deploying these solution bots which can help customers achieve a faster time to market.
In domains such as Banking, IT Services Management, HR Management System and Finance, many such bots are being commonly used - by internal employees as well as directly by the end-users. Enterprises such as Reckitt Benckiser's have foresaw the effectiveness of solution bots and have launched an HR chatbot called 'RBuddy' to perform various HR activities.
7. App Fatigue - Convergence of Apps
An average user has on average 75 apps installed on their smartphones. They use disparate apps for a variety of activities. We use travel apps, utility apps, banking apps, educational apps and so on in our daily life. A constant pinging, buzzing from the notifications consumes a lot of data and also battery leading to app fatigue and disillusionment. Also, the users are contentious of the privacy issues of many apps for which they are hesitant to install and use some apps. The year 2020 will see the convergence of many apps into a conversational bot that can be multipurpose. This lightweight easy-to-use conversational bot can integrate with multiple apps on the backend to fetch the data and perform activities as and when required.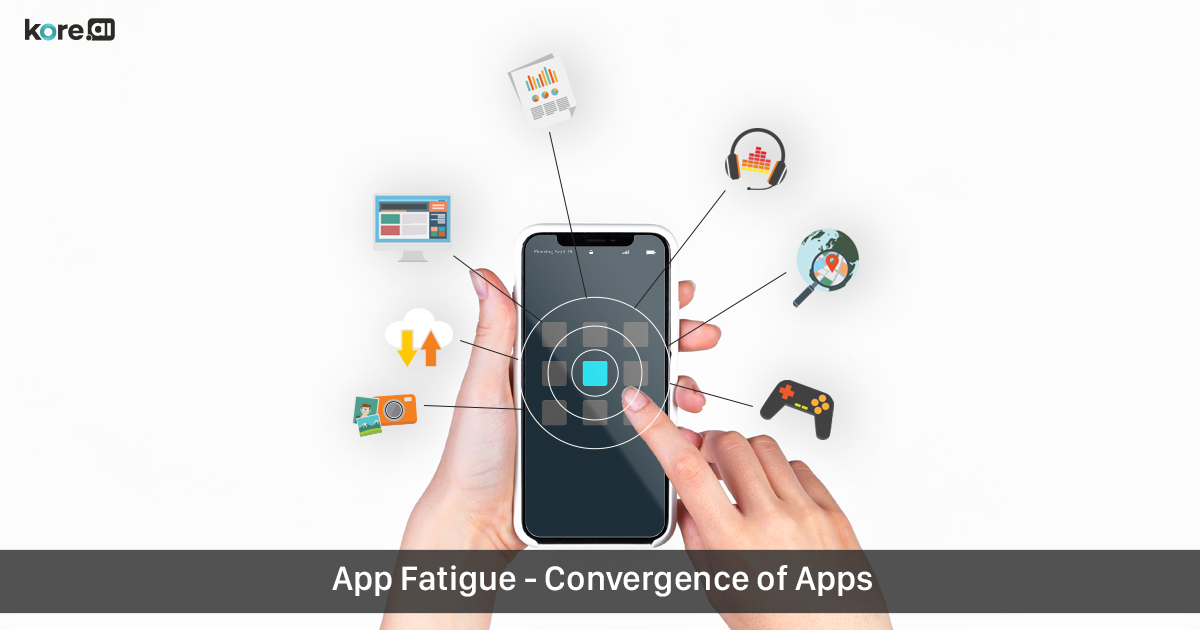 8. No UI is the New UI
With the emergence of Conversational AI bots, you no longer have to look into multiple pages and tabs of a web/mobile app for any information or task execution. You can simply query the bot, which does all the work. As per Gartner by 2020, 30% of all web browsing will be done through screenless designs and through interactions such as voice commands, gestures, and eye-tracking.
From a developer's standpoint, the effort of developing a chatbot is exponentially less than that of developing and sustaining a website. Most of the bots developed would be platform agnostic. There won't be minimal sustenance cost of the bots, they have to be just be updated as per the new use cases and required capabilities.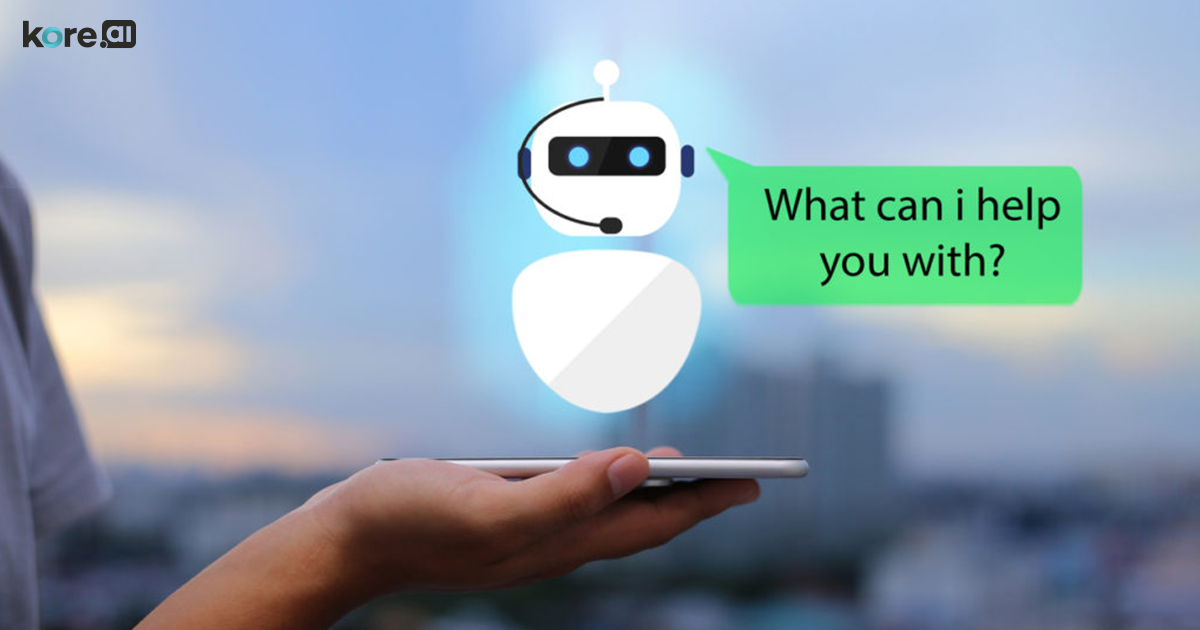 Going forward the applications won't require a robust and intuitive UI since the bot will do it all. Zero UI would be the new UI. The interfaceless design will become a part of our daily life.
As per Mini Suri - the Chief Customer Success Officer at Kore the trend of interface-less design is on the rise and is destined to be widely adopted in 2020.
9. SMS 2.0: RCS messaging
One of the key channels where Conversational AI bots would be published is SMS channels. Rich Communication Services (RCS) has been eventually replacing conventional SMS channels. Google messenger RCS comes with modern messaging features such as reading receipts, typing indicators, sharing of rich content such as images, pdfs, videos, etc.The experience with RCS would be similar to Whatsapp, We-chat, or iMessage but this would work over the cell-phone network rather than the Internet.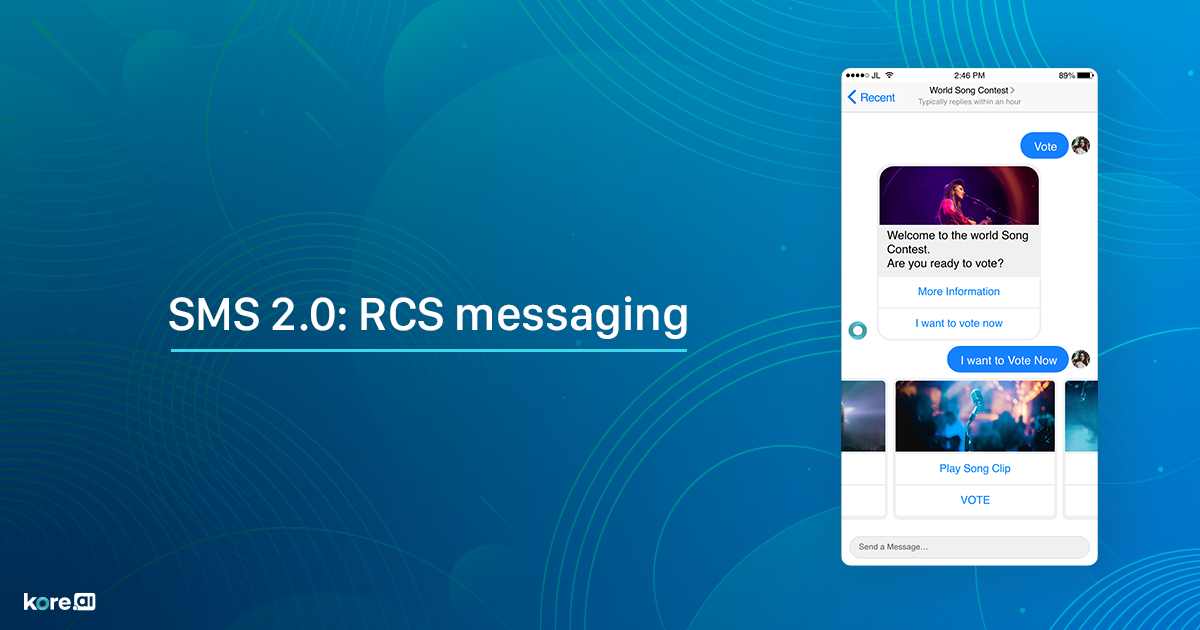 High price of mobile data in the US and European countries would lead to the adoption of alternative channels such as RCS messaging in the near future.
10. Personification of Bot
Bot personality is the most critical factor for increasing user engagement. For one, it directly helps in increasing Enterprise revenues. Secondly, bots are more fun when they have a personality.
These are various examples of iconic bots with distinct personalities like say, Alexa and Siri. Alexa comes across as confident and considerate — she doesn't use slang very often. Siri, on the other hand, is sassy: Her personality is smart and witty with a slight edge, and she gives cheeky responses. When asked about the meaning of life, she might respond, "I find it odd that you would ask this of an inanimate object."
Sophie is one more example of an AI-powered bot that caters to the healthcare field. Sophie reminds patients to take their medications and regularly checks with them to see how they're feeling.
At Microsoft, a highly creative team is entrusted with the responsibility of helping develop Cortana's personality. Meanwhile, IPsoft is turning Amelia into a virtual personality that appears on a user's screen, and if advances in hologram technology are anything to go by, these agents will become even more lively.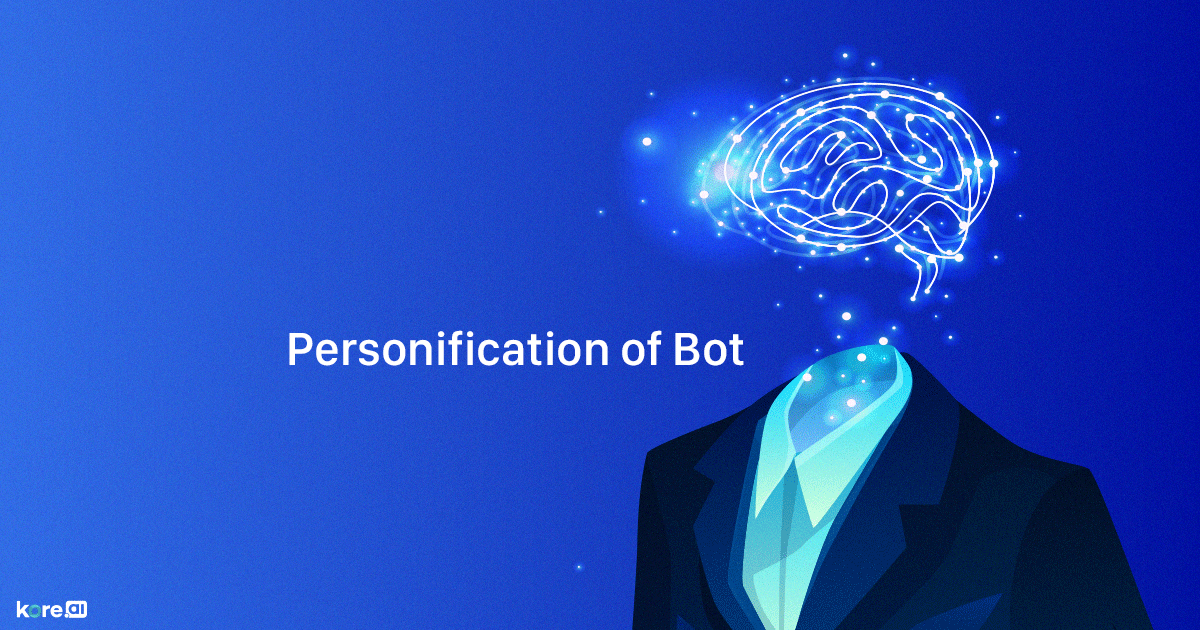 11. Universal Bot
While enterprises are excited about deploying chatbots within their organization, accessing multiple bots via various applications makes them jittery. For example, there is a separate chatbot for HR application to check the leave balance, for IT application to raise service tickets, and for Finance to get the payslips. It's a real bummer when it comes to managing these diverse chatbots, and defeats the very purpose of having an intelligent virtual agent. Enterprises look forward to a single universal bot, which can blanket all these bots and can call the required bot depending upon the type of the requests made by the user. Thus the user gets a single interface which is integrated to multiple chatbots on the backend. These types of universal bot are of dire need and will be highly adopted by the enterprises in the coming years.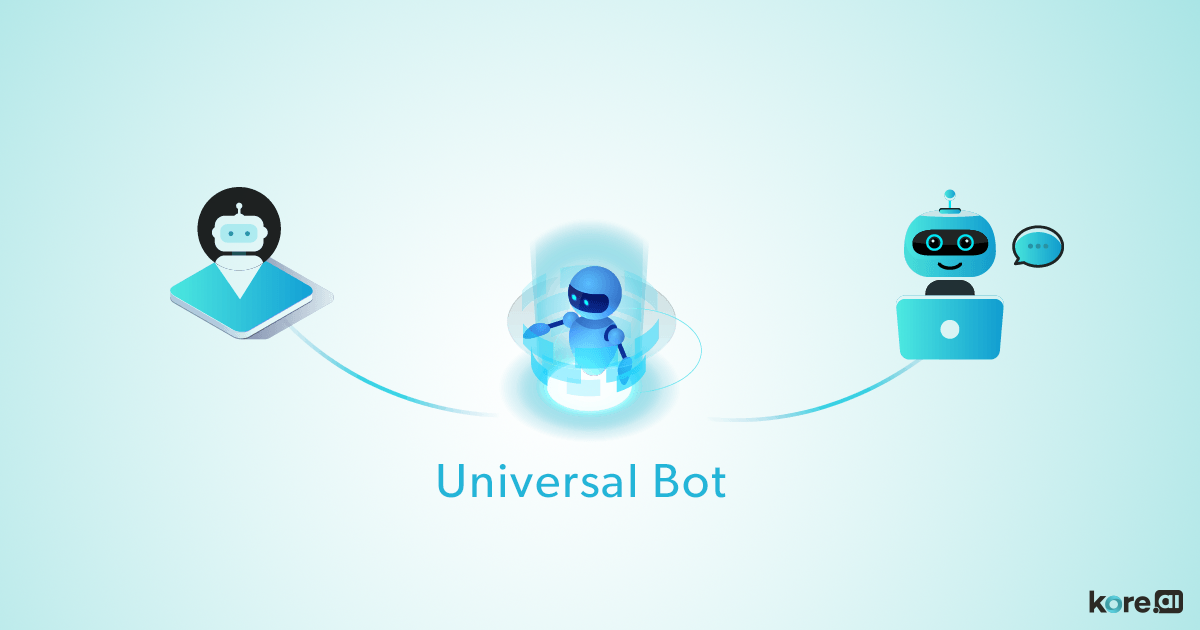 12. Voice Assistants
The use of bots is made more convenient when we can just talk to them instead of typing our requests. Millennials today prefer hands-free conversations to text-enabled bots. Use of Voice assistants like Amazon Echo or Google Home has a CAGR of 41% and will reach 8 billion in the next few years.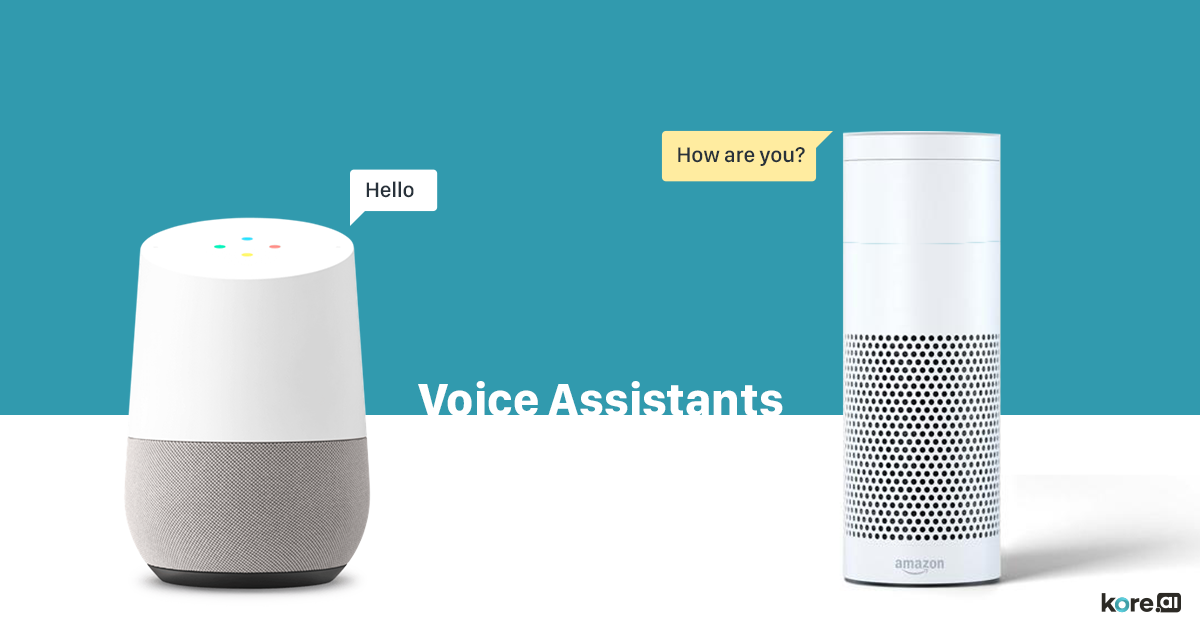 13. Bot Modeling 2.0 - Just Converse
Low-code/ No code Bots have surpassed code-based bots. No code/ low code platform use drag and drop modules and model-based GUI to design the bots. This has lured many non-technical users towards bot development. They just have to decide the building blocks of the bots, and associate them with each other to complete the flow and develop the bot.
However,enterprises strive to further simplify the development of the next generation bot. A Conversation designer in the bots platform aims to achieve this. Using a conversation designer bots can be designed and developed by simply conversing with the bots. The user has to just provide the user and bot conversations as input, the platform would them read the conversations decide on the logic, select the nodes to be imported, APIs to be called and derive the bot from it. This also opens avenues for new job positions of Conversational Designers within organizations.These conversational designers will be SMEs who should be able to craft all the possible permutations and combinations of the conversations for a particular domain. Many chatbots platforms are striving to achieve this method of modeling the bots, which of course would be a stepping stone in the chatbot development.
14. Multilingualism
Bonding is always better when the conversation is done in your native language. It is important to acknowledge that only around 20% of the population of the world's population speaks English, Therefore it becomes imperative for the enterprises to use polyglot bots to spur the engagement and adoption level. Kore.ai Bots has also understood the requirements of its global customers and enable the development of the bots in 20+ languages.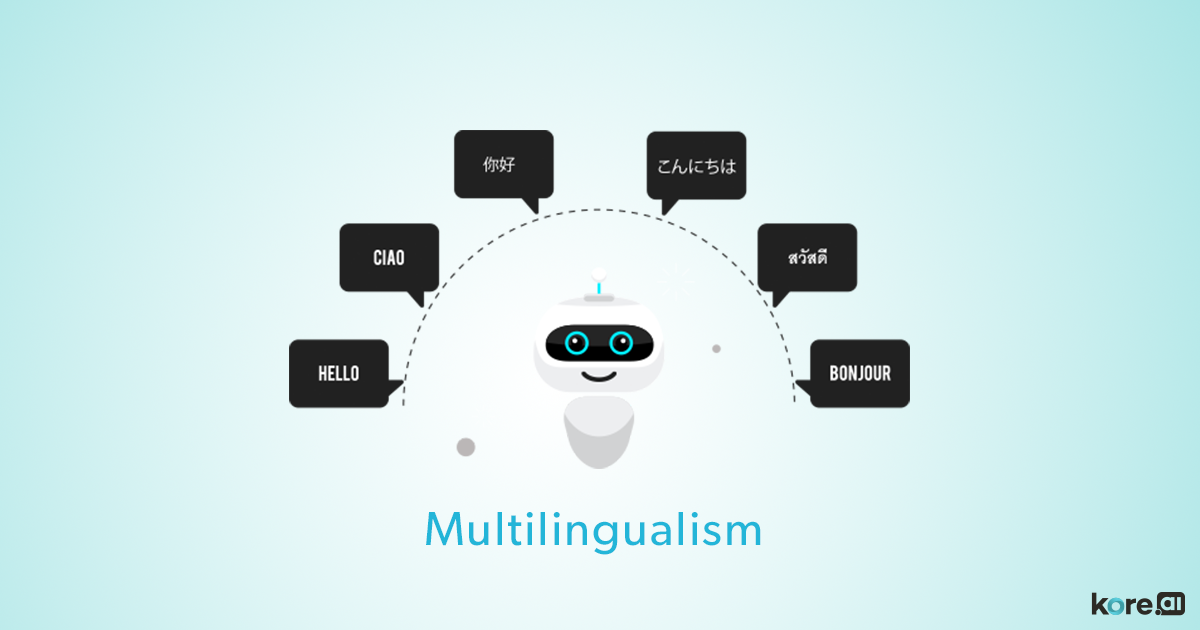 15. Machine to Machine Conversations(M2M)
M2M conversations enable networked devices to share information and perform actions without any manual assistance. Conversational AI bots can be used to trigger man-machine interaction. Besides, chatbots can also decipher information collected from the IoT devices to draw insights on and make recommendations.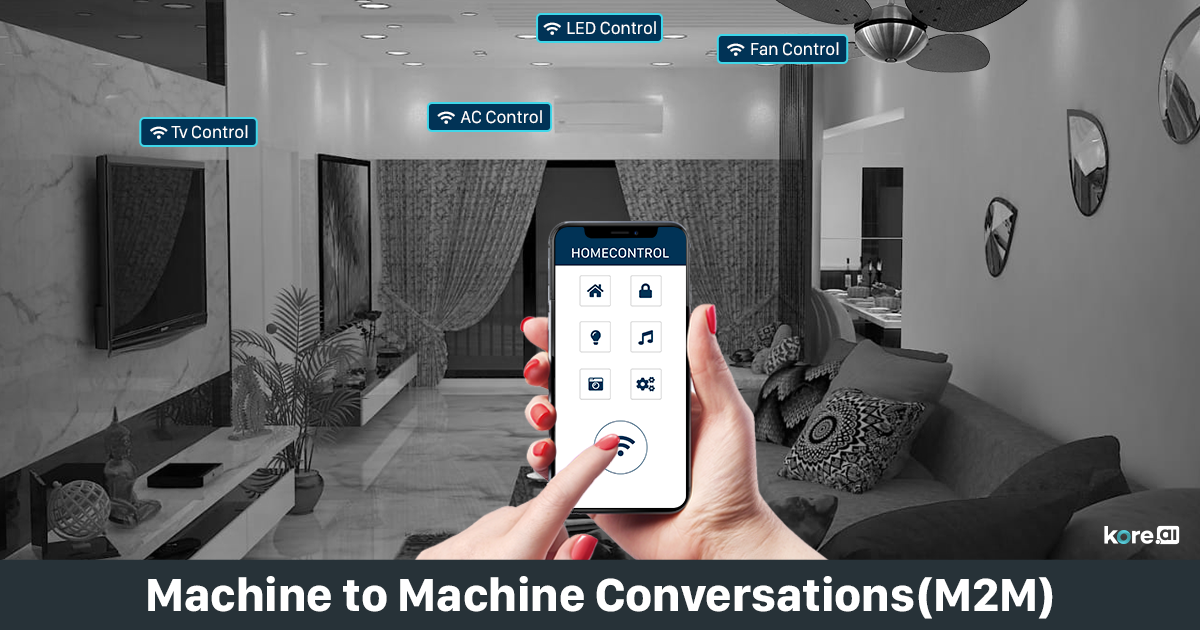 Using the NLP capabilities, chatbots can translate complex machine language into simple natural language. For example, the chatbot can recommend the user to switch off the appliances when the users move out of house and intimate them if there are faults in the appliances.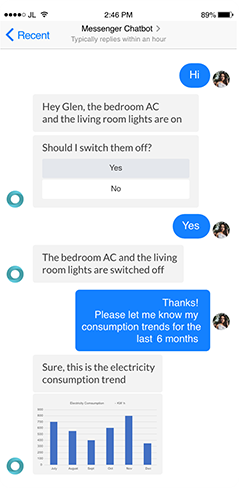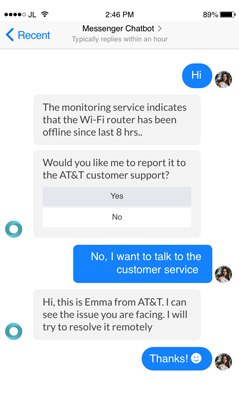 16. Optimized Testing
Testing forms a crucial part of of the bot development life cycle. Testing the bot for various scenarios is effort intensive . This can be optimized if the platform focuses on generating test cases using the utterances. For example, if the user requests for password reset, the input provided by him should be checked against all the parameters required for a password: such as a minimum of 8 characters, alphanumeric and so on. The mention of "password" in the utterance should automatically trigger the test case of validating the password. This approach can improve the rollout time for domain-specific bots to a great extent.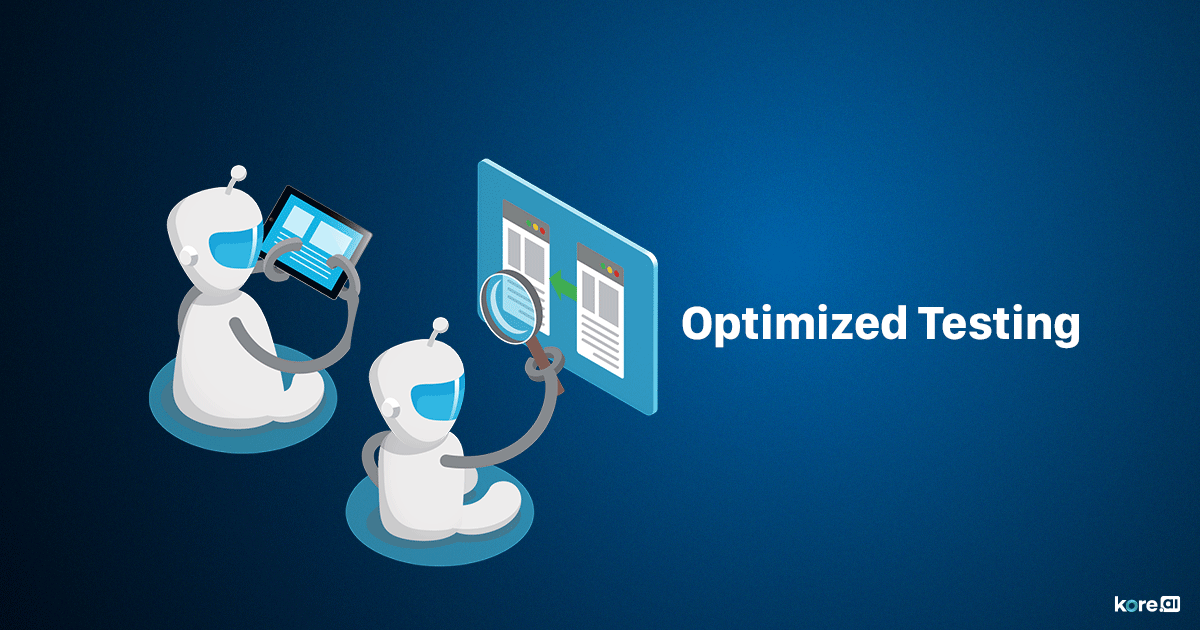 https://saucelabs.com/platform/mobile-emulators-and-simulators
17. Behavioral Analytics for bots
Enterprises deploying bots generate a lot of valuable information such as user data, usage data, performance data, or other metadata, but when it comes to deciphering the information and deriving meaningful insights from those, most of them fall flat.
They can only cross-sell or upsell when they understand the user journey. Conversational Analytics, a trend that's fast catching up, provides a visual representation of the dialogs bots have with users. These conversation flows map popular user paths, tasks, and exit points within a visual context, helping to identify patterns, trends, and correlations that might go unnoticed using text-based data analysis methods. Google chat base and Kore's Conversational Analytics are a few platforms that provide an insightful inference to the user's journey using the chatbot. In 2020, enterprises who adopt chatbot technology would be keen on using these analytics to understand the user better and strategize accordingly.


18. AI Governance
AI governance is the idea whose time has come. Its a legal framework for ensuring machine learning (ML) technologies are well researched and developed with the end goal of helping enterprises leverage AI systems fairly. Dealing with issues surrounding the right to be informed and violations that may occur, AI governance aims to close the gap that exists between accountability and ethics in matters concerning technological advancements. The issue is wide resonance across industries everywhere, including healthcare, transportation, economics, business, education and public safety.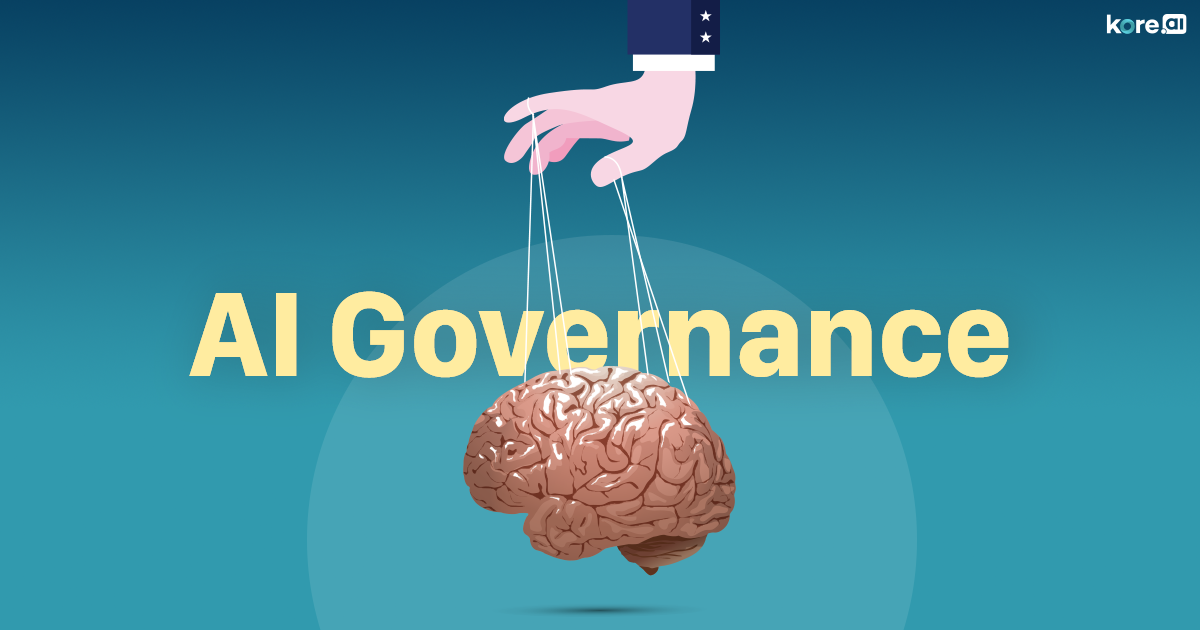 19. Analysts Predictions
According to the latest research by Gartner, by 2020, at least 80% of new enterprise applications will make strong use of chatbots.The same research indicates that, by 2021, "conversational artificial intelligence-first" will be adopted by the majority of enterprise IT organizations as the most important new platform paradigm. Gartner also predicts that Artificial Intelligence (AI) will be a mainstream customer experience investment in the next couple of years. 47% of organizations will use chatbots for customer care and 40% will deploy virtual assistants.
Not only Gartner, leading analysts such as Forrester, IDC, HFS Research, Evalueserve, Nielsen and others acknowledged growing trends of Conversational AI in 2020 and buy into the increasing adoption of Conversational AI in the coming years.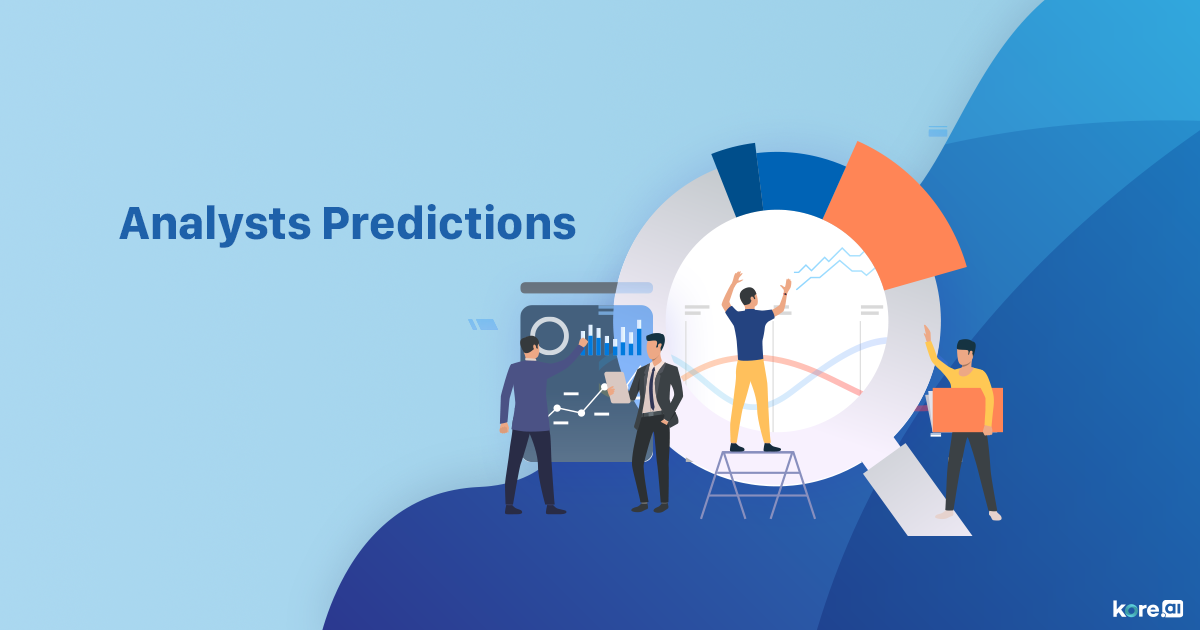 20. Rapid Industry Adoption
Conversational AI bots are being widely adopted in every industry. Banks have enabled their customers to interact with chatbots to clarify queries related to account balance, bank statements, transfer funds, create a deposit, saving and investment advice, and so on. For example, Bank of America introduced Erica, a chatbot for its customers to perform similar functions for them. The hospitality sector is also working towards providing a better guest experience with concierge bots available 24/7. The Airline industry is deploying AI-powered bots to send announcements for ticketing, facilitate web check-ins, personalized search and purchases, provide flight options, and make other travel arrangements. Other industries such as manufacturing, Insurance, Telecom, Media & Entertainment are also catching up with implementation of Conversational AI.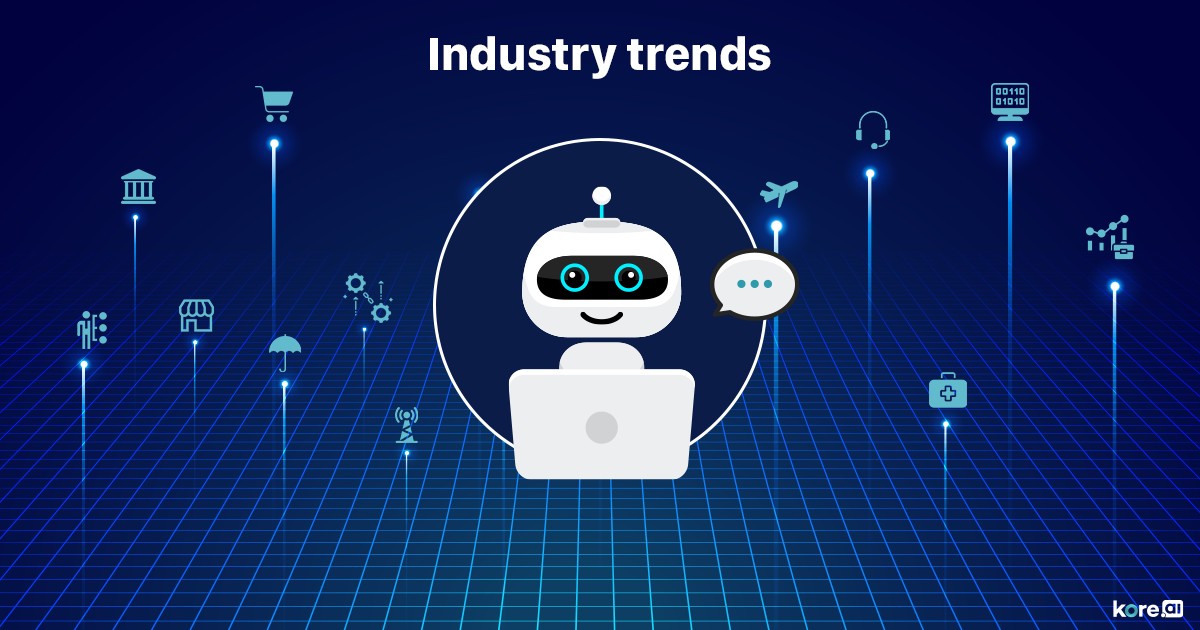 The Way Forward
The conversational AI technology has been widely embraced in 2019 and is set to proliferate in 2020. Some experts say that the full potential of AI-powered chatbots is still on the way while others believe that enterprises can benefit from this technology even in its early days. Do AI trends fascinate you? We, at Kore.ai, have brought a plethora of conversational AI use-cases that can help enterprises incorporate conversational AI faster than any platform out there. Connect with us to know more about how AI can help transform your organization into a conversational enterprise.