When the global banking industry was hit with one of the biggest recessions ever back in 2008, the retail banking sector bore the brunt of the slowdown. Being highly customer-centric compared to other forms of banking, retail banking has a lot at stake in times of hardship. As most common retail banking services are consumer-facing - be it savings accounts, debit and credit cards, mortgages and loans, and certificates of deposit - any market volatility has a significant bearing on their performance.
When it comes to banking, nothing matters more than customer experiences. That's why it makes sense to take note of this report, which found that the primary reason why banks lag in building an enduring relationship is because of a huge backlog of customer complaints. When only 49% of customer problems are solved by bank representatives on first interaction, it naturally breeds dissatisfaction that could later develop into deeper distrust as these challenges amplify in course of customer journey. The current situation is such that about 68% of customer service agents are unable to handle the volume of customer requests.
That's what driving retail banking - comprising of all its forms such as consumer banking, cooperative banking and credit unions - to incorporate digital transformation in their services.
Here are 5 ways a chatbot can enhance digital customer engagement and experience to wade off any forthcoming cyclical downtrends.
1. Know your customer, The Almighty
Knowing your customer persona is the best way to position your banking products per their needs. The Global Financial Services Consumer Study 2019 by Accenture throws up some astounding facts regarding mobile-first age and digital transformation of financial services: about 95% of consumers are ready to share their data with services that can personalize the products according to their requirements.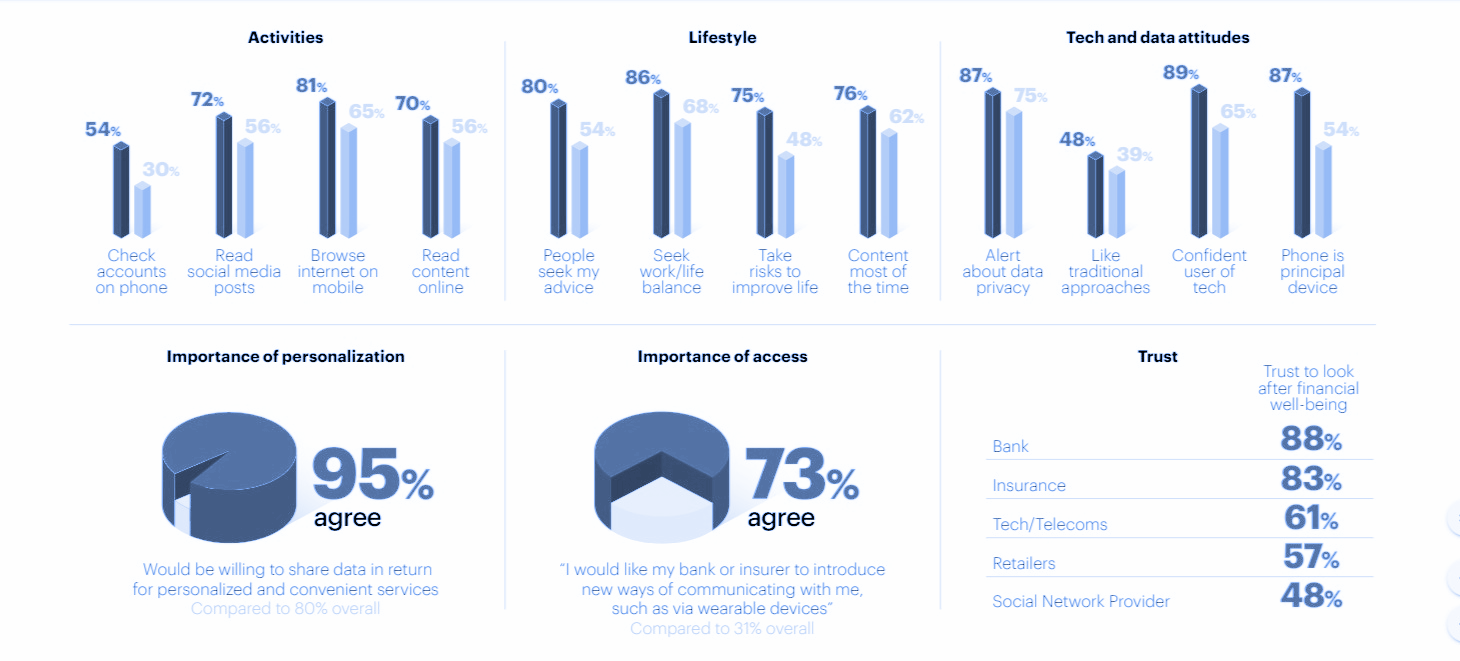 Here, chatbots can help retail banking through questionnaires and personal interactions that can gather important data regarding the consumers to design financial products for them. As 73% of consumers believe in new ways of communication for their banking needs, chatbots can help personalize retail banking products with half of the consumers expecting financial providers to offer propositions addressing core needs, and not only traditional financial services.
One of the important aspects of retail banking and the place where banks can optimize through chatbots is the onboarding process. According to an analysis by Boston Consulting Group, banks invest about $25-$35 billion every year for onboarding processes, yet one in four customers don't remember what their onboarding experience was or it made them frustrated or angry. About 28% of customers are choosing online banks for ease of opening an account.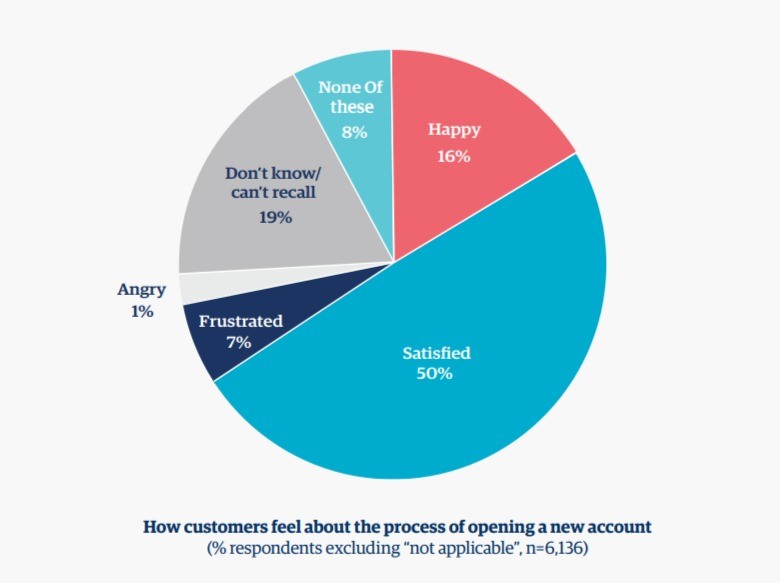 Chatbots can help retail banks with an excellent digital onboarding experience for customers, which is crucial to garnering early loyalty and getting better pull-through with customers. Chatbots can streamline the application process by requesting fewer documents from customers, by extracting digital data and customer patterns to validate applications. It can provide effective customer support across channels and in the customer's choice of format.
Customers who don't get the post onboarding support are likely to get disengaged; chatbots can activate support so customers get the most from their product and guides their journey to becoming active again. Chatbots use AI and machine learning with agile processes to enhance customer journey designs, which helps banks provide this support and gain long-term loyalty.
2. Be an Advisor
An IBM business report stated that the top three priority strategies for banking executives are: improving operational efficiency (58%), improving customer engagement and experience (51%) and growing revenues (50%). You can engage your customers with several key financial services that are needed by the consumers at different phases of life.
One of the important financial products for retail banking is mortgage and loans. The days of customer service agents calling at an inconvenient time and irritably pushing for loans are now expiring as customers have turned to digital platforms for their financial needs. According to McKinsey's report, about $160 billion worth of loans were given by fin-techs in 2017, which will grow to an astounding $220 billion by 2020.
Chatbots can help retail banks to cash-in on the digital lending space and grow their revenues by designing loans and mortgages according to customer needs, by data aggregation, analysis, and cognitive computing.
3. Physical and Digital Integration
It is important to integrate your physical and digital components of all your banking solutions. According to the Global Fintech Report 2017 by PwC, about 88% of financial institutions are concerned about losing their business to fintech firms starting with payments, funds transfer, and personal finance sectors. As the realm of mobile banking overtakes traditional ways of banking, retail banks need integration of physical and digital components to survive the technological transition.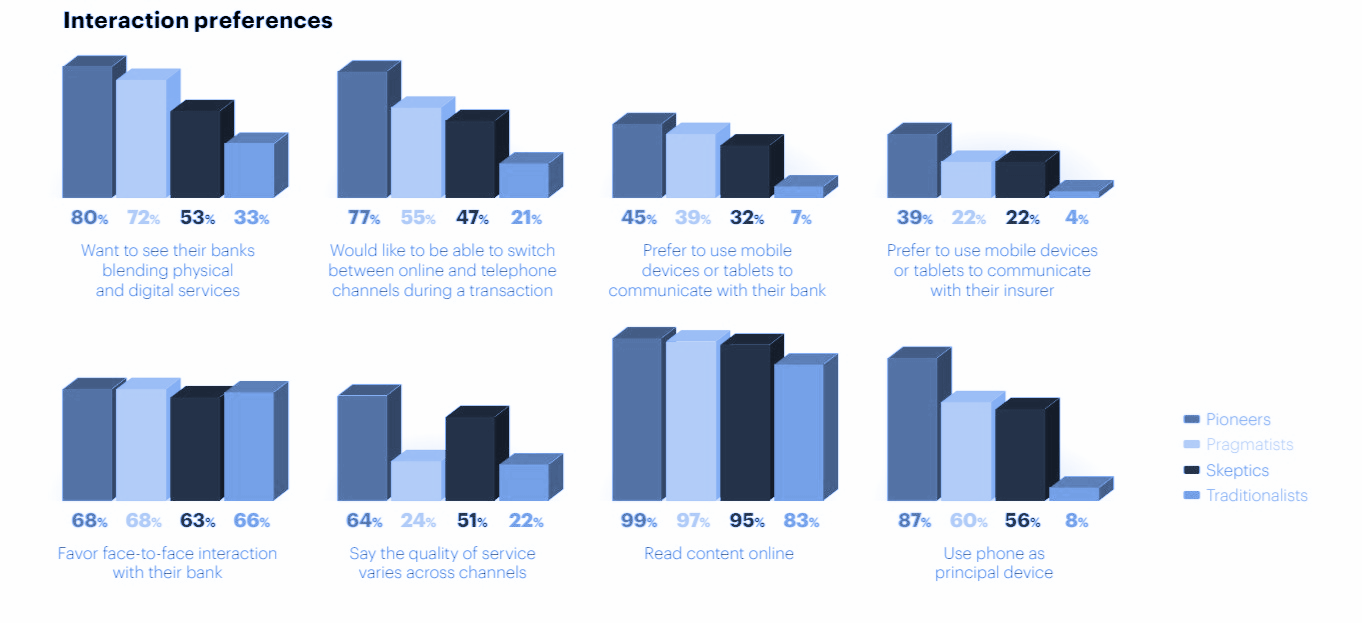 In the plethora of channels available for financial services, there exists a clear lead for electronic channels than traditional services. Chatbots can help in integrating the physical and digital services by branch and ATM locator services, effective lead generation and had-offs to physical advisors and many more.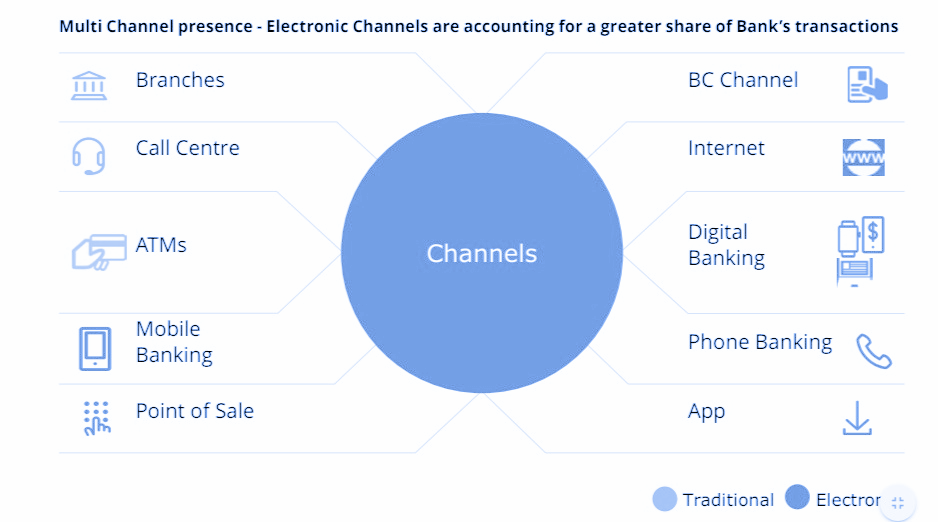 Image Source: deloitte.com
4. Be Trustworthy
Use Building trust among your customers is an important factor and here too the use of chatbots can play a role. According to Accenture, the biggest factor for consumers to leave their current provider is issues regarding data security. So, it is quite important for retail banks to align their chatbots with data security and data privacy regulations.

Financial services offered by retail banks can't ignore the risks of a breach of trust and they can ensure data security by hiring dedicated developers that can integrate such data security regulation at the design stage of chatbots. Retail banks should emphasize trustworthiness as a financial service and actively communicate this to customers through all touchpoints.
5. Go for GAFA
In view of Accenture, financial services providers like retail banks should review emerging channels such as GAFA (Google LLC, Apple, Inc., Facebook, Inc., and Amazon.com) as a means of product and service delivery. Banks can leverage the use of such platforms by using chatbots to package financial services products (such as cards, loans and so forth), suitable to such platforms for sales.
Retail banks can use chatbots to analyze social media usage patterns and plan placement of funding on GAFA and fintech platforms for them to provide to end-customers. Banks can provide enterprises digital services, such as digital identification, digital vault and so forth with assistance from chatbots.
Retail banking services worldwide are undergoing fascinating changes, where the digital economy is shaping the future of financial and banking services. This transition can be navigated better through the use of chatbots and AI technologies.
A Juniper research found that chatbots will be responsible for cost savings of over $8 billion per annum by 2022, with a rate of cost savings up to $20 million this year. An average cost saving per query using chatbot will be about $0.70, which makes chatbots the most efficient way of customer service.
The future of retail banks lies in adaptation of chatbots to combat recessionary trends through enhanced customer engagement and customer experience.