In the last three to four months the world has seen so much change that people are adapting to new ways of living. Working remotely has become the new normal, forcing people to look for solutions that enable them to get work done from their homes with the same efficiency and accuracy. Virtual assistants have been found to be exceptionally useful in this regard, empowering employees to perform tasks or access information easily and quickly.
Kore.ai has been at the helm of providing a platform that enables development of impeccable virtual assistants in the conversational AI and digital UX space - the kind of solutions that can cater to complex human queries and perform actions as and when required. With every release, the Kore.ai Virtual Assistant Platform strives to bring something better than before and continues its legacy of spearheading innovation in the Intelligent Virtual Assistant market space. Version 7.3 of the Kore.ai Virtual Assistant Platform focuses on helping users and developers build virtual assistants (bots) with the right blend of conversational and digital experience. Here is the list of key features and enhancements in the release:

UI Forms
The introduction of user interface (UI) forms aims to improve the digital user experience of virtual assistants built on the Kore.ai Platform. While querying a bot, users are required to provide information such as name, address, personal details, customer issues, and more. Instead of providing these details through multiple chat volleys, which hampers user engagement and disrupts the flow of the conversation, UI forms allow users to key-in information at one-go with minimal efforts.
It brings the ability to capture user details through a single interface that has a list of input fields. One can design virtually any form specific to a business need. It is equipped with a rich set of components libraries such as textbox, dropdown, checkbox, radio buttons, and many more. Users can simply drag and drop the various components to design the required forms.
Information collected in UI forms is automatically submitted to the virtual assistants that can perform any necessary follow-up actions in the form of conversations or digital interactions.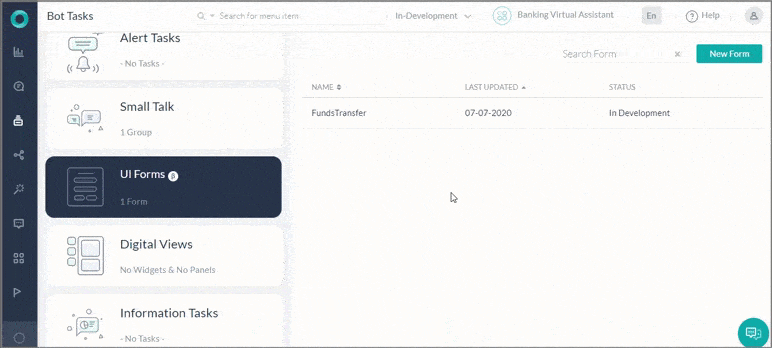 Build and invoke forms in Kore.ai Platform version 7.3
Data Tables
Organizations widely use the data collected from virtual assistants. For one, this data helps them understand the users better and strategize accordingly. Moreover, this is far better than collecting data through external services, especially for user feedback, form fills, surveys, etc. In version 7.3, we have further simplified the data collection process using Data Tables.
It is easier now to store, retrieve, update, and delete custom data records for any business needs. The data table feature allows platform users to:
Define tables and data views, grant access to the bots for manipulating data from the data tables, and define apps for securely importing and exporting data definitions
Manipulate data to create, read, update, and delete data from the tables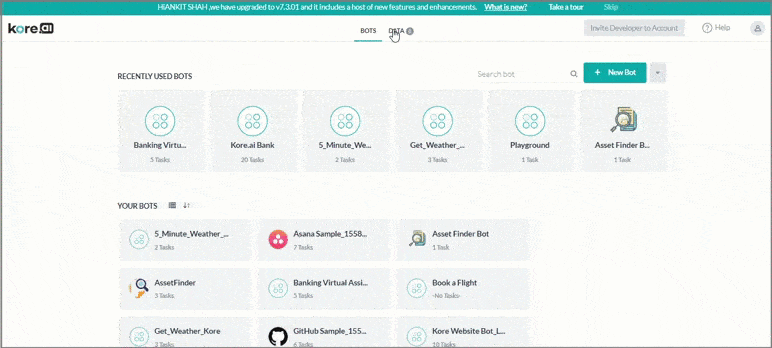 Define Data Table
Versioning
At various phases of the bot development lifecycle, different stakeholders have to collaborate and make multiple changes per the requirements. Many times there is a need to keep a version of the bot intact and incrementally work on it without affecting the current version. As the bot progresses from QA to UAT to Production, it becomes necessary for the team to preserve a fully tested version until the final release and continue to work on the enhancements. Also, the team looks for ways to log and track changes made in the virtual assistants.
These vital issues are now addressed using the Versioning feature. Versioning allows the users to create multiple versions of the bots at various stages of the life cycle. Changes to the original task do not go into effect until they have been finalized and approved, so adjustments can be made without impacting current operations. The versions of the virtual assistants can be automatically created at the time of publishing. Also, the developers are allowed to create different versions during development.
Our platform stores different versions of the virtual assistants, which can be retrieved and restored as and when required. This allows the users to roll back to the previous versions and never lose any changes made.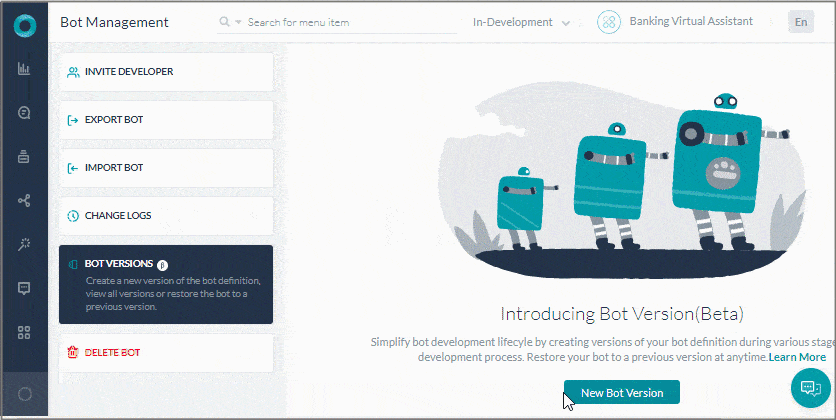 Create versions of the virtual assistants
Versioning thus fosters better collaboration among the developers, empowering them to build robust virtual assistants in minimal time.
Enhancements in the Universal Bot
As virtual assistants become a part of our daily life, they need to be robust enough to understand complex user queries from multiple applications. Like humans, virtual assistants should learn the ability to multitask - performing disparate tasks with razor-sharp precision.
Universal Bot (UB) 2.0 is powered with greater intelligence and speed. Unlike before, the UB now routes user utterances only to the relevant linked virtual assistants. The UB also processes user requests in parallel (not in sequence) which makes it more agile. In addition, the ability to train the UB has also been improved through a combination of machine learning models and phrases. More importantly, UB 2.0 has been taught to gracefully exit for any unidentified/untrained requests.
Universal Bot 2.0
Other Updates
Unblu and WeChat channels have been added to the roll of 30+ channels we currently support. Our new version allows platform users to disable a previously added language.
In the knowledge graph, a new option allows lemmatization using parts of speech. Besides, the search support has been extended to languages such as German, Spanish, French, Portuguese (Brazilian), Italian, Indonesian, Dutch, Finnish, Polish, and Swedish within the knowledge graph.
Other significant enhancements relate to AD synchronization, natural language processing, batch testing, app management, changelogs, security, and performance along with bug fixes.
The new release aims to empower platform users to improve the virtual assistant life cycle and deliver flawless enterprise-grade bots for their employees and customers.
We encourage you to explore our new features and enhancements. Please refer to Product Documentation for detailed information related to Kore.ai Virtual Assistant Platform v7.3.0 release.