At a time when traditional ways of transacting through banks are gradually paving the way for highly automated, AI-driven workflows, the question staring top echelons of the banking industry is: how do you stay relevant, and retain your identity in a world that's being increasingly determined by technology?
There's something nostalgic about old school banking. Well, before the era of smartphones, Google Pay, Apple Pay, or any other banking apps, banking was a very personal experience. A couple of decades ago, if you had to transfer money to someone, you would drive to the nearest branch, stand in a queue, fill out a form, and complete the transfer. In the process you would light up a conversation with the staff there, chat, gossip and also get some personal advice about how to manage finances better, loan offers on hand, new schemes or just about anything under the sun.
No doubt, each time the experience need not have been pleasant because a banker's job is always taxing, and you might not have got the right mindshare everytime or faced hurdles of inordinate delays, poor servicing emanating from human errors. On the whole, the process was a bit tedious, there were delays and not everything was awesome, but there was a certain charm about it. From a bankers' perspective there were other kinds of challenges as traditional models of operations led to a lot of secondaries such as:
Huge cost of operations and the inability to generate cost savings

Limited capabilities to acquire, engage and retain customers

Highly competitive environment that presented challenges for differentiation, positioning or carving a big market share.
The digital revolution changed everything. It ushered in a lot of changes that made banking operations much faster, easier and convenient, and caught on the imagination of many people. However, in the process it turned the entire exercise into a very impersonal affair. According to a recent survey by Citi, 91 percent of mobile banking users prefer using their app over going to a physical branch, and 68 percent of millennials who use mobile banking predict their smartphones will replace their physical wallets soon. But while banks have succeeded in meeting the demand for digital services, somewhere along the way the personalized approach got lost.
And all said and done, traditional banking's core competence is as relevant today as it was earlier: how to understand the customer and cater to her needs. The arrival of AI-based conversational interfaces has hastened the banking industry's adoption of digital technology in a much more productive and hassle-free manner. Even as they leverage technology to compete for the business of digital natives and millennials, banks are revisiting traditional personal banking and using their data to gain a deeper analysis of customer behavior, so they can deliver excellent customer experiences across all channels with reduced costs—whether that be digital or in-branch.
"Artificial Intelligence is the key enabler for banks to address their challenges" - Gartner, Ernst & Young.
How Banking Virtual Assistants deliver Custom & Personal Banking Experiences
Banking Virtual Assistants bring greater convenience, speed, lower friction, and increased accessibility to the customers. For banks, it brings a new wave of technological innovation centered around customer interactions with new channels of communications powered by social messaging platforms, voice assistants, and mobile devices. Banks with integrated banking virtual assistants can literally have a voice and deliver their services to customers in more convenient and automated ways, across multiple touchpoints and communication channels.
The most attractive thing about banking virtual assistants is ubiquity and the convenience that comes with it. Imagine banking assistants who are available 24/7 and through multiple channels like Telegram, Facebook Messenger or email and more, it will be a win-win situation for both customers and the bank. From a customer's perspective, simple requests such as password resets or adding a payee or making an international transfer can be done instantaneously and there's no need to visit the bank or spend an hour in IVR puzzle menu to speak to a human agent. Banks adopting banking virtual assistants are in fact seeing increased customer satisfaction rates and sales.
Banking virtual assistants with cognitive intelligence capabilities represent another leap in automation for financial institutions. Unlike simple chatbots, banking virtual assistants can develop their cognitive abilities through Natural Language Processing (NLP). The advanced engines can process customer queries asked in hundreds of variations, including spell and grammar errors. More importantly for any bank, handling the context of the user interaction is important and banking virtual assistants holds onto it. The interface of it is able to process the requests of multiple contexts without starting over all again.
Many banks have already integrated banking virtual assistants into their system solutions. Customers communicate via text or voice command to gain quick answers to banking queries, personalized financial advice and can even carry out transactions all from the same channel.
Voice-enabled banking virtual assistants can handle payments and transfers, credit card activation, password resets,and pay alerts and reminders for customers anytime and from anywhere, freeing up customer services teams to focus on more complex customer enquiries and enhance productivity.
Enterprise-grade platforms like Kore.ai have built scalable banking virtual assistants that banks can white-label and deploy to customers easily. Kore.ai's retail banking virtual assistant is powered by Natural Language Processing (NLP) and artificial intelligence (AI) technology, simulating more human-like and fluid customer interactions.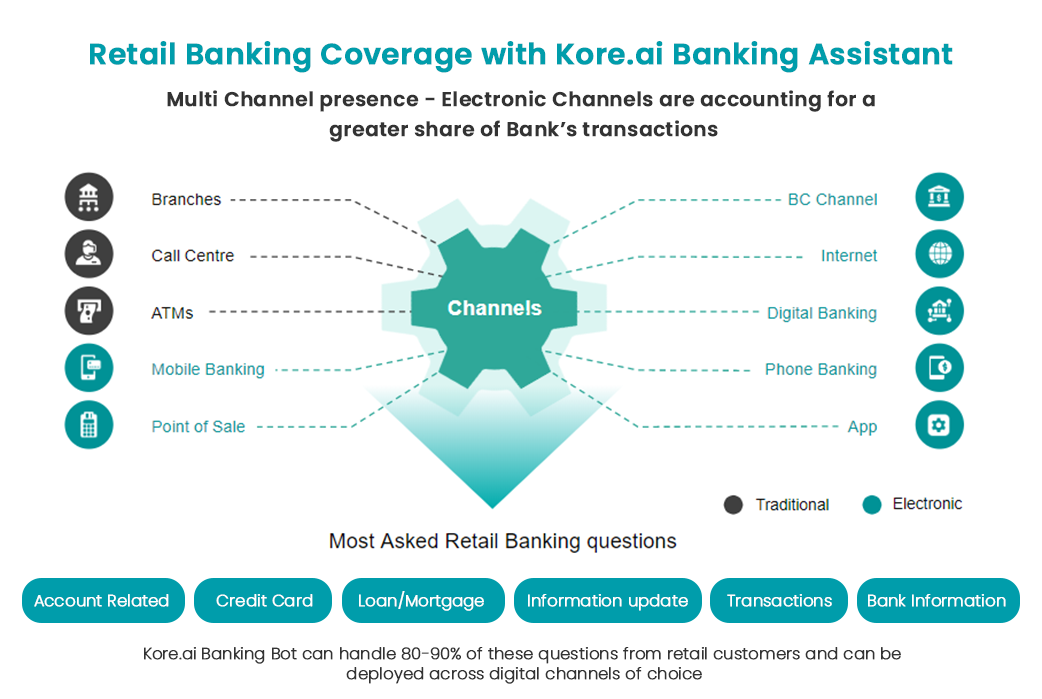 Banking virtual assistants can be leveraged to combine past chat history with current customer data to proactively provide personalized advice, support offers, or any other information like never before. AI-powered banking virtual assistants can support more complex interactions than a regular digital banking app as they can emulate human-to-human conversations. Frequently asked queries related to the customer's account, credit card, loan application, or promoting new banking products and loyalty programs, banking virtual assistants can handle a multitude of customer interactions.
Let's have a look at few use cases that falls under Banking Virtual Assistant purview:
1. Account Related Queries
One of the most basic tasks of a live agent sitting at a bank is to answer frequent queries like where is the closest ATM or branch, how can I reset my net banking password, how can I block my lost debit/credit card, etc. With banking virtual assistants integrated into the system banks can be free with very important and expensive contact center time, in addition to saving customer's time by providing quick responses instead of making them wait unnecessary.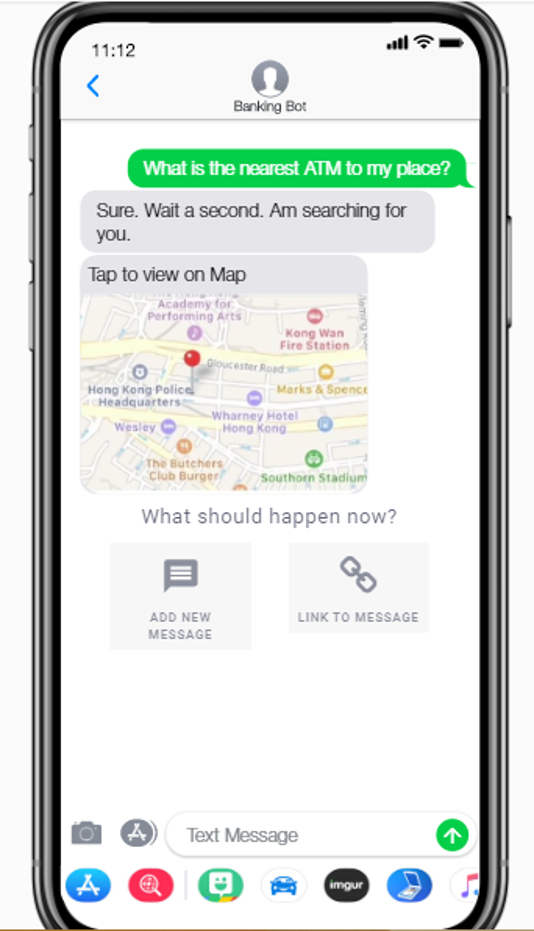 2. Balance Check
Banking virtual assistants can behave like live assistants and help customers with information on their current account balance and have a quick view of their daily transactions.
3. Personalized Assistance
Undoubtedly, banking virtual assistants can notify customers with deposit alerts, reminders on transfers and helping them in providing information related to any banking services like credit cards, loans, etc.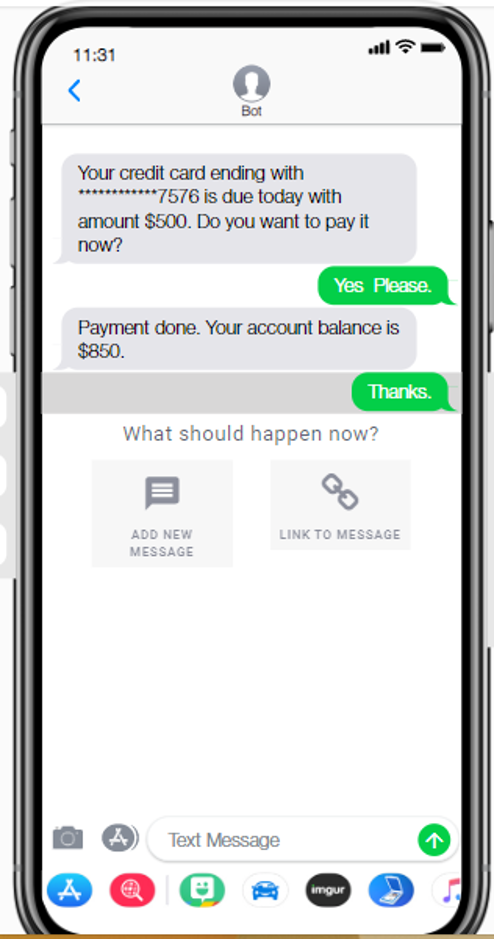 4. Financial Assistance
Integrated with the right historical data, banking virtual assistants can behave like financial advisors. They can respond to customers queries around spending and budgeting, helping customers manage their financial life, and all on a chat.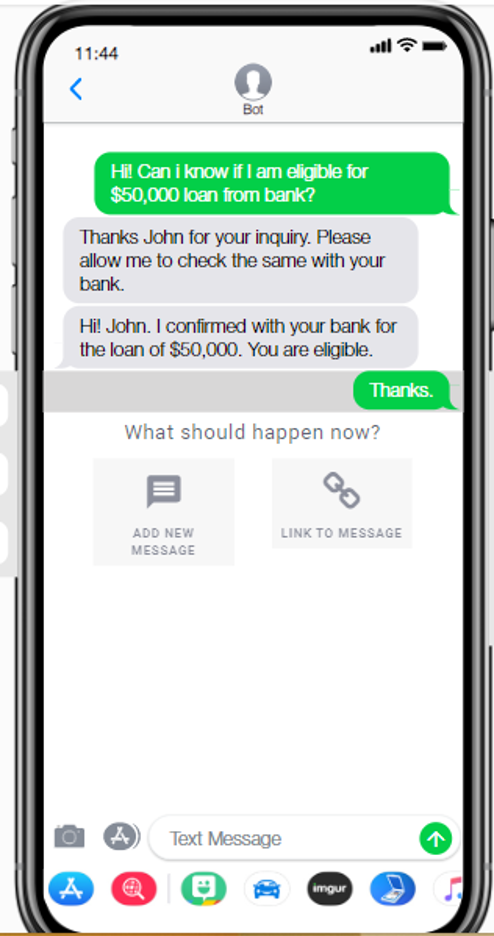 Apart from basic banking services, banking virtual assistants can support a wide range of customer support like fraud detection, adding payee, removing a payee, setting up a recurring bill pay, checking account overdraft and more.
Banks that invest in AI and human-machine collaboration at the same rate as top-performing businesses could boost their revenue by an average of 34 per cent and their employment by 14 per cent by 2022.
The Banking industry has long been at the forefront of technological innovation. While many banking industries are still debating whether to invest in banking virtual assistants, major banks are leading the way to invest in this smart technology and are thriving as a result. As banking virtual assistants have become increasingly intelligent and their cognitive abilities develop, the expectations for banks and the services they offer will be elevated. To know more about banking virtual assistants expertise in banking, Download the case study or join us in a live webinar.