Hasn't it startled you: on an average day you might actually be interacting with your electronic gadgets more than your friends, family, colleagues, or even spouse. If it hasn't yet sunk in, let's double-check. You begin the day by unlocking the mobile phone to check on what's happening around the planet; by the time you sit down to work your laptop takes over, and the rest of your productive hours are spent juggling an assortment of screens; smartwatches or fit bands follow your every step to help you stay the course; and then there are a bunch of smart machines, connected devices, home appliances with screens… you navigate all too frequently.
So, how are we interacting with each of these devices? Don't we need a much simpler yet powerful way to communicate with these devices?
Yes! We do. That's why we have Conversational UI with jaw-dropping Digital UX.
Conversational UI is a new-age user interface that's simpler, easier, and intuitive compared to its predecessors - text-based UI and GUI. Chatbots/virtual assistants and voice assistants are the two predominant avatars of CUI (I had briefly touched upon these in my previous blog). But the best of Conversational UI is realized only when it blends with a superior digital experience to enthrall users and empowers them to have fluid interactions with applications or devices and execute tasks.
While the market is strewn with conversational chatbots that have some sort of interactive UI and voice capabilities built-in, none is successful in providing the ultimate digital UX.
Kora is an exception.
Kora is an enterprise virtual assistant built for smart employees to add more innovation to the workplace. Kora's conversational UI along with best-in-class digital UX provides a mesmerizing experience to the users. Built on Kore.ai's enterprise-grade virtual assistant platform, Kora harnesses the power of AI, ML, and NLP, to bring a human element to every user interaction. It also performs tasks whichever way the command is delivered - in the form of a text or voice. Our everyday employee has a lot less to worry about their daily mundane work chores with Kora on their side, and instead can look forward to doing something more productive and creative.
Oh, what's so special about it?
Hang on, Kora is not just another virtual assistant in the market, she's smart, intelligent, quick, and can be your buddy at the workplace. Kora can assist you with -
Managing knowledge base

Searching through enterprise portals

Interact with enterprise systems

Scheduling meetings

Managing & assigning tasks



All this, and more, is achieved through an interactive UI.
UI-Chat dance
Sounds interesting? Of course, why won't it?
A lot of thought and research went into designing the Kora interface. Our overriding goal was to provide a "wow" experience to everyone who accesses Kora. This was accomplished by blending the UI and Chat experiences. The user can easily switch between different modes of communication. Start conversing with the textual commands and quickly shift to UI-based interactions and further continue with voice commands. The level of flexibility provided by Kora is unparalleled.
Check out the below reference -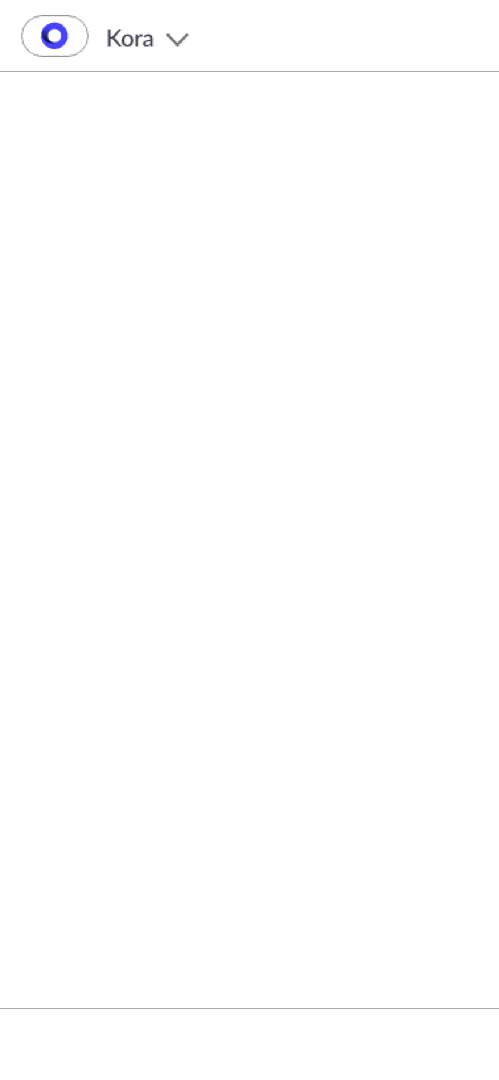 Widgets & Panels
How about having a work desk with all the necessary peripherals at your reach? Don't you think it's easy-breezy to work? Being your work buddy, Kora provides a similar experience by bringing all your daily requirements together in the form of widgets and panels.
Widgets are the elements that are specific to a particular activity. You can have a widget for applying for a day off, a widget for creating a lead on CRM, or a widget to raise a service request on the enterprise ITSM portal. Panels are a group of widgets that belongs to the same function.
Enterprises can build their own widgets & panels as per their requirements.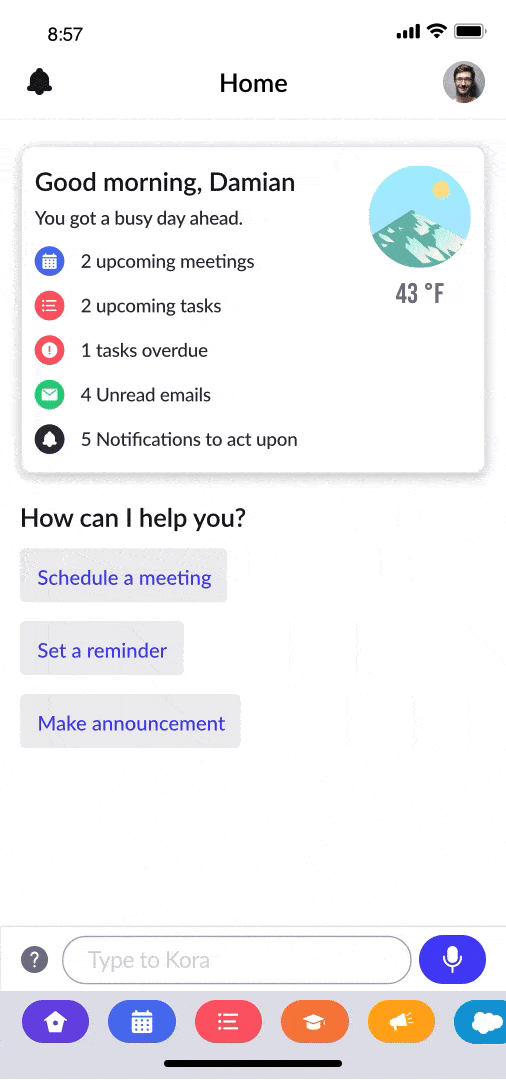 Omnichannel
All too often UI designers fail to deliver the same user experience on different channels. The experience on the mobile app differs from what it offers on the web app or desktop app. It is always a juggernaut to crack.
Kora's intuitive UI offers a similar user experience across the channels, be it mobile, web, or desktop versions. She provides asynchronous interactions. With this, users can seamlessly switch between different channels in the middle of the task.
Start scheduling a meeting on the mobile app and continue to the web app to complete the action. Kora is an absolute bounty for those who want to simplify tasks and improve their productivity.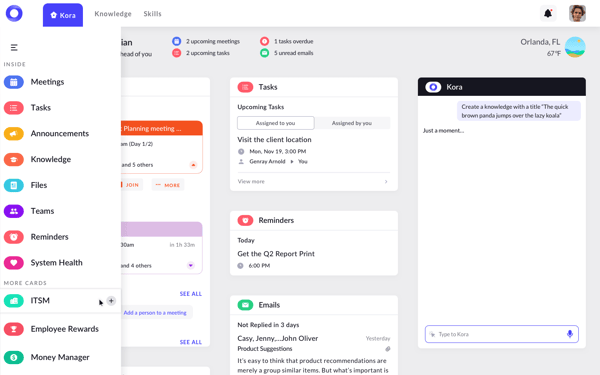 Voice-Enabled
The rise of AI has spawned a deluge of voice-enabled assistants that help us in our day-to-day personal tasks. It may be playing a song, adding a grocery list, making a call, or even controlling home appliances. The popular assistants are Hey Google. Apple Siri, and Amazon Alexa.
All this is good!
But do we have any assistant serving enterprise needs?
Kora does that. Our enterprise virtual assistant is voice-enabled so employees can talk to her just like talking to a colleague. Ask here, to set up a meeting, assign a task, set reminders, or invoke enterprise skills to perform the tasks. Users also have the feasibility to set the "Trigger Phase" to call the skill.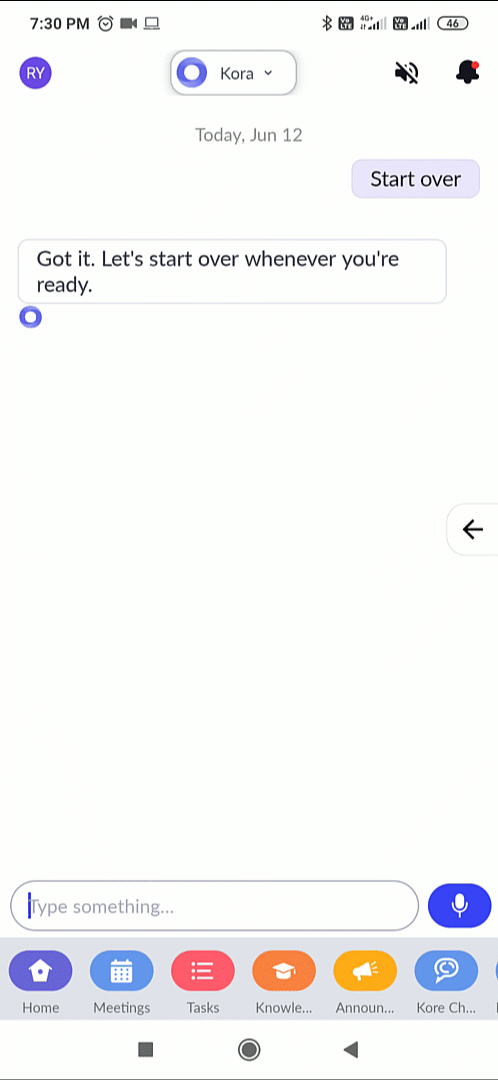 Rich - Graphic
Plain text or flat designs are boring both from the visual and usage perspective. It doesn't entice the user and refrains them from using the tool further.
Kora provides a rich-text with numerous elements and improves the user experience. While developing a skill, enterprises can leverage Kora's UI form capabilities including dropdowns, tooltips, and separators, and more. Kora supports rich-elements like Button, Carousel, List, Charts, and Table.
It gives a free hand for the enterprise admin to blend-in an interactive design into skills. These elements dynamically interact with enterprise systems to pull and push the information. These are super-easy to use and intuitive.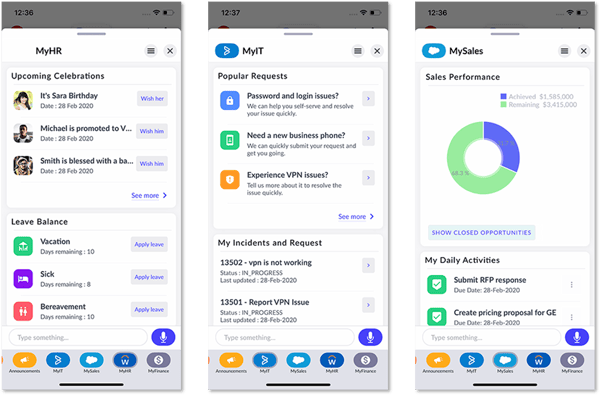 Kora's out-of-the-box UI capabilities are too valuable and too numerous, enabling a truly modern employee experience. It's time enterprises provided the right resources that help their employees excel.
Kora draws its power from a set of futuristic technologies that are set to revolutionize the workplace. It's like having a personal assistant that takes care of all your enterprise productivity needs and sets you up to achieve something greater, every day. How about onboarding an assistant for every employee within your organization?