Joseph Weizenbaum was a pioneer on many counts. True, he was the genius who demonstrated that you could build software programs that simulate automated responses as early as 1966 (a chatbot if you wish to call it so); but his real imagination lay in the fact that he fabricated up a personality for his creation, and gave it a fond name.
'Eliza' symbolized a long-cherished dream: of creating a human-like machine invested with intelligence and a personality as complex as that of its creators. In other words, Weizenbaum brought home the point that nothing fascinates man as much as himself.
While Eliza hadn't crossed the "Turing Test" barrier, it inspired many tech wizards to invest their lives in developing solutions that can deliver human-like functions.
In the recent decade, we have seen a spate of software programs called chatbots that deliver near human-like conversations and are becoming mainstream for businesses. But how many of them pass the muster of "Weizenbaum Test"?
Today's chatbot implementations are no doubt sophisticated. A tall order it is: defining a purpose, developing a chatbot, and training it with rich Natural Language Processing (NLP) and 1000s' of utterances to identify the right intent. Effectively, it may take 1-6 months (depending on the complexity of the use case) to build an efficient chatbot.
But as many have realized, building a well-trained bot is one thing, and creating an alluring personality around it is altogether different.
In spite of getting all things right, a bot on your website would still make little business sense if it can't engage visitors. What's the point of spending a fortune on publishing a chatbot whose engagement is suboptimal? Especially if your bot is of enterprise-scale and is interacting with your prospects and customers.
Here are a few tricks for boosting the engagement of your chatbots by conferring on them a personality:
1. Give a Name and Avatar
Chatbots are not just a pieces of code, they are a combination of sophisticated technologies like Artificial Intelligence (AI) and Machine Learning (ML), as well as strong aesthetics with a deep impact on human psychology. If they are programmed to mimic human-like conversations, they better be more appealing:

Decide the gender of chatbot based on end-user persona
Give the chatbot a name that is catchy to the normal audience
Brainstorm with your team give it an avatar that talks about your business/use case
Ensure to stay in line with your brand and should be easily recognizable. The top AI-Powered solution for students "Nerdify" had named its' messenger bot as Nerdy and gave Nerd avatar.
2. Personalization
Every one of us craves for an identity. Often, we want to stand out of the crowd. So build a chatbot that makes the user feel special by greeting him with his name. Use analytics and previous chat history to understand the context and background of the user. Assist him with relevant suggestions or sharing news, articles that matches his tastes.
You can even ask him for the feedback at the end of the conversation. The classic example for a food joint chatbot would be presenting a customized menu that suits his palate (a non-meat, non-dairy fare options for an avowed vegan). Kore.ai's Platform specializes in building chatbots that personalize different options based on user context. Check out more at Context Management.
Effective personalization can make the user engage more with the chatbot
3. Avoid chatbotalese
In the enterprise context, especially when you are serving a larger audience, take care of the way you train your chatbot. Be polite in the way you converse with the end-user. Minimize the usage of jargon and focus on simple syntaxes that are grammatically correct with fewer punctuations. You never know on which device the user is accessing the chatbot. So it helps to avoid length responses, and instead break them into small sentences that are readable.

Welcoming with a simple text and explaining about chatbot functionality can entice the user
4. Intuitive responses
Chatbots are all-about creating human-like conversations. To make it more realistic, start using emojis and contractions within the conversation. Just observe the difference between the below phrases –
"We will get your ticket resolved in the next 7 working days!"
(or)
"Hey you! we'll resolve the ticket in just 7 working days 😊!"
The first phrase is rather staid and doesn't appeal to the reader, while the second one is more casual and makes the user feel that he's conversing to a real human at the other end.
Happy customer is a repeat customer.
5. Stay in sync with your brand
You are the best judge of your audience; you can decide the nature of your conversation. If you are serving professionals or professional services, then maintaining a formal conversation makes sense. While a fashion brand targeting youth may engineer an informal or casual tone.
6. Omnichannel presence
A one-size-fits-all approach doesn't work. With a wide variety of options available including mobile, tablets, and desktop, etc., it's practically impossible to predict on which channel your user might interact with you. He may jump from one to another seamlessly. It's advisable to be present on as many channels as possible. Popular channels include email, WhatsApp, messenger, Slack and many more. Kore.ai enterprise chat building platform provides you the access to 30+ channels across the segments.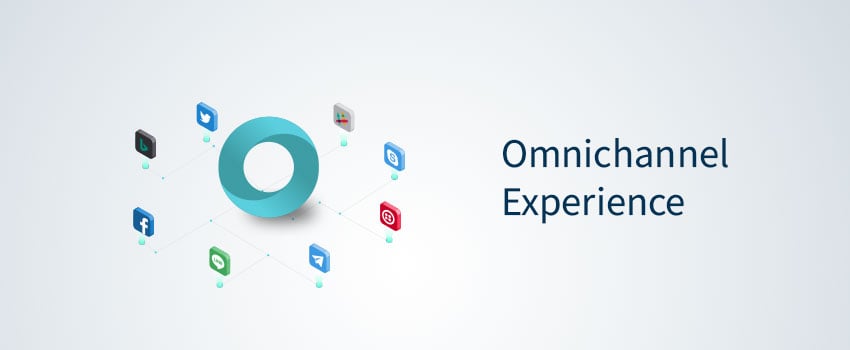 7. Improve visibility
The very premise of implementing chatbots is to providing better customer experience. But what if your customer is not using your chatbot, or unable to identify your bot in the mob of other options out there in the market? If you land in such a quandary, it's advisable to submit your bots to the directories that can improve the visibility of your bots. There are many free chatbots submission sites like BotList, Bots.directory, Kik Bot Shop and others that you may try out.
8. Exclusive offers & updates
Who on earth doesn't like promotional offers? Rightly implemented, this can be a winning strategy to increase chatbot engagement by leaps and bounds. In addition, it can drive sales as well. You can allow users to shop right from your chatbots by offering alluring discounts and benefits. This is similar to the discounts on sales made through mobile apps that have proven to be successful in the recent past.
One can even implement carousel slider. Chatbots can help businesses to share product/feature updates via push notifications. This allows your user to engage with chatbots more regularly.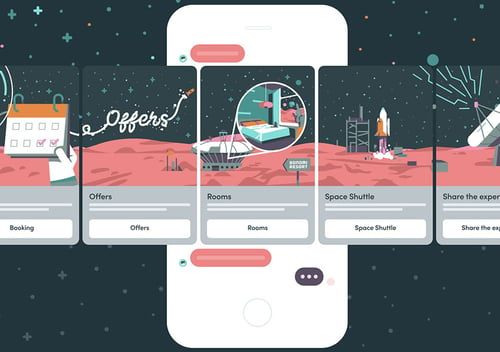 Source: http://bit.ly/2lDmMCu
When you think creatively, there's no dearth of levers to improving the engagement of chatbots with customers, but what's crucial is learning and correcting the mistakes from previous interactions that went for a toss.
Begin your bot journey the right way.
For help, please lean on Kore.ai, an enterprise-grade, conversational AI platform that enables end-to-end chatbot development. Submit your details below, to discover the platform in detail.
| | | |
| --- | --- | --- |
| Build virtual assistants that your customers and employees prefer the most | | Kore offers 150+ common banking service requests out-of-the-box |