Customer service and support leaders are not only vocally optimistic about technology for 2020, but they are also backing their optimism with action. Deployment of technologies has increased to 55% of respondents, up 10% from 2018 - Gartner
2020 is a watershed year that has prompted many businesses to rethink their business models. Customer experience management has become the prime area of focus for many companies that are now scouring the latest customer service trends and best practices to implement.
Read on for the customer service technology trends that will rule in 2020.
Let's consider these statistics to begin with: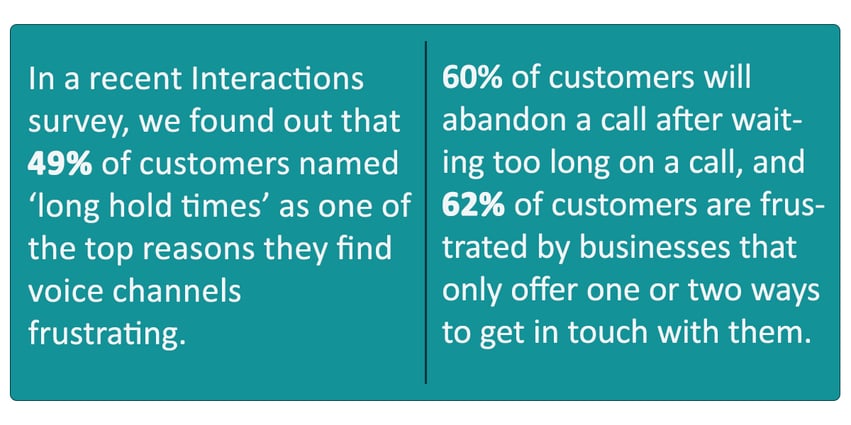 The above figures reveal something interesting. Building a great customer rapport rests on the ability to offer outstanding support. That of course is a no-brainer. But delivering a great experience doesn't require live agents needing to spend hours on the phone with customers answering their every issue. In fact, it's the opposite. Reports have shown that decreasing the time your support agents speak to customers is a far more effective way to produce happy customers.
But how to bridge this chasm at a time when frenetic spikes in call volumes are the order of the day? Every contact center or customer agent staff has had to deal with this pain at one point in his career.
Well, Kore.ai's AI-powered all-encompassing solution, SmartAssist, addresses these issues in one clean swoop through digital automation and deflection.
Let's consider this scenario:
Leo is having trouble checking his account transactions. He navigates to the Contact Us page of the bank and easily finds the toll-free Customer Support phone number. He calls, waits on hold for minutes, and doesn't get connected. He calls again after a few hours and waits on hold for a few more minutes before a Customer Service agent finally walks him through the details. Is it a desirable situation?
Now consider this alternate scenario:
Leo is having trouble checking his account transactions. He navigates to the Contact Us page of the bank and easily finds the toll-free Customer Support phone number. He is presented with a prerecorded voice menu and after navigating the menu verbally, Leo gets a message via SMS to chat with a text-based virtual assistant, fill out a digital form, and talk to a live agent. If a human agent isn't available, he gets an email or SMS the moment one is free. Now, that's true customer service success!
How SmartAssist delivers superior customer experience
1. Quicker call resolutions with self-service
According to Forrester, "customers increasingly use self-service as the first point of contact with customer service organizations".
Rather than waiting in line endlessly, customers are preferring self-service to get started. SmartAssist provides a seamless self-service experience by bridging the gap between voice and digital support channels - be it forms, SMS, chat, or email. Powered by AI, SmartAssist intelligently helps your customers get a response faster, streamlining, and speeding up agent response times.
2. Reduced IVR costs
Legacy IVR systems have structural limitations that make them less prone to implement changes; often it's time-consuming and expensive to restructure them for digital customer service.
SmartAssist offers an easy way out: it supports integration using SIP Domain transfer or calls transfer to another phone number.
What about enterprises that don't have an IVR? Then there is nothing to worry as they can set SmartAssist as conversational IVR. The user-friendly dashboard of SmartAssist is easily customizable. You can get setting-up and begin deflecting calls within just a few hours, and get to enjoy the solution's all other valuable features and benefits. This includes virtual agent voice answering, or deflection to a text-based virtual agent, pre-integrated live chat and messaging software.
3. Support agents are always there to fall back on for complex tasks
Suppose the callers can't self-service their issue using the optional voice virtual agent, enterprises can send them a message via SMS with various options. The options include a link allowing them to chat with a text-based virtual agent, the ability to fill out a digital form, or an option to engage with a live human or asynchronous chat. If a human agent isn't available, callers can get an email or SMS the moment one is free.
How SmartAssist helps enterprises scale and improve efficiency
1. Capture customer requests easily through conversation and digital forms
SmartAssist provides built-in support for capturing customer requests through both virtual agent interactions and rich digital forms, allowing enterprises to quickly collect needed information before handing off to your back office, live chat, or messaging agents.
2. Scale and manage call deflection based on business rules
Every second counts when it comes to managing call volumes and customer happiness. SmartAssist allows all or a percentage of calls to be deflected to virtual agents and digital channels for live or asynchronous support based on predefined business rules like current hold times or type of caller (for example, premium customers auto-redirected to live agent as against non-premium customers redirected to a virtual agent).
3. A cloud-based complete solution for managing deflections
SmartAssist can receive voice calls from any IVR system or direct calling and fulfills them using a combination of automated conversations and digital forms using voice and digital channels.
Overall, digital automation and deflection for customer support can deliver upto:
Clearly, reduced wait times, faster resolution and real-time agent productivity while enabling businesses to scale and contain costs much more effectively is the overarching value proposition of SmartAssist. While experts debate how long it will take to overcome the pandemic, the contact center leaders must prepare for the short-term, developing ways to work seamlessly and plan for longer-term operational changes. They may safely bank on SmartAssist to boost business and retain happy customers.
Interested in learning more about deflection? We suggest watching our short demo video on how call deflection work: