Rising consumer expectations is making it difficult for customer service agents to deliver an outstanding experience, despite a quality product/solution.
Nonetheless, as Kristin Samby puts it, organizations go with the policy that "when customers share their story, they're not just sharing pain points. They're actually teaching you how to make your product, service, and business better. Your customer service organization should be designed to efficiently communicate those issues."
While the ongoing pandemic switched on the panic mode for all of us and heightened it due to prolonged virtual interactions with team/s, one can only imagine how stressful customer service representatives' workdays can get. Dealing with customers across regions/cultures/backgrounds and trying to meet their expectations with personalized response/service per need/state of mind and preference is a strenuous job, more so in the pandemic when call volumes have reached the roof.
With increasing competition between organizations to acquire more business the pressure on agents has become a quotidian part of their regular life.
Let's delve into three customer paradigms and analyze how you can equip agents to deliver a better experience and ensure business continuity.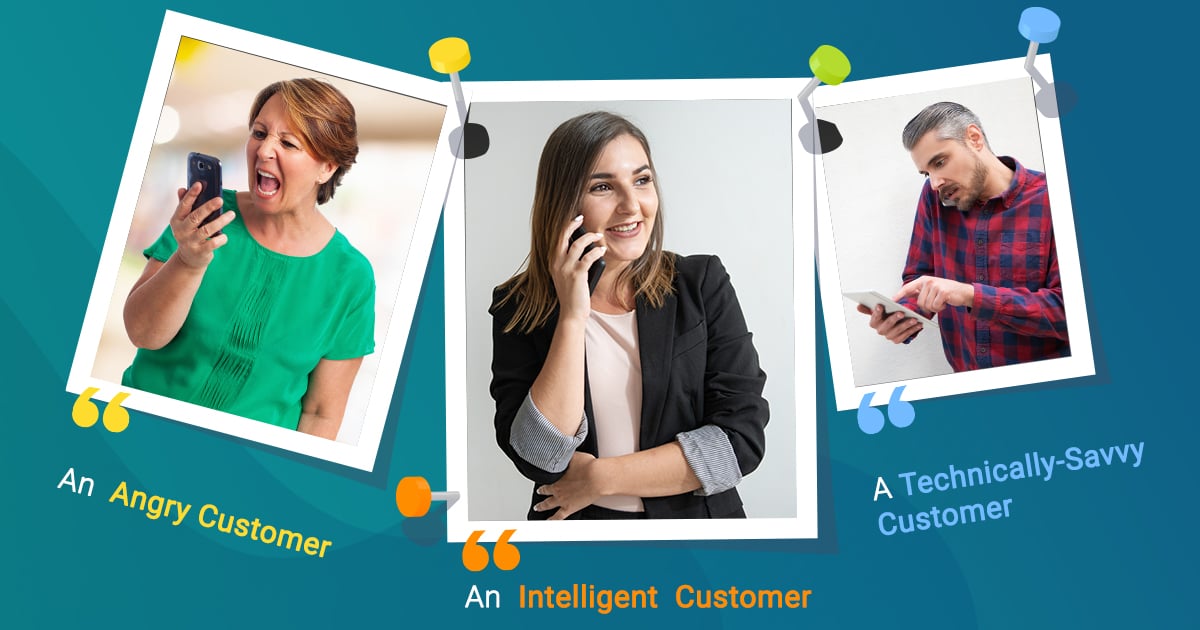 An Angry Customer
Every customer service rep/agent is exposed to angry customers once in a while, challenging them. The interaction typically begins with an aggressive tone the customer takes. Agents, without knowing the complexity and circumstance/s, try to help the customer. But the annoyed customer/s may continue to lash out, despite the agent seeking to help them. The interactions turn into a heated discussion after a while, once the reps exhaust their patience.
"It takes 12 positive customer experiences to make up for one negative experience" -
Glance
Such scenarios can be handled better if contact center agents are backed with digital solutions that can access user interaction history and predict the customer behavior pattern. Based on the insights, agents can choose to redirect the call to alternative channels for help or answer the incoming call within a short time without making the customer wait in the queue. SmartAssist facilitates the exact functionality for contact centers; agents can redirect the calls to available alternative channels.
An Intelligent Customer
A typical intelligent consumer, rarely calls into contact centers to seek help. They often try to resolve issues by referring to the FAQ section on the website. But when they do seek help, they expect that the agent will resolve the issue within a short period of time.
"Of all self-service channels, customers make the most frequent use of knowledge bases" -
Helpscout.com
Digital technology is necessary within contact centers to facilitate such experiences not only for intelligent customers, but for the agents themselves too. Every customer is equally important irrespective of the business/transaction value. Having solutions that can quickly capture information through a digital form helps both customers and agents to save time on verification processes during peak hours.
SmartAssist enables customers to interact with the agent directly on the query to decrease the effort and time for both parties by entering the customer data manually in the respective interfaces. This is achieved with built-in support for capturing customer requests through both virtual agent interactions and rich digital forms.
A Technically-Savvy Customer
Such a consumer is pegged to be the smartest of three personas that agents will encounter. They interact with agents not to listen to but debate on the solution they presume they are already aware of. Unless agents are appropriately trained on the relevant product/solution, among the plethora of offerings businesses have, continuing the conversation will become difficult. Quite often agents may put the customer on hold to scour for relevant information or transfer the call to superiors with more knowledge.
"70% of the customer's journey is based on how the customer feels they are being treated" -
Hubspot
Leveraging digital solutions like SmartAssist can help agents effectively handle such scenarios. Whenever an agent is unsure about certain information, he can deflect the interaction to a digital channel where a virtual assistant can handle the interaction. These smart assistants use a combination of natural language processing (NLP) and natural language understanding (NLU), to trigger relevant responses. This will facilitate easy navigation to resolve and conclude the conversation without transferring it to superiors or increase wait times.
You can't control how customers behave, but you can make them feel delighted with your exceptional service.
Talk to us to explore how SmartAssist can resolve your agent's toughest interactions with customers.