As an executive spearheading a global bank or as the one leading customer services for a telecommunications major have you witnessed such sudden spikes in call volumes and the associated costs thereof in your career as much you have in the recent past? Really, COVID-19 has put your business into a tailspin. Next time, it need not be a pandemic of this scale; it could be an external shock of any kind that would give you a sense of deja vu. Obviously, you do not wish a debilitating experience of customer service, helplines, and contact centers going haywire with higher-than-normal volumes of incoming calls and chats, and pressure piling on your support staff and systems with serious consequences for your business.

Welcome to the world of New Normal, where surviving and thriving really demands bold thinking and imaginative solutions built on the power of AI-backed digital solutions.

Take the case of the banking industry, which is grappling with an existential crisis as day-to-day operations get crippled due to lockdowns, workforce, and vendor issues, and yet it's supposed to bail out customers in this hour of need. Banks, in addition to addressing their organizational challenges, have a bigger problem of managing customer experience, given the rapidly increasing call volumes related to small business loans, personal loans, deferring a loan, and more.

The pandemic has had a strong impact on customers - bewilderment, anxiety, panic, fear of uncertainty, insecurities about jobs, retirement benefits and investments, and loan repayment commitments among others. Constant misinformation being shared on various social platforms has triggered customer panic, which ultimately gets directed to the customer service centers that need to react and adapt to the changing environment and manage the surge in call volumes.

Last week, I spent an hour trying, and failing, to reach a bank customer care agent. I called when I realized I lost my debit card. After 45 minutes on hold, I was disconnected, and when I tried calling back I couldn't get through at all. I turned to the bank's online chat support option, where I ended up getting the same three "be patient" like replies from a chatbot on repeat for hours before finally giving up.

Average call hold times have increased from 45 seconds to over 20 minutes in the last couple of weeks. While banks have been communicating the expected delay to customers, the pain experienced due to the long wait times is leading to customer trust deficit.

Banks need to use this opportunity to evaluate their digital maturity and ensure maximum utilization of services through digital channels without any change in banking customer experience and satisfaction. This will include reskilling contact center staff for specialized roles as most mundane calls will have to be managed digitally through a strategy that's scalable, extensible, and omnichannel.


Virtual assistants that respond quickly and intelligently, and are able to provide a consistent response and user experience and help facilitate this change. A digital solution that can firstly shift customers from a voice to a text-based channel and secondly deflect some of them to self-serve via your website or mobile may be just what is needed. It doesn't have to be costly or complex, but it can be extremely effective in managing the additional volumes more cost-effectively and giving customers the information that they want to allay their concerns.

Call Deflection: Deflecting incoming Voice Calls to cheaper Digital Channels

"40% of approximately 3,000 consumers in a global survey said they prefer self-service to human contact for their future contact with companies."
Think of this scenario. Call volumes are skyrocketing, contact centers are overwhelmed, live agents are expensive, agents are fatigued, and customers are anxiously waiting long periods before they can speak to a live agent. How about integrating a cutting-edge solution that they can engage with to address their queries? If their immediate needs are satisfied then there's no need for agent involvement but there can still be a path to human-agent handover for customers that require further assistance.

By bridging the gap between voice and digital support channels contact centers can open up more potential for automation, out of hours accessibility, and thoughtful call deflection.

IVRs have structural limitations and making changes to these existing systems can prove time-consuming and expensive. Whether your IVR is based on a modern cloud-based solution or any other technology the concept of making changes to these existing systems can prove time-consuming and expensive. But integrating your existing IVR with SmartAssist.ai or setting it up as your IVR is easy and possible. SmartAssist.ai can be scaled dynamically as it is built on the Kore.ai platform and is cloud-based so any call can be taken from any IVR solution, including SIP domain transfers depending on the business rules like customer wait times, customer experience, costs per live agent, and more.

SmartAssist.ai also provides built-in support for capturing customer requests through both virtual agent interactions and rich digital forms, allowing you to quickly collect needed information before handing off to your back office, live chat, or messaging agents. Here are a few other capabilities of SmartAssist.ai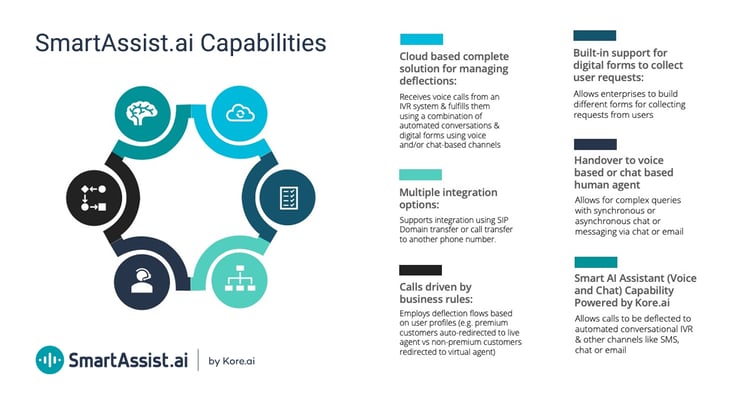 Check out this short demo video to see how a call defection virtual assistant can work: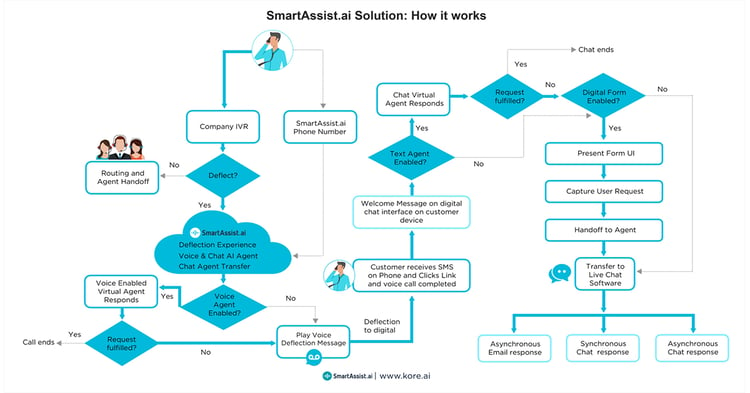 In times like this, where an influx of concerned customers needs to be handled, call deflection makes a lot of sense. It takes the pressure off contact center agents but it also introduces an automation path, one that can help customers out of hours as well as in hours. It can even be integrated with your live chat systems so that it works in parallel with live agents when needed.
To learn more about how call deflection alleviates the pressure from your banking contact center agents and serves your customers more efficiently, watch the webinar.