Last week, over a coffee I met John, a fellow Team Lead whose team is building an enterprise product using cutting-edge technologies. Most of the time John has critical product release deadlines to meet and he needs to collaborate with design, development, testing, and release management teams. He works on stringent timelines and is always in a hustle to meet deadlines, while simultaneously unwilling to compromise on the output.
John didn't seem happy with the way his work and day was moving. No matter how well he planned, a third of his day was being consumed by unproductive tasks, what John calls "draggers". These draggers are -
To set up a meeting he has to play an email ping-pong identifying a common timeslot agreeable to all stakeholders. And if he's required to reschedule the same meeting, it will surely consume a fortune of his valuable time
Assigning tasks to the team and monitoring the progress is effort-consuming
Sharing files with the teammates through email is hampering timely execution and collaboration
To search for a file or folder within the system is a never-ending mission
Often, he has to shuffle between multiple Enterprise Applications to get a single task executed. (In a few enterprises, the number of application count ranges between 30 and 50.)
On the other hand, John was envious of the fact that C-level executives are supported by a personal assistant who takes care of their mundane activities and expressed a desire to hire one for himself. But that's wishful thinking, who is going to spare a personal assistant for a team lead like him?
You know what, John's story is mine too!
I reflected on how much an Executive Assistant makes work life easy for these C-Level Executives -
C-Level Exec: Hey EA, how is my calendar looking today?
PA: You have 3 meetings lined up today

1130 Hrs to 1230 Hrs - Meeting with ABC Investors to discuss...
1400 Hrs to 1600 Hrs - Meeting with Product Development team regarding….
1630 Hrs to 1730 Hrs - Meeting with CPO to discuss ….

C-Level Exec: Sounds good, can you please push the meeting with CPO to 1800 Hrs?
PA: Sure, I will check for the availability of stakeholders and reschedule the meeting.
C-Level Exec: Thanks, also create a task for Swan to send the updated project report latest tomorrow before 1100 Hrs
PA: Noted
C-Level Exec: Do I have any pending tasks for today?
PA: No, you do not have any pending tasks.
C-Level Exec: That's good.
From the above conversation, we can infer that C-level executives are assisted with resources so that they work only on important tasks that generate value and business to the organization. Personal Assistants take care of all other operational activities. This will increase the productivity and efficiency of the leadership team.
Now, just imagine! If every employee within the organization is provided with a personal assistant, what will be the impact on the organization? With a personal assistant, he can assign all the trivial tasks to the assistants and can concentrate on the work that matters the most. Personal Assistants can take care of scheduling or changing meetings, talking to the portals to apply/approve leaves, search for the files, and more. Doesn't it sound wonderful! I wish I was also given a personal assistant.
I can imagine what you might be thinking. Is it possible to provide a Personal Assistant to every employee? Wouldn't it be a financial burden on the organization? How can all these assistants be managed? Well, technology provides the answer to all these questions. Especially with the emergence of Artificial Intelligence (AI), people are creating wonders with technology.
Let me introduce you to the Enterprise Virtual Assistant. You can also call it Enterprise Personal Assistant/Enterprise Digital Assistant. EVA is one such technological wonder combining the power of AI, ML, and NLP. It has the potential to revolutionize the workplace and adds a digital flavor to your day-to-day activities. Don't forget that in today's competitive environment, it's Smart Work that wins the race over Hard Work. Enterprise Virtual Assistant is an Intelligent AI-powered chatbot that acts as your Virtual Private Assistant. It allows you to concentrate on the most important activities and enables you to work smartly and deliver the highest productivity.
"As per a report, by 2021, Gartner predicts that 25% of digital workers will use a Virtual Employee Assistant (VEA) on a daily basis. This will be up from less than 2% in 2019"
Enterprise Virtual Assistants are a boon to any organization, which is willing to empower its employees with Artificial Intelligence and Machine Learning. It serves as a single interface for your employees to execute all trivial tasks with minimal effort and removes the hassle of juggling between hundreds of enterprise applications, which is frustrating and time-consuming.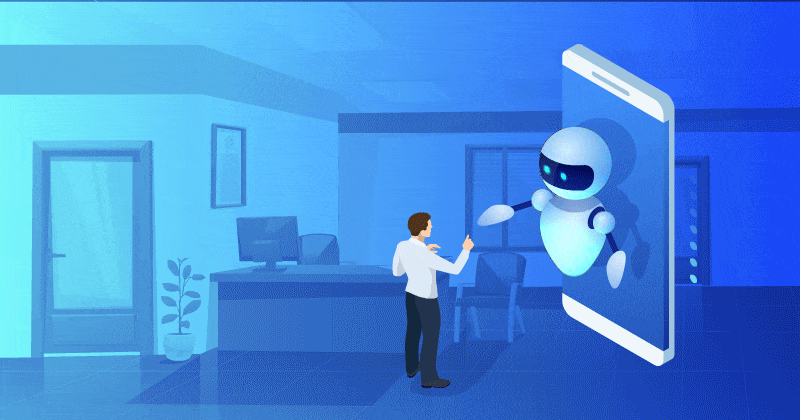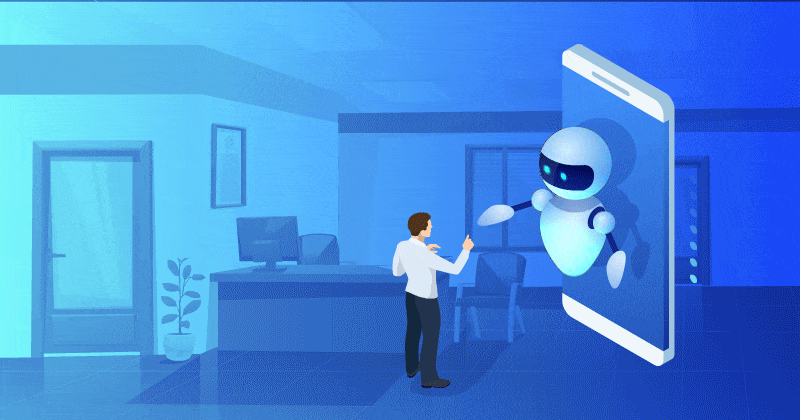 EVAs can be deployed to assist employees with different activities -
As per research performed by CISCO, it was understood that the benefits of implementing Virtual Digital Assistants at the workplace are immense.
Time savings (26%)
Accuracy (21%)
Productivity (19%)
All these can be achieved with simple human-like conversations or with voice commands. EVAs are efficient enough to understand user requests with just a few simple words. They act as a great companion to employees at the workplace. As technology advances, we can also expect EVAs to perform many more activities that increase their productivity.
"The Forbes Insights, which surveyed over 350 executives, found that 80 percent of the respondents recognized that their organizations need to begin mastering the art of human/machine collaboration"
It's high time modern enterprises embrace the human-machine conversation and implement it to the last employee in the organization. This will foster a great environment within the organization and empowers the employees with futuristic technology at their disposal.
Kora - The Enterprise Virtual Assistant and Remote Support Agent that assists employees in their daily enterprise chores, advanced activities, and support queries from wherever they work.
Developed on Kore.ai virtual assistant platform, Kora provides modern employee experience. She's smart, intuitive, and fully customizable. You can speak or chat with her whenever you want.
"A Happy Employee is a Productive Employee"