How are the new technologies and digitization impacting various segments of the world economy, particularly the banking industry?
Banking has always been at the forefront of adopting new technologies, be it leveraging internet, NEFT transactions, mobile banking, cloud computing or chatbots, for meeting the changing customer demands. One of the latest examples of the impact of innovative technology is evidenced in the transformation of the Banking Branch, which is moving away from being a transaction center to a personal finance advisor and sales center.
Banks, which started their digital journey years ago with clairvoyant digital strategies, are now confronting new challenges. In particular, today's customers are demanding financial products and services that are in tune with the digital age. For example, most modern customers like to be fed constantly with real-time information and updates. They don't like too much stress, loathe complexity and crave immediacy in all aspects of their lives. This type of customer, the Millennial, believes in the power of demanding things with a simple tap of a smartphone.
To cater to their growing clout, the banking institutions are looking at deploying Conversational AI-powered virtual assistants across their systems. With AI-powered virtual assistants, banks are looking to ensure a consistent, tailored-user experience across all channels. In addition, banking virtual assistants can help mitigate risks and enable business continuity in times of disruption.
Several banks across the world have already adopted conversational AI to build intelligent virtual assistants into their systems to ease their work processes, bring about efficiency, increase ROI, ensure speedy delivery of service, and in turn achieve higher customer satisfaction in the post-COVID world.
According to stats by Accenture, AI will add $1.2 trillion in value to the financial industry by 2035.
Read more: Why are Banks so excited about Virtual assistants.
What all an Intelligent Virtual Assistant can do for the Banking/Finance Industry?
The use cases of a finance or banking virtual assistant are nearly endless. Leveraging the strength of the Kore.ai Virtual Assistant Platform, the banking/finance industry can enable unprecedented banking engagement. A banking virtual assistant doesn't have to replace a fully digital banking app. However, many many finance/banking firms prefer to design a virtual assistant for a particular topic or initiative, in addition to their main app.
Let's dive deeper to explore how virtual assistants are enhancing customer experience
1. Personalized Advisory
How about your customers having a personalized financial advisory? Banking virtual assistants will not just help customers with transactions but also help them control their finance. For example, a banking virtual assistant will "understand" customer spending habits by tracking and analyzing card transactions. Based on this data, it will be able to give budget planning tips and help customers keep their finances under control.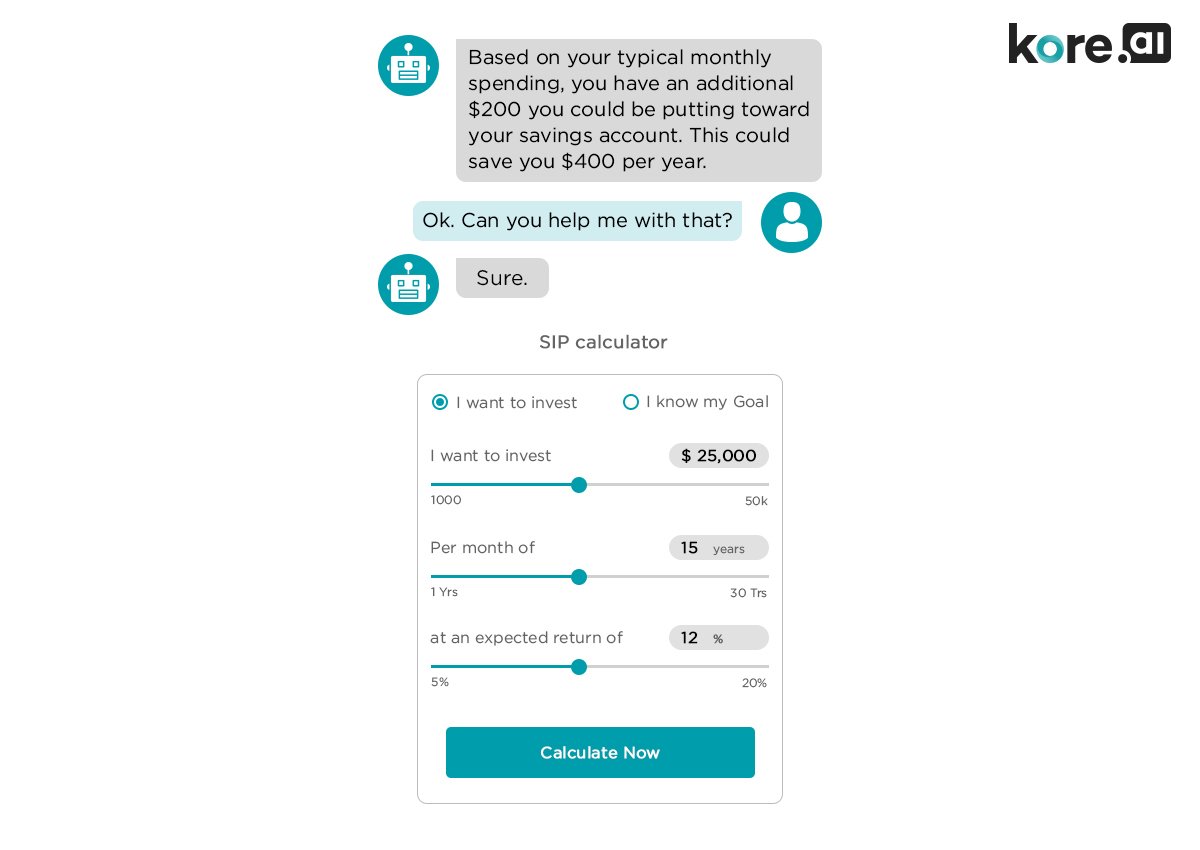 2. Unbiased Self-Service
Customer service excellence is key to competitive advantage and the banks understand it. For example, with banking virtual assistants the users can check their bank balance, add a payee, get a monthly statement, transfer money, update their account details, and do more using a simple interface while sitting at home or commuting to someplace.
3. 24/7 Round the Clock Service
Banking virtual assistants do not take breaks as they don't experience fatigue. On the contrary, they work round the clock and assist customers even at odd hours. Be it weekends or public holidays, virtual assistants solve customer queries as soon as possible. Banks can experience increased customer retention and satisfaction with close-to-no downtime thanks to virtual assistants that are available to assist customers 24X7, 365 days a year.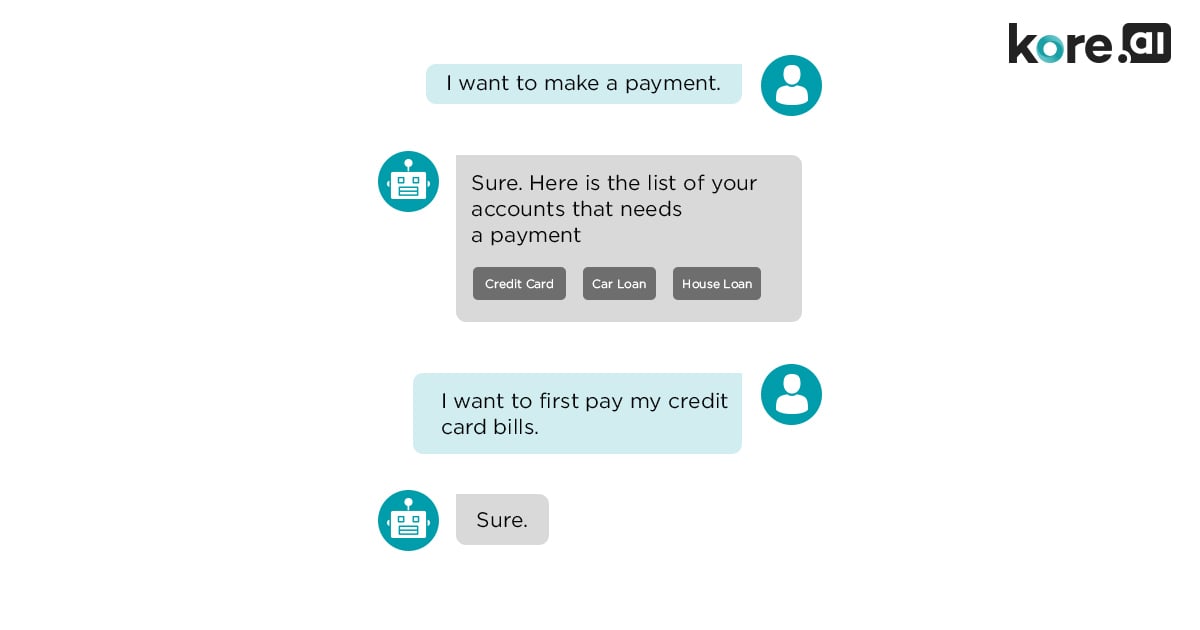 4. Omni-channel Experience
Banks can offer their customers access to information related to banking services and perform an ever-expanding list of banking actions anywhere, anytime, and on any device. Let's see how.
With a wide range of communication channels abounding, it is quite tricky for banks and financial institutions to reach their target audience and cater to their demands. They find it difficult to plan for each communication channel like messaging service, website, app, emails, call and get higher value out of each platform. However, banking virtual assistants make it possible and hassle-free. A virtual assistant can act effectively across all the channels without having to be reprogrammed individually. It can provide ultimate services to customers via the channels that fit in their lifestyle without making a hole in their pockets.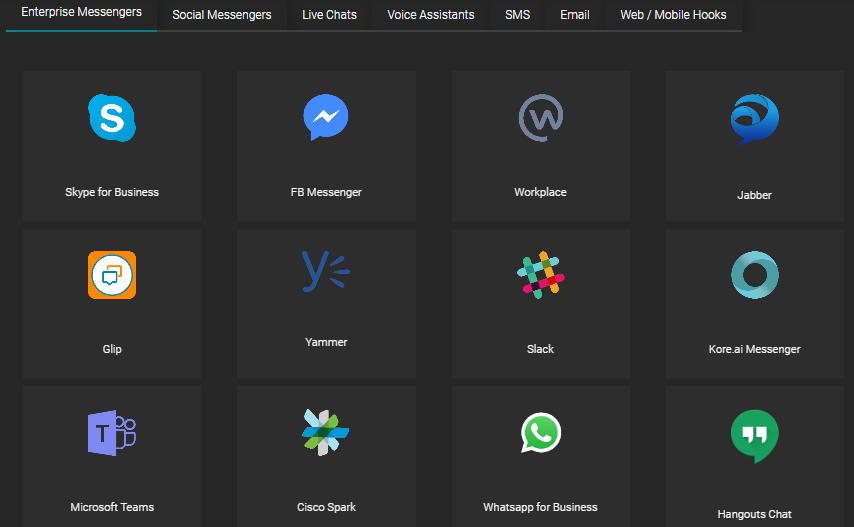 5. Lead Generation
Banking virtual assistants can act as an additional channel for generating leads for banking products. Virtual assistants are intelligent to build human-like conversations and create upsell opportunities. For example, if a customer is looking for a credit card with good offers, the virtual assistant can provide initial details and collect contact information and pass-on to the sales team for further follow-up.
6. Personalized Services
Thanks to banking virtual assistants, standing in queues at the bank and doing the paperwork to access services is now history. Besides, they can view their monthly or yearly spendings and get assistance on their financial spendings.
7. Contextual Banking
Attracting customers and retaining them is an ongoing challenge for banks. The traditional way of promoting products and services does not resonate well with the new-gen, tech-savvy customers. But with contextual banking, banks can drive personalized promotions and engagement in real-time. Contextual banking is a model that offers a connected banking experience where the customer is presented with offers and updates at the right place and time. Apart from providing timely updates and promotions, contextual banking also serves as an effective tool to aid with upselling and cross-selling. For example, it can be possible for banks to extend a customer's credit limit the moment her account balance is found to be too low to make a particular purchase.
8. Reduce Operational Costs
Staffing a 24x7x365 workforce can be costly, as can contracting a BPO contact center provider. When you add the banking resources required to support multiple lines of channels and languages, it increases the cost per headcount and skill sets required to serve customers around the clock. But with banking virtual assistants, customers can connect with your banking services in a more human way than navigating through Boolean search terms, drop-down menus, and forms
Leveraging Banking Virtual Assistants is "The New Normal"
According to PwC's report, the "New Normal" for financial services institutions is to meet the demand for being customer-centered, and that means offering seamless omnichannel experiences.
As part of the New Normal, customers will demand 24/7 quick access to information without waiting for hours on a call. At the same time, banks should support an efficient way of banking that reinforces personal and financial well-being-without much friction. The only solution to all these issues is to adopt a digital strategy that's scalable, extensible and omnichannel. Virtual assistants that respond quickly and intelligently, and are able to provide a consistent response and user experience and help facilitate this change.
To learn more about all of this, watch our on-demand webinar on "How Global Financial Services Industry is Preparing for New Normal".