Going on a trip is always amusing but planning a perfect travel itinerary can be pretty taxing. Despite technology, trip planning calls for a lot of research, number crunching and coordination. You end up calling innumerable travel agencies and exchange emails with them, reaching out to airlines and hoteliers and taking care of every minute detail. All of this can be pretty exasperating for travelers as well as travel industry staff.
AI-powered chatbots offer the travel industry a unique opportunity to transform their operations and make it more customer friendly. With conversational chatbots, the travel industry can cater to the needs and demands of digitally savvy travelers much and stay ahead of the competition. Chatbots have the potential to streamline the user experience and deliver personalized solutions to the customers.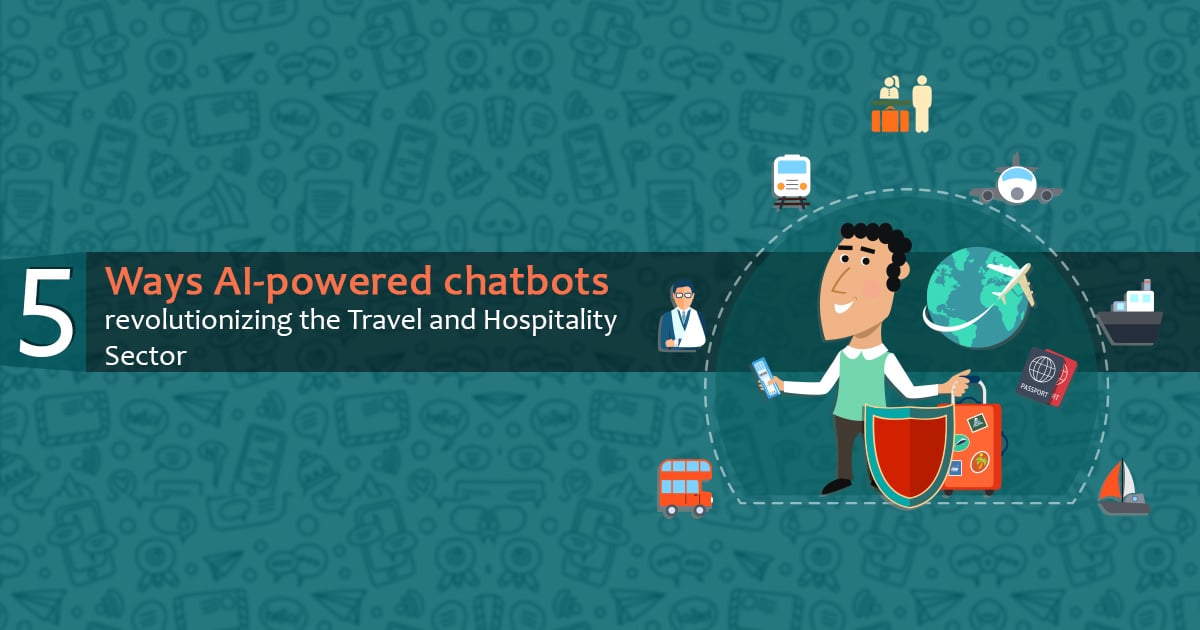 68% of airlines and 42% of airports are planning to adopt AI-driven chatbot services by 2020- SITA
Read on to learn about 5 of the major ways that conversational AI in the travel industry is transforming the industry for a better one.
1. Efficient Customer Service:
Conversational chatbots have the potential to deliver a seamless customer experience. Be it handing off the call to a live agent or providing solutions to immediate queries, chatbots can handle it all. Customers can reach out with their queries irrespective of their time zone. Think you are in an international trip and you land up in some issue, you can reach out with your queries via text or voice command. Travel bots are like support systems for every need of yours.
2.Saves Time and Effort
Travel agencies often get a majority of routine queries and FAQs. Having a human customer-care representative responding to the queries repeatedly is inefficient. In the age of chatbots, these routine queries can get easily resolved by the chatbots without any human intervention, which in turn enables customer support staff to focus on other complex tasks boosting productivity and efficiency of the organization.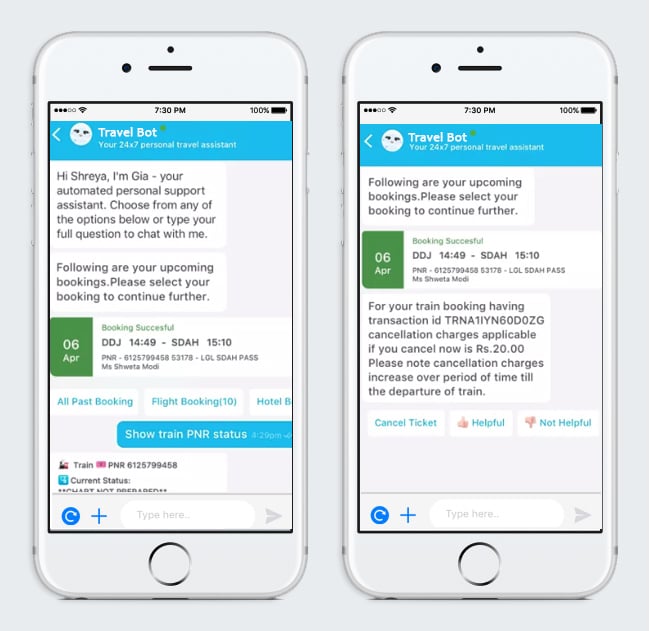 For example, Goibibo's chatbot Gia helps in booking tickets, post booking queries, and seat selection process. It also facilitates the delivery of hotel vouchers to the customers in their choice of messaging apps.
3. Improved Customer Engagement
A chatbot is at its best when it comes to customer touchpoint ensuring maximum engagement as there are no time boundaries. AI travel bots can solve queries, initiate transactions, recommend travel destinations with the added benefit of 24*7 availability that ensures improved customer engagement with your brand than any mobile app or social media page.
4.Treasure Trove of Data
Conversational chatbots record each of their communications with the users, which entails that they can be awesome sources for gaining insights to a user's travel history and purchases, helping the travel agencies get a 360-degree view of their customers. The travel agencies can use this data to offer personalized recommendations.
5.Increase in Sales
Conversational chatbots can be great accelerators for your business - moving customers from brand awareness stage to conversion in a matter of minutes - thus providing impetus to increase your revenue.
Artificial Intelligence is not only being leveraged in the travel industry but also by the hospitality sector. AI-powered chatbots go a step ahead in personalizing the customer experience and enhancing the visitor's stay with their high-grade assistance.
Hotels leveraging Conversational AI
The hotel industry is increasingly employing conversational AI and robotic automation technologies. Take a look at some of the best hotels around the globe that have embraced the idea of AI-chatbots and Robots.
Wynn Las Vegas
Las Vegas is known for its word-class luxury and opulent hotels offering exceptional customer experience.Wynn Las Vegas has made an announcement saying that it will integrate Amazon Echo to digitize its rooms in order to offer the visitors access multiple facilities by using their voice command.Be it switching off AC, TV, room lights, everything by just a mere voice of theirs.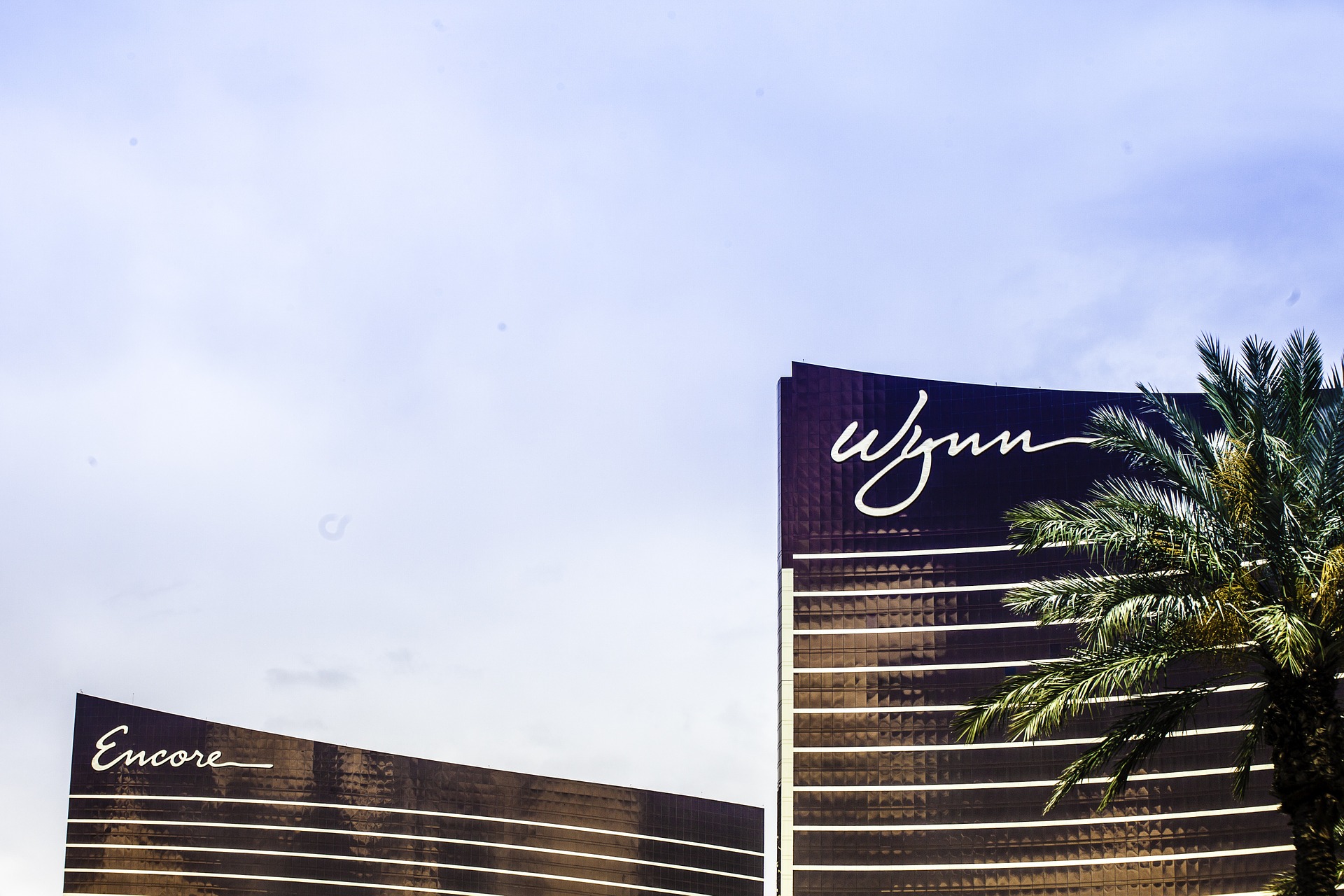 Edwardian Hotels
Edwardian Hotels offer AI chatbots for their guests. They can utilize hotel's chatbot services by typing the text message: "Edward". Edward can guide visitors to local restaurants, bars, famous spots and can also handle their complaints.
Chatbots have already become a scalable technology for providing the best customer experience and retaining loyal customers in the travel and hospitality sector. The AI technology from personalized concierge services, real-time travel recommendations, and quality service management has come far beyond mobile apps, a breakthrough in the field of innovative technology.
Clarion Hotel in Stockholm
Clarion Hotel Amaranten in Stockholm uses the AI-enabled chatbot butler which is an in-room assistant based on Amazon Echo. This assistant is equipped with powerful features and is designed to help guests with many of their requirements such as hailing cabs, ordering room service, laundry services, and other hotel-related operations.
Henn na Hotel, Japan
Henna na Hotel of Japan is the first hotel to be known for its robots porters. These robotic porters carry the luggage of the visitors to the respective booked rooms.
Cosmopolitan of Las Vegas
Cosmopolitan of Las Vegas has incorporated AI powered concierge bot called Rose. The bot gives visitors the facility to request for any hotel services using their voice. Rose manages queries precisely and also conveys unknown queries to hotel staff. Rose ushers you to entertainment options and local sites and specialties of the hotel.
Travel and hospitality chatbots have a long way to go in terms of industrial adoption, but once chatbots become mainstream it will entirely revolutionize every facet.
To know how kore.ai bots work for the travel industry, request a personalized demo now.