By Tara Benyousky, Solutions Marketing Director, Kore.ai
Value Propositions Are Real
I am a busy professional who values my digital banking relationship for paying bills, transferring money, checking account balances, managing loan details, and even getting customer service support. The emergence of mobile banking a few years ago extended these digital capabilities to my smartphone. In a matter of a few taps and swipes, I can complete many of my banking needs.
Yet, there are times when I need help that I cannot get using standard self-service channels. It might be a question or task that falls outside the typical transactional workflow. It might be a charge on an account where I require more information. It might be a document or answer that I cannot locate in the stockpiles of information contained in my bank's online FAQ. The long and short of it is that banking customers encounter any number of questions or problems that they simply cannot answer or solve without some level of intervention.
Avoiding the "Black Hole" of IVR
So, I reluctantly turn to calling my bank and working my way through the dreaded IVR system to a live customer service agent. The IVR often cannot recognize my voice, and I am forced to repeat myself constantly and to even shout into the phone to be understood. Each response leads to another question, and the process to speak with a live customer service agent seems endless. My frustration level increases with every prompt, while my sentiment plummets accordingly. Alas, I make my way through, to be greeted with a message I've heard hundreds of times from countless businesses, "Your call is very important to us. Please stay on the line and the next available agent will assist you."
When I finally speak to a customer service agent, I am exhausted and the very opposite of what could be described as a satisfied customer. And while the customer service agent may deliver a great personalized experience, a one-on-one engagement with a live customer service agent isn't needed—or wanted—in many instances. The answer to my question or solution to my problem is on the bank's website, found in my mobile app, or an action that can quickly be provided without live human engagement.
Chatbots Offer Alternative Engagement Channel
In addition to frustrating customers by forcing them to go through a tedious, time-consuming service process, IVRs and standard chat also force banks to incur unnecessary costs by overstaffing agents on their customer service teams. Chatbots offer an alternative that completely transforms how customers like me interact with their banks. Human-like, two-way conversational interaction provides customers with the ability to quickly and easily find answers to their questions, receive alerts from which they can complete a number of transactions seamlessly (e.g. account balances, money transfers, fraud remediation, new product applications, etc.), get instant status updates, and resolution to their problems. In a nutshell, banking customers want the interaction that exists when speaking with a customer service agent or teller without the inconvenience of working their way through an IVR and waiting to speak with a live agent.
Value Proposition for Customers
Customers certainly value two-way conversations facilitated by chatbots. In a recent study, 70 percent of customers say they want to have chatbot conversations with businesses, with nearly three-quarters rating their experiences as positive. The reality is that customers find answers to their questions much faster and the interactions are seamless when they use chatbots. The importance of customer support and problem resolution cannot be underestimated. Studies show it is the top driver for customer satisfaction, ranking ahead of areas such as great products and services, brand recognition, trust, cost, and innovation.
Natural language processing (NLP) coupled with artificial intelligence (AI) enables chatbots to understand and process customer queries, like humans. Further, because chatbots use machine learning, they learn from every customer interaction and grow their skills for handling future conversations. Application protocol interfaces (APIs) between chatbots and various business data sources such as CRM systems, FAQs, corporate databases, live web chat and call transcripts, and other banking systems also amplify the knowledge pool chatbots can tap when answering customer questions and solving their problems.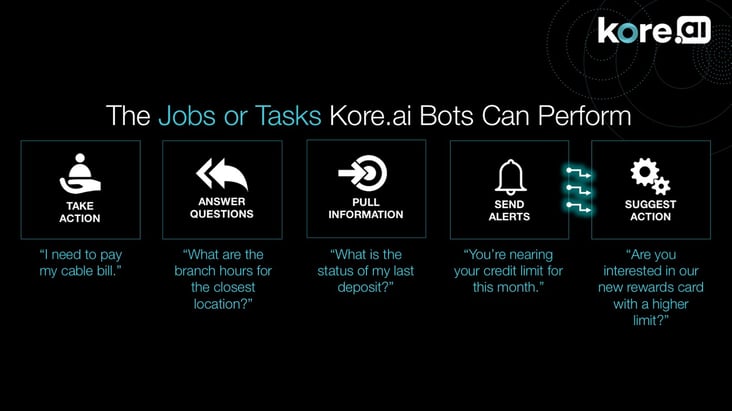 Value Proposition for Banks
Cost savings for a business can add up quickly at the same time. Problem resolution over the phone with live customer service agents ranges anywhere between $5 and $35 per call, and the average time for resolution is between three and seven minutes. Complex questions and problems can take over 10 minutes to resolve.
While live web chat is frequently cited as a better alternative, the cost per interaction hovers around $3 and requires as much time—if not more—for resolution as phone engagement. Chatbots that use human-to-machine interactions cost less than $.50 per interaction and often deliver answers much faster than other engagement channels. Beyond being a less expensive engagement channel, chatbots also reduce—at a bare minimum of 10 percent—the number of support calls and chats a bank receives.
Now Is the Time to Move
For the past decade, banks have been dealing with the aftermath of the Great Recession; an increasing array of new and often complex banking regulations. Along with data security concerns, regulatory compliance consumed the focus of many banks, pushing initiatives around customer experience and innovation to the backburner. But the tide is beginning to turn as most banks have tackled many of the people, process, and technology challenges associated with these regulations. A recent survey by the Consumer Bankers Association found that delivering a more engaging and frictionless customer experience replaced regulatory compliance and data security as the top priority for banks.
The implication is that now is the time for banks that wish to remain at the competitive forefront when it comes to customer experience to begin innovating and investing in the right strategies. A great starting point would be to take a look at options such as Kore.ai's that are designed for either out-of-the-box simplicity or chatbots that can be completely customized via its end-to-end Bots Platform. In either scenario, banks should only consider options that meet the needs of a full enterprise chatbot strategy, including security, regulatory, integration, low development costs, speed to market and scalability, yet also offer superior customer experiences and accuracy through must-haves like robust natural language and speech recognition engines, context retention for dynamic conversations, or even sentiment analysis for seamless live agent hand-off.
Be sure to watch our webinar: AI and Chatbot Must-Haves – Strategies for Making the Conversational Shift.