Business Leaders Discuss Roadmap for Future of Customer Service Management at CyberMAK-Kore.ai Event
Good customer service can spell the difference between a satisfied customer and ranting one. In today's age where one tweet can cause a billion-dollar drop in business, customer happiness is a key factor at play.
According to Frost and Sullivan, "US companies are now losing more than $83 billion annually due to poor customer experiences, an effect compounded by the reality that it costs six to seven times more to attract a new customer than to retain an existing one."
So how do you ensure Customer Satisfaction? A great customer support team is the obvious answer. But as the number of customers on digital platforms grows exponentially, there arises a need for a more robust customer support system. One that doesn't rely on hundreds of live human agents to handle simple queries.
The solution? Conversational AI.
Most people are smitten by the speed, convenience, intelligence and the 'cool' factor that that virtual assistants have begun to embody, powered as they are by the latest advancements in machine learning, artificial intelligence and natural language processing.
As more businesses begin investing in virtual assistants and other variants of conversational AI technologies, we have seen numerous attempts fall short of expectations. The reason: these applications need more than just the right features and technology; they require proper design and integration in order to see success at scale.
A recent event on "Future of Service Management", co-hosted by CyberMAK Information Systems and Kore.ai in Kuwait, explored in depth the technology behind what it takes for a System Integrator to wield Conversational AI, and how to leverage a partnership with Kore.ai for creating enterprise-grade virtual assistants that deliver the best results in terms of better customer retention, increased engagement, and greater loyalty.
Here's a rundown of the event, from conversational AI for customer service and customer support success stories to the balancing act of personalization, all powered by conversational AI.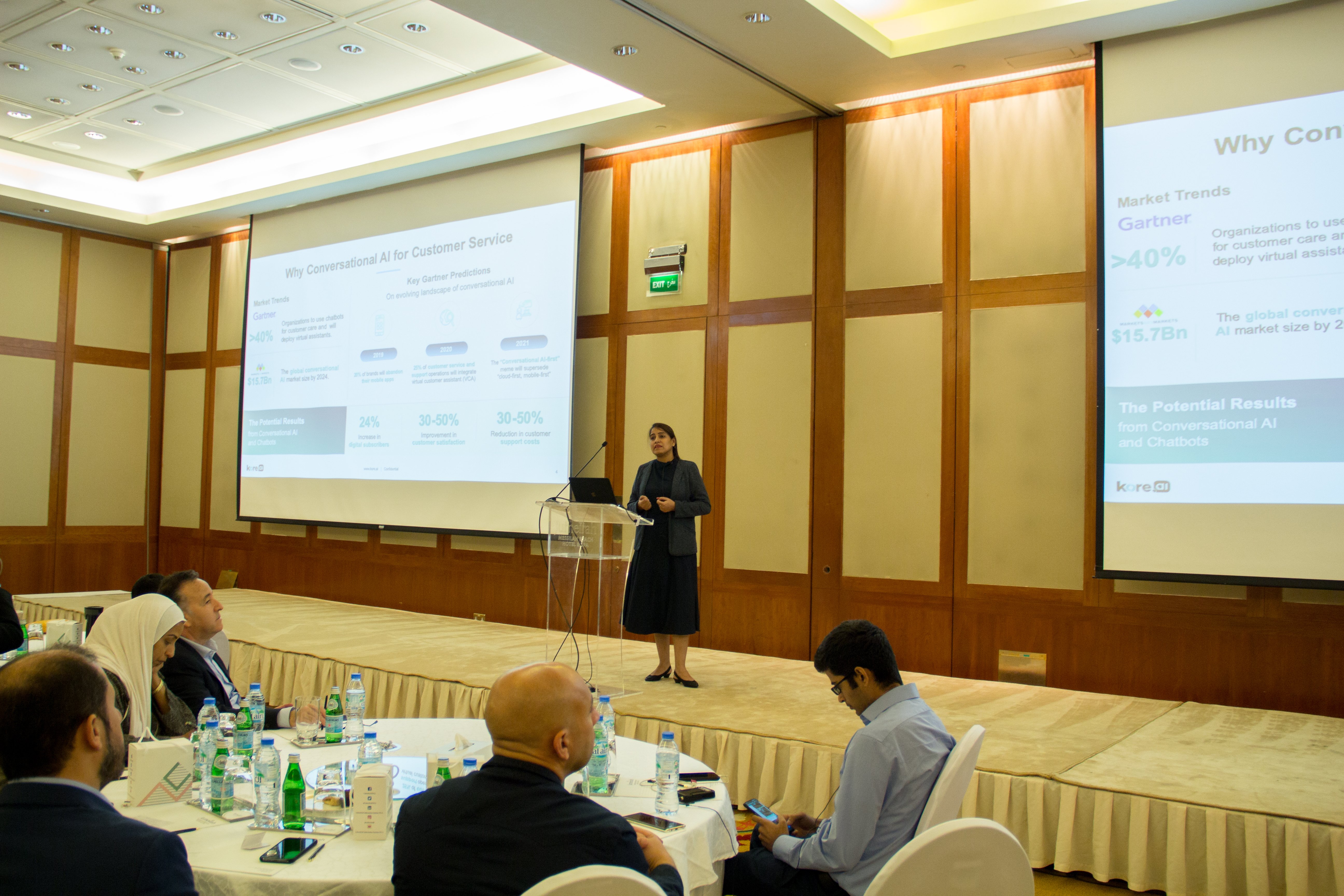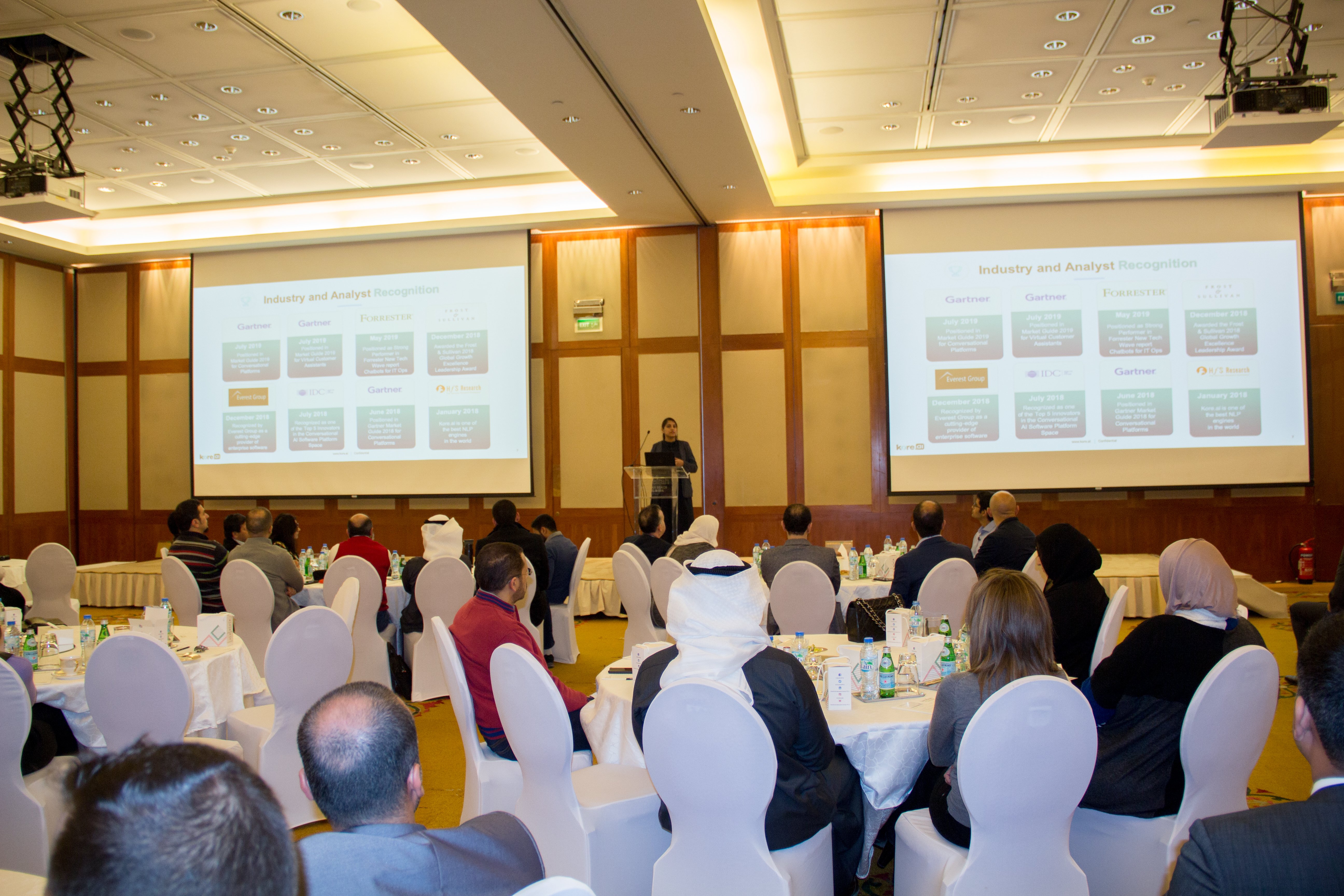 It's a rare sight to witness top leaders from various industries like Banking, Airlines, Oil Gas, Retail, Telecom and Government Entities getting into a huddle to graph out their business roadmap for the future.
Apart from CyberMak and Kore.ai, there were about 90 delegates from global players and various other industry sectors.
The event featured a series of presentations by conversational AI evangelists Konica Khandelwal and Nibhrit Vij around the ways to improve customer service management by leveraging Kore.ai's enterprise-grade, conversational AI platform to build virtual assistants for various use cases across industries.
As the market leading conversational AI technology partner, Kore.ai showcased how its enterprise-grade, platform supports building enterprise-grade chatbots for diverse use cases involving both customer (B2C) and employee (B2E) contexts. The customized solutions are built ground-up based on specific enterprise needs and requirements, can be deployed across 40+ different digital and voice channels.
Kore.ai also demonstrated how it helps scale the immediate Conversational AI requirements for specific verticals through its Solution Bots. These virtual assistants are ready to be branded, designed for rapid deployment, and easily extended for company-specific needs – now and in the future. The Solution Bots empower human-like conversations by responding to the most frequently asked queries for a particular domain, be it Retail Banking, HR and IT Helpdesk services, and many more.
Meanwhile, Kora, the Orlando-based company's soon-to-be released enterprise digital assistant, seeks to create a modern employee experience at workplaces through its various features to keep employees on track, organized, and in sync - so they can be their most productive and focused selves at work.
The CyberMAK-Kore.ai partnership is aimed at helping enterprises automate their operations, reach more customers, provide a more friction-free experience, and streamline and optimize digital services. Kore.ai plans to capitalize its partnership with CyberMak to increase business in the untapped market of Kuwait by sharing product roadmaps, creating new levels of customer value, and reinforcing the platform's commitment to deliver a satisfied customer service management.