Three releases in a row, with significant updates to its industry leading platform, reinforces Kore.ai's engineering excellence and market readiness with industry leading features

Today, about one-third of global organizations (38%) are either planning or actively experimenting to implement conversational interfaces, though only 4% have deployed them so far. This blog gives a realistic assessment of what the year meant in terms of market success, conversational AI adoption and, more importantly, how our efforts to be the change agent has helped fast-growing enterprises and Global 2000 companies adapt and thrive, and stay ahead in the game.
With key platform upgrades under its belt, 2018 was an eventful year for Kore.ai. The team strived through three major platform releases and upgrades with consistently market leading features for customers that also resulted in 19 global analyst mentions and media attention. Another strategic aspect of Kore.ai's march in 2018 has been the expansion of its leadership and advisory teams with the addition of global leaders and industry veterans, while continuing to forge strong industry-leading partnerships at work.
Many Global 2000 organizations who have tasted success with the initial proof of concept are now raring to implement conversational features for a large number of use cases, putting the onus on developing advanced AI capabilities on chatbot platform vendors. Some major enhancements we've implemented this year include:
Open and extensible platform for enterprises: In its most recent 6.3.0 release in December 2018, Kore.ai has advanced conversational AI adaptability by making its platform more open and extensible for efficient integration with global enterprise systems.
Strengthening Omnichannel and NLP capabilities: In the year that went by, we've bolstered our Omnichannel capabilities by adding a large number of channels to serve (27+), and enhanced our NLP and dialog management capabilities.
Supporting more global languages: We have expanded our global reach with support for languages including English, French, German, Spanish, Chinese (traditional and simplified), Portuguese and Italian; with latest additions being Japanese, Korean, Arabic, Dutch and Bahasa.
Introducing Universal Bot: Our Universal Bot – one master assistant that routes requests to several backend chatbots across different functions and domains – has seen its first successful rollout and industry implementation.
More developer-centric attention: We have also improved the supporting functionalities of our platform, such as analytics, orchestration and maintenance of bot training data – to deliver an altogether new experience of bot building to developers.

Advanced IVR for Contact Centers:

Kore.ai has also implemented a strong interactive voice response (IVR) integration framework on the platform ensuring that our contact center AI capabilities are truly advanced.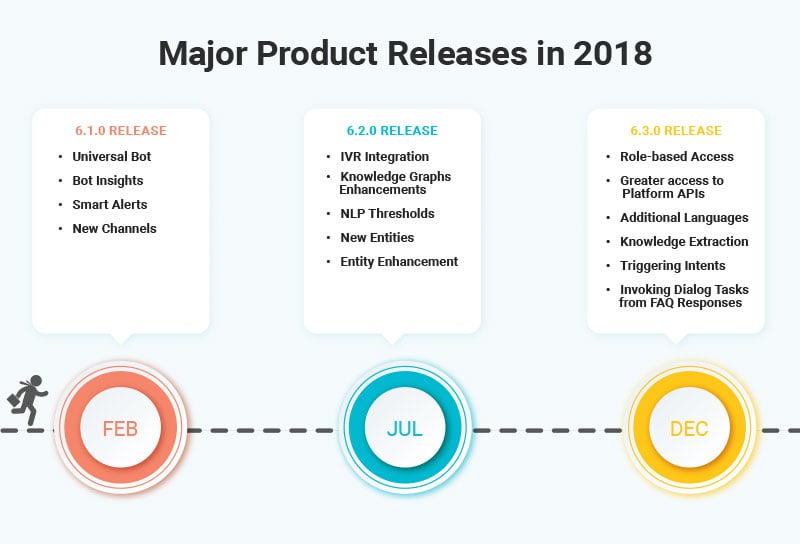 For more Product Release related information please click here.
Analyst recognitions - Gartner, IDC, HFS and more...
Global analysts have recognized our industry-first features, and praised us for enabling market success for large enterprises. From Gartner to HFS Research, IDC Research to Everest Group, or advisory firms like Aite Consulting and ISG, every analyst tracking the field of Conversational AI, had a word or two to say about Kore.ai.
Kore.ai has won 19 global analyst mentions in 2018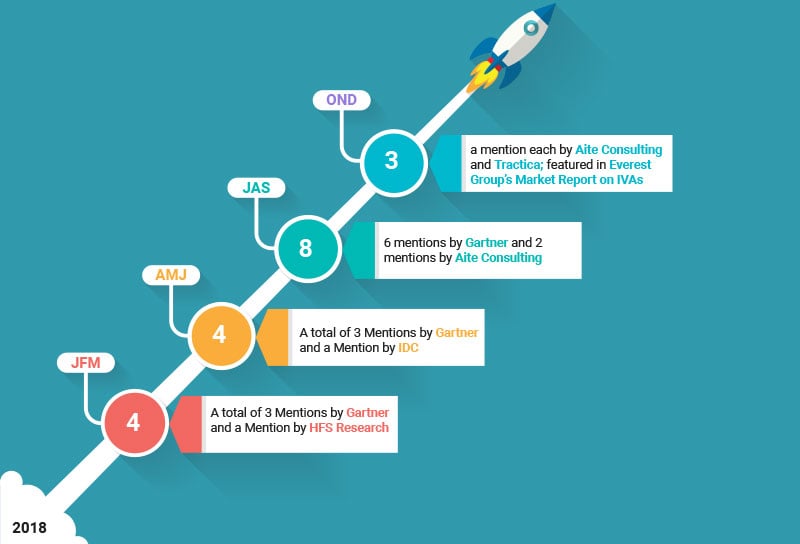 Featured in 3 major analyst reports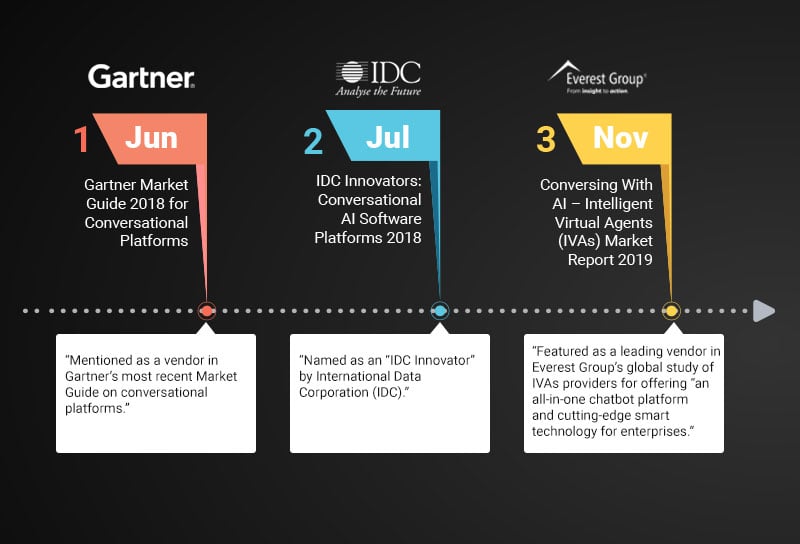 Kore.ai receives media attention
We've made news repeatedly, and for right reasons - not just for platform enhancements and analyst recognitions, but also for the client successes we've enabled.
We've seen 92 mentions by global media, reputed bloggers and influencers:
February – Names Citigroup International's ex-CIO DK Sharma as Strategic Advisor
March – Capgemini mentions its partnership with Kore.ai helping it herald intelligent automation
August – Makes headlines with inclusion in Gartner Market Guide
September – Celebrates its inclusion in IDC Innovators report
September – Appoints Michael Eckhoff as CRO
December – Garners market interest through Everest report's mention
While 2018 marked the arrival of conversational AI, with major technological evolutions and business adoption, 2019 will see greater action with even more excitement in store, for reasons that are too stark to be missed. At Kore.ai we are all geared up to be the game changer in the enterprise chatbot platform space in 2019 and make a significant transformation in the way businesses look at chatbots.
This blog is written by Sairam Vedam, Chief Marketing Officer, Kore.ai.
We would love to hear back from you. Please tweet your thoughts at @koredotai or write to us at social@kore.com.