'Interactive Commerce' or conversational commerce is where a conversational AI driven bot helps consumer in making a purchase without or with limited human assistance.
There's little doubt that artificial intelligence (AI) is revolutionizing our digital experiences. Advanced AI technologies like deep learning - where machines are trained to deliver personalized customer service based on user behavior - are promising highly engaging consumer experiences; while 'conversational commerce' is fast catching up, with a marked increase in the use of natural language processing (NLP) and adoption of messaging platforms among growing number of consumers, especially millennials.
Engaged customers produce a 23% premium in wallet share, profitability, revenue, and relationship growth compared to only 13% for disengaged customers.
'Conversational commerce', a term first coined by Uber's Chris Messina, refers to driving commercial activities using message-or voice-based communication.
Interactive commerce elevating customer experience in retail
Another variant of conversational commerce, is 'Interactive Commerce', wherein a conversational AI driven bot helps a user in making a purchase without or with limited human assistance. Interactive ecommerce enables retailers to define parameters like 'what can be customized' and 'what are the options customers have'. In such a scenario, customer experience gets a new meaning, where customers can select the options that they desire, and get the products that truly meet their needs and expectations.
The essence of customer engagement is personalization - humanized interactions that make customers feel like they're doing business with a real person instead of a company. Gartner predicts that brands offering personalization will outperform competitor brands by 15% by 2018.
How conversational bots help in personalization
Let's take a typical use case, where an e-commerce retailer or a brand with an e-commerce retail frontend (website and mobile app) for selling its products direct to consumer uses interactive commerce to generate sales uplift and reduce the cost of servicing customers.
Let's consider the example of FragrantCo, a hypothetical company selling perfumes and deodorants via multiple brands in store and directly via its e-commerce website. FragrantCo would like to reach both prospects and customers via additional channels and hence decides to create a chatbot on Kore.ai platform that would be integrated into their website (landing page and product pages), mobile app, available on its Facebook page, and can be added by a user in his/her Facebook messenger.
The role of the chatbot is of a Virtual Fragrance Sales Assistant (named Jasmin). The bot can capture the knowledge of fragrance sales experts and the process that FragrantCo uses to convince a customer to buy its products. The bot offers the capability for user to select options by pressing a button, type in the text or speak instead of typing. This combination of voice and chat provides a superior experience of visual perception and speech working together to reduce the lead time to buy.
How chatbots can lead to a satisfactory product sale
Chatbots turn the traditional digital experiences your shoppers are used to into conversational, personalized, and instantly gratifying engagements. These engagements are available 24/7 at the moment a shopper wishes to interact.
To promote the use of Jasmin, the sales assistant bot, FragrantCo offers 5% additional discount to a customer when he/she purchases any product using the bot.
The bot has the following tasks to assist a user in her buying journey:
Explore products

–

Buyer can explore the product catalog and see more audio-visual and textual information, reviews and ratings about products via menu options and by entering free flow natural language utterances like 'show me the most popular women's eau de parfums you have' Or 'show me women's perfumes in the price range $80 to $100' Or ' show me the top 5 fragrance offers'.

Product keyword search

–

Buyer can type the name or specifications of product to get to the matching product options like 'frago profumo 3.4 oz women's'. The goal here is to narrow down the search results based on user utterance.

Discover the right product

-

This is the guided search option. Buyer needs help on selecting the right fragrance product options based on her unique needs. The bot presents a guided set of questionnaires to collect information and then comes back with recommended products.
A use case of a guided conversation:
User clicks or types in 'Discover the right product'. Bot displays message that says:
"You can skip a question by typing or saying 'skip' or skip all remaining questions by typing or saying 'skip all'".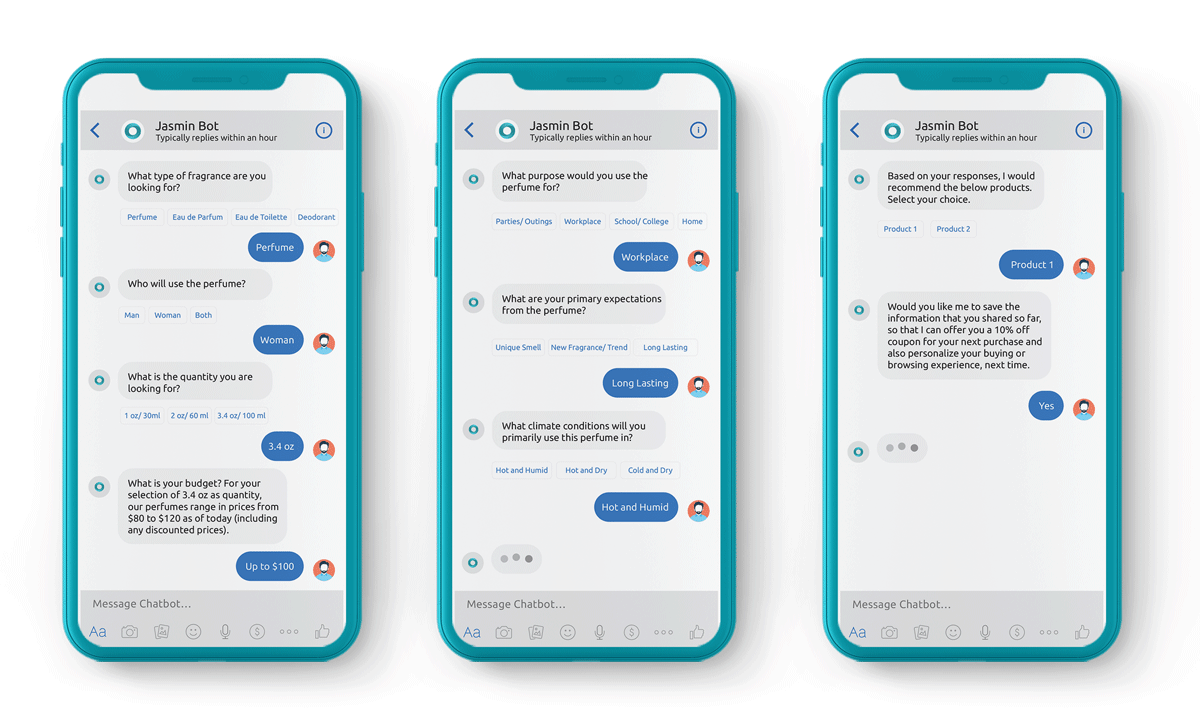 Some additional functionalities that Jasmin, the virtual sales assistant, can provide to customers are:
User can subscribe to order updated alerts on the bot. This way, the user can track the order delivery status in near real time via the alert or by asking the bot about order status.

The bot can contain or dynamically source knowledge base of FAQs on return policy, order delivery, product information, etc. so that he/she does not have to call the support number to ask these questions.

A live agent chat option can be integrated in the Interactive Commerce use case. If the bot is unable to help the user, it can transfer the user to an available human agent, along with the chat history and the agent can take forward the chat conversation with the user.

Bot can display product recommendations or additional offers to users after the buying transaction is done, in order to retain the user longer with buying and exploring intent and improves chances of the user buying or considering more products.
Make your customers feel happy with bots
Conversational bots can be used to sell multiple product categories and sub-categories and also specific or specialized product segments/categories that traditionally need higher human assistance. The example we talked about in this blog showcases how a bot can be used to sell a specialty product category like fragrances.
The blog has been written by Abhiroop Roy, Director- Solution Delivery at Kore.ai. Read his blog on LinkedIn. (Views expressed are personal).