Online Shopping has changed for good - first with the Internet, then mobile and now with the rise of chatbots. It's difficult to imagine people thronging physical stores to compare prices and shop, when they can make all goods materialize at their doorstep just with a few clicks.
AI powered chatbots in commerce have been a game-changer. After messaging applications, mobile friendly online shopping sites, artificial intelligence (including Machine Learning (ML), Natural Language Processing (NLP) and Natural Language Understanding (NLU)) is the next big thing. They have reduced friction and increased efficiency by making the customers feel at ease and experience the thrill of shopping at an e-store without actually visiting a physical store. Brands are now making the leap to conversational commerce with gusto, thanks to AI-powered chatbots.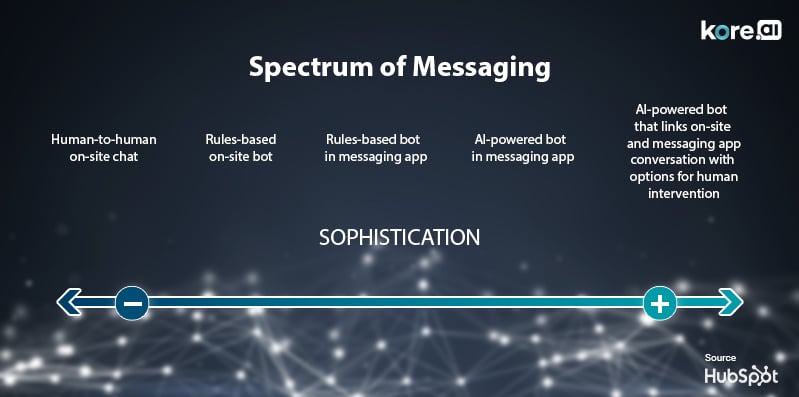 What is Conversational Commerce?
Conversational Commerce is yoking online messaging like live chat and AI together to deliver a superior shopping experience for customers 24*7. Customers are offered a personalized shopping experience like never before since the dawn of online shopping. Additionally, with features like proactive reach, businesses can intervene at critical moments like when a customer is hesitating at the time of online payment, checkout or when a customer toggles back and forth between the two products. Conversational commerce also provides unique experience to each customer and can spark interest and engagement to the shopping experience.
History of Conversational Commerce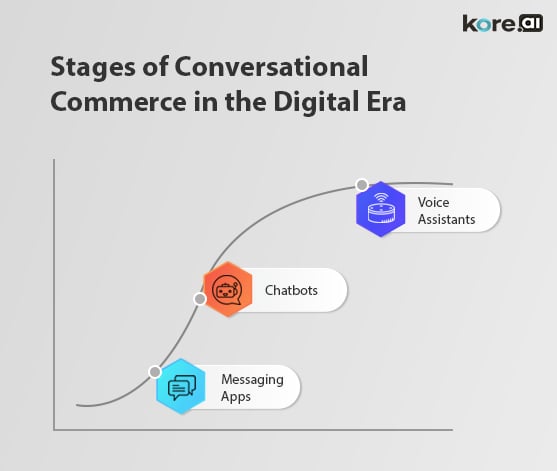 Conversational commerce through different messaging apps like Facebook Messenger, WhatsApp, Slack, KiK, WeChat and more aims to make conversations with customers easier without having to navigate to a different website or a phone app. With faster access and simple UI, these apps are growing in popularity and are continuing to provide potential customers that chose to adopt them.
Chatbots as a mode of conversational commerce allow customers to cater to their needs with the speed and agility they expect with convenience, security and flexibility. The customers also get time to take before buying any product.


Alexa, Google Assistant and Siri have created a complete new dimension to "comfortable" customer experience that has taken conversational commerce to an all new level. Voice assistants make the conversation course with the customers more fluid by adding voice commands via text or speech. Customers having a good experience with voice assistants are likely to use it more and thus increasing revenues.

By 2023, over 70% of all chatbots accessed will be retail based. Furthermore, chatbot ecommerce transactions will reach $112 billion annually. – Juniper.

Conversational commerce has been adopted by some of the big brands in the world. Walmart and 1-800-Flowers are one of these big brands who have already jumped onto the conversational commerce bandwagon and are doing better with improved consumer shopping communications.
How Conversational Commerce Works?
In AI-driven market, conversational chatbots are data-driven, scalable, real-time and personalized. It works based on the kind of business with more human interaction with faster processes. The idea behind conversational commerce is that it targets a part of the customer journey on the e-commerce store that would be beneficial for that particular business. From sending a thank you email to the customer for buying the particular product to noting down the customer feedback, it encompasses everything.

To customers, conversational commerce offers:

Fast and quick service
Real store shopping experience
One-to-one attention
Easy decision making support
Seamless payment mode
Conversational commerce is a sort of renaissance for the retail industry. For retailers, it is a door full of opportunities. Domino's Pizza, H&M, Sephora and many more have employed chatbots for delivering personalized experiences to their customers in the market.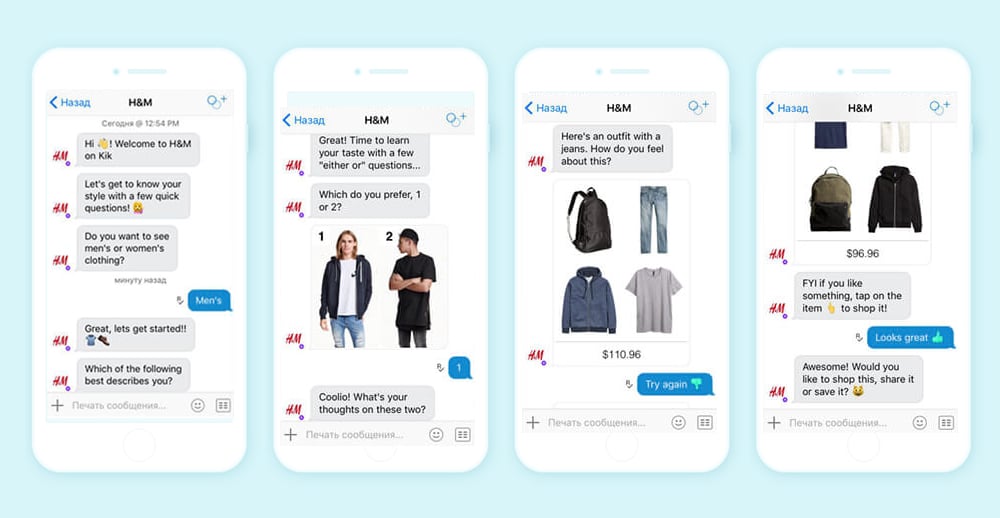 Key advantages of e-commerce chatbots over apps or websites:
Consumers today want to engage with your brand 24/7, have generally low attention spans, prefer to shop mobile first, and tend to use peer recommendations and online research methods before making purchases.
Instead of sending promotional emails and nurturing customers through pre-defined flows, brands can use chatbots to promote products in real-time in a way that is more trendy, casual and conversational.


Customers can, for example, easily order products by chatting with a bot and entering personal details like name, telephone number, billing address, and payment method. Customers can then complete the checkout process directly within the app or channel of their choice or be redirected to a dedicated checkout page.

Customers can keep track of their purchases and shipped orders by reducing the number of steps needed to get this information. A customer can, for example, simply chat with a bot and learn the status of a purchase in a matter of seconds or use the bot to find the nearest store by entering their zip code or address.

Bots can be used to both drive traffic to stores, such as through the use of push notifications and coupons, and drive more sales when in the store through self-service customer support, item location assistance, and right-time, right-fit offers at the point of sale.

Retail bots help customers more easily find the items they are looking for, compare prices, and make the best decision. They can also be used to deliver highly targeted seasonal offers and to educate customers on current and upcoming holiday promotions.
3 Ways to Add Conversational Commerce to Increase Customer Engagement
So how bots can deliver a great conversational commerce experience? Here are a few major ways:
Support Omni-channel Conversation
A website is a one-stop shop for customers. Multiple channels like Facebook Messenger, Slack and other messaging channels help to extend your reach.

The channels are like salespeople who meet customers where they already are thus marking the beginning of conversational e-commerce journey.
NLP Built Bots
Bots built with NLP can understand the intent of the customer queries, making the conversation with chatbots more human.

Moreover, AI-powered bots help agents with information and data to help create a personalized experience for the customers
Multi-lingual Bots
Consumers engage with bots that can communicate in their preferred language . Bots with mult-lingual capability can switch languages based on user's utterances.

Chatbots can be integrated into multiple channels like Telegram, FB messenger, Slack and more making texting with customers in real-time. With the help of Google Home and Alexa customer queries can also be answered through voice.
But the question arises: will introducing chatbots into commerce, replace humans?
Using a chatbot for launching a product will save money on market research team and time to collect the feedback as with the help of chatbots fun polls can be created to engage the customers more thus leading to increase in sales. Chatbots also get the answers of the surveys along with the statistics in less time.
Retailers can collect much information than a support system via a chatbot chatting with the customers. And thus, the marketing of a product without a huge support team disappears.

Personalized Shopping Assistance
The best example to understand chatbots as personalized shopping assistance is by looking at Starbucks app. Starbucks lets customers order their coffee or food through the chatbot in their app. Just write what you would like to drink today and the AI will recognize your intent and order for you on a single go with single tap payment.
A chatbot needs to be maintained once it is set up. But once the businesses integrate a chatbot, they give their brand the opportunity to each and every customer 24/7 without hiring a large number of customer representatives. Juniper Research found that bots will help businesses save $8 billion annually by 2022. Today, that number is only $20 million.

The Final Impact of Conversational Commerce
Conversational commerce is not a new thing, but as customers have become comfortable with online messaging and digital living, it is emerging as a great gateway for shopping delivering loyal customers with satisfying customer experience.
Businesses with conversational commerce have seen improvements in conversion rates, increase in sales and decrease in customer call volumes. Bots platform like kore.ai help create intelligent bots that will create faster personalized interactions with customers and overall increase the productivity for companies.

Learn more about Kore.ai's conversational chatbots and see how you can create a conversational chatbot in minutes without coding


| | | |
| --- | --- | --- |
| Chatbots are all set to disrupt the eCommerce industry | | Quickly build omnichannel and multi-lingual bots on the Kore platform |