"Data data everywhere, and not a thought to think!" - John Allen Paulos
Enterprises today are overwhelmed with data. Be it user data, usage data, performance data, or any other metadata, organizations gather all of them. But when it comes to deciphering information and deriving meaningful insights from the available data, most of them fall flat. Enterprises seek to cross the chasm by providing a captivating experience to the users around using their technology. For this, it becomes imperative for them to understand user behavior.
In order to delight customers, organizations need to understand how their users think and behave. Analytics is one of the ways to comprehend user behavior. Analytics empowers businesses to track, dissect, and act on data and key metrics together, in a single console, from all angles. The objective of any type of analytics (Descriptive, Diagnostic, Predictive, Prescriptive) is to build a deeper understanding of your customers and employees, and allow the organization to continually measure, analyze, and refine its strategy for better decision making.
In the world of Conversational AI, analytics is of prime importance not only because it enables organizations to understand user engagement, but also helps measure the performance of conversational flows and track the functioning and performance of bots. Keeping these aspects under consideration, Kore.ai provides a comprehensive view of the bot usage and user engagement
"If you can't explain it simply, you don't understand it well enough" - Albert Einstein
Kore.ai Virtual Assistant Platform enables unparalleled visibility into bot, employee, and customer behavior by providing simple, quick and real-time analytics. Unlike other major platform players, it tracks the users' journey from the time they start interacting with the bot until they exit the chat. The platform provides a mix of functional analytics, conversational analytics and advanced analysis in its Virtual Assistant Platform.
Engagement Dashboard:
The Bot Summary Dashboard gives users a bird's eye view of the bot properties. Quite often, developers find managing bot properties a cumbersome task. By giving developers all the important details such as task details, Knowledge Graph details, Natural Language Processing (NLP) Training, Channels used, developer details, change logs, event details, variable details, etc., in a single snapshot, the dashboard delivers a great user experience. The developers can simply jump on to a feature in a single click, avoiding navigation through a long chain of sections and subsections. It also contributes greatly to collaboration as developers get a quick grasp of the status quo even as they on-board new users to co-create the bot.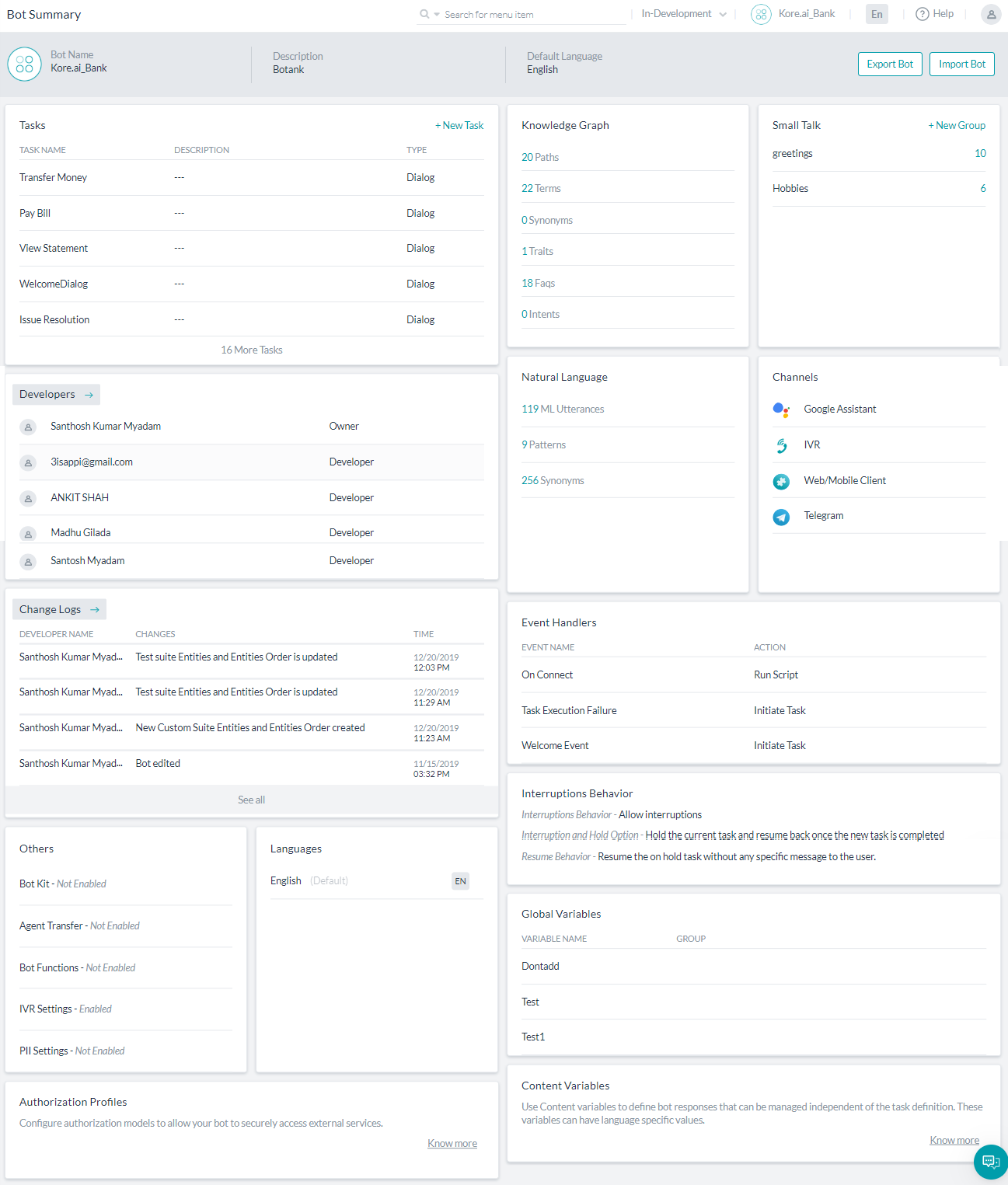 Bot Summary Dashboard
Advanced Analytics:
Usage Metrics: The usage metrics give realtime information on bot usage with data on active users, channels actively used, agent sessions, etc., captured in a single dashboard. Users can even select the duration for which they want the metrics. For example, if business users want to gauge the performance of the bot in the last 3 months, they can set the date-range accordingly. Besides, the dashboard also has multiple filters for drawing specific insights, which are applied through the filter option and the custom meta tags option, wherein multiple meta tags can be selected using the 'AND' function. So, if the user wants to discover the number of business class flight bookings made through Facebook Messenger for the last three months with the destination as London, that can be accomplished by specifying the meta tags : Business Class users and Destination. But, of course, these tags have to be defined while developing the bots.
Custom Dashboard:
Developers can also design, preview and build customized dashboards using a combination of built-in metrics as well as any custom metric captured in the bot. The Custom Dashboard feature is a valuable tool for developers looking to address specific business problems. Each custom dashboard has one or more widgets that are associated with a set of predefined datasets. Developers can extract information about messages, sessions, users and meta tags from these datasets and generate a dashboard.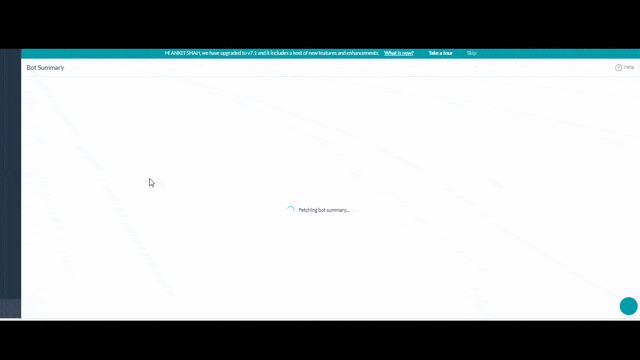 Usage Metrics and Custom Dashboard
Functional Analytics:
One of the key reasons enterprises shy away from adopting a chatbot is the inaccuracy of the replies, which leads to customer disillusionment. To provide a human-like conversation, the bot should have a personalized conversation with the user, which of course should improve with time.
For the improvement of performance over time, the bots should learn from the past failures. Also, they should be wise enough to learn from new conversations. For this, all the intents which are not recognized / incorrectly recognized should be identified and the bot should learn to avoid the same mistakes in the future.
Kore.ai Virtual Assistant Platform has unmatched supervised and unsupervised ML algorithms for identifying the preventive measures to arrest failed intents while also improving the successful intents. The intents can be further filtered on their meta information such as channel, language, intent type, etc., to achieve a much granular level of analysis.
Functional Analytics on the Virtual Assistant Platform enables the users to not just analyze the failed intents but also train those utterances to the correct intent.
The chat history can also be seen, giving users a clear idea of why the intents failed/could not be found.
The analytics page gives a good view of the strengths and weaknesses of the bot.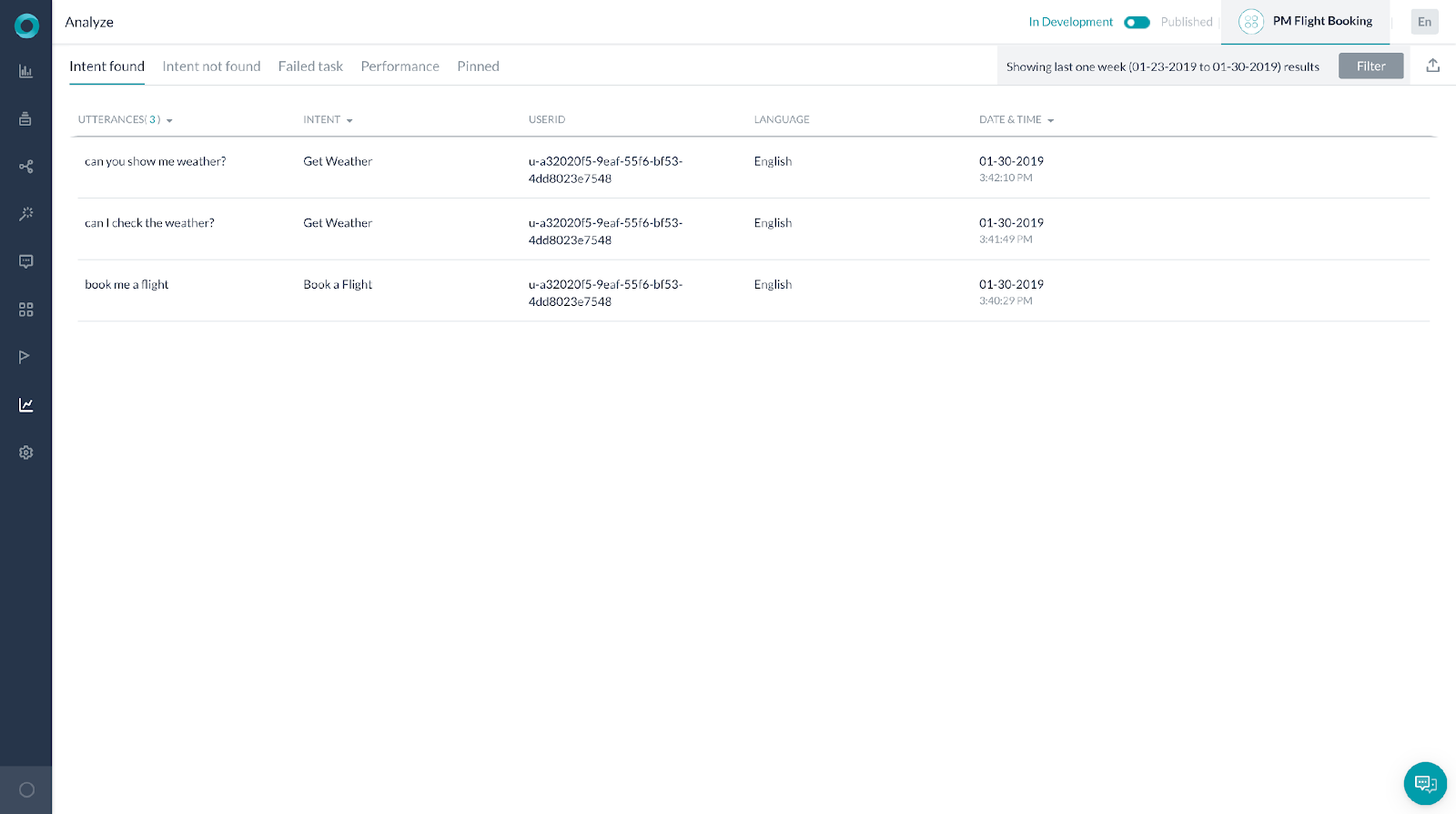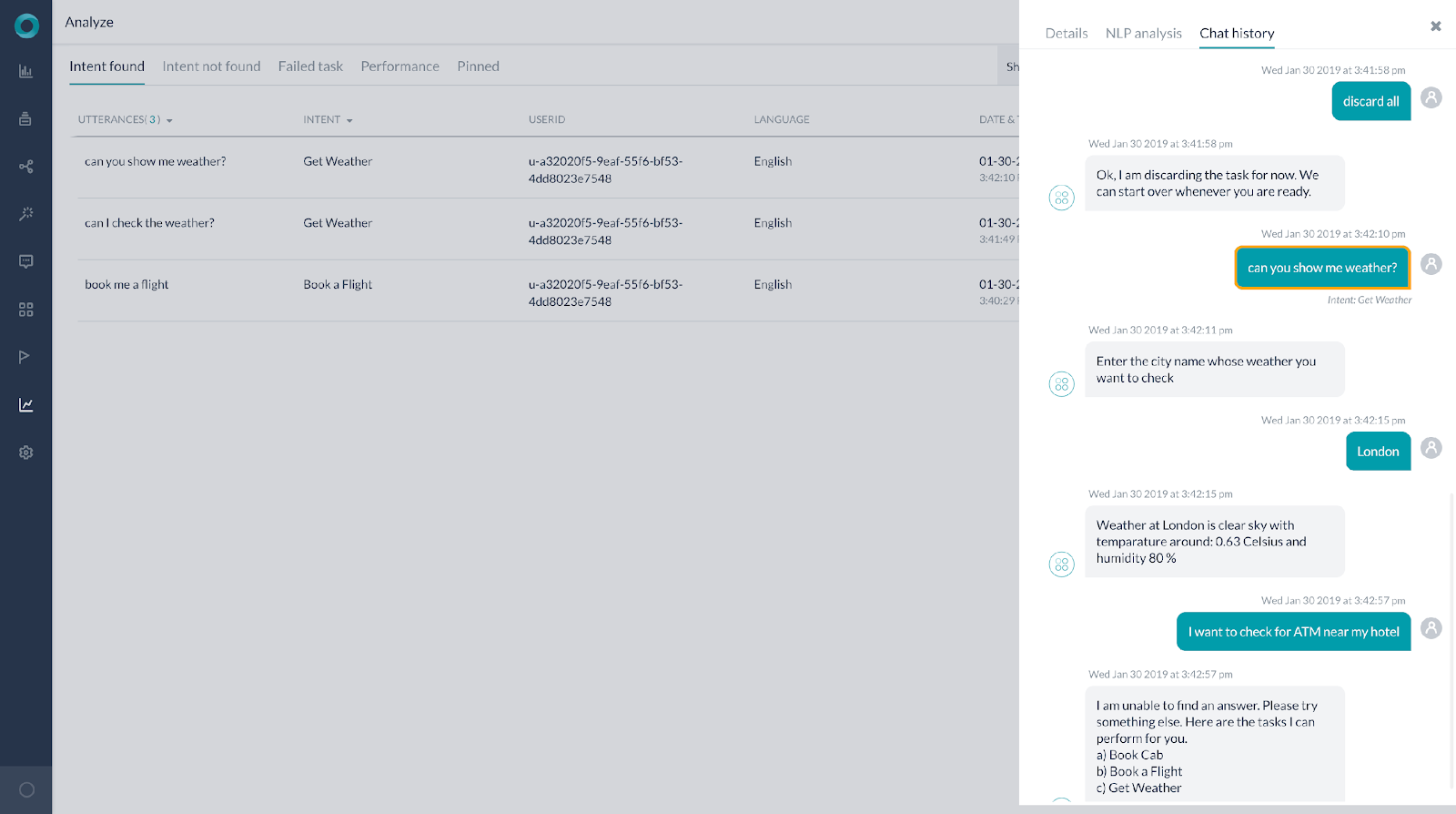 Functional Analytics - Analysis of the passed and failed intent
"You've got to start with the customer experience and work back toward the technology, not the other way around" - Steve Jobs
Conversational Analytics:
Engaging with customers is the prime intent of deploying a chatbot. There is no point in spending a fortune on publishing a chatbot whose engagement is suboptimal. If the bot is of enterprise-scale and is interacting with prospects and customers, it is super-vital to make the conversation engaging. An engaging chatbot has a direct correlation to containing the bounce back and exit rates.
In order to engage the customer, we should feel their pulse. For this, their conversations with users should be analyzed and represented well. Conversational Analytics of Kore.ai Platform provides a visual representation of the conversations with the users. The Conversation flow maps popular user paths, tasks, and exit points within a visual context, helping to surface patterns, trends, and correlations that might go unnoticed using text-based data analysis methods.
The user requests are viewed based on sessions or intents so that it becomes easy for organizations to analyze the type of conversations happening with the bot and the intent which gets triggered.
This analysis can help organizations to construe what are the intents that are widely used and that are the follow-up intents. This would ultimately be used to infer the trend of user behavior.

Conversational Analytics in Kore.ai Virtual Assistant Platform
"In God we trust; all others bring data" ― W. Edwards Deming
Data analytics is ubiquitous across all technologies, Conversational AI is no different. Data analytics is certainly a reliable way of making smarter decisions. Decisions taken with the help of data analytics are well-grounded since they are backed by a series of logic and algorithms. Hence, prudent use of analytics must be a top priority for C-suite who want to pursue 360-degree transformation.
| | | |
| --- | --- | --- |
| Enrich productivity and profitability with data-driven analytics and insights | | Build virtual assistant for every employee using the Kore platform |