Listen on the go!
The next generation of mobile wireless technology, popularly known as 5G, will represent a quantum leap from today's standards. If we look into the reports of the Computing Technology Industry Association; emerging technologies like IoT (internet of things), 5G network and artificial intelligence are among the top business and consumer solutions, offering an array of financial opportunities and business growth in the digital age.
The ongoing pandemic has accentuated the importance of expensive high-quality connectivity to ensure a non-distortive platform for economic innovation. As the situation demands, Europe also plans its recovery, based on a strong case for a policy rejuvenation.
Similar to North America, Europe possesses a large share of data traffic. It was also one of the early adopters of the 4G revolution and is expected to be a prominent contributor to 5G data traffic growth.
With the constant increase in the use of mobile phones and the rise in demand for seamless connectivity, the Europe 5G market was valued at $359.3 million in 2019 and is expected to reach $42.70 billion by 2027. Growth hackers have also estimated that the market might register a CAGR of 85.1% from 2020 to 2027. It is also expected that mobile data traffic in Europe will reach 14 EB (ExaBytes) per month by 2024 from 2.6EB per month in 2018.
Okay! That looks promising. But what will 5G exactly consist of and how is it better than 4G?
The simplest explanation for 5G is that it is faster and has lower latency than 4G networks. It has enhanced mobile broadband that will be one of the first mainstream use cases of 5G that will boost capacity and allow operators to connect more people and devices. 5G will play a pivotal role in delivering the Internet of Things (IoT).
5G is all about being able to deliver high-speed data with ultra-low latency. It will enable enterprises to achieve real-time, predictive engagement, and personalised experience with their customers.
Why is the customer experience not upto the mark with 4G?
4G has a latency of 50 milliseconds which leads to a poor customer experience for many technologies. For example, a Virtual Reality (VR) or Augmented Reality (AR) user feels nauseated if the document gets delayed for more than 20 milliseconds. 5G does wonders here by enabling latency rate drop below just 1 millisecond. VR and AR can thus use 5G to process images faster than the human brain.
Companies like Amazon and Ikea are already using AR to help their customers visualise how furniture will fit into their home. With 5G networks in the picture, the customer experience will evolve by enabling an unprecedented level of engagement which will transform everything from shopping to buying a home.
How will 5G change my life?
With 5G becoming an everyday reality soon, it will also impact your customer experience (CX) strategy. With a sub-millisecond latency which is 10 times faster than 4G, it will be able to fetch real-time intelligence, data, and event-based analysis on the current centralised and virtualized cloud-based AI architecture.
The healthcare industry will easily supply remote diagnosis and treatment with the aid of sensors on wearable devices. Smart home devices will be connected seamlessly that will be able to predict the need for maintenance or service. Self-driving cars will be able to function more efficiently and quickly react to the surrounding environment. In one word - the possibilities are endless. All connected devices with embedded sensors will make it easier to control remotely too.
Let's explore the 5 best ways in which 5G will revamp customer experience
1. Smart city
Smart city essentially means that the inhabitants will effectively use the resource with minimal emissions. Government will use information and digital technology to the fullest which would ultimately enable people to live a better quality of life. 5G will allow IoT (internet of things) to work more efficiently.
Smart cities would ensure smarter power grids for effective diversion of energy, upgraded water management for minimal wastage, smarter trash management for cleaner cities, advanced transport networks for better connectivity and ultimately better governance. 5G technology will also enable effective processing and analysis of data generated and use the power of AI to improve over time.
The European Commission had taken an initiative--European Innovative Partnership on smart cities and communities (EIP- SCC)--to connect the cities, healthcare sector, industries, banks, small businesses and others. Several European cities found mention in the smart cities rankings produced by Eden Strategy Institute. While London was 1st, Helsinki, Barcelona, Vienna, Amsterdam, Stockholm were among the Top 15 out of the 50 ranked, Copenhagen, Berlin, Lyon, Dublin, and Paris were in the list too.
5G technology will facilitate seamless experience for the Europeans as most of their requirements shall be automatically resolved or will be resolved by simply conversing with the smart virtual assistants.
2. Smart Homes
It is not too far that every european will have his parking lights turned on automatically as soon as the owner approaches the parking area, people get cooked pizza in the microwave as they enter their home, get their morning emails read to them by their personal virtual assistant soon after they wake up or get notified when an unidentified person enters the house.
With the world moving towards sustainable energy, connected devices, efficient lightings, intelligent heating ventilation and air conditioning (HVAC) systems,reduced carbon emissions etc., smart homes seem to be the next big thing for every european. As per statista, the revenue in the smart home sector in Europe is expected to show an annual growth rate (CAGR 2020-2025) of 15.0%, resulting in a projected market volume of US $40,648 Mn by 2025.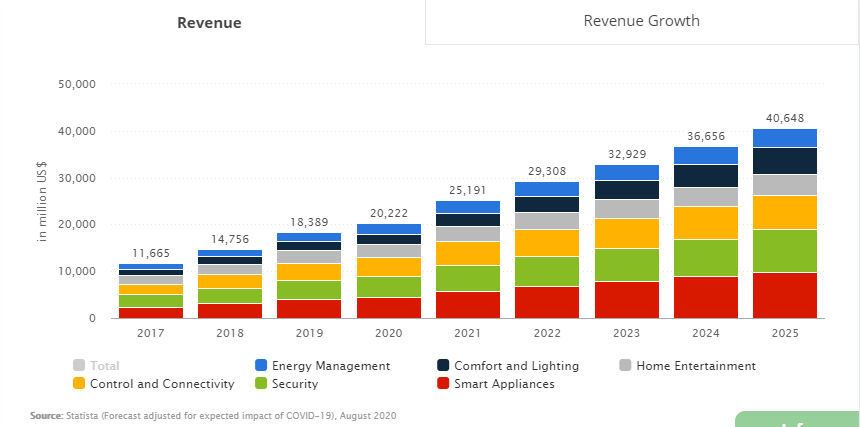 This calls for a high demand for hyper connected devices. To achieve seamless experience, high speed and low latency would form the basic requirement so that the devices work accurately as and when required.
5G technology will play a pivotal role by decreasing the dependency on Wifi and bluetooth, thus ensuring the devices connected together give a faster response. AI in 5G technology will identify the patterns in the data and can alert the user if anything feels amiss. Effective use of lighting and HVAC systems will also reduce the electricity consumption, thereby reducing the expenses for consumers.
3. Autonomous and Smart Cars
As per Gartner, by 2023 the automotive industry will be the largest market opportunity(53%) for 5G IoT solutions.
Smart cars are similar to mobile IoT devices having sensors and the power of edge computing. It enables the data to be processed within the car itself without depending on the internet. Smart cars use cellular V2X standard 3GPP technology to send and receive signals from a vehicle to other vehicles, devices, or traffic lights. This technology can be optimally used with 5G mobile cellular connectivity. Using 5G, customers can thus access the driving pattern, vehicle activity, performance of the engine, and infotainment system using the power of 5G and edge computing.
As Europe is known for its specialization in automobiles, the emergence of 5G technology will revolutionize the usage of cars with 5G technology. Due to low latency, the self- driven cars can be made more impulsive and the data computed within the car will foster its driving capabilities with time.
The consumers will thus be able to experience an enhanced driving experience both with and without a driver.
4. Healthcare Industry
COVID-19 has revolutionized the operations of the healthcare industry. The pandemic has proved to create a surge in patient care services. People prefer to get appointments online, have remote monitoring from home and prescriptions via video call, rather than visiting the hospital. .
5G will revolutionize the healthcare industry in Europe by easing the mode of communication and operation between patients and doctors, saving up efforts and costs for patients. They will be able to see the doctors with just a click of the button.
5G healthcare systems will also drive mobile networks to support telemedicine appointments. The high speed and low latency reports will help prescriptions to be uploaded easily, thereby boosting remote consulting processes. 5G would also power AR, VR, and spatial computing and make these technologies more pervasive among the hospitals. This next-gen technology would enable them to get treated from any place at any point in time.
5. Smart Retail
Customer behaviour has evolved manifold over the last few years. Today's customer is looking for options that provide them the best experience at minimum cost. They seek ways to bypass high waiting time, slow payment process and longer delivery times. Personalized experience in terms of the best deals for them is in high demand.
Recent trends show that just like other parts of the world, the European customers are also ecommerce ready8. An index by the United Nations Conference on Trade and Development, ranking countries' capacities to support B2B ecommerce, shows that the top 10 countries that are most ready to benefit from ecommerce consists of 7 European markets. Luxembourg, Switzerland, and Norway made it to the top three. In 2020, Sendcloud conducted a study amongst a total of 8,529 consumers in the United Kingdom, Germany, Spain, Italy, France, Belgium, Netherlands, and Austria, which showed that all respondents bought products online only.
With most of the customers shifting online, it becomes imperative for e-commerce companies to provide the best digital customer services. 5G empowers service providers to use behaviour analytics to enhance customer experience. The e-commerce companies can also cross-sell and upsell products based on customer behaviour.
Rise of Virtual Assistants
5G augments digitalization and with digitalization, we see the launch of many software products/applications. The usage of these applications can be further simplified using virtual assistants (bots). Virtual Assistants(VAs) engage the users with follow up questions and by predicting other information depending upon the queries of the users. They also enable the users to simply converse and get their tasks executed rather than searching for different functionalities or information. For example, if you want to call the customer care you can simply ask the virtual assistant integrated within the application with just one click, without searching for it within multiple menus. That's as easy as pie, isn't it?
The products and solutions developed at Kore.ai strive to enrich the customer experience by providing human-like bots who can engage the customers just like humans do. These bots can understand the context of the conversation, empathize with the customers, resolve their queries, and perform actions on behalf of them. With 5G technology, more users shall connect with bots and fetch information and resolve their issues. Kore.ai platform is an enterprise-ready low-code/no-code platform which has a mix of the conversational interface and digital UX and can scale to support millions of users at a single point in time.
Get started with developing bots using Kore.ai for free. Sign up on our bot builder and get going!