By Aleisha McKeeby, Solutions Marketing Manager
Growing up as a Millennial, I didn't realize how impactful my behavior and preferences were to retail marketers. Now, as an experienced marketer myself, I too analyze these same behaviors and trends, as well as countless others, as evidenced in endless media mentions, sweeping conclusions, and even stereotypes.
One such conclusion is that millennials tend to value time over money. Fortune Magazine recently quoted, "For the generation that will soon become the majority of America's workforce, flexible work hours and personal fulfillment are more important than a bigger paycheck." The article suggests millennials view time as "a limited resource to be spent wisely and actively managed". Perhaps not all, but I would argue most of the population agrees with this conclusion.
As a once college student, turned young professional, turned busy mom now with a career and family, my to-do list has grown, to the extent it would circle the earth if its tasks were stacked upon one another. Now as a necessity to satisfy responsibilities, I have come to loathe shopping – shocking I know. I value time. I want instant gratification. While Amazon has done this justice, there is something to be said for having an unforgettable in-store experience.
There are days I dream of my typical retailers adopting a business model where convenience ranks "off the charts." I can imagine it now:
I drive up to my daughter's school, hop off my conference call and quickly place an order in my car for a few sandwiches for dinner (and also some eggs and milk) from the local grocer. I do so, via a text message – my preferred way to communicate. I head inside, chat with the teaching staff, and pick up a smiling bundle of joy.
As I approach the supermarket, a beacon recognizes my location and sends a person with my order (which was already paid for) to the curb outside the store. I pull up, unlock the door, and the groceries are plopped right into my passenger seat. At about that time, I get a call on the bluetooth from my husband asking "what's for dinner" and I've totally got it covered.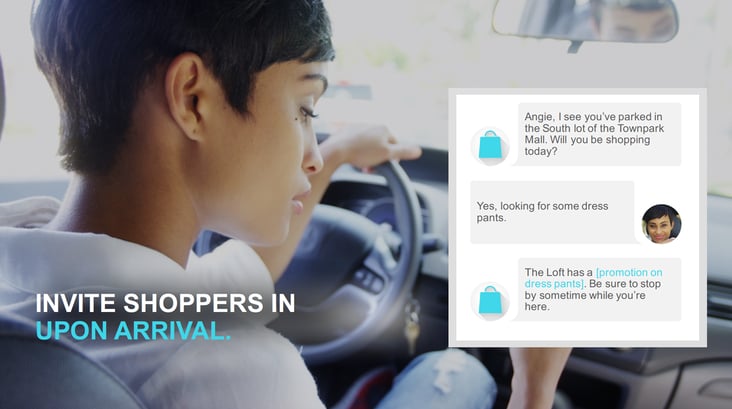 In order to offer an experience of this caliber, retailers must have a 360-degree view of their business operations and customer preferences. As quoted in Shopping with Conversational Retail: Bots Transform In-Store and Digital Selling and Servicing, "80 percent of retailers aren't ready for omnichannel due to the lack of inventory visibility and accurate assortment planning between e-commerce operations and their stores." That's a staggering number of stores I'm passing up on a daily basis due to a disjointed shopping experience.
___
While it is important for retailers to consider, and to own the digital journey, it's also important to go one step further and think about disruptive business models and technologies that make it so simple to buy, shoppers can't resist. Offer a personalized experience, regardless of the communication channel of choice.