Artificial intelligence (AI) is not a futuristic technology, but very much an incumbent and inevitable aspect of the present age. Large industry behemoths as well as innovation-led giants like Google are realizing the ever-increasing need for AI and are investing big fortunes to fulfill those needs.
But it's in the arena of online shopping, that AI has made its most distinguished mark.
There are many elements of a user-friendly online shopping site that are backed by Machine Learning and AI algorithms when you are on the site. For example, do you see how each element of the site seems like it is serving your personal needs? Well, they tailor it so for every visitor. But have you wondered how?
It is the far-reaching penetration of AI in the field of eCommerce, which has enabled businesses to multiply their profits by serving the needs of their customers and has the potential to improve their prospects in the coming years as well.
What is AI?
AI is a technology that collects information and patterns pertaining to datasets and then emulates the patterns and tasks which are repeated. The ability of a machine to repeat a task without instructions is the reason AI has become an integral part of human existence.
Research says that by 2025, global revenue generated from AI is expected to reach USD 36 billion and understandably so. While machines reduce the burden of physical labor, AI has eased the amount of required thinking effort.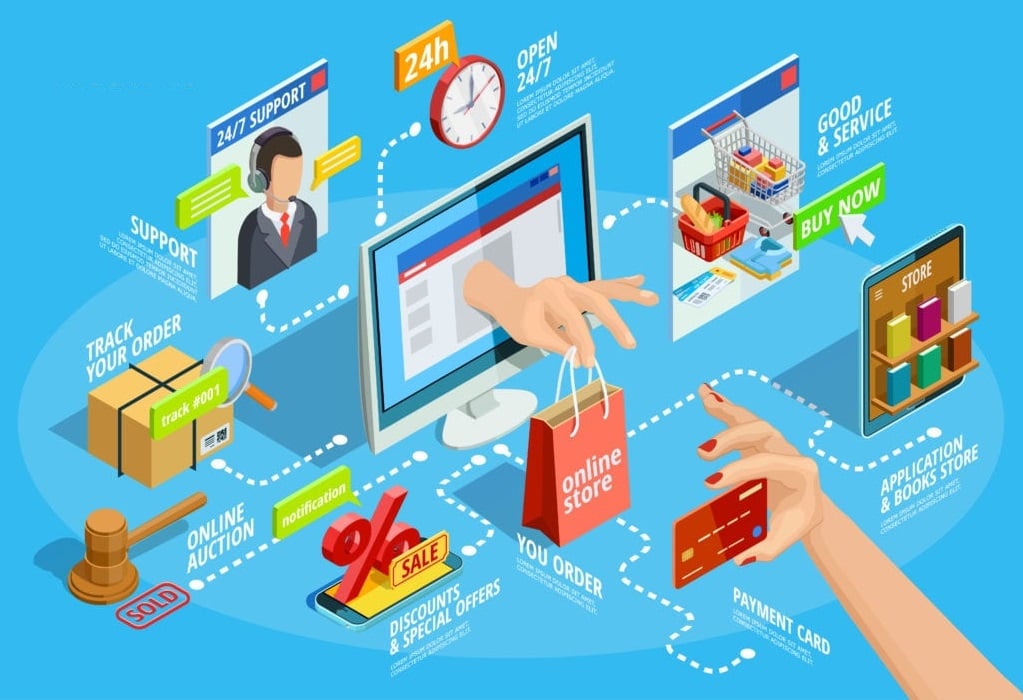 This article aims to introduce you to the AI features without which an ecommerce site will look incomplete in 2020!
AI features integral to eCommerce sites
With continuous advancements in technology, the need for employing AI has increased for online shopping sites, the most useful and obvious application can be seen in the following forms:
1. Voice assistants
You cannot underestimate the potential of AI in terms of accessibility that it empowers you with. Ecommerce sites have voice assistants that reduce the effort of the user. The user doesn't need to type in what he/she is searching for. Instead, he/she can simply speak the words in the mic of their phone, and the voice search mechanism does the rest.
2. Chatbots
If your eCommerce site has a chatbot, rest assured you are giving you're a hospitable digital experience. AI lets you provide intelligent chatbots powered by intelligent algorithms, which can prove to be a phenomenal tool for enhacing customer experience while shopping online.
3. Visual search engine
In recent times, AI has enabled eCommerce sites to provide visual search engine capabilities. It makes the life of a user easier than ever before. A person can scan the visual and reach the product in the desired category of the product with only a few clicks.
4. Automated Creations
Ecommerce sites nowadays are efficient enough to create automated product descriptions and popups tailored for users. ECommerce sites are able to create multiple details every given hour to keep the visitors hooked with an up-to-date experience based on information.
A common example of details in the diversified pricing for targeted revenue generation would be tailoring the list of recommended products based on a user's other searches in the preceding days. If the details and descriptions are not effective or are not fulfilling the purpose, the AI-powered features are able to enhance those descriptions and details.
5. Cybersecurity
Cybersecurity is an issue that can be a cause of worry for online businesses like eCommerce sites or social media sites. Such sites deal with personal data of millions of people, and security lapses can leave businesses in deep trouble. The field of Cybersecurity is still dependent on the traditional solutions, but AI has begun to cast its spell there as well.
With the use of AI algorithms in an ecommerce site, you can transform big volumes of data into small manageable chunks, which are easier to safeguard and protect from risks and breaches.
6. Personalized and meaningful searches
Whenever you type a commodity in a search engine, the search engine will go through all of its records and return results, which are the most suited to your needs. This is important when you type in a string that doesn't make sense to a common man, but the algorithms know that there's a link between the pair or string of words and returns a set of personalized results.

In this way, an eCommerce site can aim to retain the maximum number of customers and form a customer profile, which will aid in personalizing the search results for the next visit of the use on the site.
7. Authenticity checks on reviews
When you see reviews and comments on blogging sites, how often do you see that the accounts seem fraudulent? Almost half the reviewing accounts are bogus and hint on being bot accounts. There can be many bot accounts that can, on purpose, post inauthentic reviews of products to damage the reputation of a targeted business. Such campaigns may be backed by hackers and sometimes your business competitors.
Artificial intelligence is capable of detecting such accounts that do not identify as a human and remove them from the stats and records of the reviews.

8. Product Recommendations

Do you often open a shopping site on your mobile and observe that the site is recommending you products that you've been talking about or searching on other sites as well. Well, that is Artificial intelligence being too kind and helping reduce the amount of effort you need to put in.

9.

Forecast sales

Well, all the treats that AI has got to offer you are not related to user experience. Some of them are genuinely there to serve you as a business owner. Artificial intelligence enables you to forecast your sales too. You can pretty much predict the impact your offers and packages can have on your business profits.


There's another side to the story as well. With an enhanced ability to predict sales, you can inform your customers to hurry and get a certain product by a certain date. You can also predict your bestsellers based on initial trends.
Is your ecommerce site taking benefits of AI?
If you are one of the eCommerce business owners who want to incorporate the AI capabilities in your site, as mentioned above, you have a lot of areas to work on. For this, you must seek professional web development company in Dubai to maximize your profitability by compounding Artificial intelligence with eCommerce with an added benefit of providing your customers with the best online shopping experience.
The world of technology is open to a plethora of options that you can explore. Make the wisest choices, after a careful and thorough analysis of your business needs and target audience.