By: Lindsay Sanchez, CMO at Kore.ai
If you've been paying close attention to the tech world in 2016, you've probably noticed that chatbots have been a hot topic of conversation. From the launch of Microsoft's Bots Framework to the unveiling of chatbots for Facebook Messenger at this year's F8 conference, these agile assistants are attracting big buzz from consumers and enterprises alike. But beside the basic use-case scenarios and love-it or leave-it reviews of the first wave of chatbots, the conversation has stayed fairly basic. I want to push it into a space that makes sense for the enterprise, rather than merely touting the "chatbots are the next big thing" prophecy, and highlighting "one trick pony" chatbots that perform simple work tasks like setting up meetings.
Similar to when the mobile app movement started, it's like the wild west out in the chatbots world right now. In July, The Verge recognized that there are 11,000 chatbots built for Facebook Messenger. Could too much choice add more unnecessary complexity? How can a conscientious employee know which chatbots to use, or when to use and not use a chatbot?
This is why I'd like to focus on a practical way that businesses can let employees reap the productivity gains that chatbots can deliver – without repeating historical mistakes. An enterprise chatbot store.
It's time enterprises lead the movement, instead of following. Aligned with their workforce – from Millennials to Baby Boomers – they can create a simpler way for people to engage with today's systems.
Here's why a customized, enterprise chatbot store strikes the right balance for people, IT and leadership.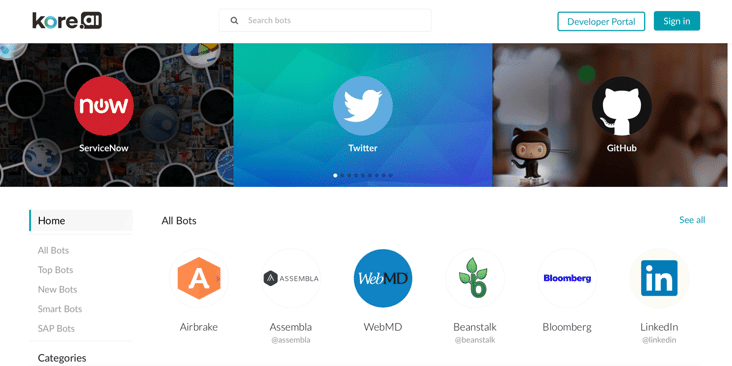 Kore.ai bot store
1. An enterprise chatbot store makes access easy and eliminates the "noise" of useless chatbots, and it's sticky.
Enterprises can help the workforce cut through 'chatbot hype' by offering immediate access to an enterprise chatbot store, or curating their own enterprise store that dishes out the high value, corporate approved chatbots people want to use.
By curating a store, a business determines what chatbots to offer, which chatbots varying functional groups can access, and the channels people can use to communicate with those chatbots. For example, a company might offer a mobile sales rep Salesforce, Concur, Google Calendar, SAP SuccessFactors and personal chatbots for LinkedIn and news services, while their engineering teams might have access to the Asana, Jira and ZenDesk chatbots. An IT Service Desk team might have the ServiceNow chatbots and others.
In the sales scenario, the company might choose to make the Salesforce chatbot only available via the company's secure messaging tool due to sensitive customer information, while a LinkedIn or news chatbot could be available via Facebook Messenger, SMS, Slack and other channels. The flexibility is there to suit multiple scenarios.
And that stickiness point? Once the workforce knows an enterprise chatbot store is the prime destination to immediately use the chatbots they actually need, they'll come back. It's a simple process – see a chatbot you need, install it, ask it to perform a task, and you're off. No training or IT request required.
2. Without a chatbot store, employees are left to seek out the chatbots they need on their own, and they will be disparate, different and unable to have one chatbot "talk" to another chatbot.
With an enterprise chatbot store, a business can design, test and deploy their chatbots prior to making them available, ensuring a consistent employee experience with all chatbots – pre-built chatbots, the ones customized to their business processes, and the ones they build from scratch. Businesses also can allow chatbots to exchange information with each other, reducing manual data rekeying for people.
Here's an example. A sales rep submits an urgent case on behalf of their customer via their Salesforce chatbot. This action triggers the Salesforce chatbot to notify the customer support team, who can then instantly create an incident report through their ServiceNow. The best part? The customer service rep doesn't re-enter the case data – it's simply carried from one chatbot to the other.
3. An enterprise chatbot store can evolve, and your users decide how.
Your chatbot store and the chatbots that you choose to reside within it can be in a constant state of becoming. Why? Since chatbots literally converse and capture the natural progression of a dialogue between a person and a system, you can learn from their successes and shortcomings – if you have the analytics and reporting behind the chatbots. Users continuously test a chatbot's functionality, personality, and utility, which, as an enterprise administrator, gives you instant feedback into how IT can address user needs or concerns. This essentially eliminates that painful and costly guessing game IT tends to play anticipating what the workforce needs, and instead replaces it with a system where users tell them exactly which chatbots are useful and which aren't, and where they need to add tasks and functionality to the chatbots they love. The communication between systems, users, and IT improves. And, so does productivity, efficiency, and satisfaction.
4. An enterprise chatbot store gives the enterprise security and oversight.
Security is always one of the big questions that comes up when I talk to folks about the widespread use of chatbots, and with good reason. By offering the workforce chatbots through an enterprise chatbot store, administrators can control more action and keep more data safe. First off, any platform you choose should be encrypted for all messaging between chatbots and users, have enterprise-grade controls, and allow for regulatory compliance. When it comes to chatbot access, function, and monitoring, you can control a lot at the administrative level, too. You choose which channels your chatbots can live in (email, web, mobile apps, SMS, messaging apps, collaboration software), who has access to your chatbot store, and which chatbots they can use. You can monitor the analytics and insights related to your chatbot store to ensure granular corporate oversight. Also, since each user is self-authenticating when they use a chatbot, data can be better contained. It may sound like a complicated, but when you compare it to thousands of employees potentially using hundreds of different chatbots on different channels, all without company oversight, it's a no brainer.
See what other factors you should consider when putting together an enterprise chatbot strategy by downloading our CIO Toolkit.