Attention Florida ASUG members!
Join Sam Lakkundi, SVP & CIO, Kore.ai Inc., on Friday, March 18 at the Altamonte Springs Hilton from 1:30pm-2:20pm for a featured presentation on the future of virtual assistants and bots for SAP. Sam will provide an introduction to bots, their value to the enterprise and real-world examples of how they make SAP-powered businesses run even simpler.
Virtual assistants like Siri and Alexa are positioned to revolutionize the way workers interact with SAP systems. As SAP helps business run simple, bots built on APIs are poised to help SAP users work simpler and more efficiently.
New to virtual assistants and bots?
Get a preview of Sam's presentation and gain a better understanding by listening to this SAP Radio podcast on the Future of Bots and Virtual Assistants. Executive technologists Raj Koneru (CEO at Kore.ai), Vic Bhagat (Former CIO and EVP at EMC Corporation), and Uddhav Gupta (Global Vice President of Platform-as-a-Service at SAP) discuss how bots will completely revolutionize enterprises of the future.
According to Gartner "Cloud computing will make virtual personal assistant technologies ubiquitous in the digital workplace, automating complex business tasks and increasing worker productivity. IT strategists must prepare for this, as well as the resulting changes in the ways that work is performed."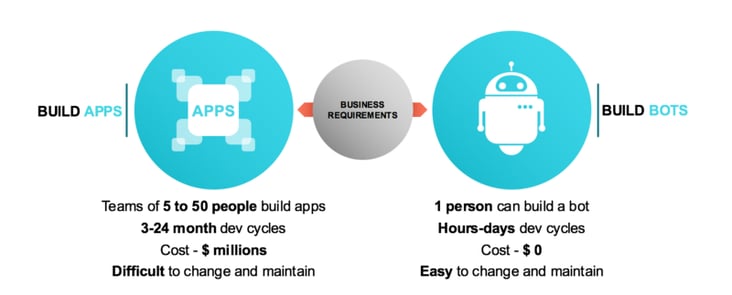 Full Title and Abstract of Sam's Presentation
Rise of the Robots: Five Real Ways to Revolutionize and Simplify How You Use SAP
It's a familiar story to most enterprise employees. Much of your day gets consumed working in robust but complex SAP applications. You also constantly move from SAP modules to e-mail to meetings to get stuff done - but somehow it never feels like your work is really done.
Imagine how much simpler work could be if you had an "assistant" to tackle time-consuming tasks within SAP systems. Now, imagine if you simply had to message that assistant to ask for information, get relevant alerts, or take action. And 24x7x365 they worked for you.
That scenario is a reality today. Through a single messaging interface, you can direct robots, commonly called "Bots", to automate and execute SAP tasks on your behalf. These robots connect with business systems like SAP and others via APIs, sending or receiving data as directed by you.
Bots serve as virtual assistants for your company's business processes. They can simplify critical processes for travel and expense, enterprise resource planning, customer relationship management and more. Analysts at IDC say this type of technology will become "ubiquitous over the next five years, and will fuel a massive reengineering of the workplace, making it more responsive, agile and able to facilitate data-driven decision making in all areas of businesses."
Learn more about the need-to-know bot basics by downloading our eBook: Chatbots 101.