Universal bots allow you to create a new bot by linking several standard individual bots into one.
Organizations that are focused on improving customer service and reducing cost are heavily leaning towards artificial intelligence (AI) as part of their digital strategy. If we talk about the banking and finance sector alone, the rise of AI-powered chatbots is overwhelmingly changing the face of the communication interface and improving the overall customer experience in the industry.
Chatbots such as the ones built on Kore.ai's platform are not only leveraged by banking leaders globally, but also by other industry leaders in healthcare, telecom, retail, insurance, airlines, hospitality for their unmatched flexibility and scalability. According to a Juniper Research prediction, chatbots will be responsible for cost savings of over $8 billion annually by 2022, up from $20 million in 2017.
Kore.ai's Universal Bot can make your enterprise bot building experience much more flexible by facilitating a scalable, modular approach to creating bots. Universal bots allow you to create a new bot by linking several standard individual bots into one. For example, if you were to build a bot for a bank, you can start creating separate bots for each domain such as credit cards and loans – deriving expertise from the respective functional areas. You can then integrate them using a Universal Bot to interoperate.
Universal Bot in a nutshell
The Universal Bot executes the tasks and functions of the linked bots by routing relevant utterances to the corresponding linked bots. Once you publish a Universal Bot, changes made in the linked bots automatically reflect in the universal bot. As a creator or developer of a bot, you can add any bots to a universal bot and access their underlying tasks and functions. When you publish a universal bot, the end users can only access the tasks that are published in the linked bots.
Use cases
Banking:
Let's consider the example of a bank to understand how universal bots help you incorporate scalability and modularity into your chatbot strategy. From the scalability perspective, you may want to start building the first version of the bot to solve the credit card issues of the customers. As you optimize the bot, you can add more use cases from the other domains. Likewise, you can also build separate bots for mutual funds, loan-related issues – both deriving expertise from the respective functional areas. You can later integrate and optimize the bots to interoperate, thus making the design modular.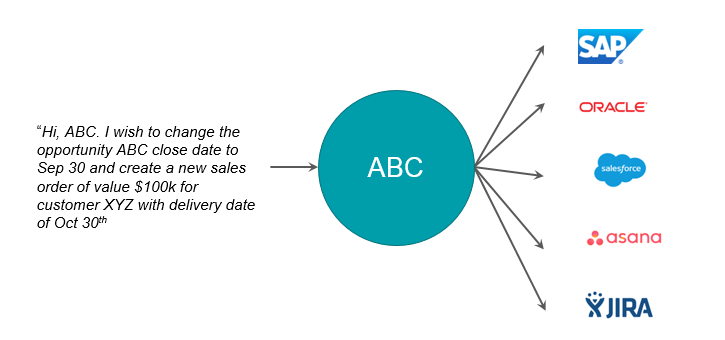 Healthcare:
In healthcare, particularly in hospitals, Universal Bot can work with multiple channels and departments to deliver a seamless experience. When it comes to tracking a patient's daily health record and advising the necessary treatment or medicine, doctors and health staff can heavily rely on Kore.ai's Universal Bot. The Universal Bot can be integrated with Slack for communication and coordination between doctors and paramedical staff for discussing the patient's symptoms and advising the right treatment.
The Universal Bot can also integrate with the hospital's ERP system and extract information about staff payroll and perform a real-time analysis of what kind of questions employees ask frequently. Hospital staff, especially in the front desk, stay really busy answering multiple queries about doctors, appointments, new customers, general queries and even billing related issues. A Universal Bot can save lot of time and effort for these staff by gathering and collating crucial information about customers and billing from CRM, Facebook Messenger and IVR system to take necessary action promptly.
How does a Universal Bot respond
Universal bot's responses vary with the number of bots and tasks that match the user intent along with their relevance (exact matches or suggestions). The Natural Language Processing (NLP) engine processes the utterances sent to the linked bots, detects the user intents, and ranks them based on relevance.
Any organization can create its own version of Universal Bots to execute tasks and functions of linked bots and bring true scalability to chatbot strategy. If you want to build the first Universal Bot for your enterprise, please go to Creating a Universal Bot.
Check out the video Bot-Building Simplified and see how you can build, configure, train, test, and deploy a chatbot in less than 5 minutes.
If you are considering to deploy chatbots in your organization, ask for a demo.