Recently, enterprises from various industries have started incorporating Intelligent Virtual Assistants (IVAs) into customer engagement strategies. IVAs harness artificial intelligence (AI), boost customer experiences, personalize interactions, and improve employee productivity.
However, creating a technologically advanced and fully efficient Intelligent Virtual Agent takes a lot of time and effort. It is where a Smart Co-pilot for IVA development comes in handy.
What is a Smart Co-pilot?
Smart Co-pilot is a revolutionary capability offered by the Kore.ai XO Platform. It embraces next-gen technologies like Generative Language Models and assists developers/designers in every step of IVA development.
Five ways where Smart Co-pilot accelerates conversational AI projects -
Use Case Suggestions

Conversation Preview

Auto-Dialog Generation

Training Data Suggestions

Test Data Suggestions
Let us dive deep and figure out how this capability can be a real game changer in building intelligent virtual assistants -
Jumpstart Your Conversational AI Projects with Use Case Suggestions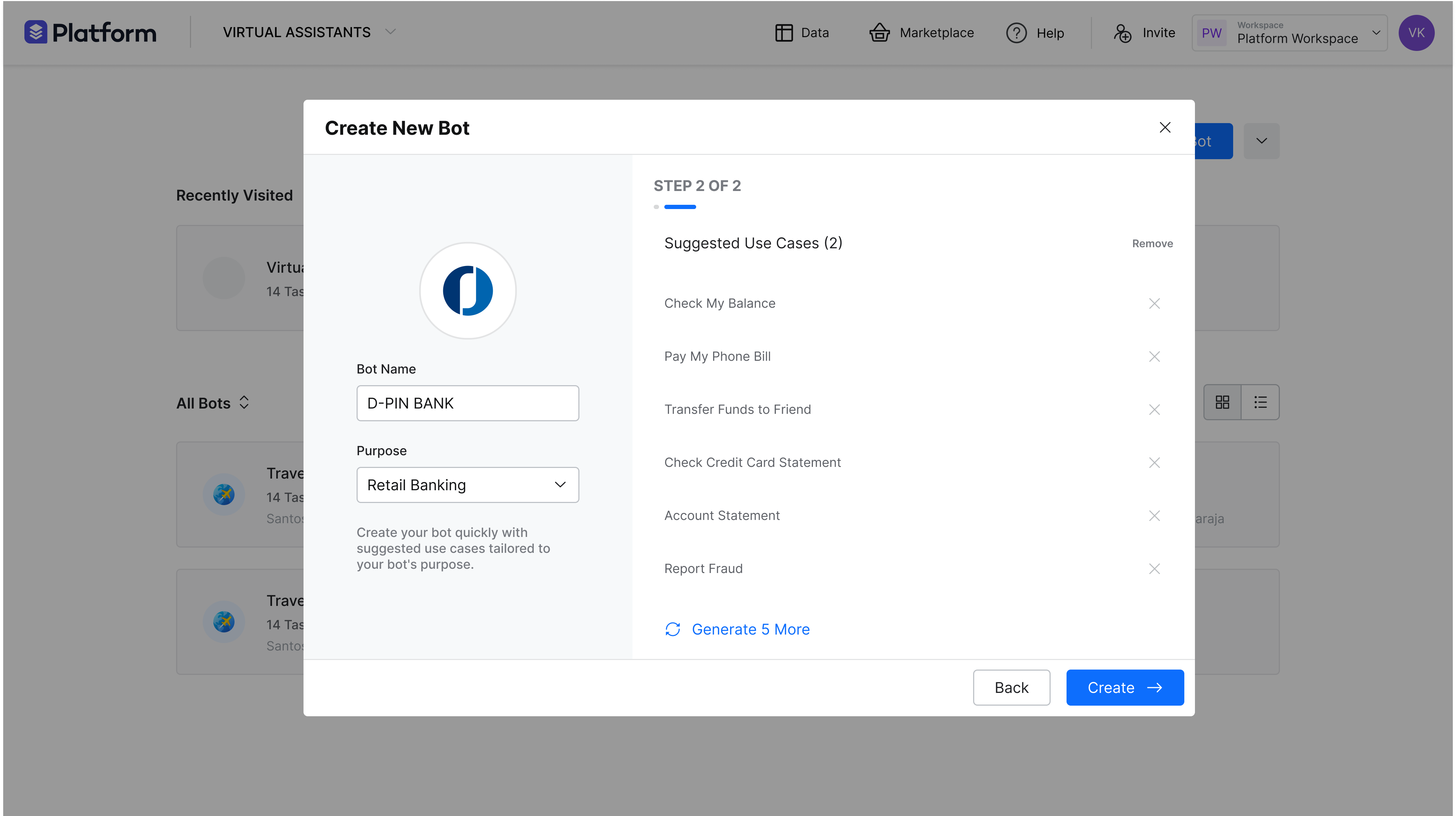 Developing an IVA requires a deep understanding of the intended use case. The XO Platform suggests appropriate use cases for your IVA based on its intended use. Moreover, you can receive customized scenarios for your business by giving a description. The generated use cases are then drafted as Dialog Tasks for you to develop.
This feature enables developers to stop starting everything from scratch and saves a lot of time. By using the XO Platform's smart use case suggestions, developers can get a jumpstart with automatically generated helpful use cases. The generated use cases can be explored easily, making it convenient to choose the suitable one for your IVA.
Streamline the Development Process with Conversation Preview and Auto-Dialog Generation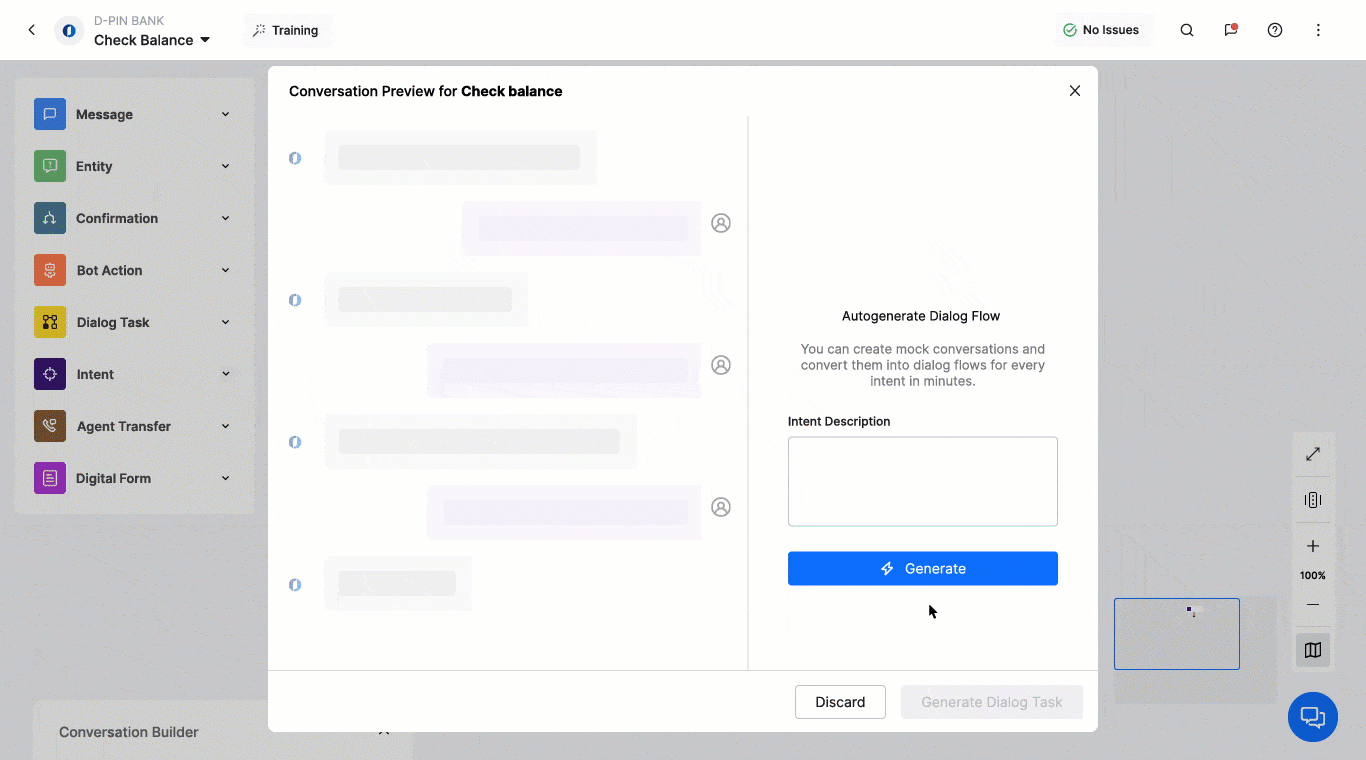 Developing dialogues for an IVA is a time-consuming process. However, the XO Platform's advanced LLM and generative AI capabilities simplify this process by instantly building conversation designs by simply feeding the use case descriptions. Once generated, you can review, make necessary edits, or regenerate the conversation design until satisfied.
The platform then automatically generates executable dialog tasks, simplifying the whole development effort. This dialog definition includes the relevant prompts to collect the inputs from the users, API call definitions, business logic, and the transition flows based on the use case description. This feature saves developers a lot of time and effort in developing dialogues for the IVA.

Uplift Customer Interactions with Training Data Suggestions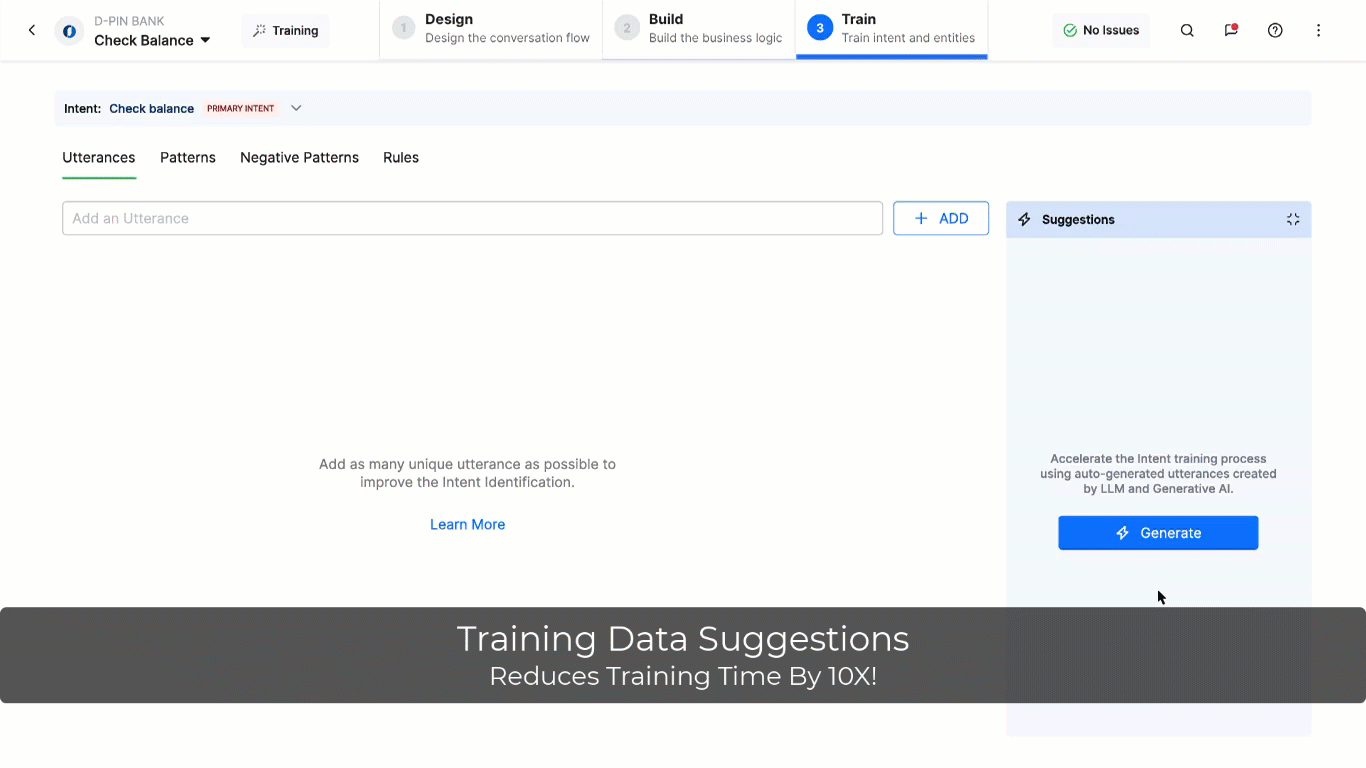 Developing an IVA requires significant training data to ensure it accurately understands and responds to user inputs. But it is a challenging job; one has to think in all directions and account for every possible way an end user interacts. That means building an efficient training corpus requires a lot of thinking and effort.
The XO Platform offers smart integration with language models, which can provide training data suggestions to cover all possible variations that end-users may use. This integration uses advanced machine learning techniques, such as large language models (LLMs), to suggest training data based on the use case and intent.
By using this capability, developers can save time and resources while improving their IVA's overall effectiveness—thus, providing exceptional customer service and improving operational efficiency.
Achieve Fool-proof Performance with Test Data Suggestions
Testing an IVA is critical to development. It ensures that the system accurately understands and responds to user inputs. However, testing can be time-consuming and challenging.
The XO Platform provides advanced test data suggestions generated using generative AI capabilities, which analyze the IVA's scope and create test data for various scenarios. The platform offers different suggestions for both batch and conversation testing.
Batch test suites are designed to evaluate the natural language understanding (NLU) performance using test datasets. These test suites can help achieve higher coverage by including unseen phrases, entity checks, spelling mistakes, and negative cases. Using batch test suites, developers can ensure that the IVA accurately identifies the user's intent and responds appropriately.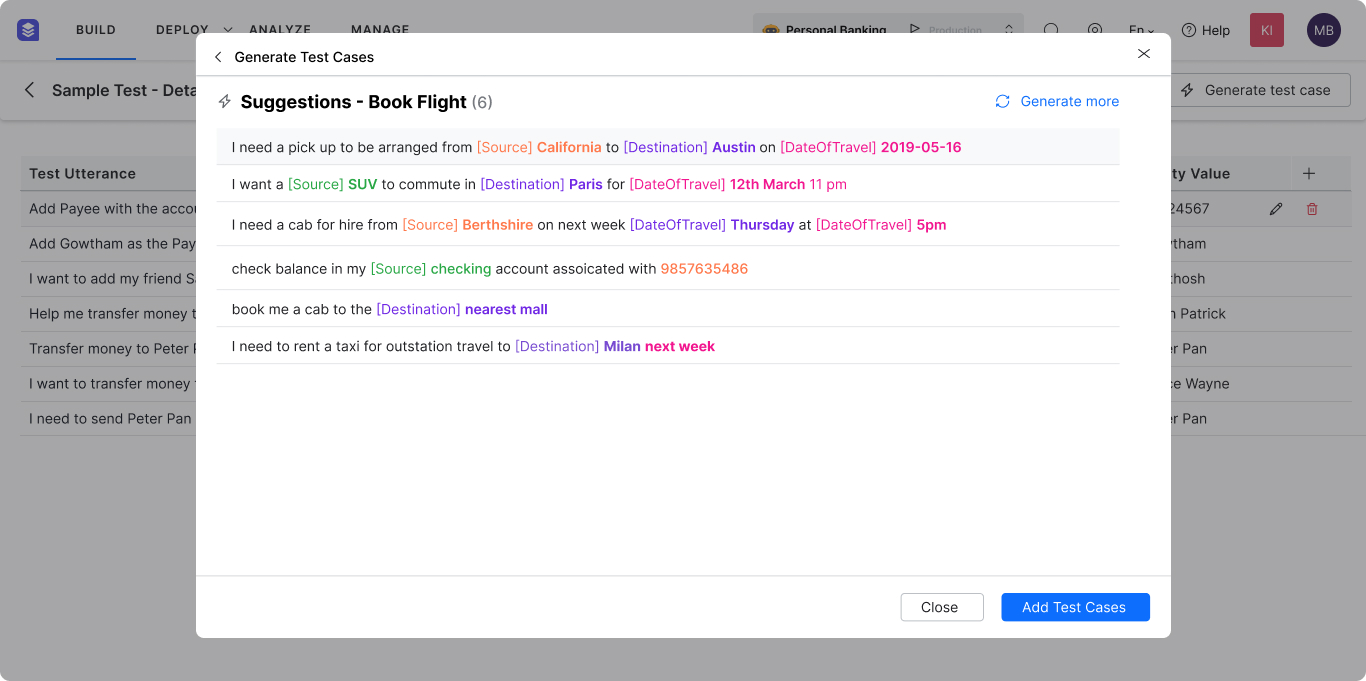 Comprehensive NLU test suites go beyond traditional batch testing by providing a wide range of training utterances that cover all possible variations that end-users may use. This extensive testing helps improve the intent detection rate and ensures that the IVA accurately understands and responds to user inputs. These test suites can also help identify gaps in the IVA's training data and enable developers to fine-tune the system accordingly.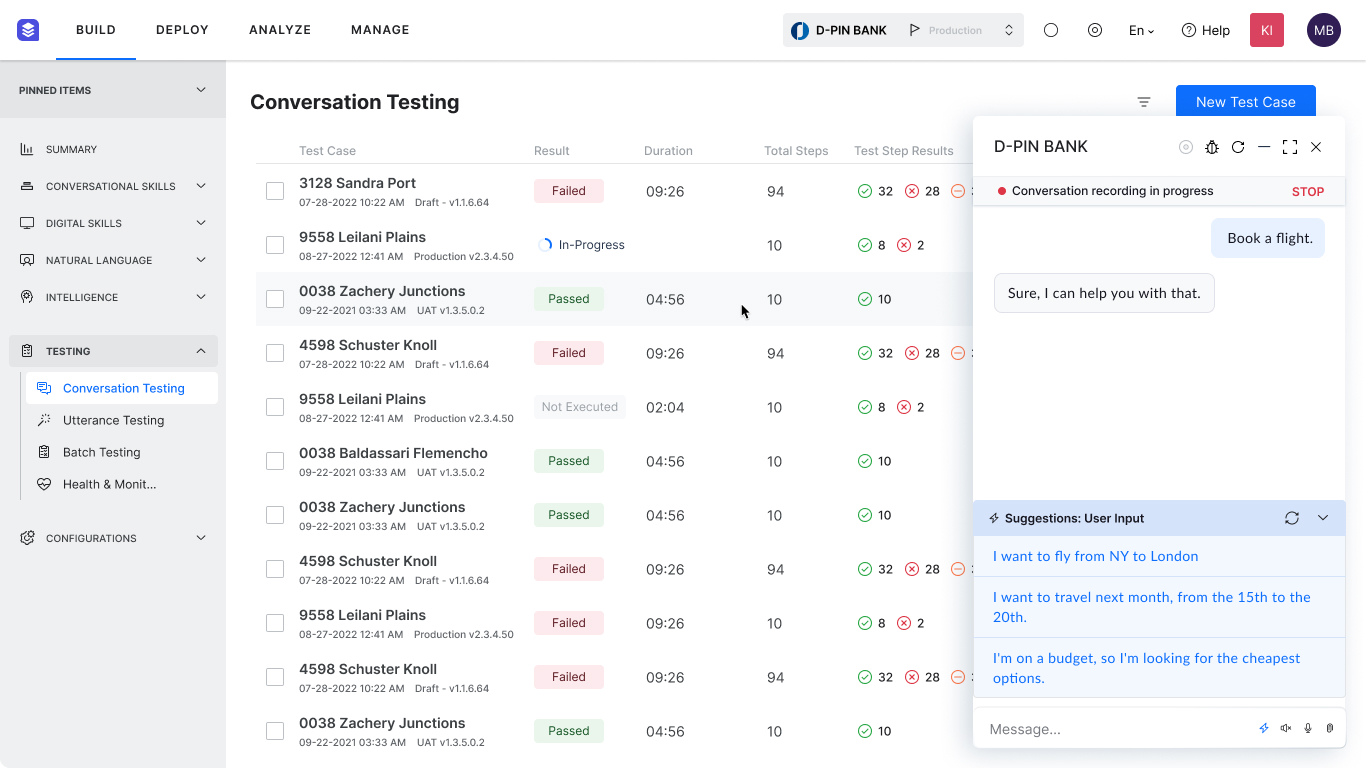 In conclusion, developing a sophisticated IVA can be challenging, but XO Platform smart co-pilot capabilities make the process easier and more efficient. The platform generates appropriate use cases, conversation designs, and training and test data suggestions, saving you time and improving the overall quality of your IVA. With the help of advanced LLM and generative AI capabilities, you can develop a highly effective IVA that meets your specific needs and provides exceptional customer service.
On-Demand Webinar
Better Together: The Future of Intelligent Automation, Today!