Listen on the go!
Today, people are at ease when it comes to usage of conversational AI and virtual assistants to do everything from booking their flight tickets to setting up an appointment with a doctor.Yet, despite this consumer-driven craze, one industry that is left largely in the dark is the IT help desk. Surprisingly enough, for many enterprises, even something as basic as requesting to reset your password still requires opening and waiting for a ticket to be serviced.
What the current state of IT service help desk looks like?
IT service desk leaders and staff are staying immersed in tasks like installing, managing, and maintaining IT tickets. To keep their business running they stay focused on responding to and resolving incidents, problems, and requests for service.At the same time projects that maximize profits, improve productivity and add to the business value fall to the wayside leaving the IT team at a crossroads.
According to Gartner, password resets account for 40% of all service desk requests. In this way, IT help desk support agents feel like mere robots, repeatedly responding to the same requests over and over again.It's high time that ITSM functions should be given a booster or new age technology - Artificial Intelligence and Machine Learning, a.k.a.Enterprise Virtual Assistants or conversational virtual assistants.
EVA is one such tech wonder that imbibes the power of AI, ML & NLP and revolutionizes the work space. It adds digital flavor to your day-to-day activities with a belief that Smart Work wins over the Hard Work.
"As per a report, by 2021, Gartner, Inc. predicts that 25% of digital workers will use a Virtual Employee Assistant (VEA) on a daily basis. This will be up from less than 2% in 2019"
Unlike the many other "solutions" that C-suite class executives tried in the past, EVAs have the potential to dramatically disrupt and ultimately transform the modern service desk in a way that is both positive and sustainable.
Augmenting ITSM help desk with EVA
ITSM is continuously striving to meet the 24/7/365, on-demand increasing expectations of customers.Technology trends such as EVA with machine learning perfectly augment IT self-service, enabling real-time, intelligent IT support for an exceptional customer experience. Luma, a Serviceaide custom-built EVA support agent integrates artificial intelligence and natural language processing with IT service management. EVA supports AI and that makes it possible to reinvent the ticket lifecycle.The result is improved experience and efficiency for both customers, support analysts and managers.
How does EVA work for IT Service Desk?
Let's begin by exploring how an EVA augments traditional IT service desk communication channels. Instead of filling out forms, composing emails or sending out a text message a customer describes their queries or requests in natural language to the EVA. If the EVA requires any further clarifications or detects a negative sentiment in the speech tone of the customer, it will guide the customer to a live agent or ask multiple questions to provide additional information. The EVA draws knowledge and continuously learns from a variety of data sources in order to respond to the customer. These data sources continuously improve based on customer interactions. The EVA will either resolve the customer's query or request, resulting in a zero-touch resolution, or escalate the problem to a human agent. Even the best EVAs will occasionally require human intervention. If a human agent is unavailable, the EVA will automatically create,categorize, prioritize, and assign a ticket.
A few Use cases showcasing how EVAs will elevate the ITSM help desk: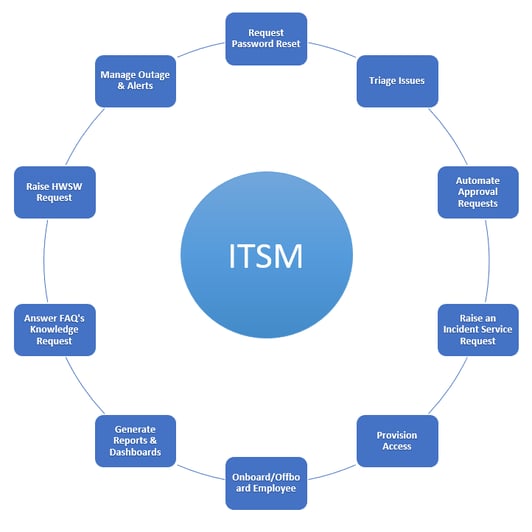 1. Triage Requests
EVA in ITSM allows employees to request and/or provision IT goods and services 24/7, regardless of location. For instance, a remote sales employee reports that his/her laptop is slow and needs to be replaced. The person first tries to reach out for a form and then calls the service desk but when he/she doesn't get through anyone As a last resort, he/she reaches out to the EVA.
2. Password Reset Request
Password reset is the most common ticket for the service desk. Agents spend a lot of time resolving this transactional query. With the introduction of virtual assistants, password resets are easily handled without any manual intervention.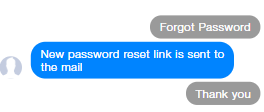 3. Provision access
Virtual assistants understand the type of request, requester job title, department and send approval to the respective management to grant access to the respective application. Similarly, chatbots can automate de-provisioning for users.

4. Answer FAQs
EVA can be used to answer both tech support and end-user questions by integrating seamlessly with the Knowledge Bases of your organization – regardless of format – including information contained within FAQs, websites, and wikis.
5. Onboard/Offboard Employee
Today, complex service requests like employee onboarding are either manually coordinated by technicians or based on predefined automations.Rather with the application of EVA the service desk request workflows can be automated based on work history which in general is both inefficient and cumbersome.
Other use cases include Request password, generate reports and dashboards, raise an incident/ service request and many others.
Integrating an AI-driven EVA into your IT service desk is a no-brainer, but just like any other buying decision, it involves carefulness. All EVAs are not created equal and you want to boost ROI of your business and improve customer engagement not turn
your customer's off.
How will Employees Benefit?
Employees want fast, easy access to IT services and support 24/7 and across multiple device types and locations. According to HDI: "as a rule of thumb, if an end user spends more than 10 minutes in a self-service portal, they cost the organization more money than calling the service desk. A key value of virtual assistants for ITSM systems is its ability to present smart suggestions and execute automated remediations that are specific to a user's persona, issue type and location, enabling them to quickly resolve their own issues.By offering employees the ability to provide feedback and rate the effectiveness of the virtual assistants responses and actions, IT can gain valuable insights and the virtual assistants will become more intelligent continuously.
Let's sum up some of the benefits of Implementing EVA in ITSM.
1. Reduce Costs
Since labor costs dominate IT service management expenses,minimizing human intervention without sacrificing service quality is essential. Driving adoption of self-service technology to minimize the gamut of tickets has been at the forefront of the ITSM agenda for several years.EVAs can interact through text voice and answer the most common queries, freeing IT staff to work on business growth initiatives.
2. Improve Customer Satisfaction
EVAs automate tasks, such as customer follow-up, status updates, and recurring service requests making support analysts free to work on more interesting projects that generate direct business value. This eliminates drudgery, and ultimately employee retention.
3. Enhancing decision making and IT support
By combining previous data showing the success rate of similar situations in the past, the EVA can greatly improve the decision-making process of an organization. Prediction of future trends in the IT sector can also greatly benefit from the use of EVA in ITSM. It can estimate the necessity of the need for IT personnel in the future and support according to the requirements of the field.
4. Supercharging of self-service in IT
Besides intelligent searching, there are other use cases in this context. In order to deliver greater accuracy in search results, previous successes can be taken into account. This can directly offer self-service to the end user. It also eliminates the need for the user visiting the self-service portal.EVA can also be employed in offering automated solutions to problems and providing users with a better interface.
5. Proactive improvisation of services
It includes both the services that the IT service desk offers or the services the consumers avail from the organization. Predictive analytics are capable of detecting issues that might come up in the IT service desk sector. After identifying the issues, EVA can also offer a solution.
Conclusion:
Now it is perceptible that businesses that want to keep on top of customer and employee demands and want to provide 24/7, 365 days service for routine inquiries will need to overhaul their IT service desk by implementing digital assistants or (EVAs) Enterprise digital Assistants.