Employees Still Quitting Jobs at High Rates
Since the beginning of the Covid-19 Pandemic, American workers quit their jobs at almost twice the rate before the pandemic. With an average of 4 million people quitting their jobs every month through 2022, the way employees approach their careers has evolved drastically. Earlier it was commonplace to find people joining a company and spending a majority of their time there till they retire, compared to today where the median tenure is just 2 - 3 years at even some of the best companies.
We saw how businesses were unable to function without their people. Panic was on the rise, and the response was too little, too late. HR teams were caught unprepared as workers prioritized other parts of life over what job they held. Employees valued health and human connection over everything else as they were going through their own challenges and businesses responded with policies which didn't fully meet employee needs.
The Employee Experience Demands New HR Solutions
HR was and still is struggling with the biggest crisis the workforce has ever faced. Businesses initially responded with restructuring and flexible work options, but still faced lower productivity and higher employee attrition. As HR leaders, it's your duty to address the big issue with solutions that transform the workforce in a scalable way and deliver better employee experiences. It's absolutely important to deliver on employee experiences that align the business purpose with employee purpose. It starts with creating culture and conditions that allow employees to explore and focus on bigger challenges and achieve a state of flow where both challenges and capabilities are in a perpetual state of balance.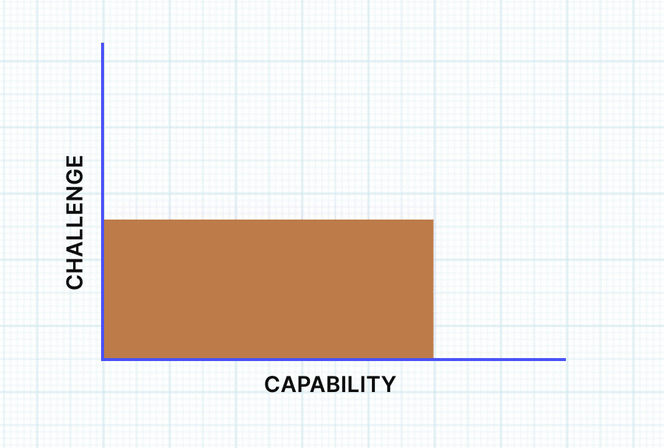 HR Changes to Meet Employee Expectations of Working Conditions
The great resignation presented us with the mandate to explore the horizons of calibrating HR for the future of work. And find modern experiences that help employees find value and meaning at work while simultaneously enhancing personal and professional satisfaction.
According to a global survey, 92% of employers said enhancing EX will be an important priority for their organizations over the next three years. Writing this new playbook means letting go of legacy mindsets and practices, and prioritizing enhancing EX on an ongoing basis. Organizations that make aggressive investments in EX secure ROI in the form of engagement and wellbeing for employees, and productivity and performance for the business. Offering your best doesn't stop at just location, pay, and a swanky workplace but also extends into flexibility, employee engagement, experience and strong culture.
Remember: Great employee experience = Great customer experience
How HR Can Improve Employee Satisfaction, Streamline Workplace Experience and Improve Retention
Employees aren't simply swayed by increased compensation. Most of them are exploring the possibilities of putting themselves ahead of their job. Focusing more on their core values like professional growth and purpose, wellbeing, family time, and more. During this "Great Shift", employees are looking for opportunities that are purposeful, engaging, and empowering, all while helping them keep their personal values at the center of their lives.
The goal is no longer to attract, retain and empower employees but to reimagine work itself. Leaders should rethink how to leverage the right technologies to harness the power of their workforce and build a thriving, inclusive, and productive workplace. The future of work is about leveraging both machines and humans optimally to improve processes and achieve the desired outcomes at scale.
Here Are Four Strategies That We Think Will Help Improve Your Employee Experience
Reimagine the employee lifecycle
The recruit to retire lifecycle of an employee is one of the most critical aspects of employee experience. It is often siloed, distributed, and spread across multiple teams. With hybrid and distributed teams at play, having single window service is crucial, something a modern HRMS cannot handle on its own. Conversational AI powered virtual assistants offer an additional layer of engagement covering various aspects of the cycle from recruiting and hiring, onboarding, training and development, rewards and recognition, and exit management.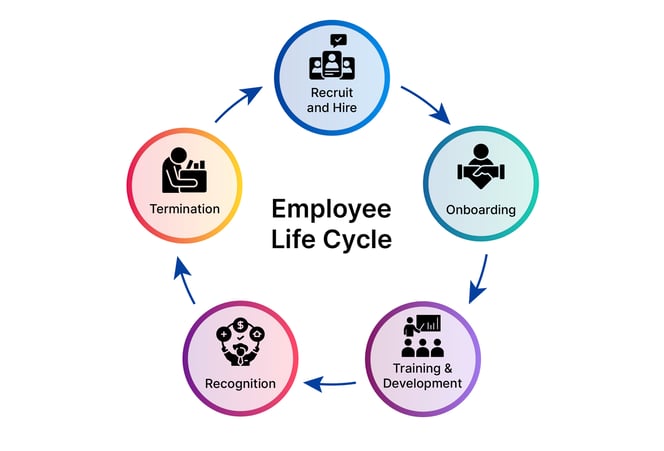 Rethink work - Eliminate the unnecessary
Shifting workloads from routine to high value can keep employees more engaged. Organizations are ramping up use of AI and ML software and technology to make that happen. Leaders should revisit organization-wide processes, evaluate their success rate, and work on eliminating low-priority, low-value work. Automating conventional processes like compensation and payroll, time and attendance management, approvals, benefits and more., helps HR teams to become true business partners and focus on high value work in the organization.
Refresh Employee Support
Every employee is fundamentally different from the other. This means your whole workforce has to learn to submit lengthy, annoying, and pesky forms to get something done. This hinders team productivity and decreases job satisfaction. Modern teams and globally distributed companies deploy omnichannel and multilingual support to answer and troubleshoot employee queries at scale no matter where they are. This nifty model of support enables consistent and personalized support effortlessly.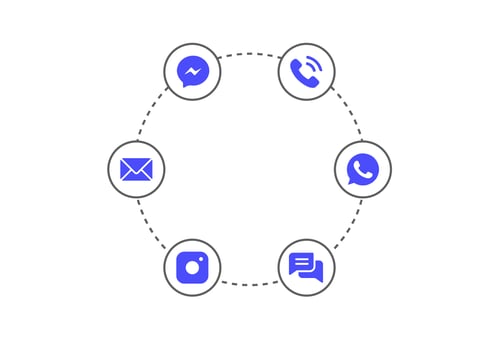 Recharge your workforce
Personalized interactions are what makes HR, well HR. As organizations scale, this becomes a strenuous task. The CHRO's office has to rethink the existing models and evaluate new configurations that deliver personalized support at scale. Technology that is unified, cohesive, uses human-centered design principles, and can implement enhancements iteratively should be heavily considered and evaluated. Because a highly engaged workforce is a recharged workforce.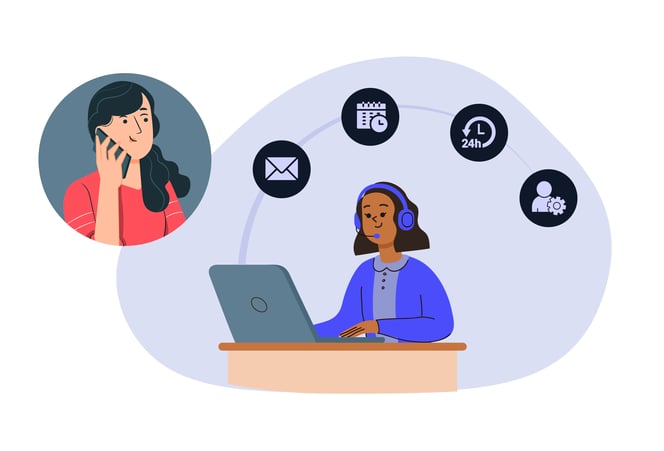 When it comes to HR, there cannot be any compromises. Comprehensive technologies that bring together conversational AI, smart automations, omnichannel and multilingual capabilities, and personalization at scale will help organizations improve employee engagement, satisfaction, and improve retention across the board.
How to accelerate HR with Conversational AI
HR teams today are in a constant state of flux running from pillar to post between hiring booms and hiring freezes. The stakes are even higher as hybrid work is taking over the world. Burnouts are commonplace and nobody knows which new challenge is going to throw everything off. Pressure seeps in every time your organization is asking for scalable solutions with little to no budgets. Be it problems with hybrid work or fully distributed situations, employees will always come to HR. As a HR leader, you're always challenged with taking care of everyone in the organization. And it's absolutely crucial to have technology that takes care of you by being a trustworthy sidekick.
Something that can create balance, so that you can focus on life beyond work.
This is where conversational AI steps in. Technology that can take the load off and allows you to focus on what's important. Today, let's take a peek under the hood of how conversational AI accelerates HR.
Automate the mundane
Great workplace culture starts with giving employees streamlined access to the information and benefits they need along with comprehensive self-service HR initiatives. With conversational AI powered virtual assistants, you can keep new and existing employees connected with your organization. Configure and deploy notifications, holiday calendars, business policies, and make it a breeze to connect with fellow colleagues via intuitive employee directories instead of complex spreadsheets.
Goodbye spreadsheets ;)
Charge through complexities
Get unstuck from complex issues pertaining to global payroll, benefits, and requests. Help employees update their personal information without ever filling a form or looking into a spreadsheet.
Configure it, deploy it, forget it!
Connect the disconnected
Bring your HRIS and employees together with a conversational layer. Make manager approvals a breeze with background automations that accelerate processes. Forget logging in to portals for applying leaves, and route timesheets to managers without the wait. Do it all from a single, simple, friendly service window.
Do it all, and then some more
Add the personal touch
Make every conversation personalized with easy to use no-code UX. Breakdown complexity in multiple languages, respond to broken queries and guide employees to the answers they're seeking everytime. Pronto.
Keep them guessing - Did I just talk to a 🤖 or a 🧔🏽?
Turn the tables with AI
Holistically reinvent your HR organization from the ground up with conversational AI. Go from "We need more time and resources" to "Our free resources can help solve this new challenge" in just days. Like I mentioned earlier - with HR there are no compromises, get access to cutting edge technologies like advanced AI, ML, simple no-code UX and Natural Language processing from the industry leader Kore.ai
Get the compass, not a map
🧭🗺️
At Kore.ai, we help organizations deploy the right tools to deliver exceptional employee experience. With state of the art AI and ML capabilities, and cutting edge natural language processing + understanding, Kore.ai makes it easy for enterprises to ease employee workload, improve collaboration, speed up resolution times, automate the mundane and scale on the go with conversational AI.
Help your employees stay in the loop with unfettered access to the latest policies, organization wide notifications, benefits, PTO balances, and much more. Speed up resolution time and improve access to otherwise siloed experiences with intelligent virtual assistants that streamline HR across all business verticals.