The Kore.ai XO Platform v10.0 Release is now LIVE! This new release has several added innovations and enhancements that will make it easier for developers and business users to build, train, test, deploy and analyze intelligent virtual assistants.
The v10.0 release is our most significant release to date. Check out the latest innovative conversational AI features that allow enterprises to continuously improve IVAs on auto-pilot and extend our open platform architecture. The release also includes exciting new ways to train your virtual assistants using Large Language Models (LLM) and Generative AI technologies. Experience the future of automation with this release.
Let's explore what we have for you in the upcoming release -
Shorten development time with new building tools
This major release helps you to truly understand your customers with the enhancement of the Feedback Survey feature. The update lets you capture customer feedback more naturally with out-of-the-box NPS, CSAT and Like/Dislike templates. With the Feedback Dashboard, you can review overall scores and trends to build a deeper understanding of your customers.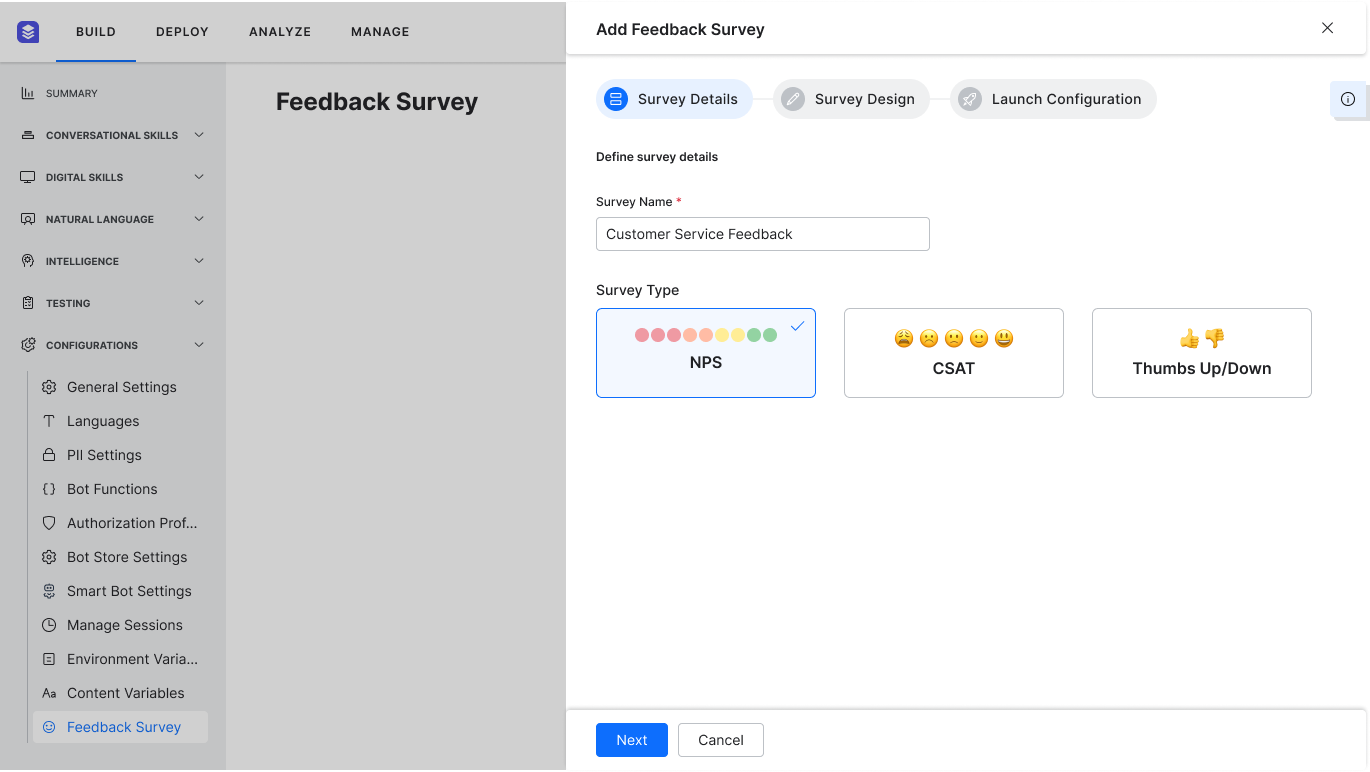 With this release, the XO platform provides 75+ pre-built workflows with popular business applications and contact center software. Easily activate, customize and publish the workflows to your preferred channel. The simple UI makes it easy to configure authentication, API integration and request mapping. Newly added business application integrations include Salesforce, Zendesk, ServiceNow, and more. Contact center system integrations include Genesys, Nice, Zendesk, and others.

Plus! Starting with this release, you can seamlessly integrate with third-party NLUs which lets you use DialogFlow NLU, LUIS and others within the XO Platform for easy training migration. Whether you choose to use a third-party NLU or not, the native Kore.ai NLU will be available as an option.

Developing IVAs has been further simplified with improved intent discovery. Accelerate IVA development by identifying the intents from previous customer interactions/call transcripts. With more efficient data tables, you can transfer ownership to other team members
.
Streamline training with large language models (LLMs) and Generative AI technologies
Training virtual assistants is a breeze with the added Zero-shot and the Few-shot model features. Both approaches reduce training efforts of the NLP analyst significantly. With minimal to no training, the IVAs can go LIVE while delivering greater accuracy and improved intent recognition. The zero-shot model works with the Open AI LLM, and Few-shot works with Kore.ai-hosted embeddings.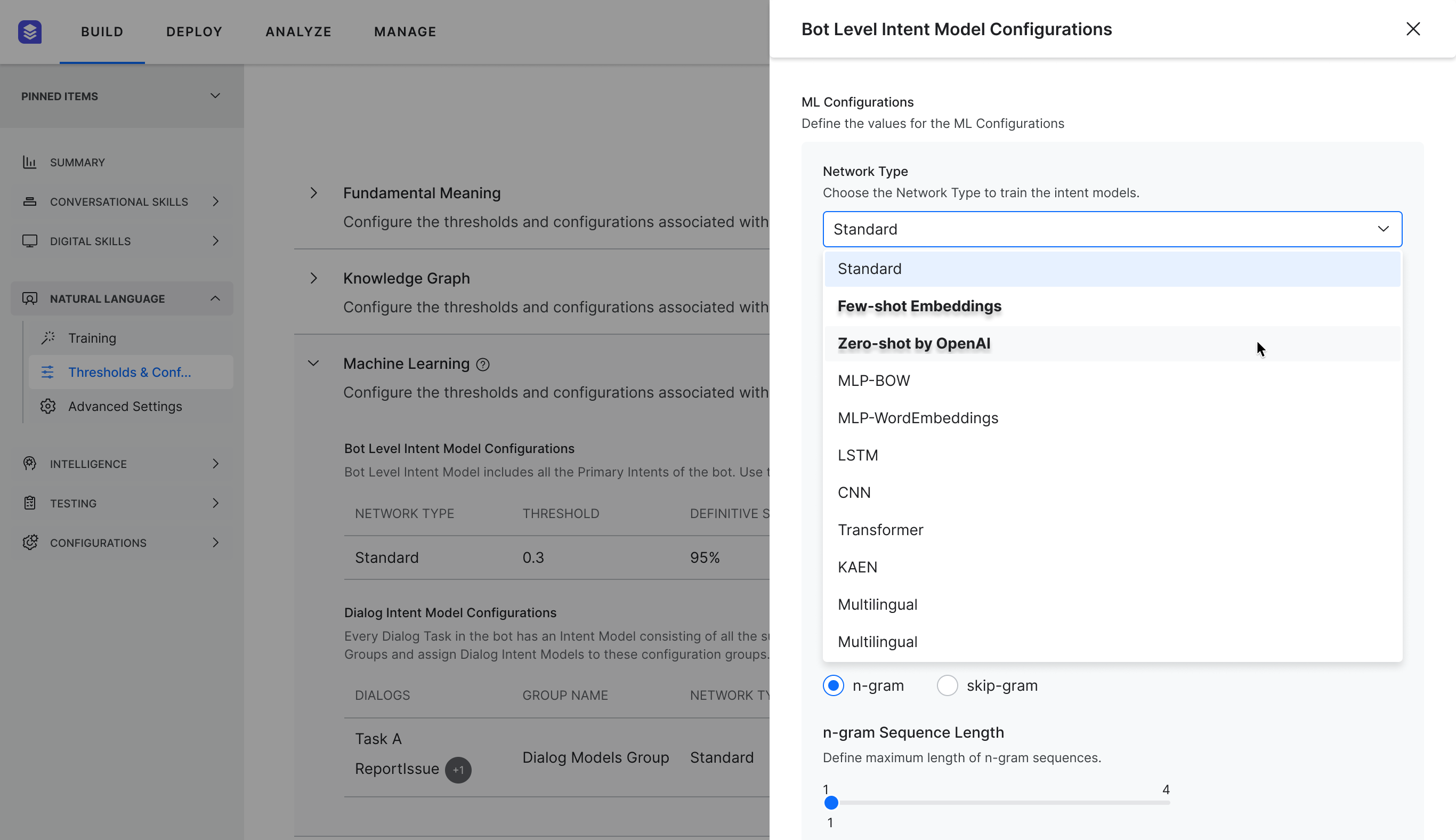 One of our favorite new capabilities with this release is Knowledge AI - a new feature developed by integrating with OpenAI's generative AI that can automatically answer FAQs from PDFs without extracting the data or training the Knowledge Graph.

Perform foolproof IVA testing that delivers an exceptional customer experience
Easily automate regression testing that accurately uncovers broken conversations or workflows. With this new capability, you can now create a test suite by uploading a file, and with Text, Flow and Context assertions, you can compare different versions quickly.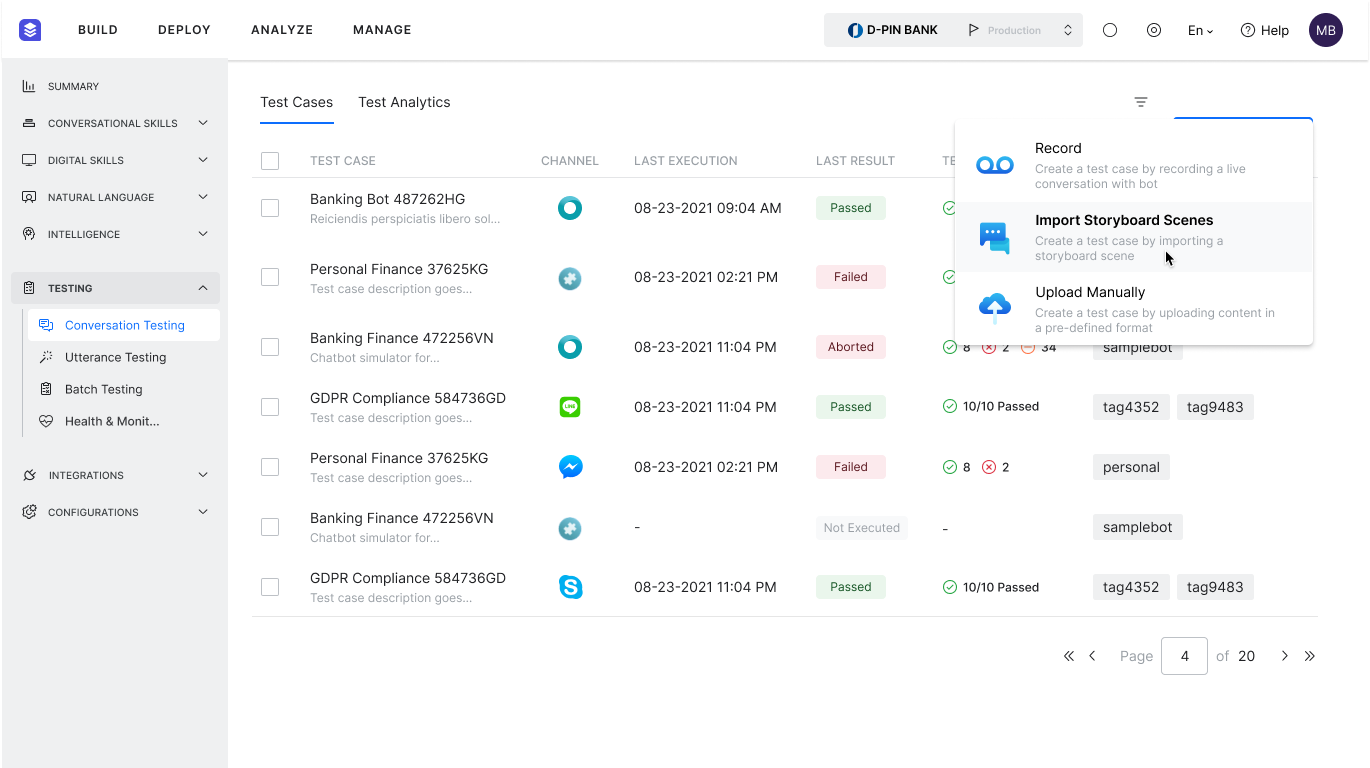 New Health and Monitoring functionality now extends its power to diagnose Flow health. Check every flow and analyze specific intents to identify coverage, performance analytics and review uncovered paths to develop new tests.
Stay connected with your customers on their preferred channels
The Kore.ai XO Platform v10.0 Release includes multiple enhancements that expand the reach of your IVAs— which includes adding new channels like Google Business Messaging, Naver Works and Sunshine Conversations. The Webhook V2 feature now supports Sync Mode without implementing the polling framework. This offers the ability to change the conversation language and set the end of conversation statuses via Webhook V2 API.

We have exciting news! With this release, if you are using WhatsApp as a channel via Infobip, you can now configure multiple phone numbers. The platform will automatically respond to the 'from number' in the incoming request.

Better understand your customers with improved analytics and dashboards
In the past few releases, we have added several new dashboards that present critical analytics and trends that help you make informed decisions. We have received a lot of positive feedback from our users and are excited to announce our newest analytics dashboard - Conversation Insights.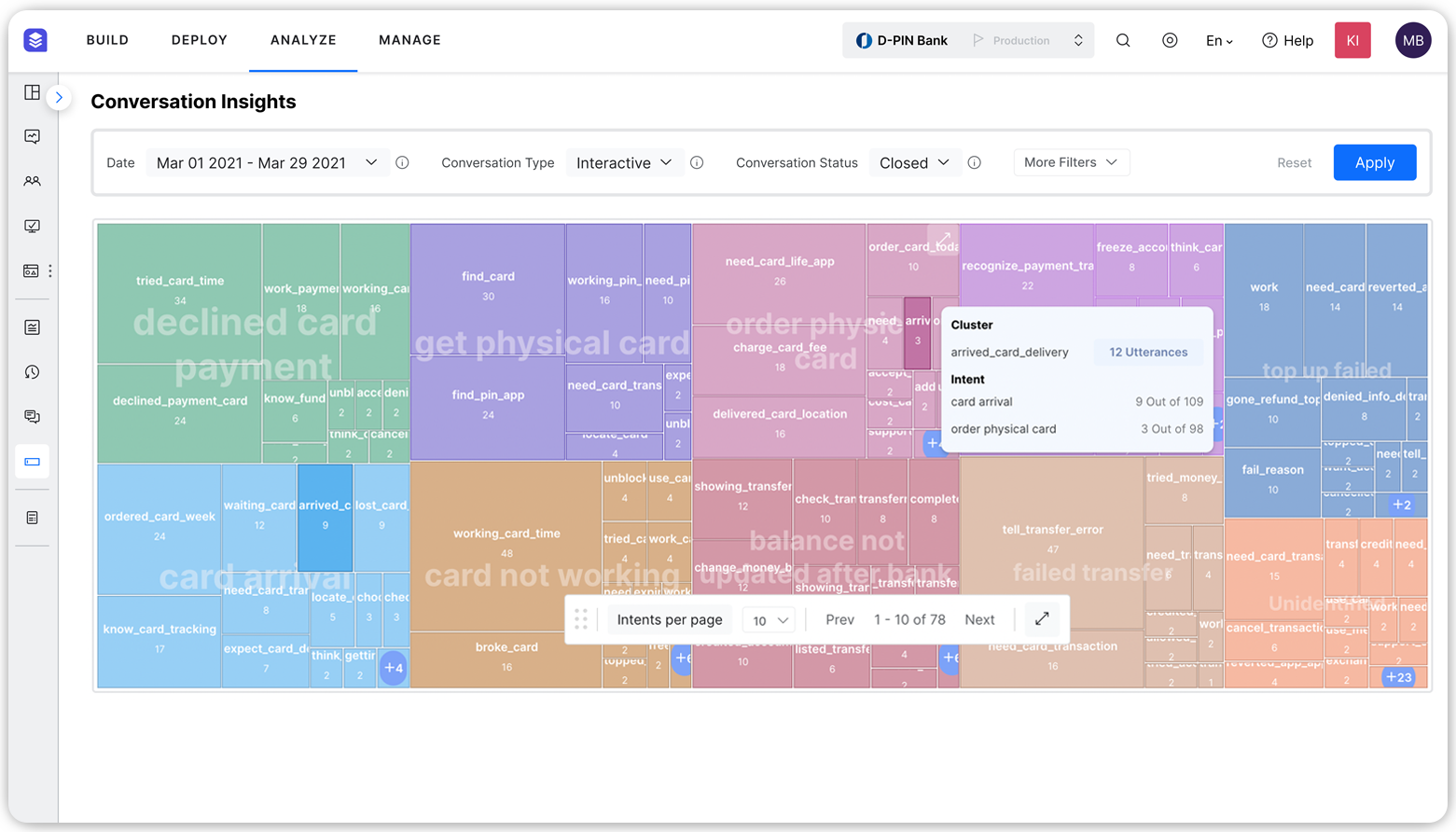 This dashboard provides a visual map of user utterances to discover false positives, false negatives, and true positives quickly. User utterances are clustered based on semantic meaning and mapped against intents which allows you to analyze each utterance and either tweak the flows or identify and train new intents.
In this latest version, the custom dashboard lets you build widgets to track business-specific KPIs without needing to write a single line of code. The UI with typeahead suggestions and handy filters are ideal for business users to configure the widgets and track specific metrics. With the Conversations history dashboard, it is easy to pull specific information with enhanced filters. For example, 'conversions with two or more intent failures', 'conversations with negative feedback' etc.
The Kore.ai XO Platform v10.0 Release also includes a number of administrative, security and performance improvements that make it faster and more reliable.
In summary, the latest release of the Kore.ai XO Platform offers a variety of innovations and enhancements that make it even easier for businesses to develop sophisticated and engaging virtual assistants. With the release of v10.0, developers have more power and flexibility to create IVAs for various use cases and provide the best customer and employee experience.
Check out more about the upcoming release here.