In this experience-driven world, everything boils down to satisfying customer needs at the right time and in the right way. Of course, intelligent virtual assistants (IVAs) are delivering this efficiently. Brands are also adopting this technology to enhance the experiences of their customers and employees at large.
Developing, deploying, and managing virtual assistants isn't a rosy job; it requires great operational efficiency. The experience of working with global enterprises across industries has helped us understand this better.
In the Kore.ai XO Platform Release v9.3, we have primarily focused on Goal-driven processes. The ultimate goal is to simplify/automate operations and processes involved in building IVAs and provide meaningful insights and critical metrics to help you make corrective decisions.
Let's explore what we have for you in the release v9.3
Goal-driven framework for flawless IVA training & testing
It goes without saying that a virtual assistant's performance mainly depends on the quality and quantity of training. However, some techniques like patterns, concepts, ontology, and others enhance the training efficiency.
But how do we measure the effectiveness of the training? Well, the answer is the 'Goal-driven' NLU Performance Monitoring framework - it analyzes batch test results, and provides recommendations that help you to improve the IVA training and testing.
Health & Monitoring Module: You get a 360-degree view of the NLP training provided to the virtual assistant by seeing the overall Accuracy, F1 score, Precision, and Recall. With an in-depth analysis of the test coverage and data results, achieve close to an error-free IVA training
Additional Validations: Get extra help, the platform identifies and alerts you for incorrect patterns, short utterances, and incorrect entity annotations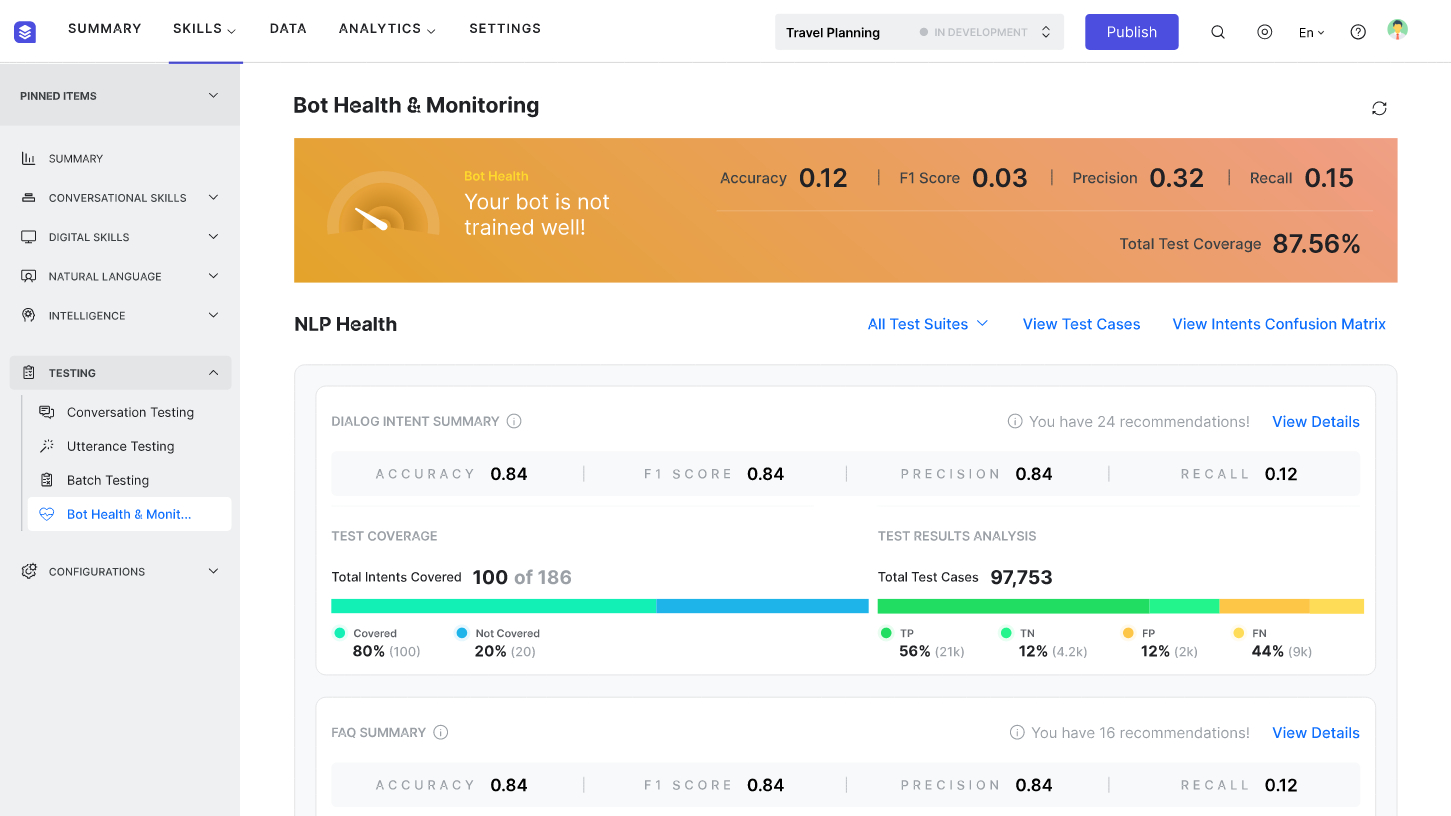 Improved convenience to review batch test results for performance analysis
It is always advisable to thoroughly test the performance of the IVAs before presenting them to the end-users. The XO Platform lets you test the IVA performance in multiple ways - batch testing being the most popular, where you can test the IVA performance for large data sets.
Analyze Results Instantly: The latest release further simplified this process; unlike the earlier versions, you can view and analyze the results within the platform at both intent & test case levels
Collaborate and Enhance: Further, the release enhances the collaboration where you can tag specific test case results that need follow-up actions and concerned teams will look into them and resolve them

Enriched dashboards to better analyze user behavior & IVA performance
Monitoring the IVA performance and implementing necessary changes is the most critical task to enhance the virtual assistant performance.
The XO Platform already offers six dashboards that capture different IVA metrics and provides insights. In this release, we have further added a new dashboard and enhanced the existing dashboards.
The Analyze module of the platform is entirely refreshed and enriched with new dashboards comprising rich widgets. It will help you monitor IVA usage patterns and their performance and derive actionable insights.
Overview Dashboard: Get a hawk-eye view of all the critical metrics like intent identification rate, returning users data, goal completion rate, and more, and quickly drill down to specific dashboards. It helps leaders to glance at the key metrics quickly
User Trends: Understand user behavior by tracking new and returning users
Unhandled Utterance: Analyze and identify potential new intents with the NLP Insights dashboard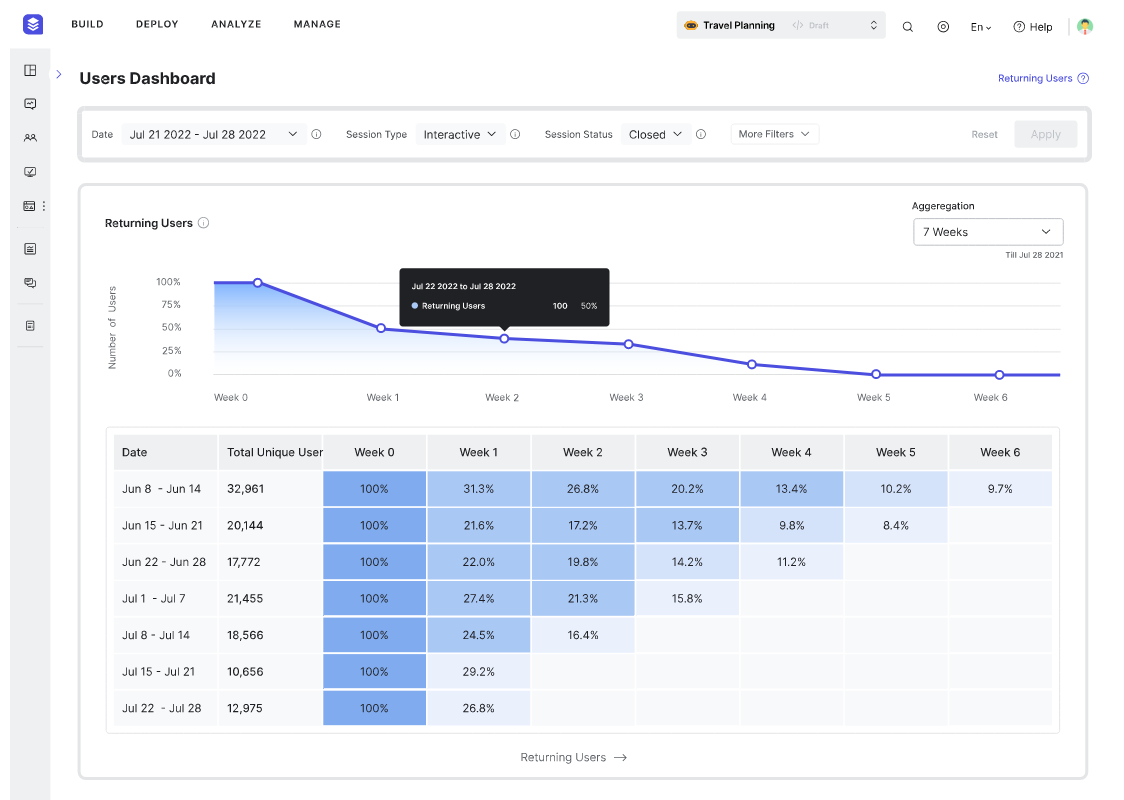 Deep dive into conversations history for better user interactions analysis
Understanding what your users are asking, why they interact, and how the IVA responds gives you invaluable insights. It helps you to fine-tune the IVA performance.
In the latest release, we are presenting the Conversations History module; you can now analyze the user interactions at a granular level. Additionally, you can access a complete conversation transcript to make data-driven decisions.
Conversation Flow: Track all the events identified during the conversation, such as intent identifications, entity or confirmation retries, task execution failures, etc.
Chat & User History: View the entire chat transcript and navigate to other conversations of the user
Labels: Add labels/tags to the conversations that need follow-up for NLP updates, flow corrections, etc.
View XO Platform v9.3 Release Notes
Custom training for None Intent
You can now train the None Intent to include the FAQs from Knowledge Graph to avoid potential conflict between the dialog and FAQ intents. You can also train the None Intent with your custom training utterances to cover any use cases that are currently not part of your virtual assistant.
This is not all. We have many more enhancements -
More channels to interact with your customers. The Kore.ai XO Platform supports 35+ voice and digital channels. From this release, the platform offers support to Zendesk Sunshine


We are now introducing Web SDK 2.0. The latest version offers customization templates using Angular and React JS frameworks with modular architecture

There are also a few NLP updates that enhance the training - out-of-the-box synonyms for the Chinese language, refreshed address entity, and additional formats to accept phone numbers
These are the critical updates; as always, you will now see a lot of security and performance updates.
Interested in building your own virtual assistants? Try for FREE.