Listen on the go!
The recent COVID-19 outbreak has brought the world to a screeching halt and made things around us so unpredictable. Schools are closed, major cities around the world have issued 'locked-down' orders to residents, and companies are forced to re-think about the work-from-home model or risk having to close their doors for good. But are companies and HR managers ready for a complete work-from-home makeover?
Most companies assumed that they have the tools to enable employees to work from home seamlessly. But now that it has become a mandate for weeks together, cracks are beginning to show. From lack of collaboration tools to poor interpersonal training on how employees should navigate the work situations, HR managers are scrambling to meet the demands of remote workers.
In normal days, the HR department of any company is burdened with mundane and low-value tasks like "what is my leave balance?", when they have so much talent to do much better. Then think of this present scenario when they will be piled up with questions like, "Are we going to get paid on quarantine"? "Will freelance employees still be getting paid"? "Is the payroll for the coming months going to be delayed"?
"2 out of 3 employees are frustrated while finding relevant policy information in their organization because they don't know where to look for or how to access it." – Gallup
What happens if an employee refuses to work out of fear of contracting COVID-19? As a HR, what are your legal responsibilities? Does your HR team have all the answers on flexibility of leave policies and insurance coverage and public health guidance?
Think of the scenarios where candidates may not be able to attend assessment days or in-person interviews. New joinees may not be able to attend training programs. And, even if these programs are able to run, the HR team cannot guarantee resource accessibility or availability due to illness or self-isolation. The result could be a knee-jerk reaction: cancel or postpone everything. However, it does not have to be that way.
Too many companies are concentrating on finding a collaboration tool when the bigger issue is training and preparing employees on how to cooperate with others and work effectively.
Reconfiguring The HR department with HR Virtual assistants
Firstly, the HR staff does not have to press the panic button. Virtual assistants, which have become such an integral part of our daily lives (they are all around us while shopping, booking tickets, ordering food, helping with homework, and more), can make the transition to virtually-manage the employees from home a psychologically do-able thing.
And sure enough, virtual assistants are evolving pretty fast to be used as a tool to assist the HR department and help streamline many processes that may have seemed outlandish a few years back: these include remotely screening candidates, onboarding, and administrative tasks such as holiday requests, interview scheduling and analytics.
Research from Gartner predicts that in 2020, one in five workers engaged mainly in non-routine tasks will rely on artificial intelligence to help them do their jobs.
HR virtual assistants could provide a silver lining to these troubles. Companies can now get their remote work policy bang-on while also providing the right tools in place. Let's have a look at a few HR virtual assistant use-cases.
1. Easy one-to-one communication
The first hurdle HR managers will have to cross is one-to-one communication between them and the employees. Communication must flow freely across the company. For example, in case the HR needs their employees to confirm their swipe-data entry of a month, many teammates may find it difficult to locate it - scrolling through so many messaging enterprises apps just to get the message the HR team has sent. Sounds fussy right?
With an HR virtual assistant in place, an employee can simply go to the chat window and fill-in the swipe data entry and tadah... the job is done!
2. FAQ on Covid-19 Outbreak
With the threat of rapid COVID-19 outbreak looming large, it's obvious that the HR team will be loaded with tonnes of questions. And this sudden influx of questions from the concerned workers just piles onto the already overblown inbox of the HR managers. But think of a virtual assistant answering queries on COVID-19, clearing doubts on work-from-home policies for the new employees and letting the HR team focus on other complex tasks.
For example, it's not easy for a HR representative to know everything about COVID-19 and answer in real time to an employee who's distressed. But it is easy for a virtual assistant to be fed with a knowledge base on the pandemic and work-from-home policies. So, when an employee asks, the HR virtual assistant can answer in real time.

3. Employee Engagement is Crucial
With employees and companies, both trying to find a balance between how to manage the new working equation, there could be questions that are very specific, complex and extraordinary. In such cases, the employee initially seeks answers from a conversational HR virtual assistant that's resting on a messaging platform or web, and if not satisfied, the query is transferred to the HR personnel in real-time. Even in situations where the HR virtual assistant may not have all the answers, it can play the role of a first-responder that assuages or assesses the employee's predilection and takes the load off from the HR team.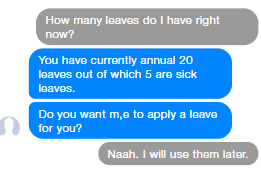 4. Data Collection & Gathering Informations
The HR virtual assistant can save the HR the often time-consuming task of delivering and collecting forms. For instance, if your company is hiring aggressively, it can use HR virtual assistants to automate major portions of the onboarding process like asking them to fill the healthcare forms and more. During this social distancing scenario, pre-interview screening of candidates can be performed by HR virtual assistants offering candidates better hiring experience.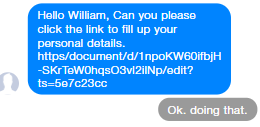 Virtualizing Training Programs
Case studies, playbooks, behavioral and capability assessments can all be carried out within a virtual environment. The HR virtual assistant can run these programs without requiring the HR team or employees in person.
COVID-19 isn't an isolated event but rather the largest outbreak to date that could change how enterprises work, propelling us toward an increasingly remote workforce. But with HR virtual assistants in enterprises the employees can be in sync and the work will keep moving along and beyond.