As with any net new strategy, knowing where to start is half the battle.
Gain the perspectives from companies already underway to understand the total cost of ownership (TCO) and potential ROI for shaping a more comprehensive outlook.
Worldwide IT spending is projected to total $3.5 trillion in 2017, a 2.7 percent increase from 2016, according to Gartner. This is largely in part due to some major trends including artificial intelligence. Based on our work with global 2000 companies over the last two years to help shape and implement AI-rich chatbot strategies across their enterprises, and the fast pace by which we've seen companies adopting this technology, this comes as no surprise.
Whether you're a CIO, Innovation Lead, or responsible for your organization's technology roadmap, you've done your homework to understand the substantial productivity gains AI and chatbots yield across areas like ITSM, Sales, ERP, HR, and customer service. But if you can't pull from a previous budget/plan to fortify your strategy, having a framework can be helpful to determine investment and forecasted gains, unify the approach across your business, and gain stakeholder buy-in.
Effectively evaluating what's possible, along with chatbot vendors and the value and options each offer – and why this matters – will lead you to a road better paved with return.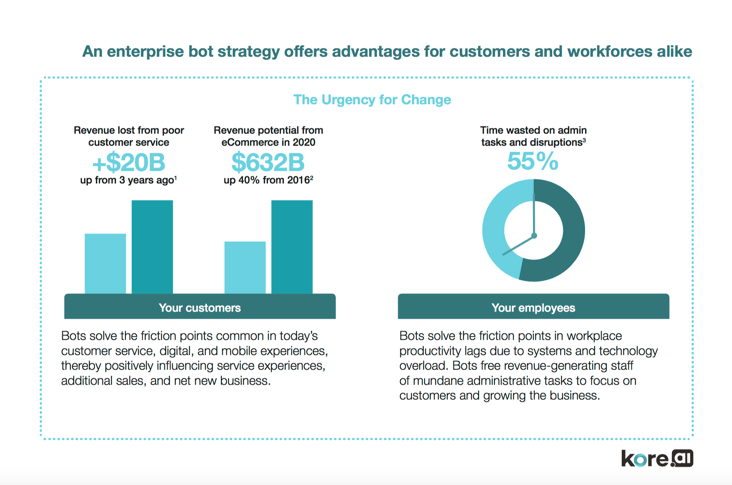 Understand the details to effectively calculate a true TCO.
Business leaders looking to determine a true total cost of ownership (TCO) of a chatbot platform must first understand what's included in a real chatbot platform vs. other conversational services or frameworks, and second, set a baseline for quantification of key costs of acquiring and using the technology over time.
It's also important to document costs incurred due to lost productivity. Notably, inefficiency costs companies 20-30% revenue each year. Naturally, identifying the problems and associated costs will help solidify your chatbot business case, and even highlight where to start. Chatbots also get users quickly working again by replacing time-consuming navigation across screens and support portals with modern, 24/7, instant, conversational engagement.
Identify what's measurable.
A true TCO analysis of chatbot platform technology should consider:
Start-up costs

Bot development costs

Cost to develop additional features

Cost to develop enterprise features

Operational costs, such as data center operation

Maintenance and software enhancement costs
In addition to types of costs, you'll need to consider units of measurement such as number of tasks, effort in person days, one time fees, per month/year fees, etc. These considerations combined with assumptions like bot usage, effort required, and platform specific needs (on prem vs. in cloud) will lead to an accurate TCO analysis.
A few categories for assumptions include:
Bot usage

- number of bots, number of users, number of sessions, number of transactions

Effort required

- average effort for simple vs. complex task types, effort required to train developers, effort for service integration (APIs), effort for dialog building (to add "human touch" and personalization to your chatbot experience)

Platform specific

- hosting scenario (on prem - health/FI vs. cloud), or other platform specific assumptions
Compare and contrast. A real-life look at platforms and frameworks.
If knowing what to measure is half the battle, knowing how to measure it and what to measure it against is the other half. How else can you determine if you are securing the right deal for your organization?
With this in mind we've taken the factors considered above and used them to conduct a practical TCO analysis of chatbots for vendor and invoice management – with one of the largest discount department stores in the world. Since numbers alone are of limited utility when taken in a void, we've compared the results of using a bots development platform like Kore.ai to one of the leading bot frameworks in the market today.
This five year analysis is based on a few assumptions, namely that bot usage would roughly double each year for the first few years, that the chatbots would be deployed across three primary phases (prototype, release 1, and release 2), and that the project would require a large number of different tasks that may or may not require slot filling with service API integrations, conversation dialogs, FAQs, and more. Let's break down a few of these categories and provide some sample questions to help get you started on your own analysis:
Startup Costs
What to consider: Are there upfront or annual fees associated with the solution? How much will training cost? Are there any additional fees for licensing, hardware, or deployment?
Our findings: While pricing can vary greatly across different bot platforms and frameworks, platforms generally have higher startup costs due to a more complex architecture and technical requirements. This higher initial cost, however, is greatly offset by much lower development costs.
Bot Development Costs
What to consider: How much time and effort will it take to develop both simple and complex tasks, dialogs, and FAQs? Is this development performed in-house, via the vendor, or by a third-party? How much time will be dedicated to active learning and training?
Our findings: Platforms incur significantly less upfront and recurring development costs. Built-in components that simplify the chatbot creation process like bot and dialog builders, channel connectors, middleware, and more reduce the time and effort needed such that development costs are roughly 1/10th compared to using a framework for the same use case.
Cost to Develop Enterprise Features or Other Additional Features
What to consider: Does the solution already include important enterprise features such as a service orchestration framework, SSO integration, or encryption support? Does the solution already include valuable features such as agent transfer, session management support, or the ability for bots to pull reports from enterprise systems. If not, can these features be custom built by the vendor and for how much?
Our findings: Platforms are generally enterprise-grade and end-to-end solutions and as such include more built-in components than frameworks do. These additional components and features increase start-up costs for platforms but significantly reduce development costs when compared to frameworks. Important enterprise-grade features, like archive integration and audit logs, can cost tens of thousands to hundreds of thousands to implement from scratch.
The reveal.
So what did our results reveal? Kore.ai's findings reveal that the benefits of an enterprise chatbot platform extend well beyond the simple cost of acquiring the technology and encompass how the platform is architected, implemented, and modified over time. In order to see the true cost and payoff of enterprise chatbot deployments buyers must carefully evaluate the immediate and long term costs of acquiring and maintaining the technology. Development time can also be just as important as development costs when it comes to return on investment. Our analysis revealed that time-to-market, which is vital for determining return on investment, for platforms is roughly 1/2 for the initial prototype, 1/10th for the first release, and 1/3rd for the final release for roughly identical chatbots.
Document your plan, get stakeholder buy-in, and take action.
Understanding how to properly analyze the TCO and ROI potential is your first step to diving into a true chatbot platform strategy for your enterprise. What's next from here? Start documenting your plan using this free CIO toolkit which guides you through the full construction of your business case and action plan, step-by-step. Once you've performed your evaluations and secured buy-in, you've laid the groundwork to go from zero to bot in a matter of weeks. Before you know it you will be reaping the benefits of a full fledged, AI-powered chatbot strategy, awarding your enterprise true return.