The airlines industry is witnessing increasing adoption of conversational AI by both travelers and enterprise users in daily workflows, signaling a significant shift in the years to come.
The conversational interface, with messaging as a platform of interaction, has revolutionized customer experience in the airlines industry with travelers treating chatbots as companions-in-transit, resulting in increased usage.
So much so, today air travelers mostly rely on chat platforms for booking/cancellation, customer service or planning – with virtual assistants even tailoring travel offers based on client inputs; doesn't it make more sense then to drive-in more sales this way?
Transformation with AI is already paying off, and chatbots for airlines is an important denouement.
"The top industries profiting from chatbots are real estate, travel, education, healthcare, and finance" - Chatbots Life
So, what makes your travel customers choose you?
Excellent customer experience!
Customer experience has the power to engage and capture consumers for your business. The relationship you build on flight stays even after the customer reaches the destination. And more the customer services are personalized, more the relationship with the consumer increases. Thus, you not only get the support of a satisfied customer but also an advocate for your business brand.
Why virtual assistants have got the foot in the door
With the power of conversational virtual assistants, airlines get a shot-in-their-wings to provide several thrills to customers.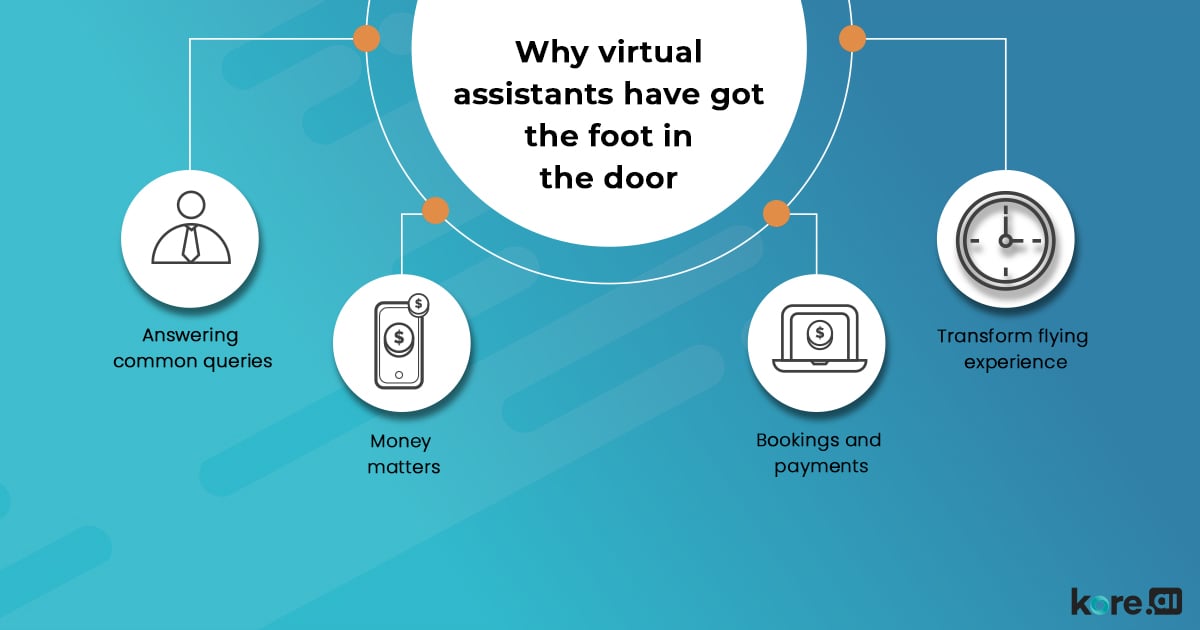 Let's see, on which criteria integration of virtual assistants takes place in the airline industry.
1. Answering Common Queries
Does only a new traveler ask questions?
No. A frequent or experienced traveler has a standard set of questions to ask their airline. For example:
From which gate, the boarding starts?
What is the luggage limit of the check-in baggage?
When is the next connecting flight to Singapore?
You always a smart virtual assistant to answer frequent queries.
2. Money Matters
A customer representative deserves good pay for answering calls to such repetitive questions 24*7. Customers can also visit the site and spare some time to search for the answers for their problems.
But the ways provided above aren't feasible for both the customers and the airline. It would cost a lot of time, effort, and unnecessary cost increment.
Then what is the solution? Mexico's Volaris has created a Facebook bot. The bot is capable of analyzing and understanding the queries asked and responding to them effectively. Volaris reduces the service costs offered to humans.
The presence of complex questions presents a challenge. But virtual assistants have an arrangement for this complexity as well. It transfers the complicated queries to a human agent seamlessly and ensures that the information is appropriately destined to the user.
3. Bookings and Payments
With conversational virtual assistants the booking process is more efficient. The customer can book or make a payment without quitting any messaging platforms like Facebook Messenger. For example, Malaysia Airlines in partnership with Amadeus launched a new flight booking solution to book flight tickets and make payments through Facebook Messenger.
4. Transform Flying Experience
Travel assistant bot helps in saving time by planning the user's trip. The smart bots suggest places to visit at different seasons or per the budget. This companion is available on popular messaging apps like Facebook Messenger, Hangouts and more.
Key Takeaways
Virtual assistants are blurring the lines between customer support, customer experience and sales. While the most crucial impact is cost reduction, bots also have a positive impact on sales revenue. In the case of airlines, conversational virtual assistants address some of the most pressing challenges like support costs, revenue and customer loyalty.
From the perspective of travelers, quick and round-the-clock self-service support results in an easier, more personalized, and overall better customer experience. A better customer experience not only impacts the conversion rate, but it also leads to a higher customer lifetime value.
| | | |
| --- | --- | --- |
| Explore unlimited AI-enabled chatbots use cases in airlines | | Explore unlimited AI-enabled chatbots use cases in media and entertainment |