The telecommunications industry has one of the most frequent interactions between customers and their service providers. The high amounts of subscribers in the industry further exasperates the communication challenge.
Why? Because every one of the billions of telecom customers requires easy access to information and customer care every now and then, and it's a herculean task to see to every customer's needs satisfactorily every time.
Enter Artificial Intelligence (AI) chatbots. These days, top telcos are betting big time on AI chatbots, deploying them extensively to streamline information flow across various departments and levels of their organization. AI chatbots are providing Telcos with a technological edge that significantly ramps up customer experience, efficiency, and marketability.
Caption: AI chatbots will handle the vast majority of all customer care calls in the telco industry by 2020.

What are AI Chatbots?
AI chatbots are basically computer programs designed to receive and respond to spoken or written human requests. Using AI algorithms, these chatbots are capable of conversing with near-human communication skills, manipulating intricate elements of speech in a highly empathetic way.
Here are some of the most effective ways telcos are using AI chatbots to stand out, gain a competitive edge, and transform the telecommunications industry.
7 ways AI chatbots are transforming the telecommunications industry
Artificial Intelligence has several applications across several industries. Here's a look at how telecoms apply the technology to ease operations, interact with customers, and ultimately gain a competitive edge.
1. Enhancing Customer Relations Management
Telcos are deploying chatbots to effectively ramp up the availability of their help desk and customer care attention. Customers no longer have to experience long wait times to speak to a customer care representative whenever they have issues with service plans. Instead, highly intelligent AI bots now serve them with quick responses to their questions. Customers get to appreciate the constant availability of this inquiry line all the more during emergencies and network downtimes, when customers need quick answers the most.
Overall, AI chatbots have significantly improved customer experience in the telecommunications industry. Customers now have easier access to information, quick resolutions to their problems, and a more personalized user experience.
2. Improving cost-efficiency
AI chatbots do more than increase the availability of customer care outlets -- they're also reducing the cost of running CRM. Unlike live human agents, bots aren't paid by hourly or monthly rates. AI chatbots can:
Serve customers efficiently on a continuous basis;
Further hone their problem solving capabilities through machine learning, getting better over time; and
Cost nothing more than some minimal maintenance costs that are far below that of a live agent on a payroll.
What's more, an AI chatbot can handle the workload of multiple human agents. For instance, AI chatbots don't need to take breaks or change shifts, yet they work with unparalleled levels of productivity. Companies are now reinvesting the funds saved from hiring live customer care agents into other departments.
Caption: A single AI chatbot can handle the workload of multiple customer care agents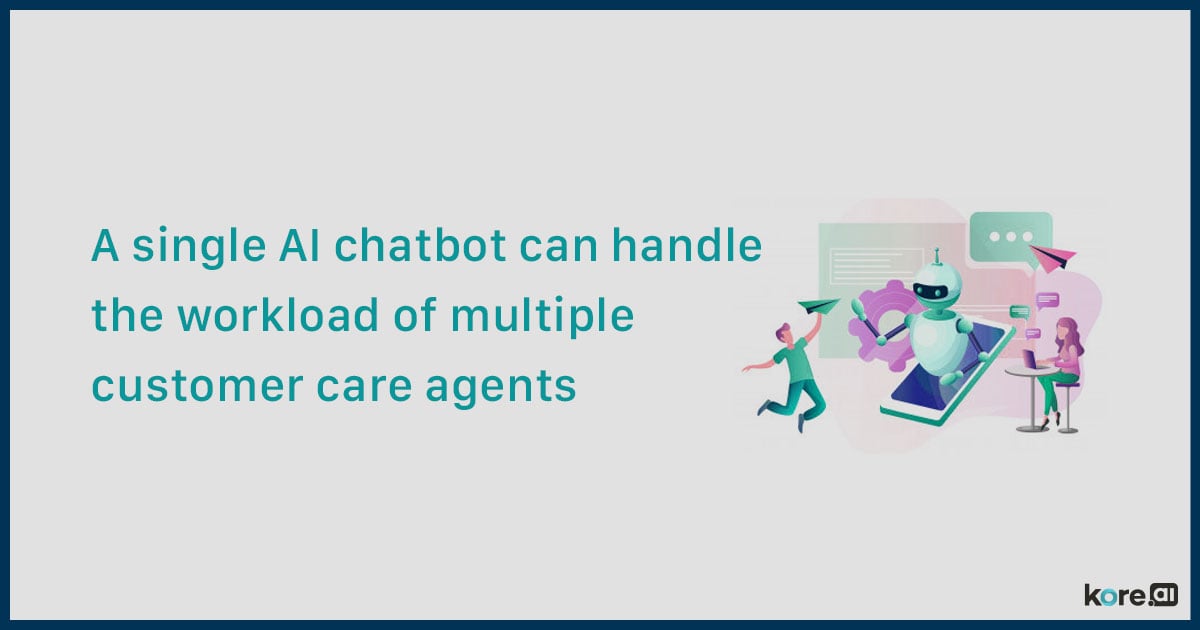 This cost-efficiency benefit of AI chatbots also translates into profits, resulting from increased customer retention and bolstered reputation. With AI chatbots, telcos now lose fewer customers to insufficient complaint resolutions, especially during emergencies and down times.
3. Eliciting feedback
With their highly empathetic and creative communication skills, AI chatbots are helping telcos elicit insightful feedback from customers. The surge in the rate of feedback telcos are now witnessing is also driven by the fact that AI chatbots can generate feedbacks in numerous ways. AI chatbots can interact with customers at various points in their buyer journey.
These feedbacks, both positive and negative, are being used to design more tailored offers and promotions that inspires more loyalty in customers. As a result, these AI chatbots are contributing immensely to the overall improvement user experience across the industry.
4. Harnessing Big Data
Besides generating customer feedback, AI chatbots can also collect a wide variety of data that can be used to explore consumer behavior. As the telecom industry is one of the biggest beneficiaries of the Big Data era, telcos appreciate the data collection benefits more than other businesses.
Given their direct contact with customers, AI chatbots have become one of the most reliable sources of relevant consumer data. The data they collect are actionable, insightful, and hardly anything less. These data can be used to:
Improve customer service,
Reduce waste;
Predict and manage risks; and
Optimize business operations.
AI chatbots are also serving telcos with predictive analytics capabilities that allow them resolve customer complaints before problems even arise, thanks to the chatbot's ability to draw insights and make predictions from information about the customer's previous activities.
5. Exploring call analysis
Telcos are now able to draw more insights from customer calls, thanks to the call analysis capabilities of AI chatbots. With powerful algorithms, chatbots can sift through large volumes of calls to garner information -- a feat that would be impossible for humans. These analyses help telcos predict customer behavioral patterns and reveal the intricacies of consumer needs.
For instance, by scanning through huge volumes of recorded calls, AI chatbots can help customer care agents establish links between tone of voice and the customer's needs. All these can help further optimize and personalize the user experience of every customer.
AI call analysis capabilities can also help examine the performance of human customer care agents when they do interract with customers, by identifying their strengths, weaknesses, and the results of their actions or inactions. This can help bolster their performance and ability to give accurate responses to customer inquiries.
6. Enriching the entertainment department
Since chatbots can help personalize user experience, they're helping telcos present more irresistible entertainment offers. AI chatbots can hold enticing conversations with customers about movies, shows, and other entertainment services offered by the service provider.
AI chatbots can deduce customer preferences and suggest shows and movies that customers can tune into at any point in time. They can also throw in fun facts, trivia, and even arbitrary opinions about movies and shows into conversations to keep customers hooked. They're also capable of touching on various real life issues related to various shows and movies to further engage customers.
7. Uninterrupted services
As noted earlier, chatbots don't need to take breaks. Their constant presence can mean a lot to a service provider, especially during emergencies. This also helps telcos minimize the number of staff on their payroll while maintaining 24/7 operations.
Chatbots do not consider weekends and holidays as determinants of their working hours. Telcos are now using AI chatbots to deal effectively with the hassles of maintaining operations during holidays and weekends.
Conclusion
The adoption of AI chatbots across the telecom industry is one of the main drivers of growth in the new era. Here's a recap of some of the revolutionary benefits of AI chatbots' for the telecom industry:
Enhancing customer relation management.
Improving cost-efficiency.
Eliciting feedback.
Harnessing Big Data.
Exploring call analysis.
Enriching the entertainment department.
Uninterrupted Services.
Our list is by no means exhaustive - AI chatbots are being harnessed by telcos in a myriad of ways. But the combination of these benefits is allowing telecoms to harness chatbots as a digital competitive edge.