By 2020 These 5 Chatbot Use Cases Will be Part of Everyday Life
With the increasing popularity of social messaging applications, conversational AI-powered chatbots are a great way to reach out to millions of people. In the near future, AI bots are going to be implemented in a wide variety of business verticals and help enterprises carry out various tasks such as customer service and marketing activities.
Conversational AI powered chatbots have an excellent ROI. And every enterprise wants to figure out how to use one. The increased popularity of chatbots began with personal assistants such as Siri, Alexa, Cortana, and Google Assistant. These chatbots have the potential to organize your calendar, locate your favourite restaurants, get recipes, and other countless tasks like setting an alarm or reminders. They also assist you with enterprise-related activities like sending an email, scheduling meetings, collecting performance reviews or send information required by teams.
Twenty-five percent of customer service and support operations will integrate virtual customer assistant (VCA) or chatbot technology across engagement channels by 2020, up from less than two percent in 2017, according to Gartner, Inc.
While some may be skeptical of the usability and practicality of AI and chatbots - and may see them as impractical novelties or a modern business "fad" - the fact is, chatbots have a myriad of real-life uses that many companies have already leveraged to make life easier for both personnel and customers. And with increasing adoption rate, the production and implementation of chatbots would also increase.

As we all know that chatbots come with different abilities and fulfill a different purpose in each industry. Below, We have focussed on some use cases for each industry and examples. This will help you explore and evaluate how you can use a virtual assistant for your industry. Conversational chatbots are still emerging technologies and so are the use cases. Here are some top 5 use cases.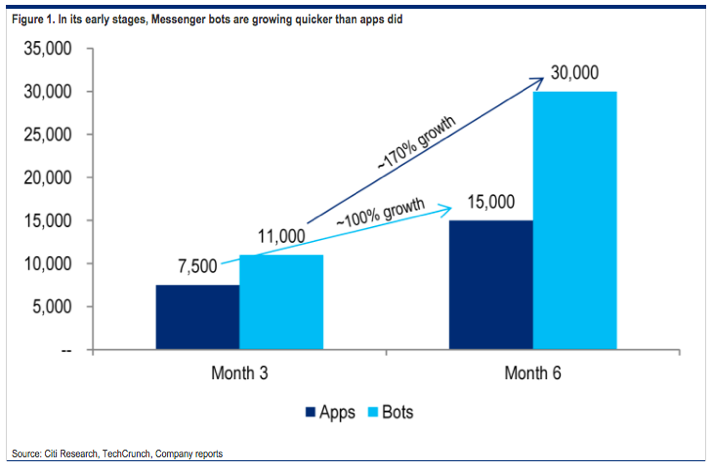 Source: Citigroup Inc.
1. We want a bot that can: Transform the Healthcare Experience
Conversational AI in healthcare can help patients to reduce the exhaustion by scheduling appointments on a go. In addition to this, the medical staff can collect basic information at the time of patient check-ins, eliminating the chances of human errors.

Conversational AI plays a vital role in reminding patients of the medications they need to take and ensure that they follow the doctor's instructions. It can also double up as a healthcare assistant to answer queries related to drugs and diet. They can also provide personalized answers based on the patients' medical history to further facilitate the end-user experience.
2. We want a virtual assistant that can: manage our bank accounts
The banking industry has been one of the early deployers of banking chatbots. Some of the chatbots use cases for banking to begin with personalized banking with an aim to improve customer satisfaction and engagement. Banks have enabled their customers to interact with banking chatbots to clarify frequent banking queries. They can access and ask for account balance, bank statements, transfer funds, create a deposit, saving and investment advice, and so on.For example, Bank of America introduced Erica, a banking virtual assistant for its customers to perform similar functions for them.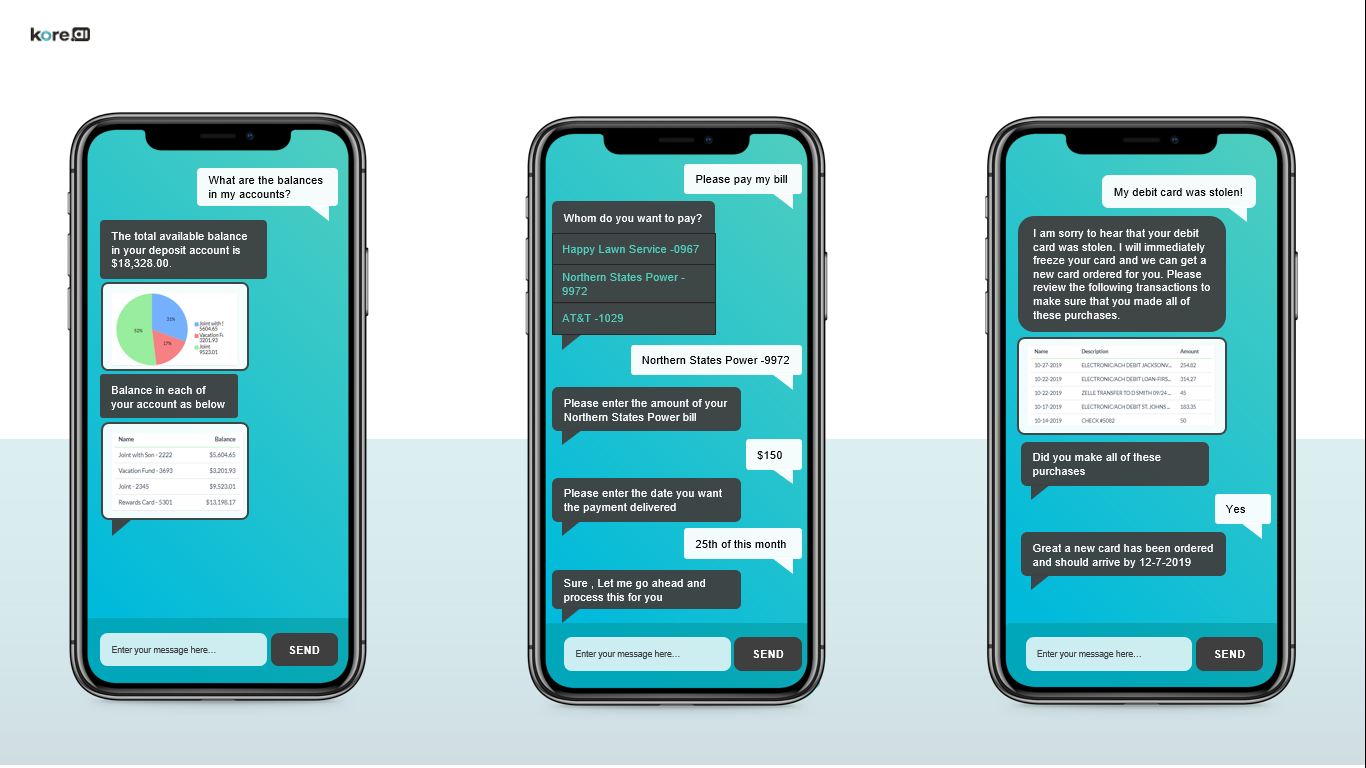 3. We want a virtual assistant that can: Benefit Insurers & Customers
Customers applying for insurance and filing claims find the task tedious and time-consuming. They often find themselves trapped on the phone for hours or awash in a sea of browser windows and a seemingly infinite list of questions. Conversational Virtual agents can deliver personalized quotes to the customers without jumping through hoops, and simplify everyday tasks such as rate and provider searches, account updates and payments via text or voice command. The chatbots can manage digital claims conversationally across all channels like mobile app, website, text, email quickly while eliminating avoidable delays and frustration of the customers
4. We want a virtual assistant that can: transform the way we do HR
At one time or another, all employees have questions about earnings, time off, benefits, or anything having to do with HR. "How much money is in my 401k?" "I just got a bonus and want to increase my contribution by x%." Or, "How do I learn more about maternity leave?" HR is a function virtually every large company seeks to streamline through the adoption of new technology. The majority of requests can be automated with a chatbot, which acts as a living resource with which employees can engage. Some other examples of HR tasks companies are delegating to chatbots are:
Onboarding: Benefits enrollment, 401k set-up, direct deposit, etc.
Program promotion: Health program incentives, reminders, etc.
Employee offboarding: Common tax/earnings questions, exit interviews, etc.
Benefit assistance: Anything and everything to do with setting up, accessing, adjusting, or viewing benefit details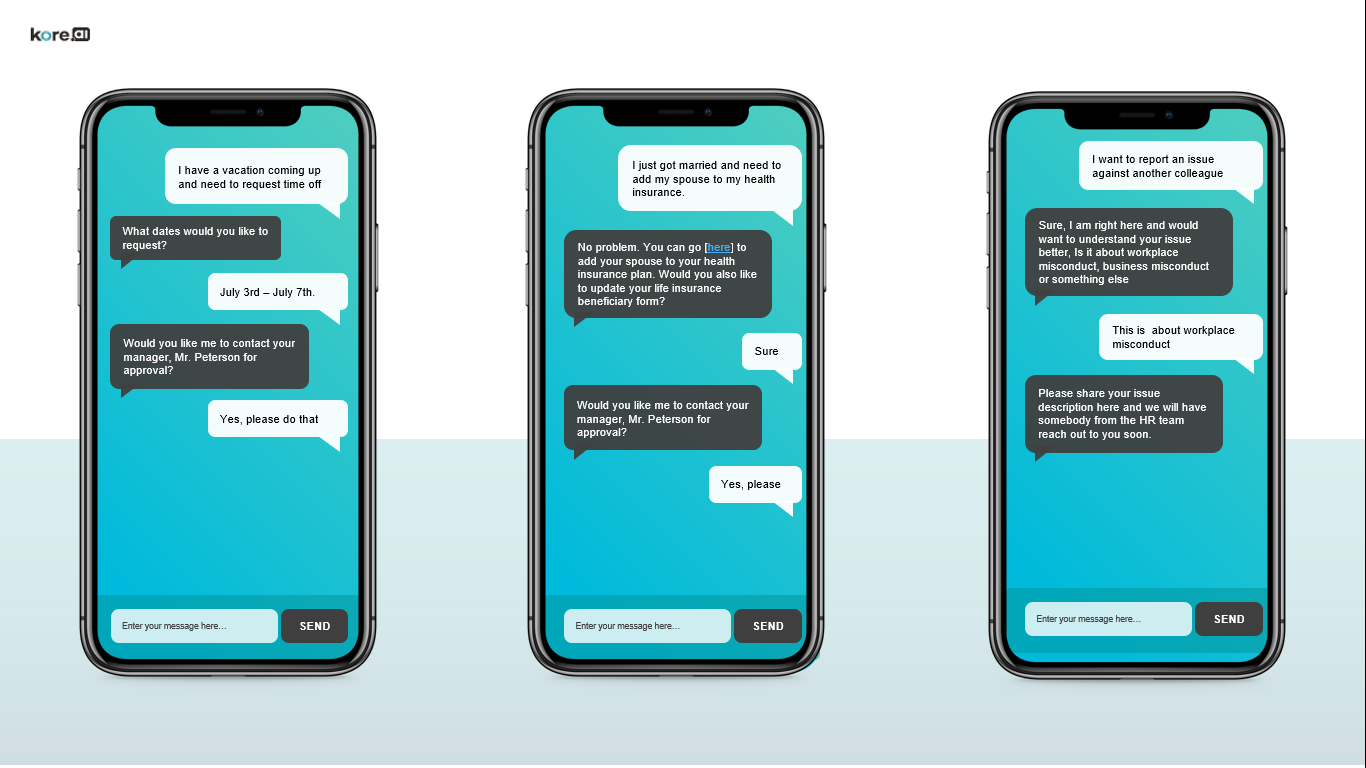 Found on pg. 23 of "AI-Rich Chatbot Use Cases: 30 Examples Driving Quantifiable Value Across Key Business Functions."
5. We want a virtual assistant that can: Automate Travel & Hospitality Industry
Conversational AI-powered chatbots will eliminate the major roadblocks such as inconsistent customer support, irrelevant search experience, complex cancellation policies, and more. By leveraging chatbots a customer's travel history and recent searches can be analyzed and can be offered with speedy and more diverse travel recommendations. AI-powered chatbots in Travel and hospitality businesses use machine learning solutions to segment audience preferences and thereby provide personalized offers including -
a) Budget-friendly accommodation options
b) Alternative travel dates or routes
c) New travel destinations based on traveler's preferences
d) Recommended local dine-out options with attached offers.
In reality, enterprise chatbots have a variety of use cases and it is important to find a high-yielding use case that can deliver high ROI for your enterprise. If you need to know more such use-cases, get in touch with us at www.kore.ai.
| | | |
| --- | --- | --- |
| Talk to us to explore unlimited AI-enabled chatbots use cases | | Explore the no-code Platform to Build Virtual Assistants |