By Robin Kearon, SVP, Channels and Alliances, Kore.ai
One of the most iconic advertising commercials in the history of television is The Coca-Cola Company's "Hilltop" commercial featuring young people from all around the world standing on a hilltop and singing the jingle "I'd Like to Buy the World a Coke" in unison. Now imagine a 21st-century version with the young people represented by the Internet of Things (IoT), bots, and enterprise systems as the enablers of "perfect harmony."
Supply Chain Management Becomes a Strategic Enabler
OK, so that's a bit corny, but it sets the stage. Supply chain touch points are abundant and play a pivotal role in the outcomes a business realizes. Introduction of smart technologies that complement existing supply chain management systems raise the strategic relevance and return of supply chain processes. This yields sustained demand fulfillment and increased profitability. Businesses like Dell have capitalized on their supply chain prowess and digital innovation to bolster their brand messaging and identity.
Some of the outcomes businesses typically seek when smart technologies are integrated into their supply chain include:
Predictive insights into customer demand become useful and able to be acted upon. Aligning the realization of an insight with the ability to communicate and effect a change in the supply chain becomes a tangible benefit.
Expensive warehouse storage costs and associated write-off costs resulting from overcompensation can be eliminated by establishing visibility across the supply chain, even when multiple systems are in play.
Real-time intelligence into potential production issues or material shortages can be addressed proactively, before the impact is felt.
In a turbulent regulatory environment, companies must adapt to remain compliant. Agility is an asset that bots support naturally. Whereas an application typically takes months to design, test, and implement, a bot can be imagined and deployed in days.
Increased customer satisfaction results from reliable delivery. Some change is inevitable, but making sure people are made aware instantly as it happens will reduce the inconvenience and negative impact.
A shining example of a company that made its supply chain agility a critical part of its brand identity is Amazon. Customers have the ability to place an order and then track its status from warehouse to doorstep with granularity. This creates a sense of excitement, which is accentuated by Amazon's reliability. Having a fully integrated returns process (that we now take for granted) is only possible because of their tremendous investment in the underlying processes. Can they do more? Yes, I have no doubt. A few ideas below ...
Need Better (aka Smarter), Not More
Getting the results from smart technologies isn't easy – and it's becoming increasingly difficult due to several factors. At the forefront is the sheer volume of data. Every day, 2.5 exabytes of data are produced. This will account for 44 zettabytes by 2020, up from 4.4 zettabytes in 2013. (I had to look that up: 1ZB = 1 Trillion Gb.) What does this growth trajectory mean? Ninety percent of all the data that exists today has been created in the past two years. One of the drivers behind this exponential growth is IoT; Cisco believes the number of IoT connected devices will reach 50 billion in 2020. This equates to nearly seven Internet-connected devices per person by 2020, from less than one per person in 2010.
From a simple perspective, bots comprise three elements: a channel, the ability to derive meaning, and a source of content (assuming you want to get or do something). Channels like messaging platforms (Facebook Messenger, Spark, Slack, Skype, etc.) or email and text, or applications that contain messages all can take care of the input and display of the conversation. Artificial Intelligence (AI), in the form of natural language understanding processes user inputs to figure out what the user wants. Finally, integration is needed to communicate with systems (ERP, databases, ECM, CRM, etc.) to receive or publish the required information and present it to/from the human.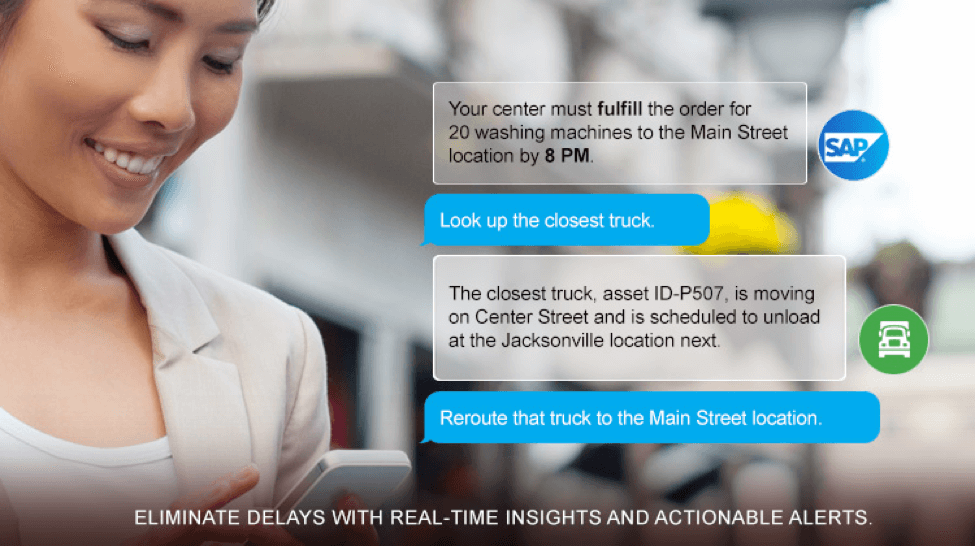 What Does Smarter Mean
The combination of smart technologies like bots and ERP systems holds much potential in helping businesses unlock value from their data. Advances in machine learning, natural language processing and artificial intelligence (AI) paved the way for a new way of doing business, and it starts with customers. They want on-their-time interactions with businesses, including the ability to engage using the channels and devices of their choice. When this doesn't happen, customers will take their business elsewhere. As Gartner notes in a recent report, "The technology transition from one paradigm to another is generally disruptive, costly, unavoidable, eventually complete and, in retrospect, definitely worth it."
Bots offer businesses an opportunity to provide customers with simple visibility into the supply chain. Specifically, the integration of Kore.ai and SAP HANA Cloud Platform humanizes customer connections to the supply chain. It also eliminates the need for tracking codes, web forms, and other components used to provide information to the customer that are highly inefficient, troublesome, and time-consuming for the customer. In turn, it breaks down the communications divide between humans (customers) and computers, giving them the ability to interact – through voice or text – with supply chains using natural language instead of having to conform and learn "computer speak."
Kore.ai bots consume everyday supply chain data from the SAP HANA Cloud Platform, including a myriad of IoT connections. Activities are automated to support customer self-service, such as tracking shipments, handling returns, and rectifying errors. And when additional information is needed, the bot simply handles the request with the customer. The result is improved customer engagement and satisfaction and lower operational costs for the business. In instances where self-service cannot solve a problem or answer a question, the bot seamlessly transfers the customer to a live agent, including all of the information from the bot interaction.
What Smarter Means … to the Bottom Line
The benefits of bots and SAP are not limited to customer interactions; they can streamline internal processes and activities while working with employees and suppliers. Kore.ai Bots integrate AI with SAP HANA Cloud Platform for effective demand planning, optimized IoT, and actionable and predictive analytics to capture opportunities and mitigate risks. Over time, patterns emerge and can be detected to improve those processes even more.
With a chatbot, companies can make life much simpler for their customers. Shipments can be registered to a customer (using information provided by the customer), and since the user will have previously authorized themselves, this information can be used to automatically retrieve shipments, without needing to expose the complexity of the data. Even when using a tracking code, the user only has to enter the code once because the bot stores the context of the tracking code in its memory. If the user so requests, the bot will automatically provide status change updates. When extra information is needed from the customer – like delivery time window or when a customs clearance procedure is required – that information can be requested using the chatbot and automatically entered into the system without manual labor.
Supply chain bots systematize visibility and agility by leveraging conventional conversational interfaces to equip employees to complete tasks like purchase order creation and time entry. With hundreds of thousands of screens within core SAP systems, employees spend hours toggling back and forth between screens to complete tasks; Kore.ai bots break down the walls between them and let employees complete tasks within SAP in the same manner as if they are communicating with coworkers. This translates into better efficiencies, lower costs, new opportunities, and improved profitability.
As business complexity and global competition increase, and consumer loyalty becomes more tenuous, more and more companies are exploring digital technology to gain operational efficiencies. Using technology such as Kore.ai Bots can establish a foundation for consistent leadership and secure a strong competitive edge.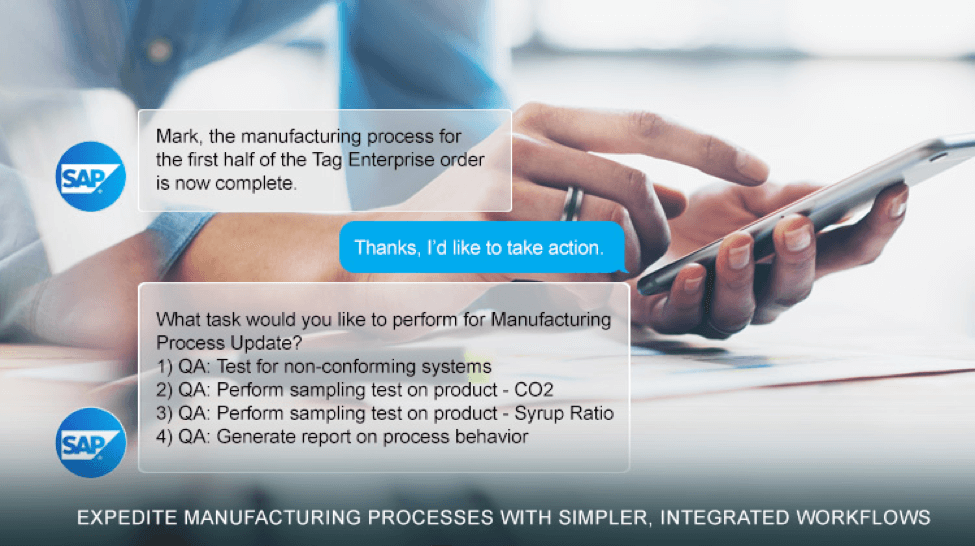 Learn more about our Kore.ai Bots for SAP.