By: Dante Lima, Senior Creative Writer at Kore.ai
Fall is a time for growing families and gathering them too. Bundles of joy and bundles of gifts. Millions upon millions of retail opportunities exist in the Fall because of two things: lots of babies and lots of holidays.
There are more babies born in the late Summer/early Fall months than any other time of year, with August, September, and October ranking #1, #2, and #4 respectively in terms of average annual births. That means more than 1 million new babies enter the world during the retail boom time, and 1 million new sets of parents scramble to buy all sorts of products that flood the child care retail space.
Babies may be tiny, but they sure do need a lot of stuff. More than $550 million dollars were spent on private label wipes, ointments, lotions, shampoos, powders, and soaps in 2015 alone! We're not even counting diapers, toys, clothes, cribs, furniture, car seats – you get the idea. My wife recently gave birth to our first child, Miles. I'd venture to guess that throughout her pregnancy we visited over a dozen different websites, four or five retail stores in person, and got countless links and product recommendations emailed or texted to us by friends and sometimes by the brands themselves. Needless to say, that extended shopping experience forged a more intimate relationship with the entire retail scope than I'd ever imagined, and in some ways I'd consider myself a newfound expert on the topic.
When it comes to the holiday season, we've already established there will be an influx of babies waiting to be spoiled by aunts, uncles, grandmas and grandpas (cha-ching). But there are also the regular spikes retailers know well. The National Retail Federation expects a 3.6 percent jump in 2016 to $655.8 billion spent, in addition to a 7 to 10 percent jump to $117 billion in online sales.
Looking at the Fall from a brand-to-consumer perspective, the question becomes what are you going to do differently? Brands have gone to great lengths to make their online, mobile, and in person shopping experiences easier and more personal, but I'm here to say that many I've dealt with are still missing the mark.
A – There's still a lot of difficulty in the purchasing process, especially when it comes to finding product information, getting to the cart and checkout quicker, redeeming offers, and reducing the amount of steps.
and
B – I abandoned several potential purchases because of it. In the wake of that abandonment, I wasn't successfully retargeted or enticed to come back. My dollars stayed in my pocket, and that's never what a retailer wants.
New Fall fashion: Bringing chatbots into the digital retail strategy

For new parents and holiday shoppers, there's one resource that is always in low supply and high demand: time. Expediency of shopping experiences is paramount when you're trying to live your life in 2 and 3 hour spurts between naps and feedings, or when you simply don't have time in the crunched end-of -year business season to get to a brick-and-mortar retail space or pull out the lap top and leisurely browse dozens of your favorite brand's sites for the best deals. Bots help alleviate that time crunch in a few different ways:
Conversational interface across all channels – Hands free shopping, or simply reducing screens and keystrokes to search, decide, and purchase is a big key to bots' success in retail. Whether it's via SMS, Email, Facebook Messenger, a company website, etc. - Simply saying or typing to a bot "find me size 2 diapers" or "show me bikes under $300" or "what are your current holiday sales?" eliminates valuable steps in the process and saves time. You're instantly shopping with a purpose and getting results based on guidance you're already providing without having to search via clunky app interfaces or deep page websites.
Refine search and purchase automation – Seems simple enough, right? But changing search values can be tedious using traditional retail interfaces. Shoppers want to get detailed, and quickly. The amount of merchandise for babies is truly staggering, and depending on your child you may have extremely specific needs. For instance, my son feeds with a combination of formula and breast milk, so it wouldn't be enough to say to a bot "find me baby formula," I'd need to say "find me formula for supplementation." A bot could use existing inventory to instantly distinguish that product from formulas my son can't eat. Over time the bot could even pick up on my purchasing patterns and automate my formula buying based on my weekly and even monthly needs, which would make re-upping my supply easy to execute and budget.
Quick to checkout and proper inventory management – One of the most frustrating things about shopping via mobile or online is the toggling between cart, back to browsing, and finally getting to checkout. With a bot I'd authenticate once, and managing my cart and getting directly to a purchase point doesn't involve any new screens or interfaces. Instead I speak or type "take me to checkout," the bot confirms my purchase, and I tell it to execute. Not to mention, a bot linked to a brand's backend systems can track inventory in real time and alert me before I get to checkout if an item is on backorder or out-of-stock (you'd be surprised how many experiences make you wait for that inconvenient surprise). With bots, there are fewer mistakes, thus fewer times the shopper has to circle back into the aisle to get what they want.
A couple more added benefits:
Wish list/registry management –Getting a gift is great. Getting the same gift twice is not so great, especially for busy people and busy parents. It creates a situation in which you have to either head in-store to make a return, or re-ship a gift. Many retailers, even the childcare giants, are slow to update registries and sometimes even miss totally with email alerts. With a retail bot, if someone bought me the same gift off my registry through a different vendor, all I'd have to say is "take high chair off list." It would reduce the amount of headaches and in-store trips to make returns.
No more abandonment – If for some reason a shopper doesn't find what they want, and they decide to leave a "cart in the aisle" so to speak, a bot can instantly ask that shopper why they are leaving and have a chance to instantly resolve a problem. Item not in stock? Maybe there's a similar product they'd like. Items out of budget? Perhaps there is a one-time discount a bot can offer to bring down the price. Shipping too costly? Perhaps the bot can inform the customer of a minimum price threshold to waive shipping, or offer a promotional rewards program where shipping is always free.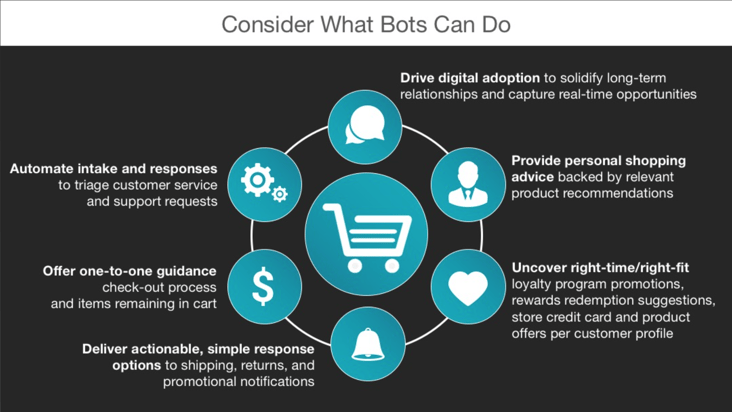 The use cases developing in the retail space for bots aren't based in science fiction, they're based in efficiency. How can we bring conversational technology to shoppers to make their experiences quick, reliable, and easy across devices and channels? How can we give enterprises the chance to capitalize on the biggest season of year for the retail industry? The Kore.ai Smart Bot for commerce is an out-of-the box solution that encompasses many of the functions and tasks I discussed in this blog, and it's developed with the customer in mind. Find out more about how you can roll out an intelligent shopping assistant with built-in Natural Language Processing, omni-channel capability, and enterprise grade security in 60-90 days.
Access our Executive Brief: Shopping with Conversational Retail, to learn more about how bots transform in-store and digital selling and servicing.