The second half of 2016 has been a busy one here at Kore.ai, as we've been all over the country at various conferences making the case for intelligent, NLP enabled chatbots for the enterprise. Last week was the Gartner Symposium ITxpo right here in our backyard of Orlando, FL. After a few days of extensive conversations with CIOs from all over the globe, there are a few things we wanted to report on our experience.
1. The market is more educated about bots than ever before. We're a company that lives the chatbot life day-in and day-out, so sometimes we can take our knowledge for granted. Early in the year, we were getting way more blank stares than substantive conversations when we asked enterprises if they were considering bots as part of their ongoing digital and omni-channel strategies. We had to start at the elementary level by explaining what a chatbot could do, artificial intelligence concepts, natural language processing and machine learning, and why bots could be useful for a range of functions and industries. Now, seemingly since the end of summer, those baseline questions have been answered for executives, analysts, and consumers alike by a flood of chatbot coverage. At Gartner, the curiosity behind bots allowed us to get down to practical conversations and that tells us that companies are taking bots seriously.
2. Enterprises are bringing use cases to us, not the other way around – When bots first got mainstream coverage, it was for things like checking the weather, ordering pizza, buying flowers, and other fun but frivolous tasks. Now companies are asking us how bots are going to best improve their supply chain management and logistics. We had healthcare companies seeking bots for better and quicker patient engagement, follow-up treatment reporting, appointment scheduling and prescription renewals. We had a transportation company ask about using bots for internal updates and helping passengers find ideal routes, real time schedules, and easier transfers. The utility, especially for custom bot building, is permeating the market, and CIOs are thinking long and hard about intelligent assistants in a variety of ways – which is extremely exciting and points to a lot of fun assessment and testing in our future.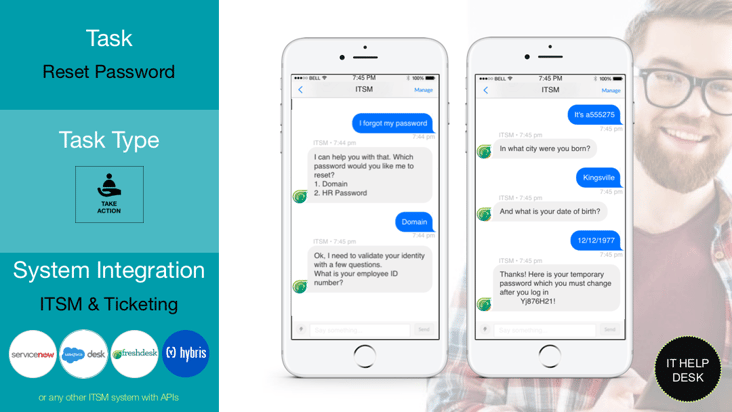 Explore more use cases by accessing our Top 30 Use Cases eBook.
3. IT Help Desk reigned supreme – We saw the light bulb go off last week for dozens of CIOs who wanted consistent and personalized automation of level 1 IT services - from asset management, to incident reporting, to outage alerts, access requests, and more. What we heard? IT staff is too regularly bogged down with tedious processes and simple tasks, and they need time to resolve more important matters. Outsourcing IT Help Desks is becoming costly and inefficient for both internal employees and customers. Chatbot integration with ITSM services was also on the minds of many of the CIOs we spoke with.
Our newly launched Smart Bot for IT Help Desk is pre-tested for integration with Service Now which helps for easy rollout with large enterprises who already utilize it. It also performs many of the basic functions employees and customers need, is scalable and customizable to enterprises of all sizes and unique brand standards. And, coupled with Kore.ai's NLP Engine and Bots Platform security features, it sparked instant interest for high value in the IT space. We hope to learn more about IT Help Desk needs as we have more conversations, but our Smart Bot seems to already speak the language of the industry.
For more information on all of our bot solutions, checkout our CIO How-to Kit.