Contact Center Excellence Blog Series
Picture this: The bustling domain of contact centers, where things are always on the move. Now, think about those awesome moments when your agents and customers come together like the perfect duet. You're nodding, right? But have you ever pondered what truly brews in your agents' minds as they tackle customer queries day in, day out? The suspense ends here, for we're about to unveil the backstage secrets!
Introducing the Contact Center Agent Experience Benchmark Report 2023 - your passport to understanding what drives your agents and how it links to your center's performance. In a world where customer experience is king, it's time we shine a light on our agents who serve the king. In this blog, we dive into a few key insights the report offers - uncovering the ways to create harmony in your contact center. No hype, just real talk. Let's get to it!
(About the Report:
In partnership with Farrell Insight, a strategic insight specialist, Kore.ai has embarked on a mission to provide you with unparalleled insights. As part of an ongoing insight strategy, we have engaged Farrell Insight to conduct three major national studies in 2023, focusing on benchmarking, trackable data, and invaluable insights related to Customer Experience (CX), Agent Experience (AX), and Employee Experience (EX).
Our custom-crafted online study involved surveying a diverse group of 500 American customer service agents or representatives currently employed in contact centers, both on-site and remotely. These respondents, aged 18-75, represent various regions of the United States and encompass generational and gender diversity to align with industry trends. The survey was conducted in April 2023.)

Are Your Contact Center Agents Satisfied?
Delving into the Factors at Play
In the survey agents weighed in on what floats their boat in the workplace, rating 23 criteria based on how much they matter for their job satisfaction. And here's where it gets interesting: they also gave their current call centers a reality check against these criteria. And guess what? The results are a revelation! In a world where dollars often dominate the conversation, agents are giving a nod to something more human.
A whopping 88% are all about respect – feeling valued as individuals. And it's not just about the paycheck; 88% again say tools and tech that make their lives smoother are right up there in importance. It's like these are the secret ingredients to a happy agent cocktail.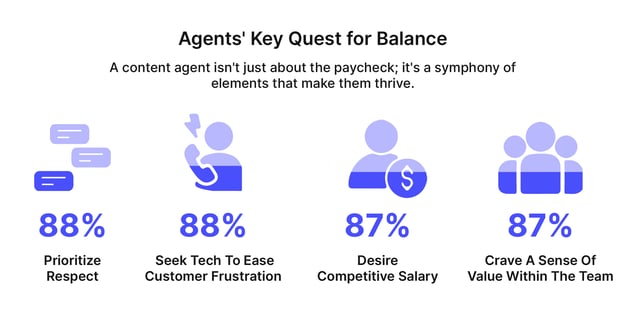 How Do Agents' Perceptions Compare to Call Center Ratings?
Understanding Performance Gaps
Let's dive into the intriguing tale told by the report – a story of expectations, reality, and the spaces in between. A compelling narrative unfolds when we contrast the agent importance ratings with the call center performance ratings. The divergence between agent expectations and actual call center performance draws attention to critical areas of misalignment.

While 88% of agents underscore the importance of tools reducing customer frustration, only 73% of call centers meet this demand. This discrepancy echoes in the realm of advanced tools, where 86% of agents see them as vital, yet a mere 75% of call centers deliver. Strikingly, this trend persists in Intelligent Virtual Assistant (IVA)-related aspects, where 86% of agents emphasize seamless multi-channel interactions, while a meager 76% of call centers measure up, exposing a 10% gap.
But hold up – it's not just about stats; it's about how these ripples spread across the whole contact center scene. Customers feel the pinch too, enduring the endless loop of repeating info, marathon chats, and rising frustration. So here's the game plan: it's high time we tackle these gaps, face them head-on, and get things harmonized for both agents and customers.
What Lies Behind Agents' Cheers?
A Deep Dive into the Success of IVAs and Agents in Partnership
According to Gartner, the global market for conversational AI and virtual assistants is expected to experience remarkable growth, with a projected Compound Annual Growth Rate (CAGR) of 57.6% from 2022 to 2027. The contact center stage is getting a digital makeover with the rise of Intelligent Virtual Assistants (IVAs)!

The Contact Center Agent Experience Benchmark Report 2023 report just dropped the curtain on a revelation that has agents high-fiving technology. As the spotlight swung onto various IVA roles, the agents roared with applause, giving a solid 77% to 85% thumbs-up across the board. Millennials and the tech-savvy Cable/Media/Telecom sector are leading the cheering squad, and even the traditionally more reserved Boomers are throwing in hearty applause at 70%+. The Banking industry might be the quieter part of the audience, but their applause at 68% to 78% still speaks volumes about IVA's impact.

But wait, there's more to this show – agents are totally in sync, singing praises for tools that predict customer needs at an impressive 84%. This is backed by a Gartner forecast that claims conversational AI chatbots and virtual assistants will handle 30% of interactions that would have otherwise been managed by human agents by 2031, a significant increase from the mere 2% recorded in 2022!
And guess what?
The magic doesn't stop there. Another 84% are all about automated call wrap-ups! Not to mention, a cool 83% are nodding in approval for tech that predicts needs and serves up tailored cues, making customer interactions feel like a well-choreographed performance. And the applause keeps going strong – agents are giving a standing ovation to the one-screen wonder, the spellbinding 84% of predictive powers, and the dazzling active agent assist & automation. Lights, camera, tech – it's a blockbuster duo where agents and technology steal the limelight and deliver a show that's pure magic.

You might also like: 5 Contact Center Must-Haves for Exceptional Customer Service
What Insights Does the Common Chorus Offer?
Step into the shoes of a customer – you're frustrated, you've got an issue, and you're repeating yourself like a broken record. Turns out, you're not alone! The survey lays it bare – customers are irked when their voice seems to echo into the void. 79% of customers are left seething when they're forced to restate their problems. It's a familiar tune for customer service agents who wrestle with these vexations every day. If we go by stats, Gartner reports - when customers experience high-effort issue resolutions, they are 96% more likely to be disloyal to brands!

Now, let's shift the spotlight to the agents who navigate these challenges day in and day out. Just like customers, they're not immune to the frustration. The plot thickens as we uncover another layer – the agent's perspective on customer service frustrations. In a mirror-like reflection, the challenges that customers encounter often reverberate within the agent's realm. Delays in receiving necessary information or approvals emerge as a recurring theme, impacting both customers and the agents striving to serve them.

As the curtain falls on customer frustrations, agents are raising their voices for technology solutions that reduce the need for customers to repeat their stories. The applause is unanimous: 88% agree that tools and technology designed to alleviate customer frustration are paramount. In harmony, 85% of contact center agents express their desire for tools that provide a comprehensive view of a customer's history, a feature that promises a seamless experience. Also, 23% of customer service decision-makers agree that agents can't see a customer's past interaction with their service channels

(

Forrester Opportunity Snapshot

).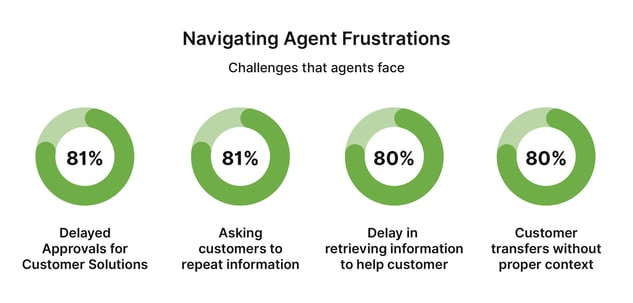 So, there you have it – a glimpse into the hurdles agents face in their pursuit of top-notch customer service. As the curtain falls on this act, the agents' frustrations are laid bare – a blend of delays, repetitions, and missing cues. But the story doesn't end here; it's a prelude to a transformative journey where solutions will harmonize the performance and bring agents closer to delivering a truly spectacular show of service.
Onward to Transformation
Agents Leading the Charge
As the final curtain falls on this illuminating journey, it's time to reflect on the revelations that have come to light. The numbers speak volumes – a resounding 88% agents stand firm in their call for tools that banish the need for repetitive customer narratives. Equally impressive, 85% echo the desire for technology that paints a panoramic view of customer history.
One thing is clear: a transformation is on the horizon with Conversation AI powered IVAs taking center stage. No wonder, Gartner predicts that Conversational AI will reduce contact center agent labor costs by $80 billion in 2026, increasing to $240 billion by 2031.
Armed with these insights, we're poised to chart a course to a future where agents and technology collaborate, crafting an unparalleled service experience. Stay tuned for our upcoming blog series centered around this report, where we'll dive deeper into strategies that take the center stage. These strategies will skillfully transform challenges into resounding triumphs, elevating contact center performance to new heights.

Exciting chapters await, so keep a lookout for what's next!
Feed Your Curiosity!
Your journey into Agent Experience insights doesn't end here. Take a deeper dive into the data and insights within our Contact Center Agent Experience Benchmark Report 2023.

Next Blog in Contact Center Excellence Series: The IVA Advantage: A Strategic Must for Modern Contact Centers
This blog is a thought-provoking exploration of the IVA advantage, where we'll navigate the rapidly evolving landscape of customer service and equip you with the tools you need to thrive in this new era of contact center excellence!