Today's workforce is distributed, with many employees working from home and running on a "want it now" mindset. As remote or hybrid work becomes the new norm, tech workers are feeling pressure to provide immediate, top-notch virtual IT support for end-users from anywhere and on any device.
According to Gartner's report on Top Strategic Technology Trends, "Anywhere Operations" is a trend that has immense disruptive potential and organizations that adapt to are experiencing increased flexibility, resilience, reduced costs, and improved employee experience at the same time.
These hyper-scale, available anywhere environments are hard to build and cracking just the tech support part of it means moving away from older, traditional models. The IT industry directly accounts for more than 10% of the U.S. economy, and with 65% of IT help desk teams saying they're facing burnout, it is increasingly difficult to support operations and retain top talent in an Anywhere Operations model.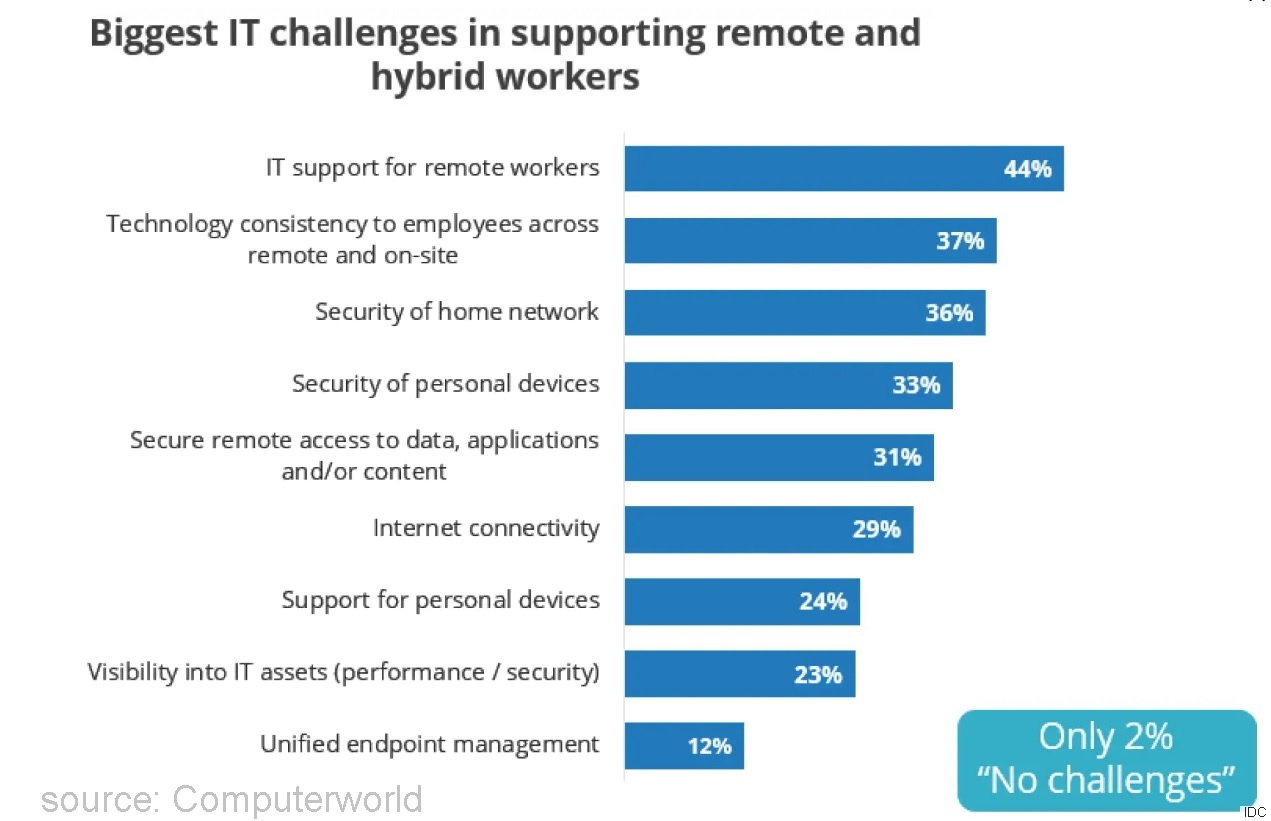 Having seamless, always-on virtual IT support seemed like a distant dream that required a lot of technology and large startup costs to come together.
But, that's not the case anymore.
Thanks to conversational AI-powered assistants, businesses can now blend virtual and physical experiences, be digital-first, and adapt to a location-independent mindset. This enables organizations to deliver support anywhere while addressing the building blocks of employee experience transformation for better collaboration, remote access, automation, and single window service.
So, the question remains - are you ready for 'Anywhere Operations'?


How to achieve Uninterrupted IT Support with Conversational AI
Uninterrupted IT is a term used to describe an IT environment that is always available for employee support. Making this a reality means providing a simple way for employees to engage with your virtual support team around the clock.
Conversational AI forms the bridge between employees and the IT Help Desk by reducing the need for complex error-prone manual processes and providing insights into potential issues before they take place with intelligent virtual assistants. This seamless automation makes it easier to keep IT environments running smoothly.

Before implementing Conversational AI, it is important to first take a good look at how your organization is functioning, identify where the opportunities lie, and where inefficiencies hide to maximize your investment.


Every CIO should look into the 3 D's of successful implementation of Conversational AI

1. Discover
Understand your end-user. Ask yourself discovery questions like:
Which apps are they on?
How do they troubleshoot issues when things go awry?
How are they notified about issues?
Do they know where to go to find the right questions?
These types of questions help you analyze and get a pulse on current inefficiencies so you can identify high volume areas where AI automation can eliminate bottlenecks and streamline the experience. For example, conversational AI can be used to automate repetitive IT tasks such as troubleshooting and finding answers for employee IT issues, reporting incidents, resetting passwords, or software license renewals.

With the added benefit of friendly APIs, you will be able to have seamless integration between virtual assistants and databases that make it easier to access data from sources like a Service Desk, CRM, Helpdesk, Slack, MS Teams, Google Drive, and more.

APIs make it easier for businesses to collect and analyze data generated by conversational AI solutions. By integrating chatbots with analytics platforms, businesses can gain insights into employee behavior, preferences, and pain points. This data can be used to improve the conversational AI solution itself, as well as other aspects of the business.

2. Design

Now that you know your end-user better, it's time to build user centric experiences around them. With your opportunities, APIs, and pain points identified, the focus should turn to designing a solution that works for them. Training the virtual assistant on large language models, GPT-3, Knowledge AI, intents and utterances makes it a trusted co-pilot personalized for your business.

This ensures that the conversational AI solution can respond to a wide range of employee queries and requests, improving efficiency and accuracy. Multiple languages can be added to the deployment to support a diverse workforce, ensuring that employees can communicate in their preferred language.

Last but not least, is figuring out which channels employees leverage and where they stay in the loop for all works related projects and communications. Once you have this established, start integration with various applications and services to guarantee that your entire workforce can access these features continuously.

3. Deploy

This is the fun part, where it all comes together! You've successfully identified the pain points of your business and designed a comprehensive solution that addresses those. Is it all a piece of cake from there?

Shortly put, NO.

Adoption of new technologies is the biggest challenge for any organization. However with the right onboarding, support and resources, you can ensure a smooth transition. When you bank on a industry leading conversational AI vendor like Kore.ai, you get supported with:
The latest technology equipped to handle employee needs.
Thorough support from implementation to maintenance to improvements
Training and retraining the assistant to stay relevant with new trends and language models
Dedicated support with a team of experts
This improves the accuracy and efficacy of the solution, increasing employee productivity and experiences at the same time.


So, the question still remains - are you ready for 'Anywhere Operations'?
Organizations that are able to successfully make the shift to an 'anywhere operations' mindset will be well-positioned to take advantage of uninterrupted IT and remain competitive in the future. This can be a difficult shift to make, as it requires changes to both the way IT teams work and the way that businesses operate.

At Kore.ai we make IT transformation a breeze and offer future-ready solutions for organizations with initiatives to support the employee IT experience. In our upcoming Part 2, we will discuss how using frameworks like D.I.E.T are helping companies adopt promising technologies to their workplace. This framework works by unifying employee service on a single platform, deploying on modern service channels in a few clicks, and delivering resilient AI powered virtual assistants that automate complex workflows and deliver employee delight.

Click here to learn more.