The global conversational AI market is expected to rise at a CAGR of 21.4% and surpass $13,291.3 million from 2021 to 2028. Given the widespread digitalization with AI technologies like Machine Learning, Natural Language Processing, and more, it is not difficult to assume that the future belongs to conversational AI-powered Intelligent Virtual Assistants.
Conversational AI-powered IVAs for website bots are much more challenging to create than simple chatbots. Given that, they are more effective due to the accumulation of knowledge based on previous interactions with the user and deliver personalized human-like experiences for the website. In this article, we will discuss how to write a perfect script for conversational AI-powered website bots. So, without further ado, let's get started!
Decide on goals for your conversational AI-powered IVA
Your users want to get a specific action from the IVA. So, writing a script for conversational AI-powered IVA starts with defining goals. Each logical block of the script you write should serve a specific purpose.
Your main task as an IVA script writer is to help the users go from the beginning to the end of the script and help them solve one or another task.

Before you start composing script chains, you should think about the users' problems that you want to solve with an Intelligent Virtual Assistant. Typically, users want to:
Find an answer to their question
Find a product or service that can solve their problem
Make a purchase or start a collaboration
Hence, it is crucial to choose a platform for creating an Intelligent Virtual Assistant at this stage - the chatbot's capabilities will depend on it. Platforms like Kore.ai Experience Optimization (XO) Platform provide GUI and have ready-made templates for dialogs that bring in a no-code approach for building IVAs and you can start from there.
Create a persona for your intelligent virtual assistant
Think ahead about the persona of your IVA. After all, it will represent your brand on all website pages and directly address visitors with an offer of advice or services. It can be the face of the company (the founder/director) or a mascot (if you have one). Most importantly, think of the IVA as an extension of your corporate identity. It is another team member and should be inherent in your corporate values and brand features.
In brief, you need to create a personality for the Intelligent Virtual Assistant that:
Is helpful to the website visitor
Will help your brand get closer to users and make it more "alive"
Will help the visitor to solve their problems and close their needs when communicating, which means it should be in the "context" of the user's requests and tasks.
As you prepare your IVA persona, pay attention to the tone of voice that conversational AI will use to communicate. A formal approach is appropriate for an Intelligent Virtual Assistant on a law firm's website. For an online store of women's cosmetics, a friendly tone is right. In the case of women's cosmetics online stores, the persona is even more critical because the IVA performs recommendatory functions. For this reason, it will be a virtual girl assistant with a friendly approach to advice.
Keep in mind that a clear understanding of the persona will help you create conversational AI-powered IVA.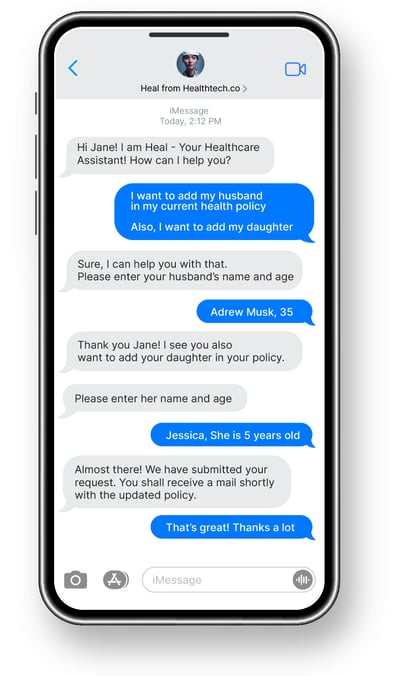 An example of a conversation between a healthcare policy user and an IVA with a doctor persona.
Write a script for a conversational AI-powered intelligent virtual assistant
An effective IVA script's main rule is short, concise, and clear text messages. Keep focusing on the critical nuances when writing a chatbot script, and avoid long monologues. Bulky sentences are better broken up into short ones. Long and overloaded texts are not read.
Here are some key tips to help your Intelligent Virtual Assistant come to life:
Use a voice of tone specific to your brand in the media space. Let the Intelligent Virtual Assistant communicate informally if you're targeting a young audience. If you're selling insurance, you need a formal tone of voice for IVA.
Write short messages. We recommend limiting IVA answers to 150 -190 characters. It is better to divide one long message into two short ones. The Kore.ai XO platform has the feature

Storyboard - a conversational design tool

that will be very helpful for you.
Use emojis. They create an additional emotional layer when communicating and help the user to assimilate the information better.
Provide Step-wise Messages. If you want the Intelligent Virtual Assistant to help/train users to work with your company, try to break instructions into several steps, and serve them as separate messages.
Work on the tonality. Decide how the conversational AI-powered IVA reacts to users' messages. Did the user ask a question? Let the conversational AI begin with "Roger that! Great! Let me tell you!". The information will not be presented head-on.
Don't go overboard with the humor. It looks unnatural. In any case, the user knows perfectly well that he's not communicating with a person. Few people expect to speak with a stand-up comic when communicating through a conversational AI-powered IVA.
Make it interactive. Use pictures, gifs, and videos. Kore.ai XO Platform allows you to embed media files into logical blocks, significantly increasing the usefulness of IVAs for users.
Read the script aloud, and rewrite any places where you hear unnaturalness

. It is vital to make the script look as natural as possible. This increases the depth of the user's immersion in the dialog and, consequently, the conversion rate. And also, do not forget to

localize your IVA

.
Conclusion
To make the Intelligent Virtual Assistant script useful and capture the attention of the website visitor, try to stick to these three essential thumb rules:
The IVA script should improve the user experience from interacting with your website and thus help amplify your brand's impact.
The Intelligent Virtual Assistant should tell the user something useful or informative about the brand.
The script should be crafted in the context of the web page or any other channels where IVA is hosted and following the user's expectations.
The gist is to keep improving the conversational AI-powered IVA. The result will be better if you keep track of analytics and statistics, add new script blocks, and train the Intelligent Virtual Assistant.
If you are looking for a unified solution to design, build, test, deploy, and manage AI-first virtual assistants on your own, check out Kore.ai XO Platform.
Learn About XO Platform
About the Author
ELIZA MEDLEY
Eliza Medley is an experienced writer representing the team of the Essay Writer Pro content creation company. She is actively interested in management, new technologies, and writing motivational articles. She also loves catching up on modern trends. Her work inspires people to learn new things and reach new heights. You can reach out to her at GuestPostingNinja@gmail.com.