Improving your service team's customer engagement is easy with intelligent self-service options using Kore.ai automation - now with a Zendesk Sunshine Conversations and Messaging integration.
Supported by our leading conversational AI platform, you can create positive experiences that blend mundane task automation with a humanistic, personal touch. This ability allows you to serve your customers while offering the option of routing them to a live agent using Zendesk Support.
We're so excited about this improved Kore.ai native integration with Zendesk Sunshine Conversations and Messaging. The new functionality makes it easier to configure and launch self-service automation while adding support for Zendesk Switchboard to seamlessly hand-off conversations between automation and live agents.
With this guide, we hope to help IT professionals, Zendesk administrators and customer service supervisors learn how to utilize the Kore.ai XO platform with Zendesk Sunshine Conversations and Messaging using the prebuilt integration.
Zendesk Configuration Steps



To configure this integration in Zendesk, you will need the Conversations API menu enabled in your instance. Please work with your Zendesk administrator if you do not see this option.
Navigate to the

Admin

section of your Zendesk instance.
Confirm

Messaging

is turned on for your account.
If you don't already have a

Web Widget

created, create one and customize it to your specifications.
Create a

Conversations API

key to use. Make a note of the key and secret as you will need them to configure the channel in the Kore.ai XO Platform.


Kore.ai Configuration Steps
To begin, you'll need a Kore.ai XO Platform account with a virtual assistant configured. If you already have Zendesk Sunshine Conversations and Messaging configured with one or more digital channels, think about what self-service options you will want to offer your customers. Self-service tasks often include use cases such as "reset my password", "check my ticket status" or "where is my order".
In our most recent v.10.0 release of the XO Platform, we've added Actions to key partner platforms including Zendesk. Our Actions offering for Zendesk includes pre-built integrations with the ticketing APIs and has several authorization options to choose from. After you configure authorization with your Zendesk Support instance, the Kore.ai XO Platform can create templates for the following:
Create Ticket
Update Ticket
View Ticket by ID
List All Tickets
Search Ticket
Delete Ticket


Sunshine Conversations is offered as a native channel option on the Kore.ai XO Platform. For the most up-to-date instructions, you can always refer to our documentation specifically for the Sunshine Conversations channel.
For a quick start, follow these steps:
Open your XO Platform administrative console.
Choose the automation bot you wish to use with Sunshine Conversations and open the configuration area for the bot.
Navigate to the

Deploy

section and by default our selection of 35+ channels will be displayed.
Click the Sunshine Conversations channel to open the configuration pane.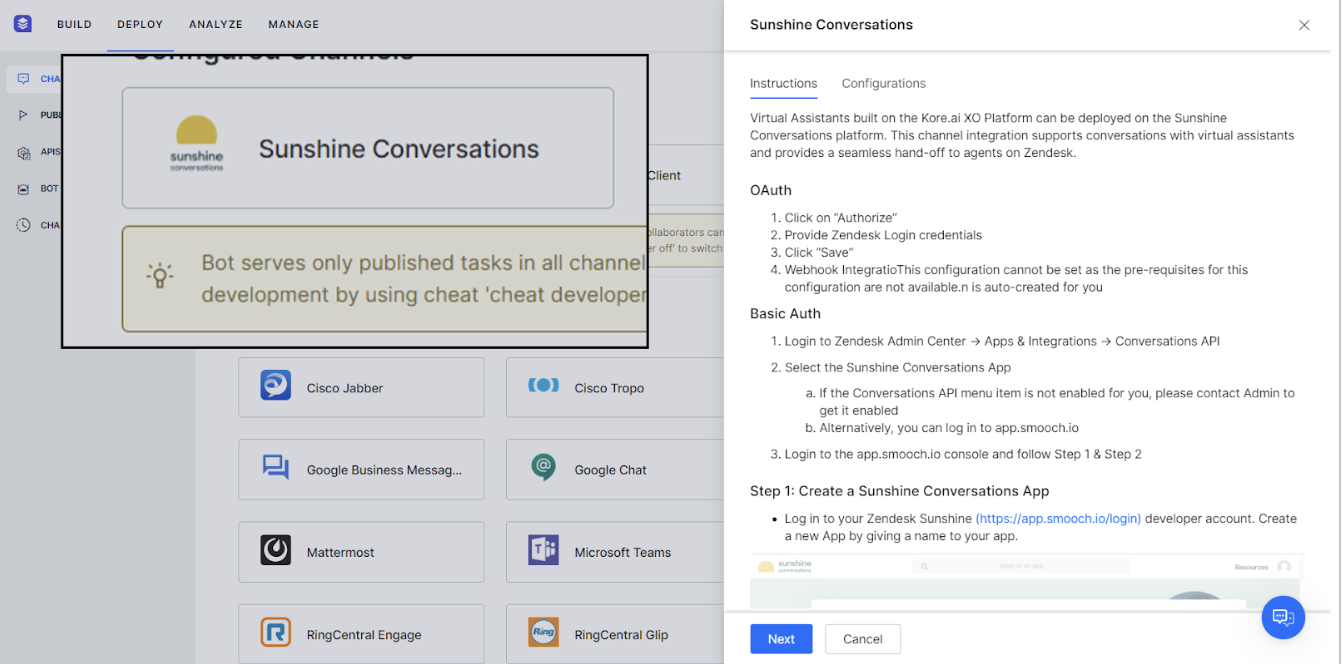 Under

Authorization

Type

, click

Authorize

in the OAuth section. Log into your Zendesk instance and accept the prompt to add Kore.ai Chat. This works with a development sandbox as well.
If you wish to do live agent handoff, toggle on the setting in

Enable

Agent Handoff

. Specifically, this means you will allow a user to request transfer to a live person in

Zendesk Support

.
Use the credentials you created in the

Zendesk Conversations API

setup above.
Save the channel.
Review the

Instructions

, then click Next to go to the

Configurations

tab.ion, click the

Publish

section under

Channels

to complete the installation of your integration. On the Kore.ai platform, the bot must be published for channel configurations to be available externally.


Zendesk Configuration Steps (Cont.)
Once the channel has been enabled on Kore.ai's XO Platform, you can review and further customize the experience in your Zendesk Web Widget.
Once again in the

Admin Center

area of Zendesk, open the

Bots

option in

Channels

. Under

Marketplace bots

you should now see the Kore.ai Chat option.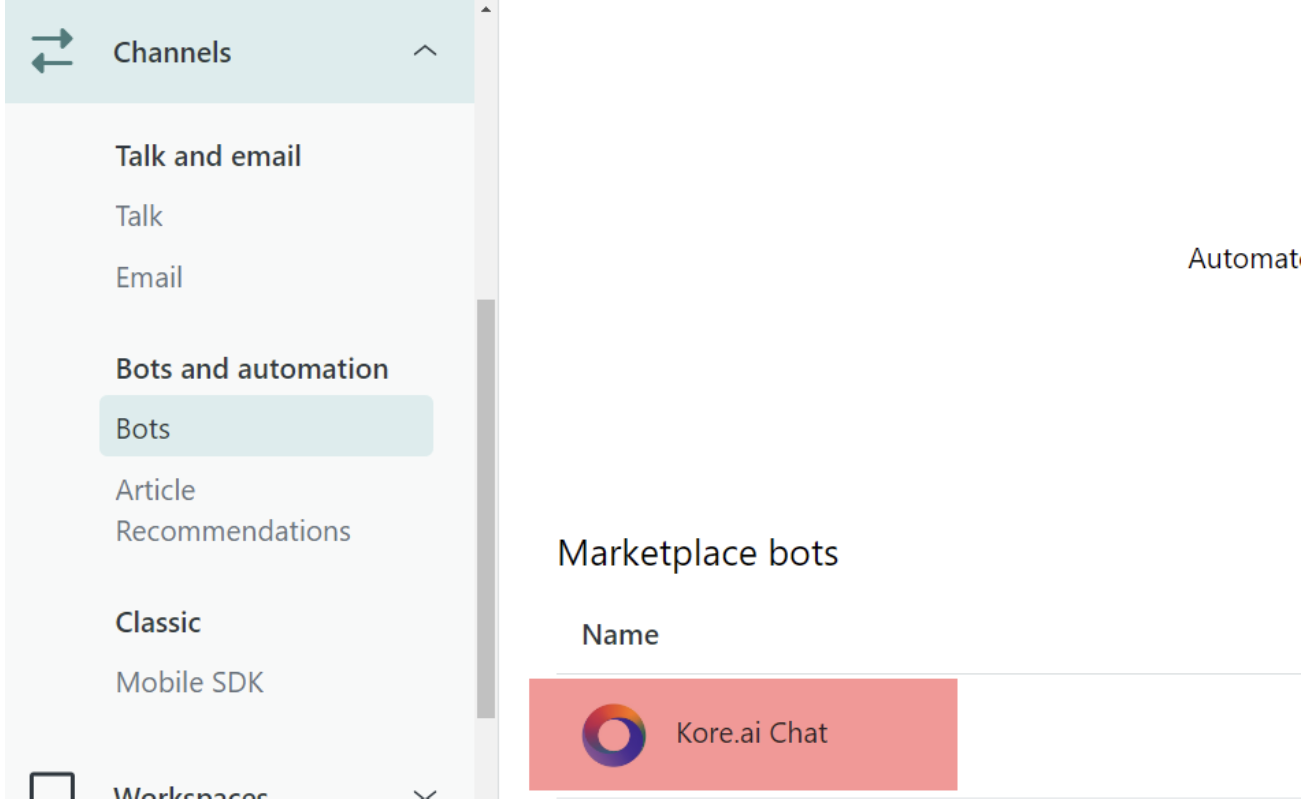 In

Messaging

, confirm your Web Widget is connected to the Kore.ai Chatbot.
Test the configuration by entering the

Edit

screen for your Web Widget and using the Preview by clicking the

Test it now

button. Say hello to the bot and you should see the configured Kore.ai bot respond.
High-Level Overview of the Integration
In order to interact with your new intelligent virtual assistant, the Kore.ai XO Platform is configured to listen for conversation messages from your customer. These conversations begin with the Web Widget you have deployed and are sent to the Kore.ai platform using Zendesk Sunshine messaging APIs.

When the customer chats with the virtual assistant, an utterance (the user's input) is sent to our 3-engine NLU models to determine the best match for the customer's intent (the task or question they are trying to get assistance with). If the virtual assistant can answer the question or perform automation to complete a task, it will start a dialog with the customer to achieve that goal. This could be checking the status of a ticket or other typical customer service use cases enabled in Zendesk Support.

If the customer still needs to speak to a live person working in the Zendesk Support agent desktop, the Switchboard functionality is used to hand off the conversation to an available agent. The Zendesk Switchboard API provides a way to program and define how conversations are moved back and forth between bot and live human interactions. The customer can ask to "speak to a person" or "talk to an agent" at any time if the issue becomes more complex. . A ticket will automatically be created for the agent and the virtual assistant will share the conversation up to that point so the agent has the necessary context.

When the live agent interaction is completed, the human agent can return control to the virtual assistant for any further automation needs the customer may have later.


Want a step-by-step video guide for this process?
Next Steps
To learn more, please visit the Zendesk Marketplace listing or the Kore.ai overview page to get started.
You may also reach out directly to your Zendesk account manager or contact us at partner@kore.com. We can provide a live demonstration, assist with applicable use cases and provide other materials to help you understand how Kore.ai automation can super-charge your Sunshine Conversations channels.