In the era of Instant food, instant remedy, instant messaging, "Instant everything", wouldn't people expect the same from IT Service Management as well? The traditional ITSM is still using old triage methods, scanning through multiple documents to answer FAQs, and taking enormous time in resolving low value tickets such as password reset. Its high time that ITSM functions should be given a booster or new age technology - Artificial Intelligence and Machine Learning, a.k.a. Chatbots and conversational AI.
Gartner predicts that "55% of all large enterprises will deploy chatbot to increase work efficiency by 2020."
Current state of ITSM
A survey by HDI reveals that top reasons for increase in ITSM ticket volume are increase in new devices/equipment (laptops, desktops, handheld devices, wearable, high end gaming devices, multi featured smart devices and their integrations), number of new applications, and number of new systems and configurations. At the same time, the study identifies a few key reasons why some of the ITSM organizations are seeing a decrease in their ticket volume, and the reasons are organized knowledge base, improved problem management and solving techniques, and self help (DIY) models.
Most ITSM systems have highly confusing menus which creates a frustrating experience for employees while initiating a ticket or doing a follow up. Moreover, employees may not be versed with all the complicated stuff these systems ask for, thus adding to confusion and frustration.
Other challenges with traditional ITSM are its heavily depend on human agents to address everything, right from basic triage to advance resolutions. The human agent has to interface with several disparate backend systems (such as organizational knowledge base, service catalog, authentication management system, configuration management, asset management, and many more) to bring back the right information or to resolve the issue.
It is observed that over 60% of the tickets are routine tickets and takes a longer time for basic triage such as whether your Caps lock is ON or which application is taking more CPU/Memory at the moment? These service agents can't give attention to high value tickets and vice-a-versa resulting into longer wait time or resolution time.
Moreover, there is a limit to how many tickets a Service agent can practically handle in a given shift.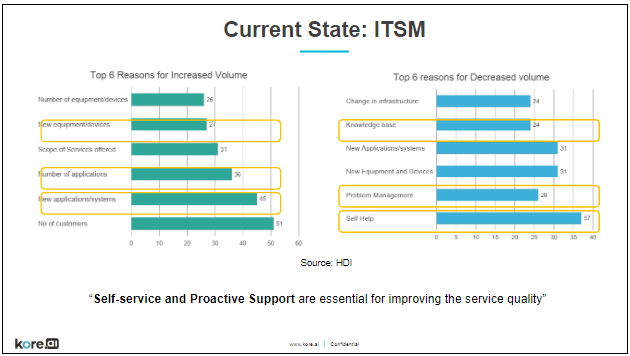 Revolutionizing ITSM with Conversational AI
Conversational AI can improve overall ITSM efficiency and productivity by handling daily employee issues much faster and efficiently. Automating functions and processes is the key priority among IT leaders today and therefore, conversational AI is promising technology in order to achieve more with less. Routine tasks such as filtering low vs high value tickets, basic triage for repetitive issues, Chatbots can give life to IT support staff and new experience to employees. WhenAI-powered chatbots are used for IT support, users interact with your business 24/7 through a conversational UI to get their queries solved faster. Conversational AI is programmed with algorithms to learn and evolve from the past conversations.
As we see, embracing conversational AI will lead to increased customer satisfaction in a myriad of ways.It has the potential to reduce existing ticket resolution times, and has the natural capacity to streamline the rollout of new systems and IT processes.
With AI maturing, Conversational AI can analyze and compare text from the ticket to the resource pool and accurately prioritize requests and provide deliverable solution options to end-users while they can focus their time on more complex specific tasks.
Let's look at some of the key use cases of Conversational AI in ITSM:
A few use cases that shows how conversational AI can elevate your IT help desk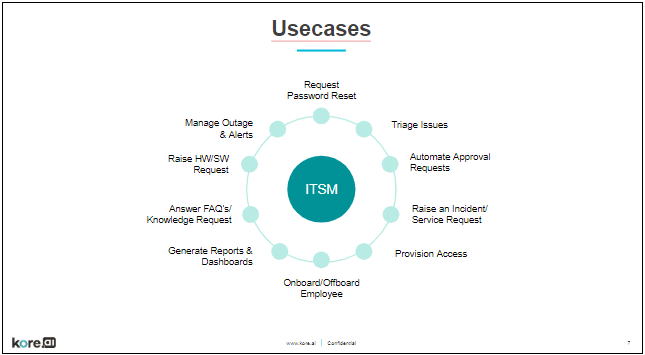 1. Triage Requests
Conversational AI in ITSM allows employees to request and/or provision IT goods and services 24/7, regardless of location. For instance, employees use the bots to quickly reset passwords and request new devices and software. By shifting these types of common requests, IT help desk has been able to reduce the call silos.
2. Password Reset
In an organization machines and devices can crash or malfunction at all hours of the day. Sometimes employees forget their passwords and staffing IT help desk 24/7 to handle these issues is not cost effective.In such scenarios, conversational AI can be used to handle low-value or low-impact tasks, such as password resets/account creations, automate common troubleshooting procedures and questions. The IT desk staff can also track outages, quickly populate outage reports, and manually or automatically resolve the routine tickets and increasing customer satisfaction.
3. Answer FAQs
Conversational AI can be used to answer both tech support and end-user questions by integrating seamlessly with the Knowledge Bases of your organization – regardless of format – including information contained within FAQs, websites, and wikis.
With the availability of conversational AI powered ITSM today, organizations can integrate service management solutions across human resources, security and information technology. It can serve as the triage point for all requests within the organization, routing them to the appropriate department or person based on a more engaging and intelligent front-end experience and automating request fulfillment whenever possible.
Lets summarize some of the obvious benefits of using Conversational AI in ITSM:
1. Agents Focus on High Value Tasks
A report by Pink Elephant states that 96% of the IT incidents are caused by changes made by IT, which means incidents are inevitable. That calls for rapid human action after every alteration.Deploying Conversational AI for proactive alerts in such locus can save IT employees from such repetitive tasks, and improve efficacy.
2. Self Service for Employees
A lot of incidents/service requests such as Password Reset, Answering FAQ/Knowledge request are repetitive in nature and can be solved with a zero touch approach.
3. Problem management
The key to problem management is pattern recognition. Most of the AI systems, depend on sophisticated pattern learning to identify specific issues. With such advanced pattern recognition in ITSM, problems can be fixed by machines themselves way before they are even at the entry level.
4. Increasing Productivity
A comparatively large number of companies, over the last few years, have adopted ITIL for enhancing their business. ITIL powered by AI will offer self-help as a smart option for its end-users, reducing Incident Management such as Ticketing, increasing customer satisfaction, accelerating business performance, and adding to the company's productivity.
Conclusion:
For the benefit of businesses,. Kore.ai offers chatbots in ITSM that comes with multi-engine NLP that can understand and process multi-sentence messages, multiple intents, contextual references made by the user, patterns and idiomatic sentences, and more. It comes with pre-built vocabulary of widely used ITSM terminology and organizations can customize it easily to train the bot with their own vocabulary. This in turn will make your IT department less complicated, less labor-intensive and more cost-effective.
Now it is apparent that businesses that want to keep on top of customer and employee demands and want to provide consistent service for routine inquiries will need to overhaul their IT service desk by implementing digital assistants.
We at Kore.ai have taken a deeper look at the business issues and concerns prompting these changes. Recently Kore.ai did a webinar on leveraging the power of conversational AI for ITSM where we discussed many of the challenges the typical ITSM units face and have demonstrated how quickly and easily an ITSM bot can help deliver an unprecedented experience for the employees. What's readily apparent is that most businesses think their service desk needs an overhaul. How about you?