Contact centers have progressed from serving as a handoff between the caller and a live agent to automating and resolving as many issues as possible. Contact centers remain the customers' go-to destination for product support, purchases, and returns. As customer expectations grow, telecom providers face a pressing challenge: finding the balance between personalized customer care and cost-effective contact center operations, that's where Conversational AI comes in.
The Costs of Telecom Customer Retention Versus Churn
In the telecom industry, contact centers are vital to support and retain customers against the tendency for customers to churn to another telecom provider when they're dissatisfied.
Getting a new customer can cost 5x to 25x more than keeping an existing customer. So the telecom industry has paid more attention to retaining existing customers over attracting new customers. Most major telecom providers have dedicated agents and teams focused on saving existing customers on the verge of churning and regaining customers they have lost. Research data also supports this; for instance, Bain & Company reported that increasing customer retention rates by 5% can increase profits from 25 to 95%.


Primary Reasons for Churn in Telecoms
It can take just minutes to set up a new telecom contract or subscription at another provider, meaning that you can lose customers just as quickly as you can gain them. Survey data shows that 39% of Americans who canceled their telecom contract with a company in the previous 24 months cited customer service as their primary reason. On top of this, more than half of surveyed customers reported that they canceled their phone, internet, TV, or cable services.

Telecom industry customers canceled their contracts for the following reasons:
The telecom company took too long to solve the customers' problem (37%)

The customer had to call more than once (51%)

37% of customers thought that the contact center agents were rude




Using intelligent virtual assistants can answer all these needs by solving customer issues quickly on the first call and responding in a way that takes stress and emotion out of the situation.

Customers want an accessible, efficient, and polite customer service experience. If they feel like your contact center is difficult to get hold of, that issues take hours or days to resolve, or that their query isn't handled in a respectful manner, then customers will cancel and go to another provider.

Lost customers are a constant issue for telecom providers, where the churn rate averages 21% to 25%, which is among the highest across all business verticals.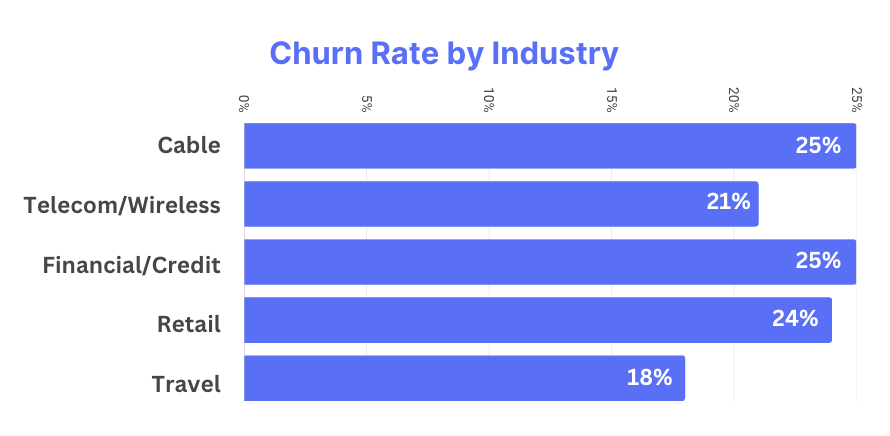 Revolutionizing Telecom Customer Support with Conversational AI and Generative Language Technologies
In 2022, the U.S. telecom industry generated an estimated revenue of $589.9 billion. A significant portion of this revenue is spent on maintaining large contact centers to support and retain customers. This hefty price tag is due to factors like the number of seats, expertise of agents, current labor market rate based on location, length of contract, chat and call volume, and knowledge base and agent tooling, which are some of the biggest contributors to the overall cost structure of contact center services. The most common customer support calls cover billing and passwords. Service outages for internet, cell, or cable providers can also cause large spikes in contact center volume.
Considering that the largest telecom providers like Verizon and AT&T run call centers with 40,000 to 47,000 employees, any cost savings can have a huge impact. Communications service providers (CSPs) need better, innovative solutions to reduce call volume and costs without compromising customer support.
With generative AI and chatbots like ChatGPT growing in popularity, Conversational AI-powered virtual assistants are also gaining fans among telecom customers. In a recent survey, we found that 67% of surveyed consumers feel that telecom providers using automated assistant technology for contact and service are showing they value their customers' time.
Let's explore the potential of using Conversational AI in combination with generative language technologies to address these challenges and highlight their benefits for telecom providers.


See how AI-powered chatbots, with self-care and instant messaging capabilities, can digitize customer support for telecom companies and help cut customer service calls by 90%.
The Value of Conversational AI for Customer Service
Customers' expectations have evolved to demand quicker, more efficient around-the-clock support, and digital customer service is experiencing significant growth. Customers want the convenience of instant responses, effective handling of simple questions, and the availability of assistance 24/7. The projected market size for AI-powered chatbots is expected to exceed $994 million by 2024, indicating a growing demand for digital customer service.
Intelligent virtual assistants (IVAs), powered by Conversational AI and Generative AI language models, are uniquely built to meet and even exceed customer expectations while reducing contact center costs. By leveraging AI technology, telecom providers can use IVAs to handle routine inquiries, resolve simple and complex issues, and provide quick responses to repetitive customer questions.
According to Boston Consulting Group (BCG): "Telcos must reinvent the customer experience by providing extreme personalization, immersive experiences, and better product bundles for both consumers and businesses. Doing so will be crucial …"
Benefits of Conversational AI for Telecom Providers
Conversational AI can automate complex use cases and reduce the workload on contact centers. Billing questions and account inquiries, which are major challenges for telecom customers, can be efficiently handled by intelligent virtual assistants. Telecom providers can benefit from improved contact center efficiency, reduced wait times, and increased customer satisfaction. AI-powered chatbots offer scalability, flexibility, and 24/7 customer service, enabling telecom providers to deliver personalized support whenever the customer needs it.
According to research, customers already prefer to use chatbots for routine inquiries or when they need fast responses. In fact, a recent survey revealed that 62% of surveyed customers would rather communicate with an intelligent virtual assistant over a human agent if it meant getting a faster response.
AI-powered chatbots provide a consistent and personalized experience across online and in-store channels to create the connected customer service experience that consumers are looking for. By using conversational AI, telecom providers can reduce call volume, decrease reliance on human agents, and cater to customers' needs for quick and efficient support.


Projecting Cost Savings with Conversational AI Chatbots
By leveraging AI-powered chatbots, telecom providers can achieve substantial cost reductions. AI automation can decrease operational costs by up to 30%, and it is projected that businesses and consumers will save 2.5 billion hours through automation by 2023.
Automating customer service with AI chatbots also saves substantial costs for call centers and businesses. Telecom businesses typically operate call centers with thousands to tens of thousands of agents to handle the constant need for customer support. For every 1000 agents in a contact center, if we reduce call volume by 20% it saves the business $10 Million annually.
The correlation between First Call Resolution (FCR) and Customer Satisfaction (CSAT) also highlights the impact of reducing repeat calls and resolving customer issues efficiently. Conversational AI chatbots enable telecom providers to enhance cost savings, improve efficiency, and deliver better customer experiences.


The Future of Conversational AI and Emerging Trends in Telecom
The future of customer engagement lies in AI-enabled customer service. McKinsey suggests that businesses must embrace AI-led capabilities to manage rising complexity, deliver excellent customer experiences, and control operational costs. Telecom providers should focus on an omnichannel transformation, utilizing AI to enhance customer support and drive value over the customer's lifetime. The emerging trend of personal digital assistants for contact center agents further emphasizes the potential of Conversational AI in revolutionizing customer service.
Conversational AI offers a viable and cost-effective solution for telecom providers looking to reduce their operating costs and improve customer satisfaction. By leveraging conversational AI, companies can deliver higher levels of automation, resulting in massive savings and improved ROI.
If you're looking to improve your customer service capabilities, consider integrating conversational AI into your business. The right service provider can help you go through the process step-by-step, ensuring a smooth transition that benefits both your bottom line and your customers.
Want to learn more about how Conversational AI can revolutionize customer service in the telecom industry? See how conversational AI is humanizing telecommunications, or contact Kore.ai for a free consultation on AI-powered CCaaS solutions.