Sam Lakkundi, Chief Innovation Officer at Kore.ai
Modern retail is experiencing a role reconfiguration. In the golden age of consumerism, the "build it and they will come" strategy reigned supreme. It was the product that brought customers to you. Not anymore. Now, customer engagement drives the industry, and in an increasingly digital marketplace the essence of engagement lies in personalization.
Customers want to connect with their favorite brands, but brands that offer great service experiences are in the minority. In 2015, a Customer Care Measurement & Consulting study found that 54 percent of retail customers are dissatisfied. Couple that with Gartner's prediction that companies offering personalization will outperform competitive brands by 15 percent by 2018, and you see the clear cut opportunity costs associated with innovation. The next question becomes, where will that innovation come from?
IoT, Bots, and AI Pave the Way.
The good news is, thanks to the Internet of Things (IoT) technology is more interconnected than ever before, which means there are a virtually infinite number of ways to connect to your customers digitally. Whether it's smartphones, wearables, vehicles, devices, social media, email, SMS, or messaging applications, opportunity always exists to mine data and learn more about your customers. Data is powering insights and helping target customers, but it's still largely compartmentalized and impersonal – and that's because retailers are talking to customers, not with them.
Bots bundled with AI and IoT are a vehicle to cross all of the aforementioned channels with an intelligent, context-aware and conversational interface. Bots can not only perform tasks, deliver alerts, and serve customers, but also leverage artificial intelligence to anticipate their needs and learn from their conversations all while understanding key aspects of things around the retail store. With the shopping season around the corner, retailers are looking at innovative ways they can entice and enhance the customer shopping experience and bots present a quick-to-develop, easy-to-use, extensible solution.
A chatbot is computer program that converses in natural language (human speech) using data and intelligence from legacy data, and performs automated tasks and can take actions on those tasks. Instead of navigating a graphic interface on a mobile app or a website, a customer now gets a virtual assistant that can talk to them, ask them questions, guide purchases, and bring a familiar user experience (texting/talking) to virtually any communication.
Conversational commerce, a new term to describe the act of placing orders through online conversations, is the future of digital shopping. Brands and retailers are able to connect with consumers in a personal way through messaging apps and chat bots. How? These AI-powered chat bots will be able to read messages, look at purchasing behavior and browsing history, and offer consumers curated products accordingly. It brings a whole new level of targeting capabilities to an already targeted digital space.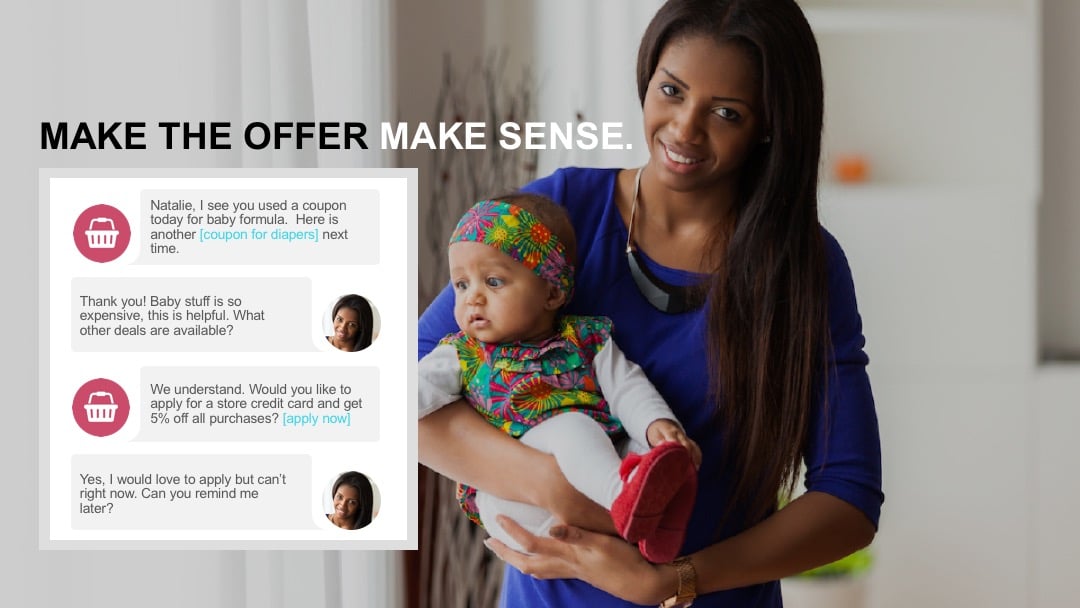 Why is that important? Your customers love to chat. Texting and messaging are far and away the most popular forms of communication on the planet. Because of this explosion of messaging apps, including Kore.ai, Snapchat and Facebook Messenger, major brands are experimenting with chat bots as a way to interact with customers in a more natural way, build a loyal following, and drive sales. So why would you as a retailer bring bots into the fold?
7 Reasons Bots Should be a Part of your Retail Strategy
1. Bots are omni-channel, which means they can be deployed where your customers already are (Facebook Messenger, your website, your mobile app, email, SMS, etc). Now all of the sudden your brand can go anywhere and work for you 24/7. No more hit-or-miss targeting.
2. Texting is 10X more effective than email marketing or social media. Customers have chosen texting as their preferred way to communicate and so have bots.
3. Engaged customers spend more. According to a 2014 Rosetta Consulting study, engagement customers are 90 percent more likely to make frequent purchases, spend 300 percent more annually than disengaged customers, are seven times more likely to respond to promotional offers, and are six times more likely to try a new product.
4. You can deliver proactive notifications in real time about the things customers care about the most. According to WDS webinar, 50 percent of customers prioritized a notice about sales or discounts and 42 percent prioritized an upcoming event.
5. The modern customer demands quick responses, and social media isn't cutting it. According to a 2015 Northridge Group study, one-third of consumers who contact brands via social media never get a response. With bots, that never happens. Answer FAQs, bring in service representatives, and address problems instantly no matter what business hours are.
6. Get instant feedback by asking survey questions like "How Was Your Experience?" "How Can We Improve?" etc.
7. Get more out of your mobile development. According to Appboy.com, app installs costs brands an average of $1.78 on iOS and $2.51 on Android, and retention rates drop to less than 5 percent after three months. Gaining a new customer can cost up to 25x more than retaining one! Bots can be built with no coding required, which dramatically increases speed-to-market and reduces dev costs – not to mention a virtual assistant drives customer loyalty and gives your app a brain and a voice.
Weighing the Aspects of Adoption: Should You Be First or Last?
Retailers of all stripes are embracing the wave of innovation, knowing that bots, AI and IoT will likely determine who will be the next set of winners and losers in business this century.
In many ways it makes sense for retailers to incorporate bots, IoT and AI in areas they can be controlled, like automating everyday customer service tasks or using bots to handle customer service (imagine never sitting on hold again). Imagine a customer walking into a store knowing the exact location of a particular item, or prompting a customer that it's time for him to renew an expiring subscription.
Chat bots can elevate the UX of retail applications in a future where customers will interact naturally to get relevant information without following certain steps or waiting for a logical sequence to occur. Bundled with AI, a chat bot can easily know who you are, what you shopped the last time and help you resolve a problem much quicker than you do today – sometimes in as little as one interaction.
There are always going to be pros and cons to being the first mover: AI, IoT, chat bots cognitive computing and deep machine learning aren't nascent technologies anymore. Conversational commerce is a game of when, not if, and the retailers ahead of the curve could see huge advantages vs. those who wait. Adopting new technology requires patience, but ideally bots will make retailers and customers smarter, faster, more efficient, and more productive. It will also enhance customer experiences as bots become more humanized and their interactions become more personalized.
As part of our out-of-the-box Smart Bots offering, Kore.ai creates intelligent retail bot solutions, human-like AI for major retailers like Sears and technology partners like SAP IS-R and Oracle Retail 15. Coupled with these retail solutions and consumer bots such as The New York Times, eBay, Dropbox, CNN, LinkedIn, ESPN, Business Insider, TED, and many more, Kore.ai is poised to be the leader in the retail digital footprint. Kore.ai can help retailers develop new strategies for profitability and customer engagement and retention, drive efficiency in the technology chain, ensure the availability of IT infrastructure, improve the overall customer experience, and quickly detect and rectify exceptions.
Read more about how chatbots transform in-store and digital selling and servicing with our Executive Brief: Shopping with Conversational Retail.